The Indian Summer begins in mid-March and lasts until mid-June meaning that by May you are in peak-summer and temperatures will be extremely hot throughout the country. However, there are destinations which are perfect to visit in May
You should avoid the golden triangle of Delhi, Agra and Jaipur unless you have the ability to endure temperatures up to 45˚C. This will mean missing out on some of the main sights but there is always time to visit again during another season. On the plus side, it is the offseason so many hotels will be at bargain prices. If you are keen on wildlife and able to bear the heat then visit Ranthambore National Park, the summer months have the best probability for spotting a tiger.
The Coastal regions of Goa, Kerala, Tamil Nadu are hot and humid but make for perfect sunbathing beach weather. We would suggest the best region to travel is in the Himalayas, North or Northeast of India. The roads to reach Leh and Ladakh would just about be opening and the mountains have the perfect weather.
Bring light and comfy clothes, cotton shirts and pants or even linen are ideal to wear. If visiting the mountains, especially Leh, carry a light jacket. Its also best to carry an umbrella, cap and plenty of sunscreen.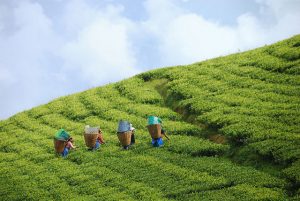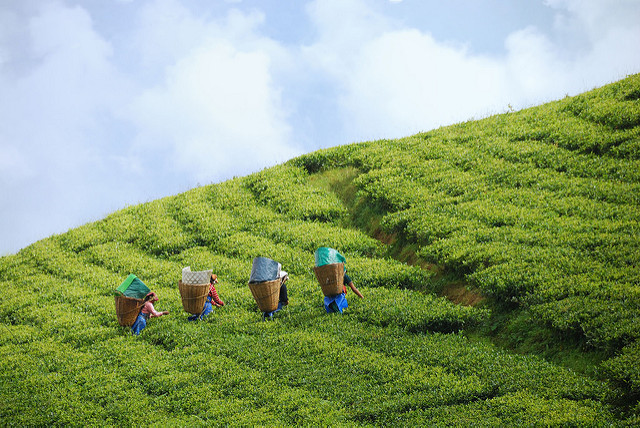 Tea plantations in Sikkim – Credit: Angelfire & me
Plan your trip
SOUTH INDIA IN may
Kerala is famous for its beaches and backwaters. But in the summer it is better to visit its rainforests (Wayanad) and tea plantations (Munnar). The hotels do offer great offseason discounts, so just picture a warm sunny day, sipping a cold drink while lazing in the pool in one of the many boutique hotels in Kerala. There is no better way to enjoy the natural beauty of Kerala. The beaches of Varkala or Marari are also a good option to get a nice tan this summer.
South India is hot and humid for the entire duration of the summer. the humidity might lead to some rain showers if you are lucky, but the only way to escape the heat is to head towards the hills in Kodaikanal or Conoor. The coffee plantations of Coorg and the national parks of Kabini are also great during May.
Goa is always a good destination to visit, and though the hotels might not be operational and some of the famous restaurants close for offseason, Goa always has something to offer. The summer is a great time to explore the rainforests and the Dudhsagar falls.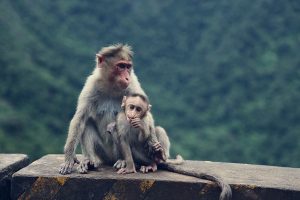 Rainforests and hill stations will be a lot cooler places to visit – Credit: Vinoth Chandar
Plan your trip
HIMALAYAS IN may
If you are looking for somewhere cooler and less intense then head for the Himalayas. The sun has started to melt the snow so you will see plenty of waterfalls. Plus the weather is a pleasant 15 to 25˚C. You can visit Leh and Ladakh, though unfortunately the roads to Pangong or Nubra are probably not open yet as the passes would still be snowed in. Kashmir though is very easily accessible, and it is flower and cherry blossom season.
Other destinations like Himachal, Uttarkhand, Sikkim or even Arunachal are great, scenic options. You will see Buddhist monasteries, ride toy trains to the capitals of Darjeeling and Shimla, stay in quaint homestays with loving locals, or visit a yoga retreat in Rishikesh. Escape tourists in quaint villages of Shoja, Kotgarh in Himachal or Itmenaan in Uttaranchal.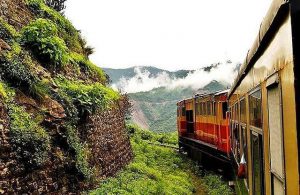 The toy train up to Shimla – Credit: Ashish Kumar
Plan your trip
NORTH INDIA IN may
The temperatures in Varanasi, Rajasthan, Delhi and Agra, in general, are in the mid-forties. We recommend avoiding these regions during the summer because of high temperatures and unpleasantly hot winds. Though if you wish to stay in the luxury hotels and palaces then you can get some fantastic discounted rates.
May is also the ideal for tiger safaris. So Ranthambore or Kanha or Bandhavgarh are national parks worth visiting. As the safaris are often early in the morning or in the late afternoons, you would never really be in the scorching afternoon sun.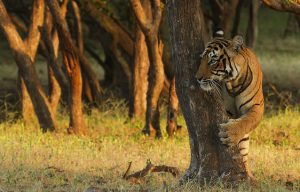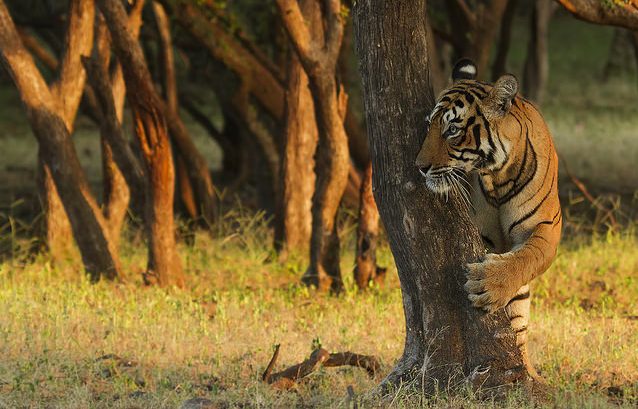 May is the best time to see tigers on a safari – Credit: Souvik Kundu
Plan your trip
TO SUM IT UP
Visit Leh and the Himalayas in May. Next look at visiting the tea plantations in the Northeast or in Kerala. And let north India (Delhi, Agra, Rajasthan) be a destination you visit later on when the weather cools down. Let us know if you are planning a holiday to India this May and we can customize your trip for you.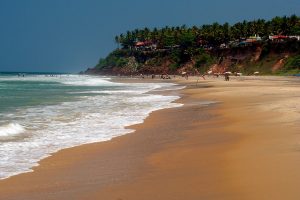 Varkala beach, south Kerala – Credit: Andrew Tamura