8 Lesser Known Beaches for your bucket list
Summer's just around the corner – well about as far around the corner as it can be in a country with only two real seasons. India has a mind-blowing 7,517 kms coastline with magnificent beaches, which means you don't have to squeeze yourself onto Baga and Chowpatty this year.
Here's a list of the best unexplored and lesser known beaches in India with sandy swathes that grace India's coast. Whether packed or empty beaches, always keep in mind to respect them and leave them as pristine and clean as you found them.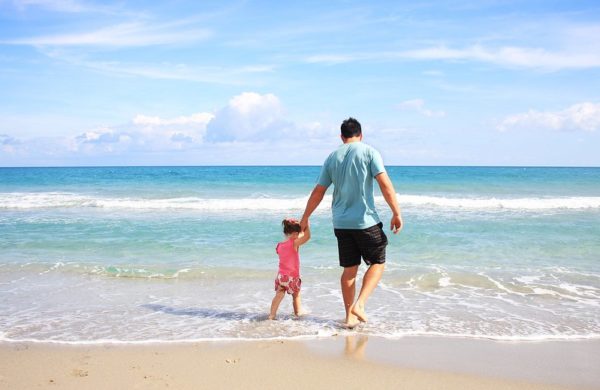 Enjoy the miles of coastline India offers, from relaxing to bustling with life (Photo Credit – Top Ten Alternatives)
KODI BENGRE BEACH – UDUPI
Udupi is crisscrossed with rivers across its lands, rivers that were once lined with sparkling gold until the age of the 'sand mafia'. Yet, its more prominent beaches on the shoreline are among the safe beaches in India, and are gaining in popularity, particularly Malpe. 10 kms South from Malpe's camel rides and ice-cream carts is Kodi Bengre beach, an estuary where the river Suvarna meets the Arabian Sea. Fill up on dirt-cheap seafood before nodding off on the clean sand for a couple of hours. Watch out for the crabs!
Getting there:
The nearest airport is in Mangalore city. Buses and trains will take you to Udupi from Bangalore, Mumbai or Mangalore. City buses from Udupi make frequent trips to Kemmannu, Hoode and Kodi Bengre (dead end point). From Bengre one can reach Hangarkatte (other side of the river) by boat. NH 66 is a stone's throw away from Hangarkatte.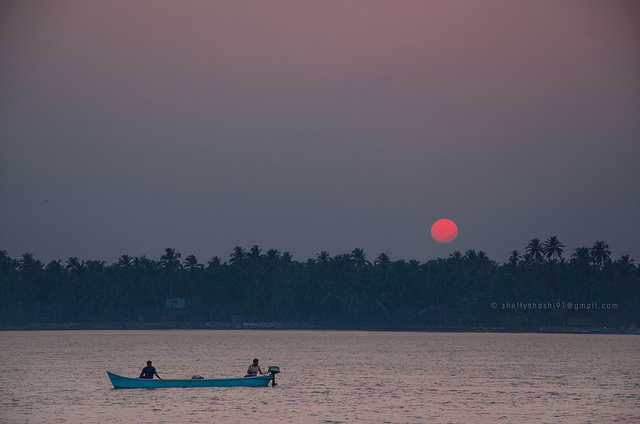 A boat journey along the river at sunrise (Photo Credit: Shashikanth Shetty)
MARARI BEACH – ALLEPPEY
Put off by all the tourist signboards being erected while travelling through the backwaters? Move closer to the sea, 11 kms away to the splendid Marari Beach. It's a great place to do absolutely nothing, and let the waves crash over your thoughts. Those of you searching for absolute luxury, get a room at the Marari Beach Resort, and if you're itching for something more active, go help out fisherman from Mararikulam that throng the beach. Maybe one of them will invite you back to share the catch!
Getting there:
The nearest airport is Cochin International Airport. Mararikulam is connected by rail and has a railway station by the same name. It's also well connected by road. NH 47 passes through S.L.Puram, which is 5 kms to the east of Mararikulam.
If interested in planning a trip to Kerala, India with us and need some more information, here's more.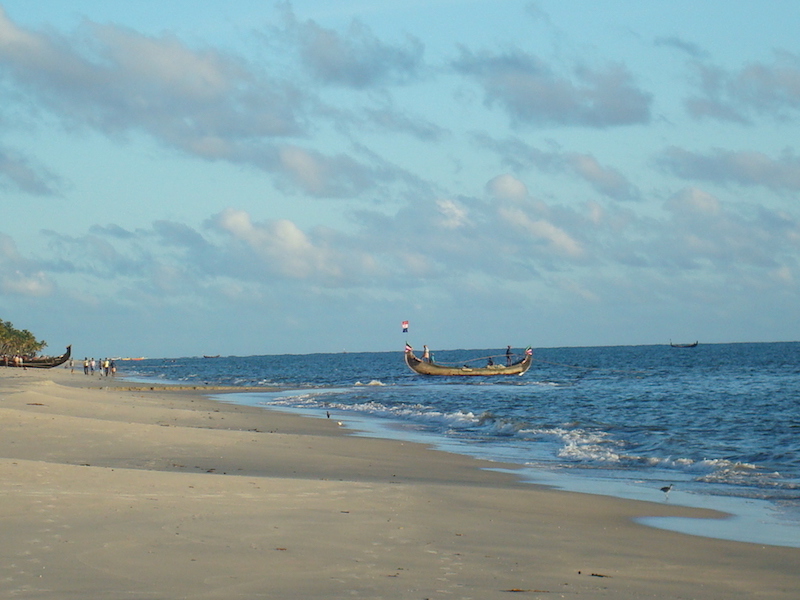 A lonesome fishing boat off stunning Marari Beach (Photo Credit: nborun)
GOKARNA BEACH – KARNATAKA
The very definition of chill. It's been among the best beaches in India and famous much longer than the others listed here, and as such has its share of beach side shacks, readily available alcohol and random bag checks by the local police. The reason it qualifies for this collection is its determinedly low-key vibe. Accommodation is still limited to a couple of thatched roof huts and it's not advisable to be wandering around after dark, but there's the added charm of a whole other side to the town, its temples and bustling market.
Getting there:
Goa's Dabolim airport is the closest at 140 kms away. Trains from Mangalore, Mumbai, Thiruvananthapuram, Veraval halt at Ankola, 20 kms from Gokarna. KSRTC buses come in from all of Karnataka's major cities and it's located just 10 kms off the NH 17.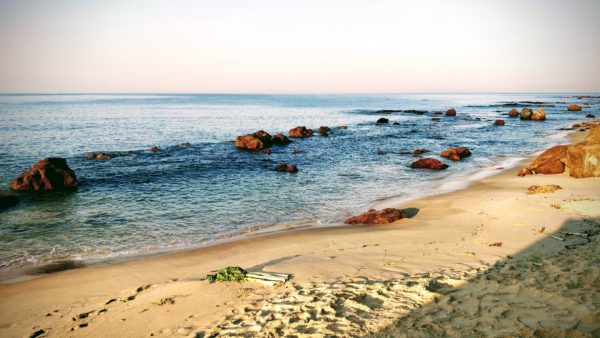 Kudle beach a nice C shaped beach with clean sand, clear waters and cool breeze, Gokarna – (Photo Credit – Ajinkya Patil)
KASHISHVISHWANATH BEACH – MANDVI
This one's for those looking for more than just a beach. The beach is pretty packed, but you won't find many tourists there, instead you'll witness the practicality of beaches for fishing and shipbuilding and the recreational style of taking your family for cotton candy and evening horse rides. Indians don't just relax on beaches, they frolic, letting their children run amok with little bamboo and paper windmills as they charge up on delicious beach street food. It can be a welcoming change from the assumption that beaches are strictly for lolling about. Mandvi in itself is a beautiful city; its streets lined with ancient buildings in fading pastels and intricately carved temples.
Getting there:
The Bhuj airport is 60 kms away and has daily flights from Mumbai. Also, Bhuj's railway station has trains passing by from both Mumbai and Ahmedabad. By car it's 450 kms from Ahmedabad.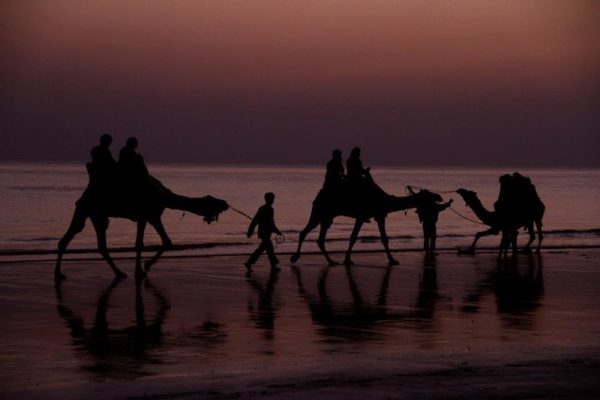 The Amazing view of evening at Mandvi beach (Photo Credit – Kaushik Patel)
RAMESWARAM BEACHES – TAMIL NADU
Surrounded by sea, this island is fabled to be where Ram built a bridge to Lanka to rescue his wife. Deeply entrenched in lore, it then tends to be packed with pilgrims in town for a visit to the mighty temple at its centre and a quick holy dip on its myriad of beaches. From sandy to slightly pebbly to sheer cliff faces, Rameswaram has every kind of beach. Nevertheless, be warned that this might not be the spot to show off your hard-earned beach bod.
Getting there:
Fly into Madurai or Tuticorin airport or get a train from literally anywhere in the country. The same goes for buses, there's always a crowd of pilgrims passing through so it's easily accessible.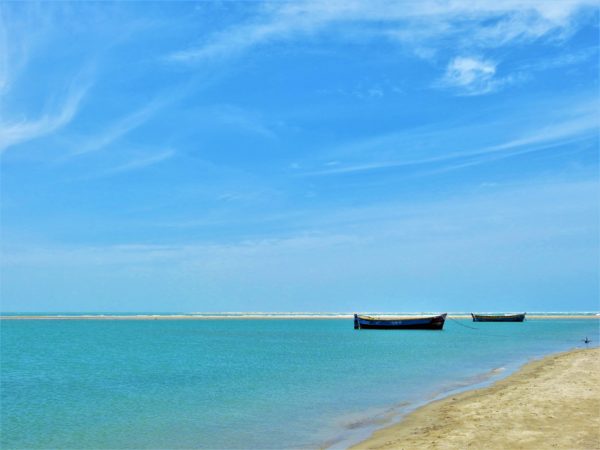 Boats anchored off the coast in Rameswaram Island (Photo Credit – Haseesh Rahithya)
VENGURLA – MAHARASHTRA
Nestled on the Maharashtra-Goa border, a great spot for mouth-watering Malvani seafood, this town boasts of more than 23 beaches packed with activities – kayaking, cycling, fishing – but no people. Back in the day, it was an important trading port both for the Dutch and the British. This gives it a nice historical characteristic, something you can follow for a bit of added fun.
Getting there:
The nearest airport is in Mumbai. You can catch a train to Kudla or drive over from Mumbai, Pune or Nashik.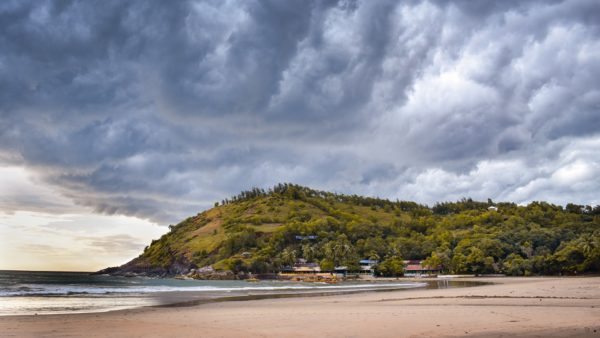 Vengurla beach is great for kayaking, swimming, and snapping the perfect sunset photo (Photo Credit – Aamir)
HAVELOCK ISLANDS – ANDAMANS
In my opinion, the only reason these gorgeous beaches go unnoticed is because of the hassle of getting there. But you don't need to worry about that, because you have us! Walk on white sand out of a dream, scuba dive to see the vast and vibrant corals and species, and even meet the world's largest ocean swimming elephant. It's truly a paradise down there. And with the government starting to promote ecotourism on the islands, there are even two ATMs now!
Getting there:
Once you land in Port Blair via air, it's all a complicated and often unruly mess in terms of the ferry tickets. You can pre-book the fast selling government ferries, push and shove for the local alternatives or dish out for the luxury A/C catamaran. Whatever you choose, make sure it's done in advance!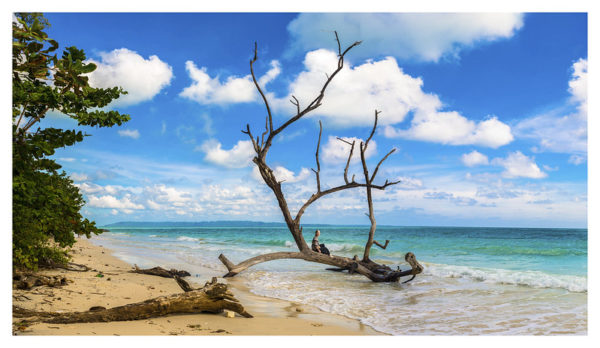 Flawless seashore of Kala Pathar Beach in Havelock Island (Photo Credit – Göran Höglund (Kartläsarn))
TARKARLI – MAHARASHTRA
This beach is similar to Vengurla in many ways, but with the added attraction and beauty of a 17th century fort and the deep blue Karli backwaters collapsing onto the sandy beaches. You can scuba dive to take a closer look at the coral reefs and there are great camping options if you like palm fronds and glittering stars for a roof. And again, the Malvani food!
Getting there:
Follow the Mumbai trains to Kudal, just as with Vengurla, and simply ask your ride from the station to take you here instead.
Nothing like the Arabian Sea sunset at Tarkarli Beach with family (Photo Credit – Thejas Panarkandy)
What are you waiting for? Tis the sea-sun to enjoy quality beach time! Especially when you can plan it with us here or contact us at thinkingindia@indiasomeday.com for any enquiries.
helping you travel your way
Everything you need to know about India is here We have tried writing about everything you may need help with for your trip to India, If you need help in planning a trip to India Get in touch with us to to plan your trip of a life time.