Top 10 places to visit in Ladakh
There are very few places in the world as enchanting as Ladakh and its capital Leh. Its mountainous landscapes, deep blue lakes and scenic road journeys have been luring travellers from all around the world. Alluring beauty aside, there are plenty of attractions to take in, from beautiful monasteries and elegant palaces to quaint villages and high mountain passes. Want to know which of these amazing places should be on your bucket list? Check out our cherry-picked list of the top 10 places to visit in Ladakh.
Village situated amidst the beautiful mountains
Leh Palace
Sitting on top of a hill, Leh Palace is one of the finest examples of medieval Tibetan architecture. The palace is made of stones, wood, mud and sand and is often compared to the world-famous Potala Palace in Lhasa. The walls of the palace provide warmth in winters and create a cool ambience in summers.
The interiors are adorned with crowns, ceremonial dresses, jewellery and artistic paintings. Some as old as 450 years and made from colours derived from powdered stones and gems. Murals etched on the walls depict glory days of the past. If that's not fascinating enough, the palace provides spectacular views of the surrounding mountain range and the valley below. There's no doubt why this makes it to our list of top 10 places to visit in Ladakh.
Location: Leh
How to get there: Leh Palace is a short walk uphill from Leh Market. Alternatively, you can drive up to the entrance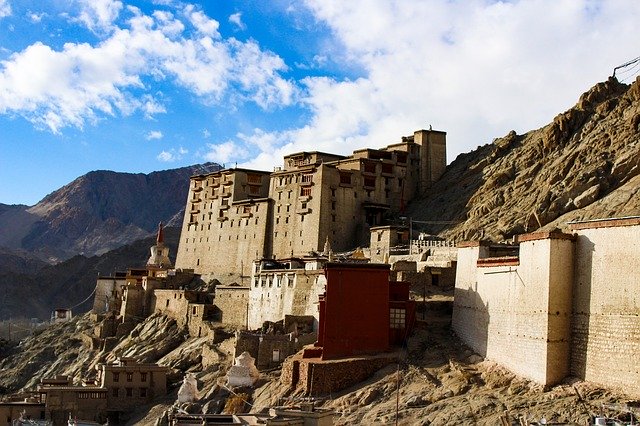 The palace provides spectacular views of the surrounding mountain range and the valley
Shanti Stupa
The Shanti Stupa is a white-domed monument built on top of a steep hill. Facing snow-capped peaks, it was made by an interesting blend of Japanese Buddhists along with the locals. It marked and celebrated 2500 years of Buddhism and was also meant to be a symbol of peace. The stupa holds a golden Buddha statue and images of his birth and death.
Being at a vantage point, the stupa affords unadulterated views of the valley below. Lit up at night, it acquires a beauty of its own. If you want to witness a magical sunrise or sunset, this is one of the best places to visit in Ladakh.
Location: Leh
How to get there: You can go by car up to its entrance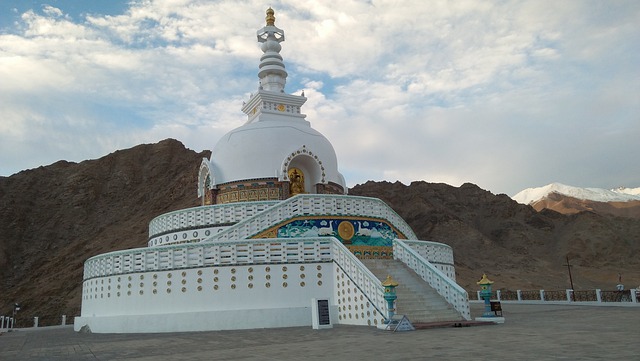 Shanti Stupa is a beautiful Buddhist place of worship you should visit during sunrise or sunset (Photo Credit – daemonzzz)
Sangam at Nimmu
On the way to Leh, along the Srinagar-Leh highway, lies the Sangam. It is a confluence of two rivers at Nimmu. Breathtaking to witness, here the emerald waters of the Indus merge with the brownish waters of Zanskar. It makes for a spectacular sight, especially for nature lovers. It is one of the top 10 places to visit in Ladakh if you want to see an unforgettable sight of natural wonder.
Location: Sham Valley
How to get there: It is 33 kms from Leh by road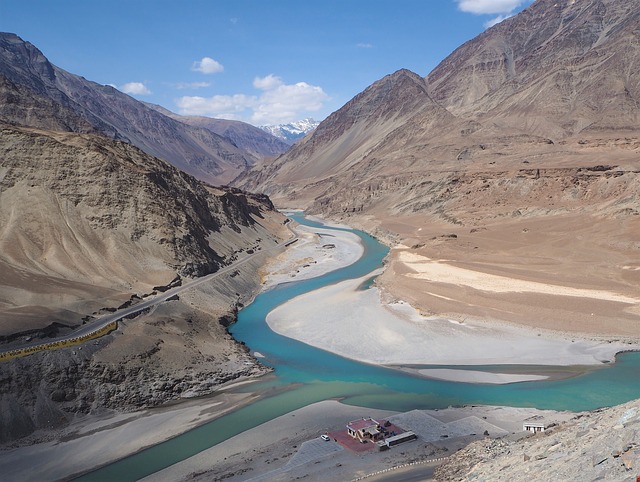 Sangam is a confluence of two rivers at Nimmu (Photo Credit – narumi31)
Lamayuru Monastery
A quaint village between Kargil and Leh. Lamayuru is known for its moon-like terrain, earning it the nickname 'Moonland'. If that name itself isn't enough to justify its place on our list of top 10 places to visit in Ladakh, simply read on.
Legend has it that a lama named 'Naropa' walked this land when it was submerged underwater. Upon his request, the water receded thus letting him establish the monastery which is now the famed 'Lamayuru Monastery'. One of the most beautiful monasteries in Ladakh, its interiors are embellished with jaw-dropping paintings and frescoes. A cave next to the prayer hall has statues of Naropa and his disciples, one of the highlights of this shrine.
Perched on a hill, the monastery also offers unparalleled views of the moonscapes around it. And just like the moon, the monastery is 'out of this world'.
Location: Lamayuru (Leh-Srinagar Highway)
How to get there: It is 116 kms from Leh by road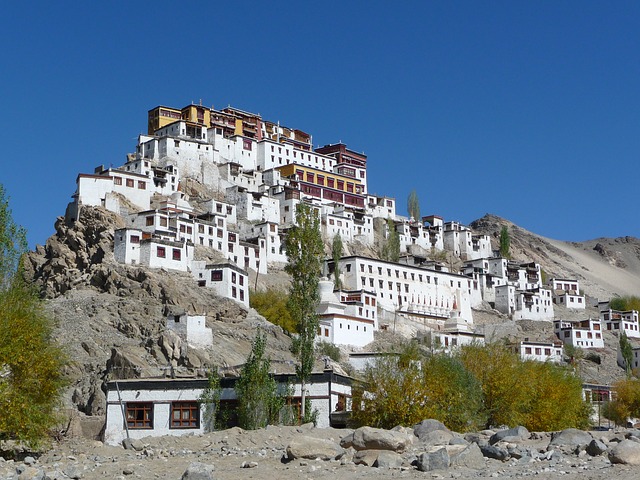 One of the most beautiful monasteries in Ladakh situated in the 'Moonland' (Photo Credit – Lionel Borie)
Khardunga La Pass
Imagine what it would feel like to be on top of the world. No, we are not talking about the arduous climb to Everest. On the way to Nubra Valley, a popular destination in Ladakh lies Khardung La pass – the world's highest motorable road. It's located at a staggering altitude of 18,380 feet.
Stop here for a cup of tea and admire the surreal snow-covered landscape around you. This is on the bucket list of everyone who travels to Ladakh. It almost feels like you are at a winter wonderland. This is because everything around you from rocks to roads to mountains are draped in snow.
The steep and rugged terrain, winding roads, furious winds and unpredictable weather means you will earn bragging rights for making it this far. No wonder it's a rite of passage and one of the top places to visit in Ladakh for bikers, cyclists and travel junkies.
Note: Being at such a high altitude, you cannot stop here for more than 20 minutes. The oxygen levels are very low, so don't linger around for too long.
Location: Khardung La Top
How to get there: It is 40 kms from Leh city by road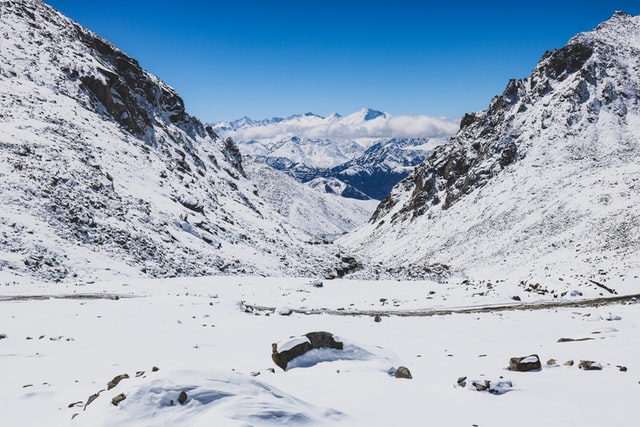 Khardunga La Pass is the world's highest motorable pass
Sand Dunes at Hunder
One of the best experiences in Ladakh is lying on the desert and gazing at a million stars. You wouldn't believe us, would you? After all, who expects to find a desert atop the Himalayas? Most of you may not be aware that Ladakh is actually a high altitude cold desert. It's more than evident at the super scenic Nubra Valley.
One of the most popular attractions in this valley is the village of Hunder. Every year, this place is swarmed with thousands of travellers, who come to witness sand dunes wrapped around by golden brown mountains.
The desert is also home to the double-humped Bactrian camel, a rare species found only in this region of Ladakh. A ride on the backs of these sturdy animals is surely one of the most memorable experiences to have.
Location: Nubra Valley
How to get there: It is 120 kms from Leh by road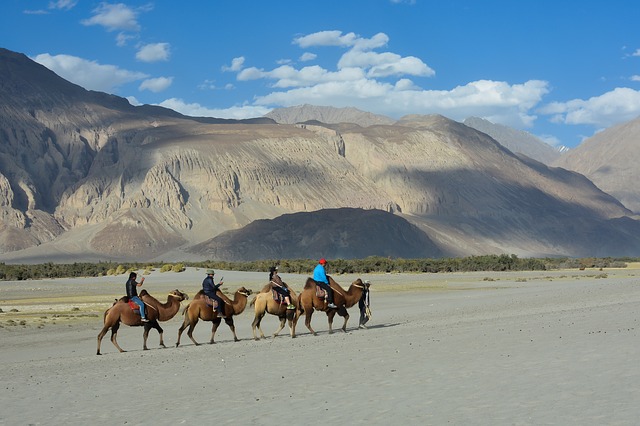 Hunder sand dunes – Nubra Valley
Turtuk
Straddling borders with Pakistan, Turtuk is the closest village to the 'line of control (LOC)'. Located so close to the border, this is the only village that tourists are permitted to visit. The landscape here changes dramatically with barren wastelands giving way to lush greenery, with an abundance of Apricot and Peach fields. Inhabited by a Muslim population, this quaint village is one of the last towns in India to have a prominent Balti culture. Try the delicious Balti cuisine here, especially the Apricot based stew.
With its serene ambience, scenic vistas and the aquamarine waters of river Shyok meandering through the village, Turtuk is as heavenly as it gets. It is definitely one of the top offbeat places to visit in Ladakh, where you can soak up the beauty undisturbed by tourist crowds.
Location: Nubra Valley
How to get there: It is 205 kms from Leh by road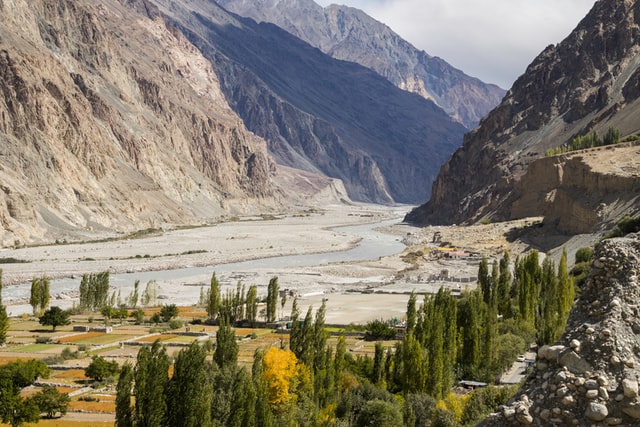 Scenic views of Turtuk
Pangong Tso Lake
Ladakh is home to many high altitude lakes, but none can match the grandeur of Pangong Tso. Brought to limelight by the movie '3 Idiots', it is now the most popular destination in Ladakh.
Flanked by mountains of brownish hues, walking along the banks of the azure blue lake is akin to living in a postcard picture. Its uniqueness though, lies with the changing shades of the lake as the day progresses. Be ready to whip out your cameras and catch this mystic phenomenon live. At night, watch the sky blanketed by a million stars as you camp next to the lake.
Come night or day, there is always magic in the air at Pangong.
Location: Tso Pangong, Changthang plateau
How to get there: It is 160 kms from Leh by road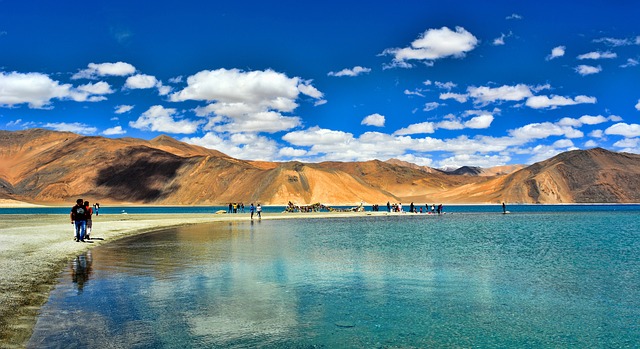 The most popular destination in Ladakh (Photo Credit – Gautham Navada from Pixabay)
Hemis Monastery
Hemis monastery is the largest monastery in Ladakh. It's widely known for playing host to the popular Hemis festival every June. Its exquisite architecture, serene surroundings and views of neighbouring mountains make it a must visit on your Ladakh trip.
The monastery has one of the rarest collections of Thangka paintings, murals, Buddhist scriptures and stupas made of gold and silver. Wonderful paintings of Buddha cover the monastery walls.
If you happen to visit during festival time, you can see masked dancers performing, listen to traditional music, watch people strolling about in colourful attires and gorge on delicious local cuisine.
Location: Off Karu, on the Leh-Manali highway
How to get there: It is 44 kms from Leh by road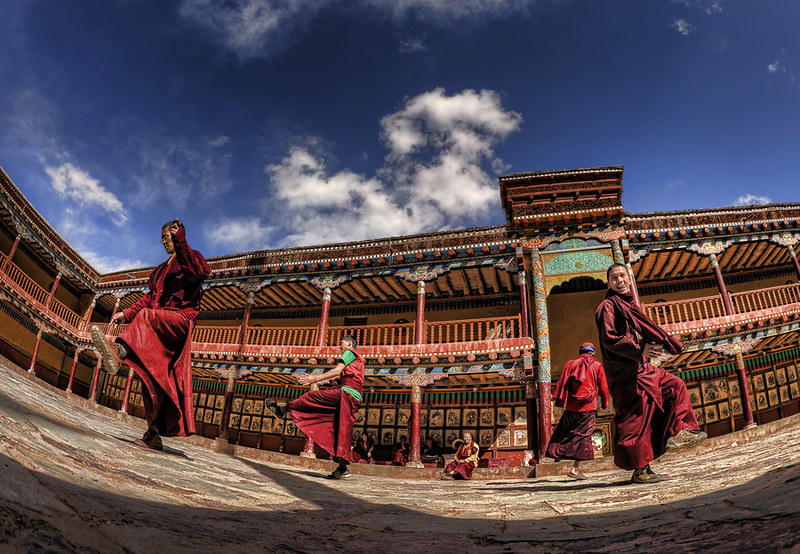 Welcoming dance at Hemis monastery, Ladakh (Photo Credit – Alex Hanoko)
Tso Moriri
Tso Moriri is Pangong's alter ego, similar in its bluish complexion and astounding beauty. It is remotely located higher than the Pangong Lake. Accordingly, visited by fewer tourists, and therein lies its appeal. With brownish mountains towering over it on one side and a lush green countryside on the other, it is like staring at a live oil painting. Bird enthusiasts have another reason to cheer as the lake attracts a number of migratory birds, right from seagulls, Brahmin ducks and geese, to the rare and elusive black-necked cranes.
For a more immersive experience you can camp at Korzok village in the vicinity of the lake.
Location: Korzok Village, Changthang Plateau
How to get there: It is 220 kms from Leh by road
Leh and Ladakh are stunning locations, and well worth the visit. We hope that reading our list of top 10 places to visit in Ladakh has inspired you to plan a trip there. Contact us for any sort of help you need, and for more insider tips and advice on where to go and how to get there.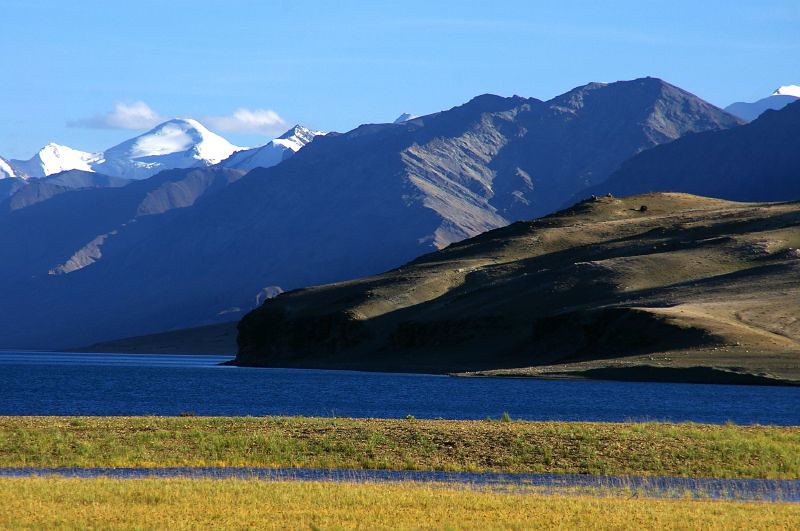 Lake Tso Moriri, Ladakh (Photo Credit – Margarita)
Click on Plan Your Trip for your ideal itinerary.
helping you travel your way
Everything you need to know about India is here We have tried writing about everything you may need help with for your trip to India, If you need help in planning a trip to India Get in touch with us to to plan your trip of a life time.