South India in May and June
Planning on visiting South India in May and June? To be honest, we aren't big fans of visiting South India in May and June. It's hot. As in super hot! And humid! This doesn't just mean fewer travellers coming to India but also that our subtle travel expert brains work a little slower than usual. But it doesn't mean that you can't travel to India. In fact, it only means that the mountains are calling!
And it's not only the foothills and mountain ranges of the Himalayas that should get all the attention. From Mumbai in the north to the most southern tip of the subcontinent parallel to the western coast run the Western Ghats, a 1600 kms long mountain range listed as a UNESCO World Heritage Site. Covered with national parks, wildlife sanctuaries, forest reserves as well as charming hill stations.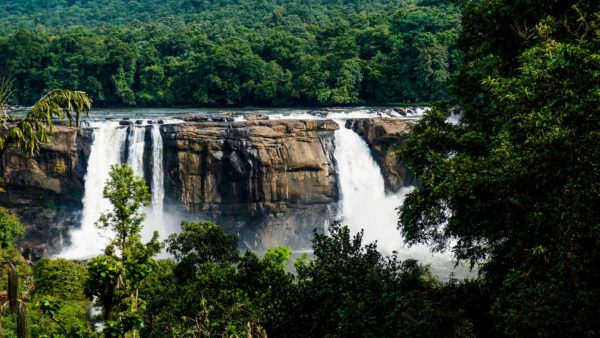 Athirappilly Water Falls (Photo Credit – Rashi Raffi)
An insight on travelling to South India in May and June
You can't just find various wild and unique flora and fauna species in those hills but also endless fruit, tea and coffee plantations. And visiting South India in May and June offers cooler temperatures and less stuffy air than in the cities and plains of India.
As soon as the rains start by the beginning or middle of June, nature changes its colour from brown-yellow to lush green within a couple of days. Waterfalls appear and rivers and lakes fill up. It's a celebration of life! The cloudy sky and cooling rain bring a drop in the temperatures and fresher more breathable air.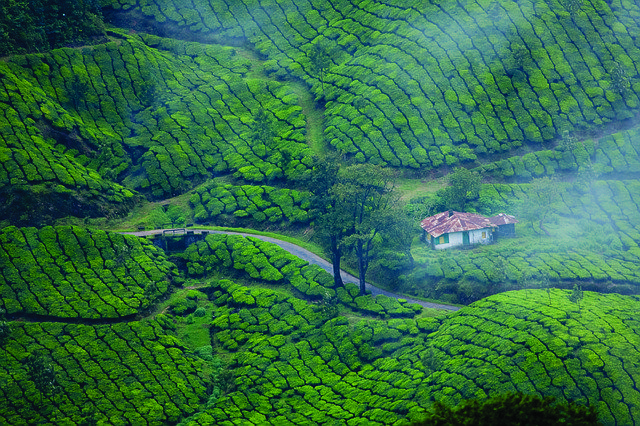 Misty mountains in Munnar (Photo Credit – 4769654_640)
South india in may and june (Munnar)
The most popular amongst the hill stations is Munnar which is reachable in 3 hours from Kochi and in 5 hours from Madurai. It's more a region than a certain city or village worth visiting. In fact, the city of Munnar is a cluster of shops selling locally harvest products and cheap accommodations. Therefore, we rather suggest staying in the countryside amongst tea plantations, dense rain forest and high mountain views. There are numerous homestays and boutique hotels meeting every kind of traveller's budget and expectations.
One can take road trips up mountain roads through breathtaking landscapes. Visiting museums and strolling or hiking through the tea plantations and forests is a good option. The beautiful Eravikulam National Park is home to the endangered Nilgiri Thar and is located only 35 kms from the city centre of Munnar.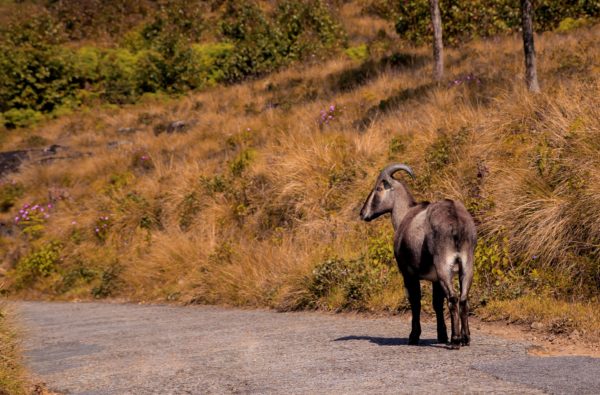 Nilgiri Thar at Eravikulam National Park (Photo Credit – Nandhu)
South india in may and june (Thekkady)
Thekkady can be reached in 3.5 hours from Munnar. The drive there is an experience in itself as the roads are built in several serpentines running up and down the mountains. The mountains are covered in dense forest and more tea plants. Thekkady is a region that accommodates the famous Periyar National Park. Spread across 777 kms, the wildlife sanctuary is home to tigers (there is no chance to see them though), as well as elephants, bisons and deers who often come to the artificial lake in the center of the evergreen park to drink. Your best chance to get a glimpse is to go on a bamboo boat ride or on a guided safari tour with tribal ranchers.
The little village of Kumily is the closest to the entry of the park and offers many nice restaurants and accommodations. The region is also famous for it's spice plantations. Visit them to learn more the local culinary and ayurveda secrets.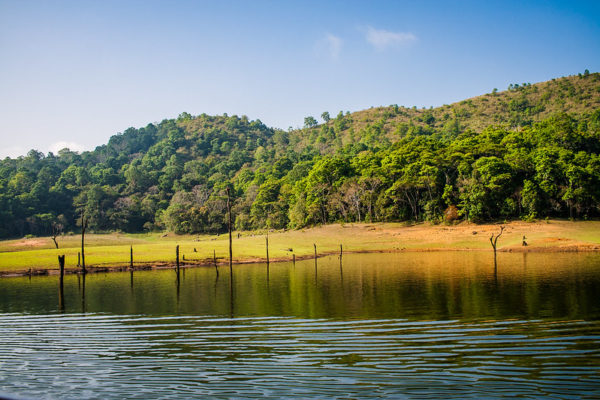 Visit Piyar National Park in Thekkady (Photo Credit – Naeem Mayet)
South india in may and june (Wayanad)
Wayanad is a region in the Western Ghats further north of Kerala. Owing to its bigger distance to the backwaters and beaches, it is worth visiting as it's less crowded and touristy. However, there is a lot to experience and see in Wayanad. Hike up to the Edakkal Caves which is of moderate difficulty. It boasts of gems like the prehistoric wall painting dating back to 8000 years. Thsi is a great way to get an overview of the mesmerising landscape of Wayanad. Or you climb up to the Chembra Peak with views all over the area with pleasant mountain climate to enjoy.
Don't miss out on the Banasura Sagar Dam in Kalpetta. It is the largest dam in India and is the 2nd largest in all of Asia. At Muthanga National Park, you can experience exotic wildlife and nature on a half-day safari. Kuruva Dweep is a group of unhabituated islands in the river delta of the Kabani River. Here, one can find an incomparable interesting flora and fauna. You can cross from river island to island on small bamboo rafts which make the visit very adventurous.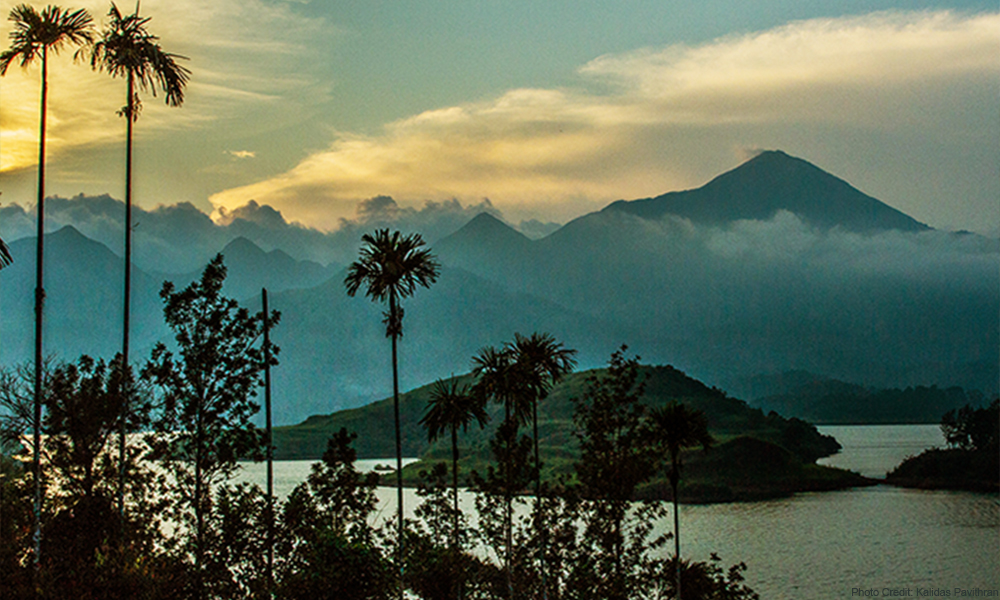 The beautiful landscapes of Wayanad
Other hill stations
You could also visit the other interesting hill stations in South India in May and June. To name a few, you could visit Ooty, Coonoor and Kotagiri in Tamil Nadu, all within a 50 km radius from each other. Ooty is called the queen of hill stations and was established by the British as a place of temperature relief. You can reach it on a memorable ride with a toy train. Coonoor and Kotagiri are smaller but you can also hike and enjoy stunning views from the surroundings of these small villages but do avoid their bustling messy centres.
Coorg is a hill station in Karnataka, 120 kms north of Wayanad, and famous for its coffee and spice plantations. On the weekend's, domestic tourists from Bangalore flood into this countryside. Accordingly, weekdays is your best bet if you like to enjoy the beautiful nature almost by yourself.
more information
If you aren't much of hiking or nature person and prefer luxury travels and relaxation, South India doesn't disappoint. You could travel to the beaches of Goa or Kerala as well as the Backwaters and stay for a bargain at 4 to 5 stars resorts. Many hotels, homestays and resorts close between April and October due to the off-season. However, the ones that remain open offer great deals in the hot and rainy season. But be prepared that it can get extremely hot and many restaurants and bars will be closed.
You can find some of the mentioned hill stations in our articles 'Suggested travel routes for two weeks in south India', 'Budget backpacking tour of South India' or 'Four travel routes for Kerala'. We can also create a personalised travel route for you to include some or all of the mentioned regions so you can travel from one cool and naturally beautiful place to another. Hit that Plan Your Trip button and let's get started!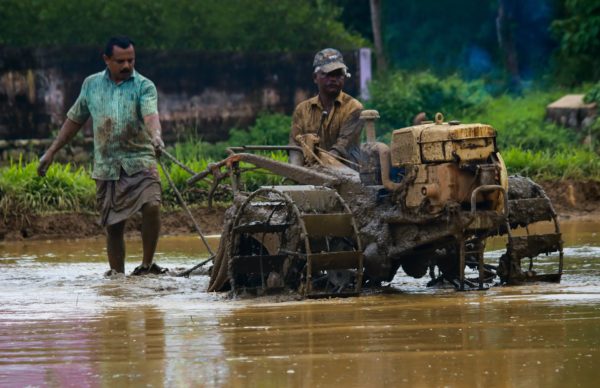 Cultivating Paddy Field (Photo Credit – Nandhu Kumar)
helping you travel your way
Everything you need to know about India is here We have tried writing about everything you may need help with for your trip to India, If you need help in planning a trip to India Get in touch with us to to plan your trip of a life time.