Best Time to Visit India
Contrary to the popular perception of India being an all-year destination. It is extremely crucial for you to understand that from the mighty Himalayas to the balmy beaches it is all about picking the right destination based on when you are visiting India. We explain all of it in detail. We will give you a broad overview on when is the best time to visit India, we will also tell you which are the best regions to visit if you pick a leaner season, best festivals in India or when is the best weather in India and more.
So, wondering when is the best time to visit India?
Weather in India can play a major role in planning your trip. Broadly speaking, the best time to visit India is ideally between October to the end of April. However, India has a very distinctive climatic pattern and a different method of conceptualizing seasons.
The winters are mostly pleasant with moderate temperatures and almost no precipitation (honestly, it hardly ever rains in India outside of the months June to September). The summer months of (mid) April, May and June can get unbearably hot.
From mid-June to September, the monsoon winds bring heavy rainfall across the entire subcontinent.
Therefore, the weather in India is an important factor to consider, while picking the best time to visit India. Festivals in India also play a large role in deciding your travel plan and itinerary.
Here is a detailed overview of what the weather would be like each month in India, in different regions of the country, feel free to explore.
January | February | March | April | May | June | July | August | September | October | November | December
Simply hit the Plan Your Trip button and we'll help simplify it all. Let us help you travel your way, keeping in mind all your interests and requirements while exploring the best of this vibrant subcontinent.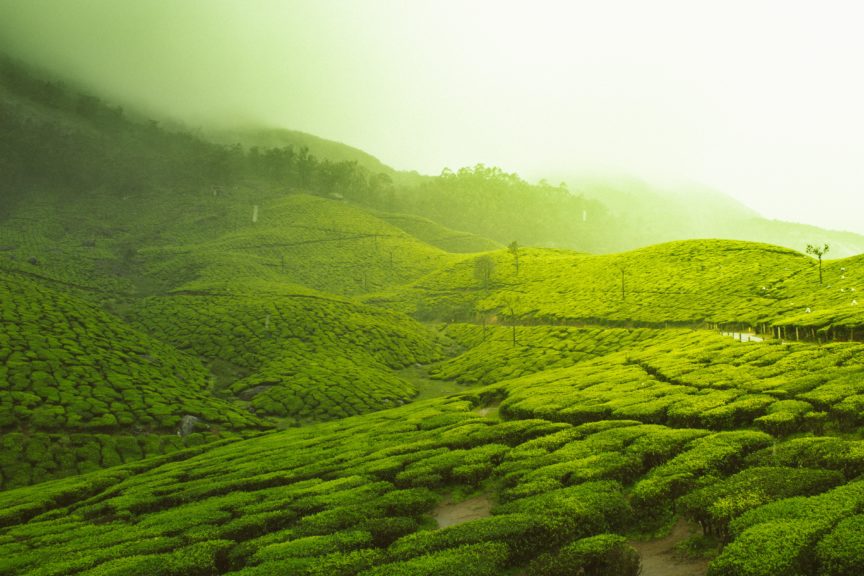 Munnar tea plantations
WHEN IS TOURIST SEASON in India?
The best time to visit India, and hence when the tourist season starts, is from November to the beginning of March. This is when India faces mostly moderate temperatures in the South, Central and the flat parts of North India. Certain parts of the high Himalayas are inaccessible in December and January, but by and large, you can expect clear sunny days across India. Yes, great beach weather too across all those months.
Do bear in mind that October is a good month to visit most of India too, it is dry and not many tourists have still arrived. The afternoons in October can be a little hot, our only grudge with that month in India. Diwali, India's biggest festival is celebrated either in late October or early November. We can highly recommend planning your trip around the festival of lights in India.
Click on Plan Your Trip, if you want us to help you with it!
If you plan your holiday during this time, it is best to book at least three months in advance to get the best pick of hotels at reasonable rates and hassle-free train reservations. The prime tourist destinations such as Rajasthan, Agra, Goa and Kerala get quite crowded. During Christmas and New Years, in particular, Goa is completely packed with domestic as well as international tourists.
Having said this, it's not just the benefit of cooler temperatures. If you like meeting other interesting travellers, and you like the buzz and excitement while you travel, then there's nothing quite like seeing India in peak season. Check out our tour ideas, almost all of which, could be executed in these months.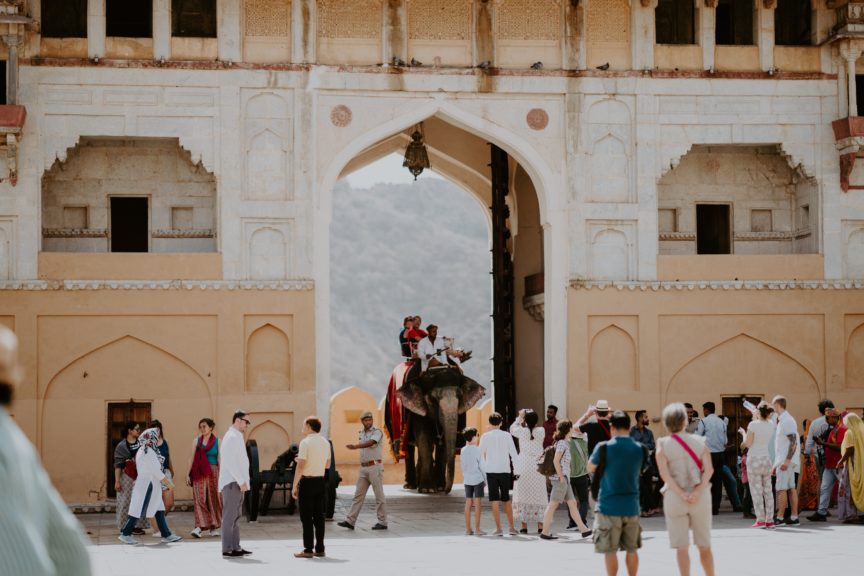 Amer Fort
WHEN IS THE MONSOON SEASON? HOW IS IT LIKE?
The monsoon starts in June and lasts until September. It's an exotic concept to those travellers coming from more moderate climate zones. But India is a big country with multiple climate zones and therefore the monsoon develops differently in various areas of India. i.e. while 80% of India receives its rainfall from what is called the southwesterly monsoon, the intensity of the monsoon decreases as you move from the South to the North of India.
In South India (think Kerala, Goa and Mumbai), and we don't want to sugarcoat it, it rains a lot! Not like a British drizzle or the one shower for a couple of minutes you get in Southeast Asia. It can rain for days and heavily in the tropical areas of the west coast and the Himalayas. You want to be prepared for traffic disruptions and higher humidity.
On the bright side…
Even though it can sometimes be quite unpleasant and it might not be the absolute best time to visit India, there are benefits to this season. The natural world comes to life; dry brown grasslands and forests become lush green (you have to see how alive the countryside comes during the monsoons). The farmers welcome the season with full productivity, and lakes and rivers. as well as waterfalls, fill up and become stronger than ever.
Many avoid India in the monsoon, which means you get a lot of the sights to yourself. Moreover, it's the best time in India to visit for those that are looking for affordable luxury. Many hotels offer their rooms for much less, often half the cost compared to other months. A little secret, most parts of North India only receive light showers during the monsoons a great region to explore especially during the months of August and September. More on the same a little later in this blog.
Want to jump to what the weather will be like in a particular month in India? Feel free to explore.
January | February | March | April | May | June | July | August | September | October | November | December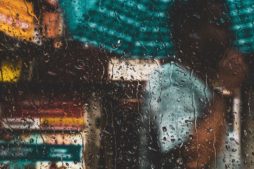 Not even the heavy downpours can bring India to a standstill.
PREPARING FOR THE MONSOON
Technically, you can travel anywhere as you are both physically and mentally prepared. Some areas, however, might be more enjoyable than others. Goa and Kerala get a lot of rain and humidity. We'd recommend avoiding the coastlines. Beaches lose their charm and strong currents make swimming dangerous. The beach resorts and shacks close in April and don't open until September or October.
Escaping the Monsoons in North India
Most of Rajasthan and the regions and parts of North-Central idea i.e. Varanasi, Khajuraho and Orchha are never drenched in tropical rain. They receive the right amount of rain for the countryside to come alive, hordes of tourists stay away and hotel prices drop! You would have to pack an umbrella or a rain jacket but the showers would always be light passing showers and never too cold. Check out Henning's trip through Rajasthan,
If you want to escape the monsoon all together and enjoy the mountain landscapes, Ladakh might be the best place for you. The region boasts of breathtaking views and great hikes. It's called the cold desert as the only precipitation here is snow. July and August are the absolute ideal times to go visit. Check out Coralie's trip to Kashmir, Leh, and Ladakh.
From June to August, it is best to avoid the mountains or the Himalayan region of India (except for the region of Ladakh). Rishikesh, Dharamshala, Manali, Shimla, Kasol, Sikkim, and Darjeeling face heavy rainfall and consequently many landslides. It's impossible to trek and you'd be compelled to stay indoors most of the time – not the best way to spend your precious time in India.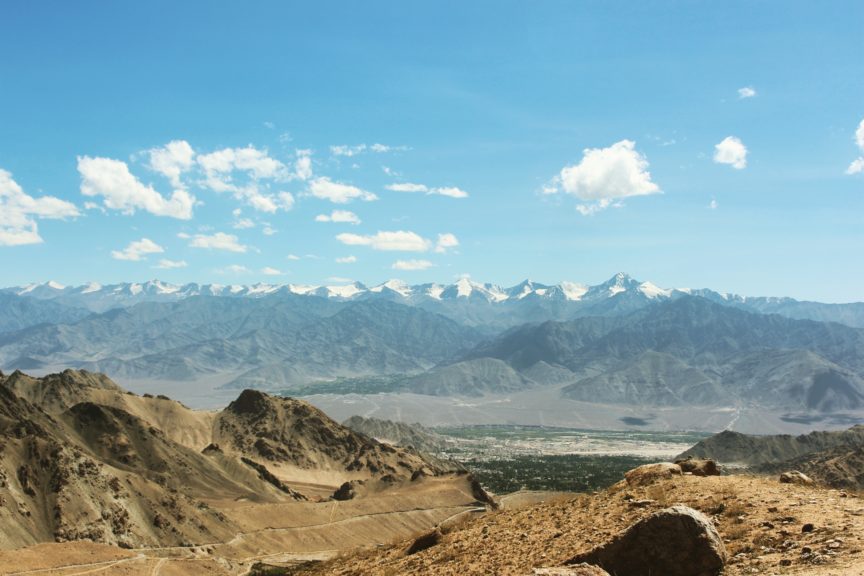 Escape to the mountains, like the Nubra Valley near Ladakh, during the monsoon season, and enjoy the paradisiacal landscape.
WHEN IS SUMMER AND HOW HOT DOES IT GET?
From mid-March until the monsoon which starts towards mid-June, as well as October and November, it can get really hot. In the Central and flat parts of India (temperatures go up to 45 degrees Celsius). This shouldn't stop you from visiting India, in fact, it gives you the perfect chance to explore the Northern region or rather the mountains of India.
Summer in India is the perfect time to visit the Himalayas or the Northeastern part of India. You can venture to the spiritual haven of Rishikesh, which lies on the banks of the Ganges River. You can even visit the exiled Dalai Lama in Dharamshala. British hill stations like Shimla or Darjeeling are great to visit, while thrill-seekers can trek in various regions of North India. Ladakh becomes accessible by June. Take a look at Stephanie's spiritual voyage through the North for some inspiration on a travel route through this region.
We would like to mention we can always plan a trip that has you spend a short amount of time visiting the absolute must-sees like the Taj Mahal, Varanasi or the highlights of Rajasthan. It would be hot, but you would stay in air-conditioned hotels and use air-conditioned modes of transport. After you visit the highlights you can spend the rest of your time in the Himalayas, going on hikes and exploring monasteries in pleasant sunny weather.
Western Coastline
Along the western coastline runs the massive 1600 km long Western Ghats mountain range. It contains beautiful hill stations, a variety of flora and fauna, and forest and natural reserves that give it the much-deserved validation of being a UNESCO World Heritage Site. Wayanad, Coorg, Munnar and Coonoor are some of the places you can visit to escape the heat.
Every time you leave the plains and enter the mountainous regions between the summer months, you immediately feel the change in temperature and air quality. Since off-season for tourism in India starts in April, you'll already save substantially on hotel bookings. Except in the Northern mountains where tourist season is at its peak in April and May.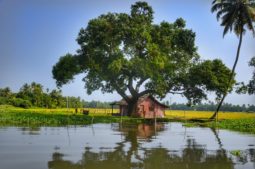 Summers in India guarantees clear blue skies, a beautiful golden hour, be it morning or evening. Every Photographers paradise.
WHEN ARE THE MOST IMPORTANT FESTIVALS in India?
A few events and festivals in India make for some of the best times to visit India. So, if you can, time your travel around any of the festivals in India, it'll only further add to the charm of exploring this vibrant country. Diwali, the festival of lights is usually in October and sometimes at the beginning of November. Holi, the festival of colours, is in March. August and September are celebrated across the country with countless, diverse harvest and religious festivals. These include Ganesh Chaturthi (festival for the elephant-headed God), Onam (ten days harvest festival in Kerala), Navratri (nine days festival to celebrate the 9 incarnations of Goddess Durga) and Dussehra (a religious festival based on Hindu mythology).
While it's great to see and take part in local festivities and ceremonies, a lot of festivals in India are intimate family celebrations. Therefore, it would be best to stay at a homestay either North or South at that time. Just before and after festivals, trains get booked way in advance and flights are extremely costly. This is because most Indians travel to be with their families. So, try and do the same and book well in advance.
The festive seasons may not always coincide with the holiday dates you had in mind. If you just give us a shout, we'll help you plan the ideal trip while making sure you experience a traditional festive celebration or cultural event. There's always something great going on in India, and we know exactly when and where.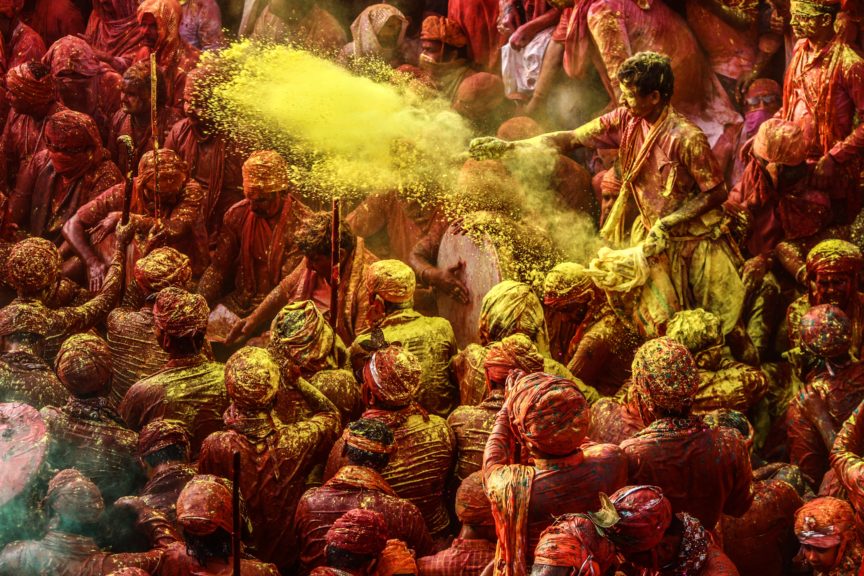 The Holi festival, the festival of colour, will leave you spellbound, with crowded streets and people painted in vibrant colours.
OFF-SEASON TRAVEL IN SOUTH INDIA
Off-season tourism in South India, especially during the monsoon rains, is a hidden gem waiting to be explored. While many tourists flock to the region during the peak travel season, those who choose to visit during the off-season are in for a unique and tranquil experience.
One of the best places to visit during the monsoon season in South India is Kerala, often referred to as 'God's Own Country.' The rain-soaked landscapes transform into a lush paradise, with the backwaters, tea gardens and misty hills boasting vibrant shades of green. The cool monsoon breeze adds to the pleasant weather a refreshing touch, making it an ideal time to visit for nature lovers. After all, this is also prime wildlife viewing season for wildlife enthusiasts. Don't miss out on the serene houseboat rides through the backwaters of Alleppey and picturesque hill stations like Munnar and Wayanad.
Another fantastic off-season destination is Coorg, also known as Kodagu, in Karnataka. This southern India hill station is famous for its coffee plantations, dense forests and cascading waterfalls. Come the monsoon rains, Coorg becomes a paradise for trekkers and adventure enthusiasts. While peak tourist season may be dryer and sunnier, the Abbey Falls, nestled amidst verdant hills, is truly a sight to behold during this time.
If you are looking for spiritual replenishment and solitude, Pondicherry is a great option. This charming coastal town in Tamil Nadu takes on a tranquil aura during the monsoon season, making it perfect for a peaceful getaway. Enjoy early mornings in the French Quarter with its colonial architecture or meditate at the Aurobindo Ashram. If nothing else, take a quiet walk along the pristine beaches. And when you are ready for a meal, the best of Tamil Nadu cuisines are ready for the taking.
Finally, for those interested in wildlife, India is known for its many national parks. Both North and South India house a large number of protected wildlife species that are worth a visit when there are no crowds. Wayanad Wildlife Sanctuary in Kerala is an excellent off-season destination. The rain-washed forests make it a haven for wildlife enthusiasts, with opportunities to spot elephants, deer and various bird species. If the rains are a bit too intense for you, then you can travel to South India in the earlier summer monsoon months between May and July. This way, you have some sunny days along with the cloudy ones.
While the monsoon season might not be considered peak travel season, it offers a special refreshing perspective of South India. It's a time when the region's natural beauty is at its peak, providing a peaceful escape for those seeking time away from the bustling crowds and chaos of everyday life.
MARK YOUR CALENDARS WITH THESE FESTIVALS IN INDIA
If you want to witness the brilliance of Indian festivities and plan to travel based on festival dates, here are some special festivals around the country that you should definitely see.
Pushkar Camel Fair:
Held in November, Rajasthan's Pushkar Camel Fair blends a traditional camel trading market with colourful festivities. In this visit to northern India, you will find adorned camels lining the starting point of the great camel race along with their proud mounts, while other locals enjoy a Pushkar camel beauty pageant. Engage in traditional Rajasthani music and dance, while relishing food-coma-inducing local cuisine. And just when you thought the events couldn't get stranger, behold the moustache and turban-tying competitions as well! The fair's lively energy, cultural immersion, delicious shopping and camel-centric activities make it an unforgettable adventure.
Holi Festival:
Join locals in a riot of vibrant hues as they playfully drench each other in coloured powders and water. Celebrated in most of northern India and some parts of South India, the Holi festival celebrates the triumph of good over evil. If you are planning a visit to northern India, with the Golden Triangle in mind (Delhi, Agra and Jaipur), then Holi is a festival you must witness at least once. Barriers dissolve amidst laughter and dance in a multi-coloured crowd. Savour traditional sweets and drinks like 'bhaang.' Be prepared to get colourful, embrace the carefree spirit and capture the essence of India's diverse yet unified celebrations. Remember, Holi falls in and around the peak travel season bracket, so you might want to book your tickets in advance after confirming the festival dates.
Lohri:
When you visit northern India, don't miss out on the warmth of Lohri, celebrated in Punjab and other parts of northern India in January. This festival marks the beginning of the harvesting season and unites families and friends around a bonfire to mark the end of winter and the onset of longer sunnier days. Witness folk dances like Bhangra and Gidda, enjoy delicious traditional sweets like 'rewari' and 'gajak'.
Diwali:
Celebrated in October or November every year, Diwali, the Festival of Lights, is a dazzling spectacle to behold across north and south India alike. Witness the illumination of homes, streets and temples with 'diyas' or oil lamps and vibrant rangoli designs. Partake in traditional prayers, exchange sweets and gifts, and join in the bursting of firecrackers. It is also said that the night of Diwali is auspicious and likely to bring a lot of prosperity, as we welcome Goddess Laxmi (the goddess of wealth) into our homes. This time of the year falls into the category of peak tourist season, given its pleasant weather and festivals galore. Experience the triumph of light over darkness and the festive joy shared by families.
Frequently Asked Questions
What is the best time of year to visit the Taj Mahal?
The best time of the year to visit the Taj Mahal would be between October to March. Do remember that the Taj Mahal is closed every Friday.
What are the best months to visit India?
The best months to visit India are November and February. These are not peak seasons like December and January and the weather is pleasant and comfortable.
What is the best month to visit Delhi?
The best time to visit Delhi is between October to March. However, we recommend dates toward February and March.
What month is monsoon in India?
Monsoon hits different parts of India at different times. In the west coast and northern part of India, the monsoon starts from mid-June and end in September. While in the east coast of Tamil Nadu and Orissa, it rains between October and November.
Which city in India has the best weather?
The most optimum weather for cities in India would be Bangalore. It has moderate climate all through the year.
Also, check out our Blog Weather Series for the different months in India. If you're still not sure when and where to travel when visiting India, plan your trip with us and we can help you figure it out.
helping you travel your way
Everything you need to know about India is here We have tried writing about everything you may need help with for your trip to India, If you need help in planning a trip to India Get in touch with us to to plan your trip of a life time.