Travel to the Himalayas: Three Route Ideas
This article is perfect for those looking to travel to the Himalayas. We have drafted three route ideas – up in the Himalayas and the Golden Temple, in the Northeast and in the famous Leh and Ladakh. We have also included some suggestions for hotel accommodation for you while you are there. However, feel free to contact us for any help in planning your perfect trip to the Himalayas!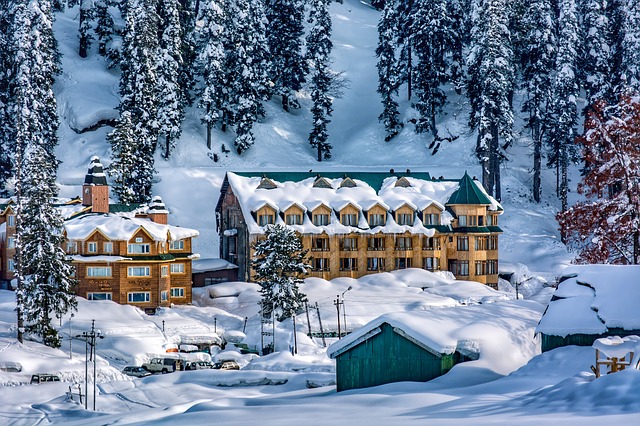 Beautiful white landscape
1. Himalayas and the Golden Temple (Nature and Spirituality)
Route: Amritsar – Dharamshala – Mirage by Andretta – Manali – Shoja – Kotgarh – Shimla – Kasauli – Chandigarh
This route is ideal for people wanting to experience a little bit of spirituality. You can witness the majestic mountains of the Himalayas from its foothills in Himachal Pradesh, a region filled with quaint and beautiful villages and cities.
Village situated in beautiful mountains
Amritsar
Start off your trip in Amritsar, easily accessible by flight, train and road. A must is to visit the Golden Temple – immerse yourself in Sikhism, a religion that gives. Further, the architecture and tank up on the humble Langar. Backpackers can catch a night's rest at the fabulous Jugaadus Hostels or Akaal Residency for some privacy.
If you have some room for spending, opt for the Country Inn and Suites. If you're looking for a more luxurious stay, the Svaasa is for you. From here, you can either catch a bus or rent a chauffeur-driven car at INR 4,000 for pretty much all connections in the hills.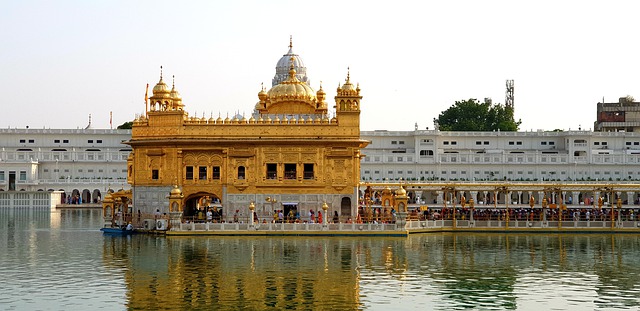 The Golden Temple is the most visited monument in the country
dharamshala
We'd strongly recommend hiring a driver, both because the roads are tricky for those unfamiliar and you're free to explore, discover and take in the view. Next, you move up to Dharamshala, home of the Dalai Lama and the adjacent McLeod Ganj in Himachal Pradesh. Dharamshala is a beautiful hill city that houses the exiled Tibetan government, so there's a huge Buddhist influence there.
Backpackers can hole up at the Pink House; those looking for a little more comfort can try Chonor House. There's a rare treat here for the artistically inclined called the Mirage, a homestay that doubles as an artists retreat, even having a pottery wheel for you to try. If you would like to spend the extra cash, we would recommend staying at the Mirage.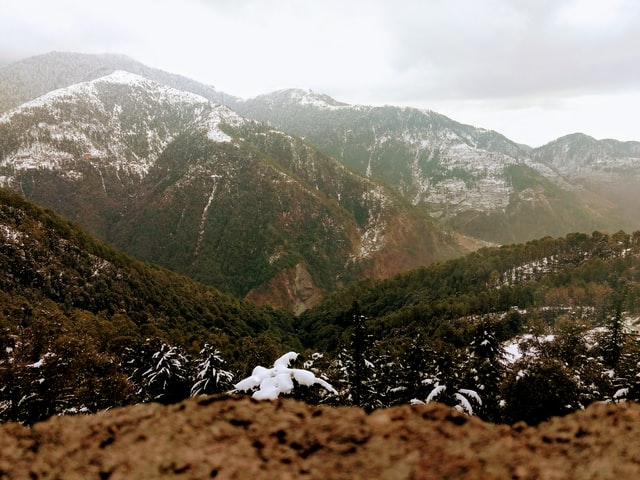 Green and brown mountain during daytime (Photo Credit – Rusheel Tickoo)
Manali
Manali is the next stop in Himachal Pradesh and one of the many foothills of the Himalayas. You can blow off some steam by just relaxing hippie style and then satiate your munchies at the numerous little adorable cafes. Rock Top Cottage Café is a great hotel choice for backpackers, a nice cozy setup. For someone looking for a more comfortable stay, Johnson's Lodge and the pricier The Himalayan, a beautiful castle resort that won't disappoint. Then catch a bus to Shoja, a national park that cradles a small village, making it a perfect base camp as you trek into its leafy recesses. All class differences are erased here since there's only one decent hotel available – Banjara Camps.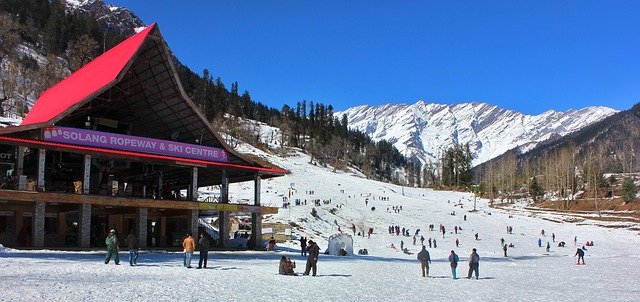 It's a gateway for skiing in the Solang Valley
Kotgarh
Kotgarh is nationally known for its apples and widespread apple orchards. It's utterly beautiful, whilst quaint; perfect for taking walks through apple orchards and forests. It's quite here, but the stunning Seetalvan Orchards will make your visit here so special.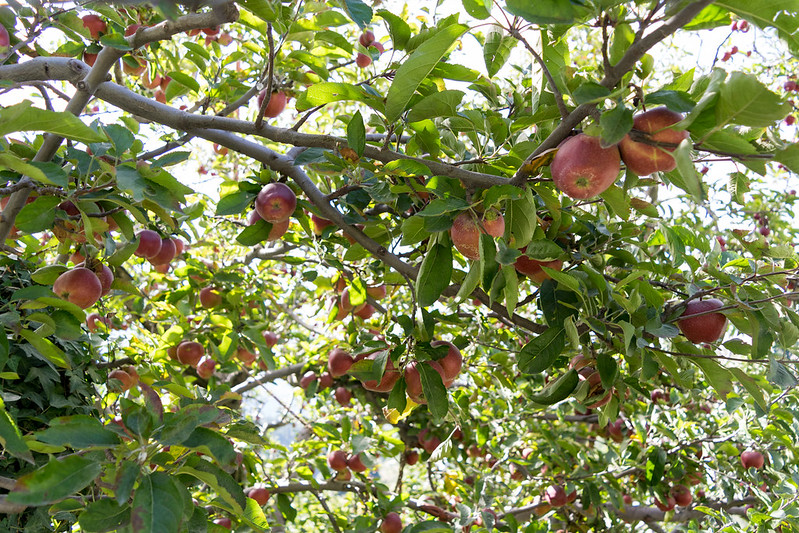 Apple orchards in Kotgarh (Photo Credit – Ashish Gupta)
Shimla
Shimla is the largest city in Himachal Pradesh and is definitely worth a visit when travelling to the Himalayas. As the summer capital of the British Raj, this charming resort town has a strong British colonial presence. In the centre of town, traffic is banned so walking is ideal and scenic, despite the hilly conditions! For those looking to escape the heat and to experience a happy buzz within popular hill resorts, Shimla is for you.
Wrap up the trip in Kasauli, free of cars, pollution and all the associated bad vibes. Hunker down in HPTDC's Ross Common or the elegant Seven Pines.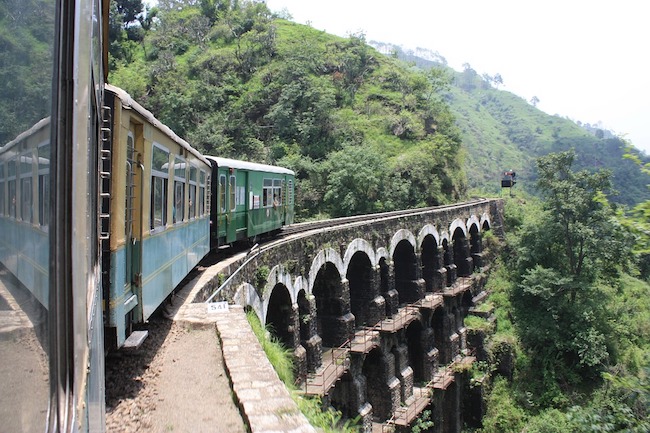 You will enjoy the toy train journey
2. NorthEast
Delhi – Bagdogra – Pelling – Gangtok – Darjeeling – New Jagalpuri – Guwhati –
Shillong – Kaziranga – Guwahati – Varanasi
Take a leap from Delhi to Bagdogra and Bagdogra to Pelling in a single day, by both air and road respectively. There, take some time to immerse yourself in the beauty of the villages. We recommend the Daragaon Village Retreat.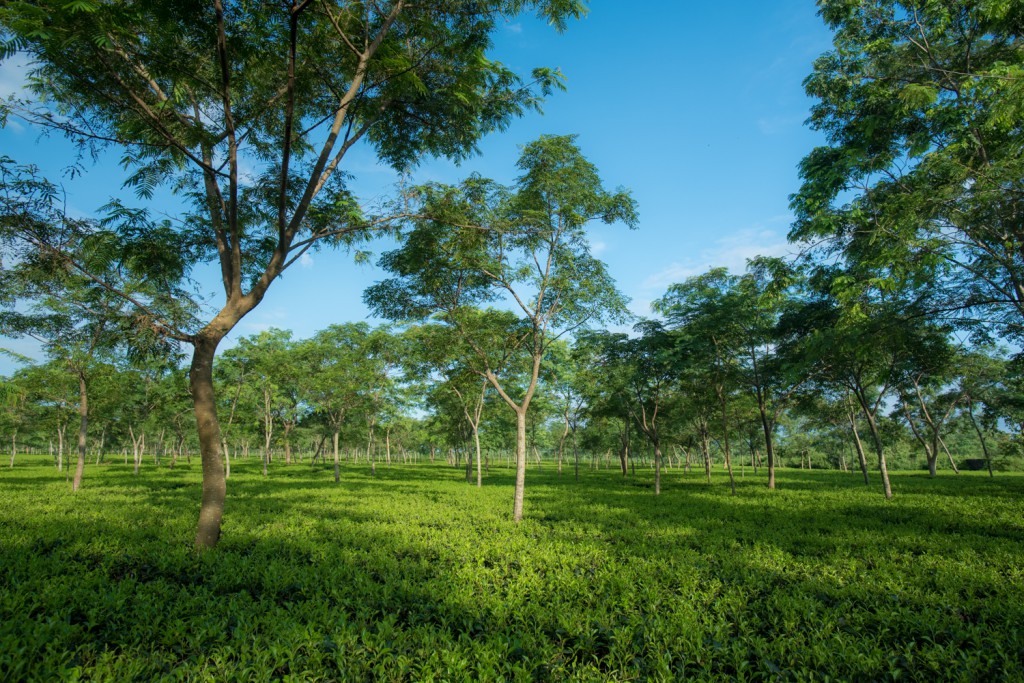 The Northeast is one of the most beautiful regions in the country
Gangtok and Darjeeling
From Pelling, take a scenic 5-hour drive to Gangtok, the capital of Sikkim, which is full of languid icy lakes and views of the soaring Himalayas. Sikkim is definitely a beautiful area, also with a large Buddhist influence in its architecture and traditions. Additionally, you can stay at the lovely Hotel Pandim while you're there before shifting base to Darjeeling.
The famous tea plantations from Darjeeling make a wonderful experience when travelling to the Himalayas. You can spend a couple of days learning the delicate art of picking and processing tea from the simple town that knows best. After a long day of exploring, head back to the shining wood floors and gaping bay windows of Hotel Shangri La for the night.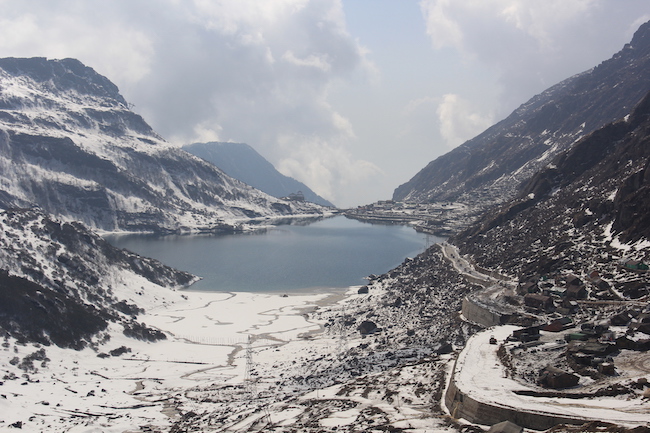 Changu Lake, or Tsomgo Lake, is only 40 kms from Gangtok, and one of the wonders of the Northeast
Guwahati
From here you can hire a car to drop you off at New Jagalpuri, which is 5 hours away. There you can then catch a train to Guwahati in Assam. From ancient temples to the burgeoning wildlife, Guwahati is a great destination for this route.
When you're tired of the history and the animals, take a quick 4-hour drive to Shillong, the capital of Meghalaya. Meghalaya is one of the Seven Sisters, and is nicknamed the 'Abode of the Clouds'. We recommend exploring the manicured gardens and the waterfalls.
Here's a more detailed look at what the Northeast has to offer, and how to go about planning your trip there.
Dawki River in Meghalaya
3. Leh-Ladakh
Delhi – Leh – Pangong Tso – Nubra Valley – Leh – Delhi
If you want more information on specifically Leh and Ladakh, here are some great travel routes for just this region.
This is the perfect route for someone highly interested in the mountains and landscapes but doesn't want to grind as a backpacker.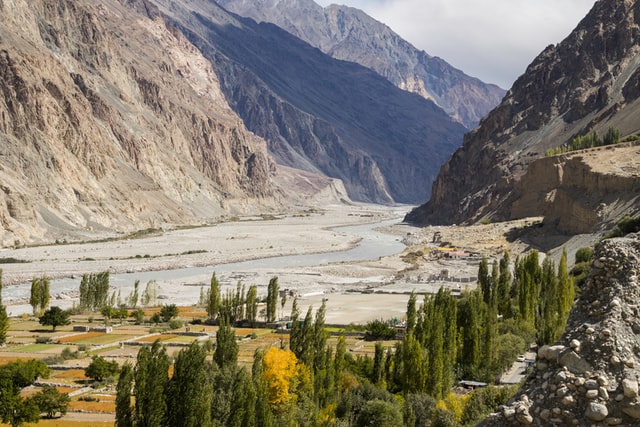 The best view in Turtuk
Leh
Once you land in Leh, make sure to give yourself some time to adjust to the drastic change in altitude, the only downside of a quick flight.
Once you've had your fill of the palaces and stupas, get into a jeep and take a drive through Chang-La Pass, the third-highest drivable road in the world. Come out the other end onto one of the world's most breath-taking sights – the endless stillness of Pangong Tso Lake. With this lake and the Moriri Tso, you'll find marvelous views of the two sister lakes.
The next day, you can set your sights 1010 ft higher at the world's highest drivable pass – Khardung La Pass. This treacherous road will take you into the uniquely distinct Nubra Valley bordering the Himalayas. Break through the fog and onto the smooth vistas of snow, take a million photos and a quick dip in the hot sulphur springs at Panamik before heading back the way you came.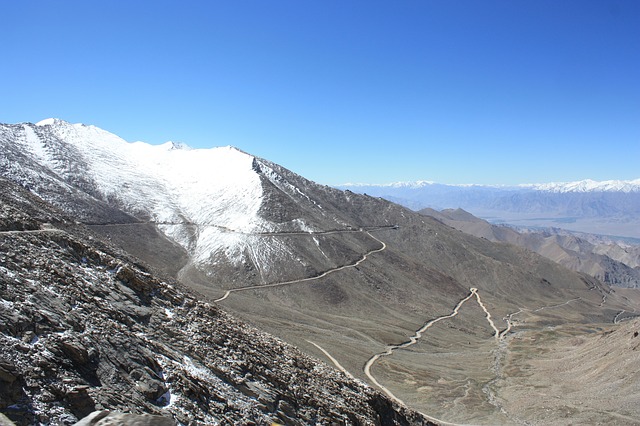 Khardung La Pass in Leh (Photo Credit – Wolfgang Reindl)
If you're planning to travel to the Himalayas and would like to do any of these trips, or would like any help planning your dream trip, let us know and we can make that happen for you!
helping you travel your way
Everything you need to know about India is here We have tried writing about everything you may need help with for your trip to India, If you need help in planning a trip to India Get in touch with us to to plan your trip of a life time.