Best time to visit Kerala
India's concept of seasons and its climate are very distinct. The country's regions face different seasons at different times of the year. While winters in some regions is just pleasant, it snows in North India. The monsoon is intense and rainy – a typical tropical monsoonal season with moderate temperatures. It is the monsoon and the winter that are the best time to visit Kerala for Holidays.
Famously known as God's own country, Kerala in South India is a treasure. It's important to check what the best time to visit Kerala is so you get the most out of the beaches, backwaters, festivals, and plush landscape. Read through our guide on the best time to visit Kerala, that covers weather in detail and some festivals to watch out for. Get in touch with us to find out more, or to start planning your trip!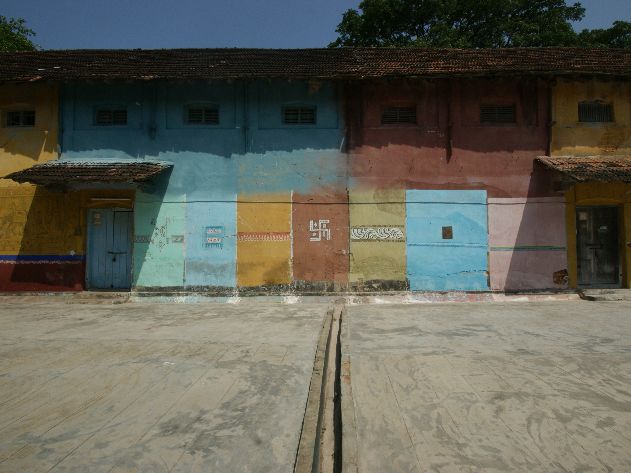 The vibrant colours in Kerala will catch your eye at any time of the year
what is the Weather in Kerala like
Kerala has a tropical climate, so be prepared for typical humid weather conditions. The annual average of rainfall is higher than in most of India, so it would also be wise to expect the occasional shower. As it is near the equator, the Kerala weather should technically be much hotter than it generally is. However, the Western Ghats, the high Indian mountain ranges along the coast, prevent the warm winds from reaching there. This keeps the temperature consistently below 35°C. Overall temperatures don't vary much, and hill stations like Munnar are cooler than coastal cities like Kochi and Trivandrum.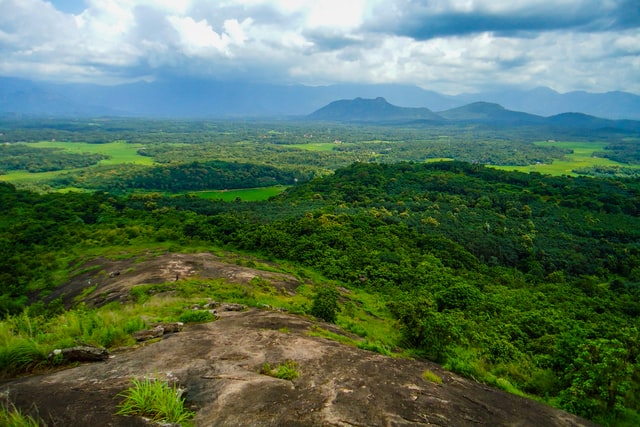 Munnar, and hill stations like it, are painted with a broad stroke of luscious green, especially in the Monsoon (Photo Credit – Sreehari Devadas_unsplash)
how is winter in Kerala?
Winter in Kerala starts by the end of November and ends in late February or beginning of March. The temperatures rarely rise above 30°C and it barely rains. The mountainous regions like Wayanad, Munnar and Thekkady can get quite cold, so pack some warmer clothes for the morning and evening. This is definitely the best time to visit Kerala, and this is the main season for tourism.
There's going to be a crowd at some of the sights, but it's worth it with the climate you're getting. You will also find more international tourists in winter than the rest of the year. However, Kerala is a popular destination for domestic tourists as well, especially honeymooners all year around.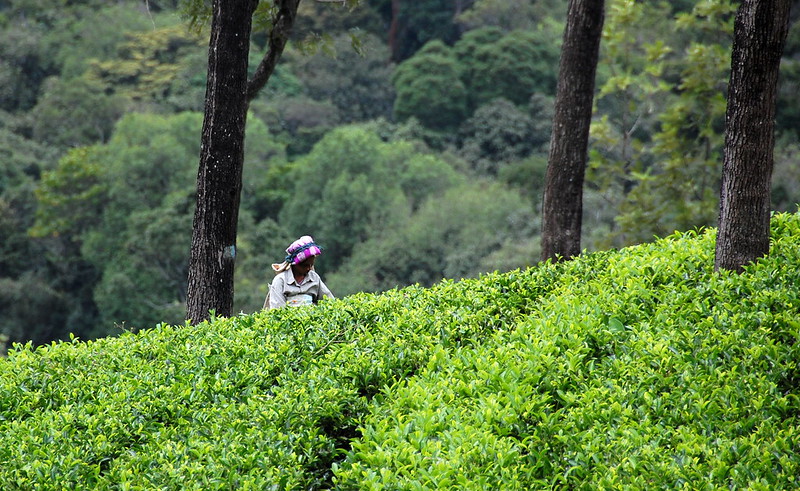 The best time to visit Kerala is also the best time to see the gorgeous tea plantations (Photo Credit – Girish Gopi)
What is summer in Kerala like?
While other popular places in India get extremely hot in the summer months, Kerala is slightly different because of its geography. The Western Ghats block the hot winds and the Arabian Sea offers a constant cool breeze along the coast. This keeps the heat quite moderate. If it rains, it's paired with thunder and lightning and flooding may happen, but the water dries up quickly. There is very high humidity so physical activities are exhausting.
If you prefer smaller crowds at sights, mountain treks and national parks, and top-end accommodations for reduced prices, summer is the perfect time for you. The popular backwaters are in season all year around but in the summer months of April and May, you might not be able to explore as much of the river and lake landscape as the water levels are too low to explore all areas.
There's something about Kerala's empty beaches that can be very appealing(Photo Credit – weareaway)
what is the monsoon in Kerala like?
The monsoon hits Kerala quite intensely at the end of May or beginning of June. The region gets 85% of its annual rainfall from June until September, and since the Western Ghats get hit first by the clouds in Kerala, precipitation and humidity are extremely high here. The luscious green of Kerala comes out even more during monsoon, but you have to withstand the rains. If you enjoy tropical climates and would rather explore nature in this type of weather, the monsoon in Kerala is quite beautiful.
If it rains too heavily, you might be stuck indoors. In which case, we highly recommend some chai and hot local snacks. On nature treks you'll encounter some blood-sucking leeches but not to worry, locals know how to prevent and handle those situations. Prepare to be flexible, as the landslides and flooding may cause blockages and delays in terms of transport.
South India also faces another monsoon from October to November, and occasionally even until mid-December. The Northeast Monsoon, as the winds come from the northeast toward the seaside, don't bring as much water as the earlier Southwest Monsoon. However, it can cause heavy downpours, with thunder and lightning. It also gets as hot as the summer months from March to May.
Between May and September, the beaches are empty. The current is too strong for swimming and the wind and weather don't allow you to sunbathe either. Many places close down for multiple months.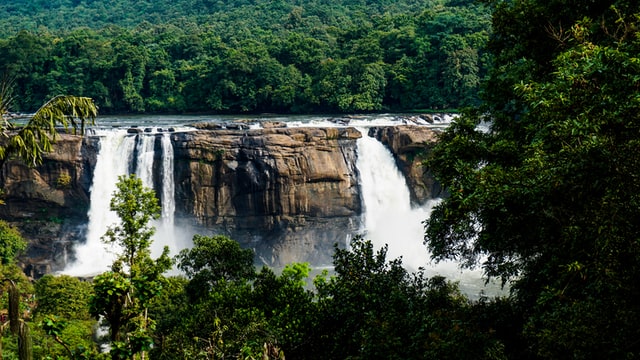 The Athirapally Falls in the Thrissur district area magnificent sight to witness (Photo Credit – Rashi Raffi_unsplash)
what are The best festivals in Kerala?
Due to its interesting history of colonisation and trade, Kerala is home to many religions: Hinduism, Christianity, Judaism and Islam. There are many spiritual and cultural festivals to celebrate but the biggest and most exotic are the Hindu festivals. Consider these festivals when looking at the best time to visit Kerala.
The temple festivals in Kerala are as colourful and impressive as the temples themselves. Mostly in the Ernakulam and Thrissur districts, the Poorams in April and May are famous for loud and exciting processions. These processions will also include heavily decorated elephants. In July, August and September, you'll witness traditional snake boat races in the backwaters and rivers. Nowadays, it might be politicised, but it's still fun to watch.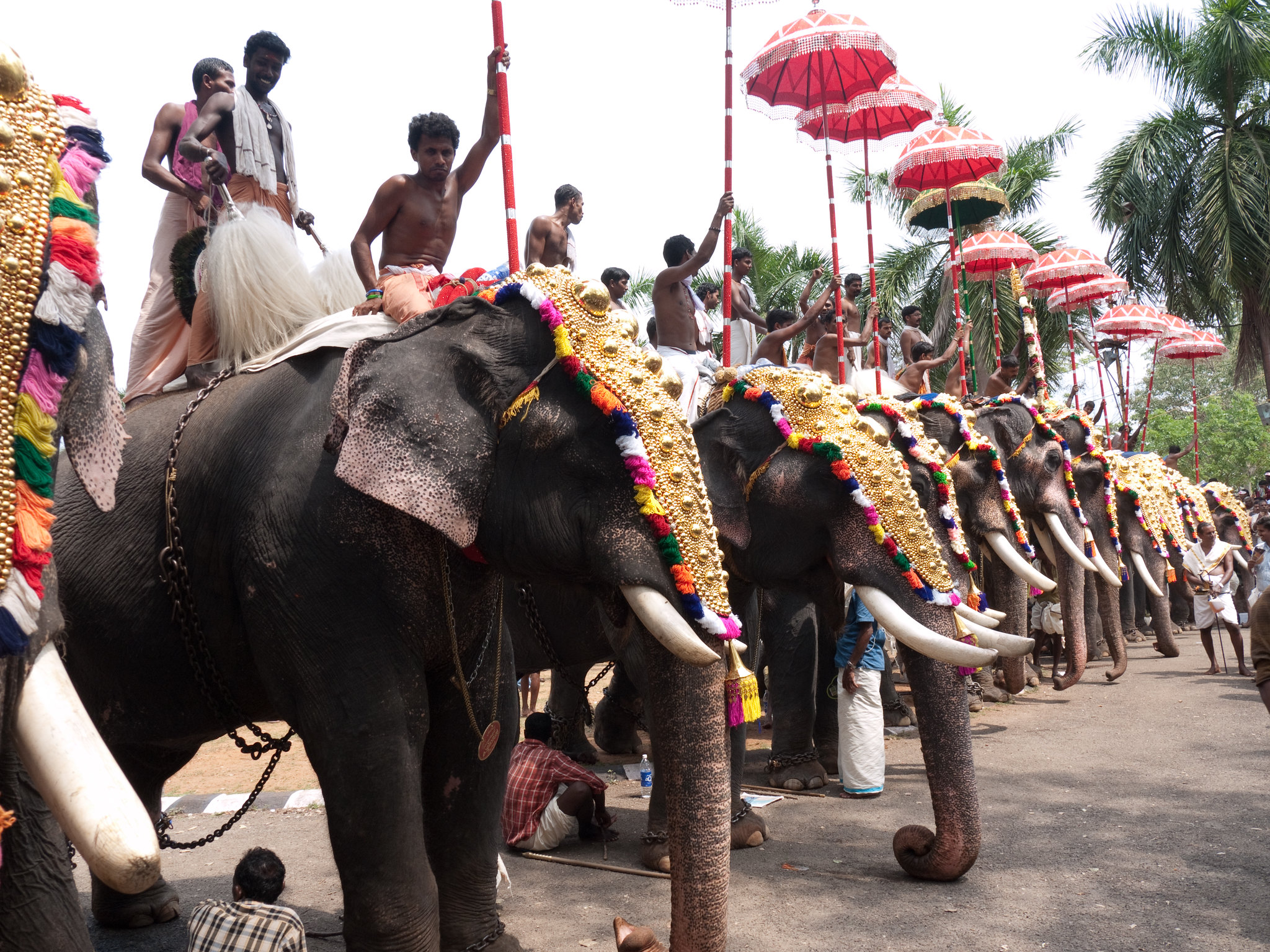 These magnificent elephants are a part of some festival celebrations in Kerala (Photo Credit – Brian Holsclaw)
Onam
Onam is the traditional harvest festival of Kerala, a 10-day celebration in September. It's the biggest festival for locals so everybody decorates houses, prepares feasts and plays games. The best part is the Onam Pulikkali Tiger Play, where people dress up as tigers and their hunters dance to traditional music. Extremely fun to observe!
It also honours spiritual and cultural diversity by celebrating Christian and Islamic feasts and traditions. People invite individuals from different communities and exchange traditions multiculturally. Kerala serves as a role model in religious freedom in a country divided by religion after India's independence. Because of this, there's at least one big festival celebrated inside this relatively small state.
If religious festivals aren't your thing, the Kochi-Muziris Biennale might be. The contemporary art festival is every winter from December to March in Kochi. One can find art exhibitions of all mediums all around the city in galleries and open spaces. Read more about the festivals of Kerala to get a better understanding of this wonderful state.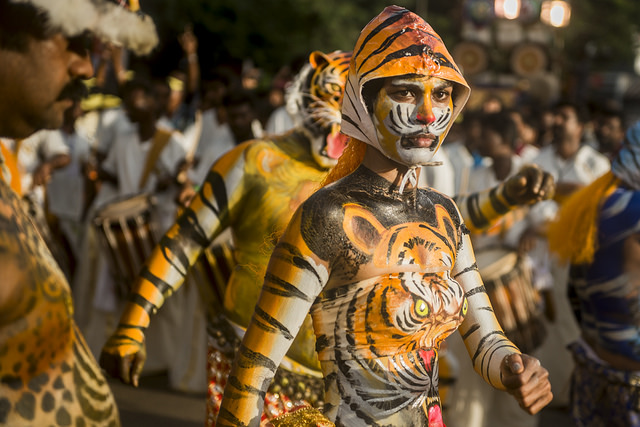 Men and women participate in the festivities in Kerala (Photo Credit – Bobinson K B)
We're hoping that reading about this magnificent state in our best time to visit Kerala guide has made you consider visiting it. Floating along on a houseboat, its backwaters are a sight to see. There's so much magic to be discovered, and the food is amazing. If you interested in travelling to Kerala on your own customized itinerary, plan your trip with us now.
helping you travel your way
Everything you need to know about India is here We have tried writing about everything you may need help with for your trip to India, If you need help in planning a trip to India Get in touch with us to to plan your trip of a life time.