Twenty best places to visit in North India
When listing places to visit in India on your travels, the North should certainly come at the top of your list! North India covers an area of approximately 1 and a half million sq km, and is endowed with incredible nature, diverse climatic conditions and a myriad of cultural practices. This article will explore the twenty best places to visit in North India. We will cover the historic 'Golden Triangle' of Delhi, Agra and Jaipur, through the deserts of Rajasthan and into beautiful Himalayan paradise.
Plan your trip with us now and we can give you all the details of any place that interests you!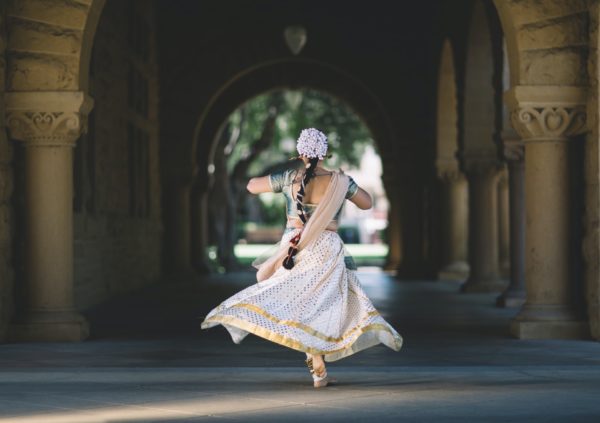 In ancient Northern India, Kathakas communicated stories from the great epics and ancient mythology through dance (Photo Credit – Saksham Gangwar)
Delhi – A Capital with Character
Delhi is a modern city embedded with rich history. This is displayed through its construction, architecture, monuments, tombs, temples, ruins and more. All areas offer a unique component to the sprawling city, with highways interconnecting everything. Whether you're interested in history, looking for some street shopping, eager to try the delicious street food, or even to splash out at the designer stores, you're sure to find what you love here. As time passes in this buzzing city, you will find yourself discovering so much within the mesmerising metropolis.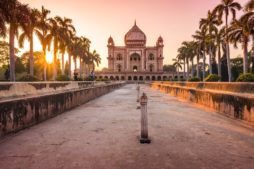 Delhi is more than just a city!
Agra – More than just the Taj Mahal
The Taj Mahal – one of the world's new Seven Wonders. The undoubtedly magnificent monument resides in this city is an absolute must on your trip. At dawn or dusk, the Taj Mahal will leave you captivated, inspired and enthralled. Be sure to also visit some of the other glorious sites in this riveting city. From the Agra Fort and the Baby Taj to Akbar's tomb and the fortress city of Fatehpur Sikri. The unique historic significance is one to remember and the architectural genius is beyond comprehension. Further, experience swanky accommodation, craft emporiums and restaurants in Sadar Bazaar. Agra is a fabulous insight into the extravagance and the artistic impulses of the Mughals and their social effects.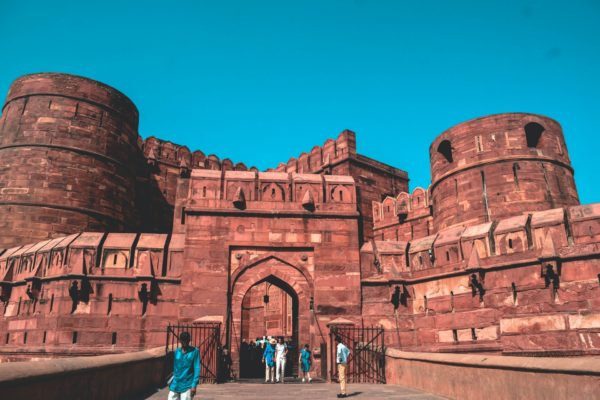 Agra Fort! The gem of the Mughal Era (Photo Credit – Arun Geetha Viswanathan)
Jaipur – Take a Piece of Culture
Jaipur is the biggest and most bustling city in North India (Rajasthan). Find some beautiful handcraft and souvenirs in the old city bazaars. The courtyard-like markets will deliver top-notch textiles and accessories made into ethnic wear. Try the kachori from 'Kanji' or the traditional 'dal bati' at old Jaipuri food joints for different, interesting food. The monuments in Jaipur are beautiful, picturesque and a marvel to explore. The Amer Fort's lighting is exquisite, be sure to experience the light and sound night show. Further, visit the Sheesh Mahal (palace of mirrors), the Galtaji 'Monkey' Temple, the Nahargarh Fort and the lesser-known Royal Cenotaphs. Jaipur is a photographer's paradise with its Rajasthani architecture. Anyone interested in history, culture and urban life will have a blast.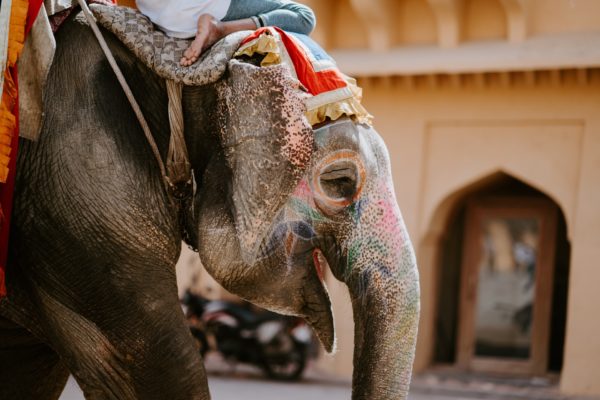 Ride an elephant up the hill to the main entrance of stunning Amber Fort (Photo Credit – Annie Spratt)
Ranthambore – To Spot a Tiger
Ranthambore National Park is one of the best places to visit in North India for tiger sightseeing, your odds are pretty high! Tigers, here assume ownership of the park, unperturbed by visitors and their cameras. The proximity of this reserve to Delhi, Agra and Jaipur makes this a convenient trip for travellers. In addition to these stripy cats, there are also hyenas, leopards, crocodiles, cobras, vipers, tortoise and a plethora of birds. Experience the entire park from the top of the Ranthambore Fort. Visit their website for more details about opening times.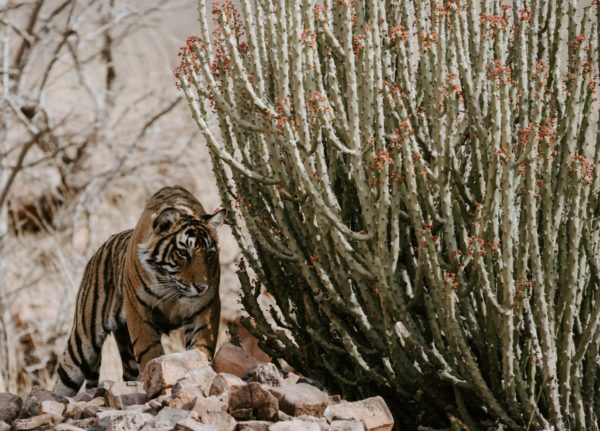 At Ranthambhore, the Bengal Tigers greet you! (Photo Credit – Annie Spratt)
Jaisalmer – The Desert's Golden Edge
Jaisalmer is relatively more difficult to get to (overnight train from Jaipur or drive from Jodhpur), but entirely worth it. The 'Golden City' is a typical Rajasthani desert town, with camel rides at sunset. You can also camp in the desert amidst the arching sand dunes. The village folk in their vibrant turbans fill the bazaars and there is absolutely no match for Jaisalmer's sandstone structures. Walkthrough the meandering streets with no fear of getting lost in this medieval gem. Look for traditional dance performances and don't forget to visit the Jaisalmer Fort and Gadsisar Lake, two unforgettable experiences.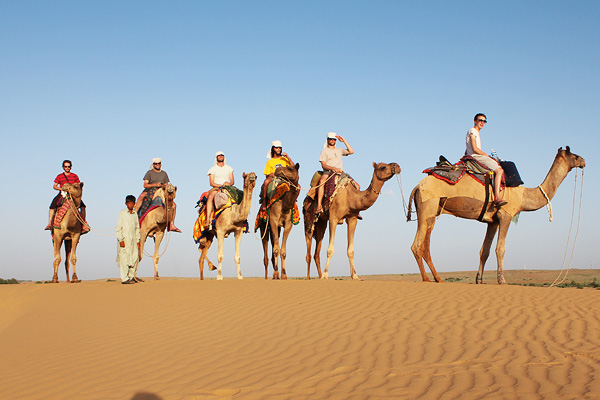 Incredible Golden city of India!
Jodhpur – home of the mighty mehrangarh fort
Jodhpur borders the Thar Desert to the east, getting the best of the desert while still not entirely in it. Almost all houses in the old town are painted in a beautiful baby blue, creating the 'Blue City.' The stunning Mehrangarh Fort (easily Rajasthan's most beautiful) looms over the blue colours. Ziplining off the fort is a brilliant experience one shouldn't miss. Apart from the fort, go around town if you have time; see the puppet makers, tie and dye artists, spice markets and more. Lose yourself in the bazaars that circle around the clock tower at the heart of the city. The Jalori and Sojati Gates will give you a nostalgic feeling of Jodhpur's age and history.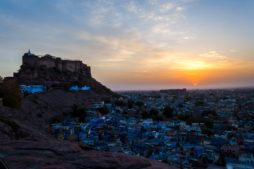 Stunning view of Jodhpur and Mehrangarh Fort
Pushkar – Small, Sacred and Young
Legend says that Lord Brahma, a Hindu deity, dropped a lotus flower in a place north of Ajmer, and there a lake sprung out. Pushkar and it's sacred Pushkar Lake are an incredibly important pilgrimage site, and also attract many young backpackers. The lake is flanked by hundreds of temples and Ghats, one of them being the only Brahma Temple in India. Further, there are rooftop cafes, bakeries and a very colourful market filled with handicrafts, hipster clothing and food. Sunset by the lake is a great experience. If you come to the Pushkar Camel Fair in November, you'll see throngs of pilgrims, folk musicians and artists, camel traders; a charming desert vibes during the festivities. Climb to the Savitri and Gayatri Temple to get views of Pushkar from above and beautiful sunrises and sunsets. Remember to book in advance for the fair.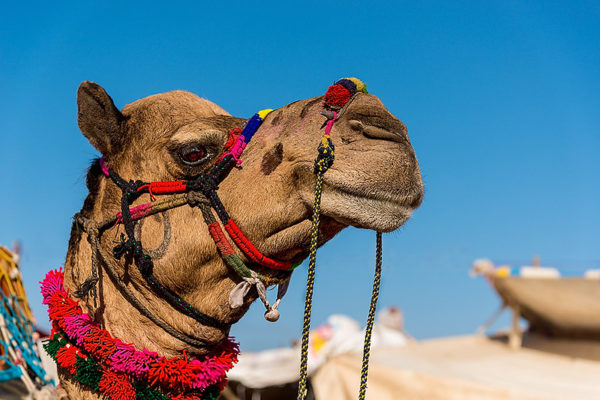 Pushkar Camel Fair is worth a visit (Photo Credit – Koshy Koshy)
Varanasi – The Cradle of Hinduism
Also called Benares and Kashi, the old city lies off the famous Ganges River. The banks of the river have an array of Ghats leading to holy waters. Here you'll witness priests, pilgrims and religious folk in colourful attire performing rituals in the river. The Varanasi Ghats are also where Hindus religiously cremate their dead and where the Ganges aarti takes place. Watching this ceremony take place is one of the most intense and moving experiences you can have in India. Varanasi has a unique vibe as one of the major pilgrimage sites. 'The city of lights' is one of sages and priests where deities abound.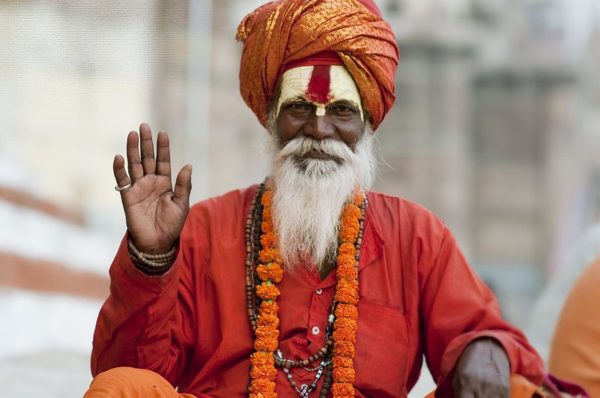 Varanasi! The essence of the spiritual and ancient city of India (Photo Credit – M M)
Khajuraho – The erotic temples
The sensual sculptures of the Khajuraho temples are incomparable to anything else. There are several theories as to why the Chandela Dynasty had such explicit erotic temples built in the 10th century. In 1838, the British rediscovered this forgotten architectural marvel, 400 kms Southeast of Agra and West of Varanasi. The Western Group temples are particularly stunning with pinkish sandstone and almost 3D reliefs creating a realistic account of the practices involved. Add this to the subtle changes in hues by the changing daylight, moonlight and the night floodlights and you'll be admiring for hours! Khajuraho village, although belittled by the grandiose temples, has its own discreet charm as a laidback spot with a nice market and pretty restaurants. The Dance festival there is a great time to visit Khajuraho.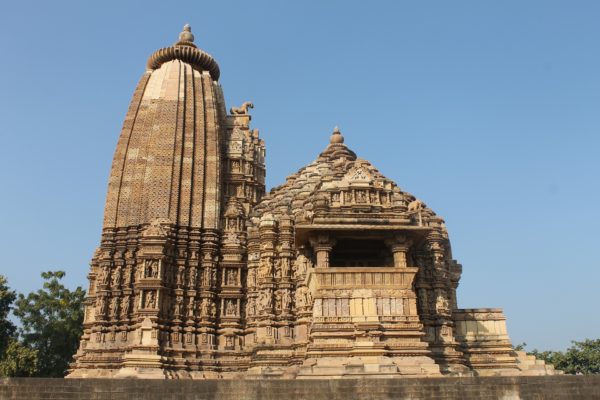 Amazing temples of Khajuraho (Photo Credit – Rinki Lohia)
Udaipur – Charming city of Lakes
Udaipur is a famous rich and romantic setting you've probably seen but never known where it's from. Lake Pichola seems painted with an array of island palaces with beautiful balconies, Havelis (royal decorated mansions), Ghats and lovely restaurants all with views of the lake and its surroundings. Some of these island palaces have been transformed to hotels, like the Lake Palace Hotel and the Jag Mandir. The City Palace east of the lake is a wondrous century-old palace built over hundreds of years. Fateh Sagar is also to the north of the lake. With such a variety of views in the 'City of Lakes,' it's a must on any trip to Rajasthan.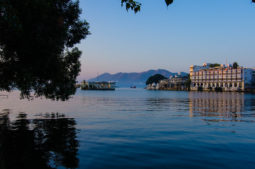 Udaipur – The mesmerizing city of lakes
Orchha – The Hidden Gem
Chhattisgarh is a more or less undervalued gem, Orchha is a must-visit if you're taking a trip to Khajuraho. The name itself actually translates to a 'hidden place', an apt meaning for this dhak-covered medieval town. Its architectural value has been recognised over the years. Its lovely shikharas, palatial remains, havelis and sandstone cenotaphs invaded by flora have all been preserved. The village is a great place to relax by the Betwa River on your way down to other cities. Orchha has become more popular, you'll find many guided tours and tourists here. The best way to enjoy it is to let the bustle clear, lay back and take in the charming historical aura of this beautiful place.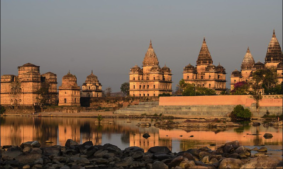 Explore the architectural splendour of the monuments in Orchha
Kanha National Park – Sit in Nature's Lap
The Kanha National Park in Madhya Pradesh is easily one of the finest wildlife sanctuaries in India. It sprawls over 940 sq kms of deciduous forest cover, grasslands, hills and rivers. You'll spot a myriad of bird species and other fauna (tigers) and be awestruck by the early morning beauty of the park. Tiger spotting is more difficult than in other reserves. However, it's totally worth a visit for the rest of the wildlife and the refreshing countryside views it offers.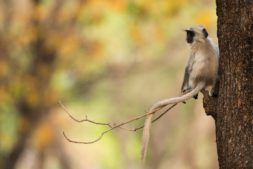 Travel through the diverse wildlife at Kanha National Park
Bandhavgarh National Park – Bengal Tiger Territory
195 kms from Jabalpur and 237 kms from Khajuraho, this national park houses the most number of tigers in India. The Bandhavgarh National Park is 448 sq kms and by far the best reserve to spot tigers. During season time, you'll have the best chances to see them and get insight to their lives and habits. Accommodation is available near the park entry, which makes it even more convenient. Check out the different sort of birds while lounging at your lodge. If you're more interested in architecture or history, it also contains some enthralling ruins.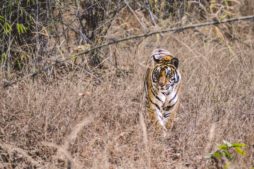 Bandhavgarh National Park is one green destination where you can not only spot the elusive tiger but also leopards, elephants, and white tigers
Rishikesh – a Charming and Spiritual Himalayan Escape
Relaxing in the foothills of the Himalayas, Rishikesh holds a crazy mix of different types of people. From yogis, sanyasis, travellers, hippies, backpackers, adventure sports enthusiasts and more, they all come to enjoy the Ganges River with the Garhwal Mountains looming over. There are many ashrams and yoga centres here. Go white water rafting, mountaineering or on one of the easier recreational treks. The unparalleled adrenaline rush of bungee jumping and the tranquility of its original charm, make Rishikesh a spiritual and exciting place. Walk upriver, sit among the rocks and meditate. All in all, it's a lovely experience to spend a good amount of time, hence one of the best places in North India.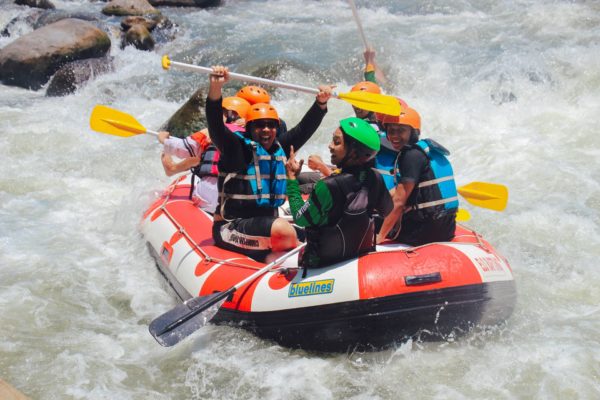 Breathtaking adventures in Rishikesh (Photo Credit – Angga Indratama)
Amritsar – An Awakening of Humility
Amritsar, Punjab's largest city and holy city for Sikhs, is famous for its Golden Temple and stately domes that command the busy old town streets' view. Walking around the bazaars and the narrow by-lanes of the old quarter is an experience on its own. There is also a golf retreat at the Wagha border 29 kms west (Indo-Pak frontier) where Indian and Pakistani soldiers elaborately bring down flags every evening. Interested in history? Visit the site of Jallianwala Bagh (where silent protestors were massacred during India's struggle for freedom and independence).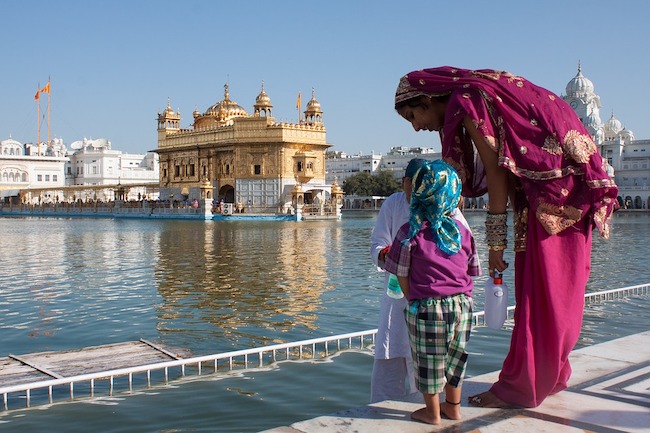 Soak in the sights of the Golden Temple and explore the beautiful Amritsar
Chandigarh – An urban design benchmark
The interesting administrative bureaucratic mess surrounding Chandigarh isn't the only worthy thing about this city. It's modelled on Jawaharlal Nehru's vision for a city 'symbolic of the future of India, unfettered by the traditions of the past, [and] an expression of the nation's faith in the future.' Architect Le Corbusier (Charles Edouard Jeanneret) designed Chandigarh back in 1952 as the progressive town undergoing structural experimentation. Even amid controversy, architects and designers study Chandigarh's buildings across the world. It's much cleaner and greener compared to other major Indian towns. The rock garden here is the most frequented tourist destination in India after the Taj Mahal.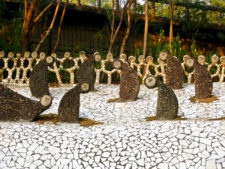 Chandigarh – A well organised city!
Dharamshala – Center of Buddhism in India
Home to the Dalai Lama and the exiled Tibetan government, Dharamshala has a unique spiritual vibe to it. The Dalai Lama stays in McLeod Ganj, slightly North in Himachal Pradesh, and there are numerous monasteries that make the valley wonderful. Buy Tibetan souvenirs and eat the best momos in India. There'll be heavy snowfall in the winters and heavy rains during the monsoon season, but after the monsoons, it's perfect to visit. You can stay at McLeod Ganj in one of the many lovely lodging options there. Visit the Dalai Lama Temple, especially during chanting and spin the prayer wheel for good fortune. Dharamshala is also the base for superb Himalayan treks. There are numerous things to do in this region, so you can spend weeks and not get tired of it all.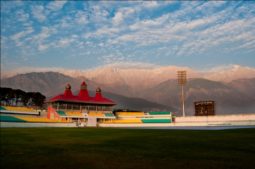 Dharamshala makes you leave everything aside and just get pampered by nature's beauty
Shimla – Cool, Colonial and Charming
This Himalayan town is wonderful, houses steep valleys, apple orchards and maize terrace farming on its hills. Shimla is at 2159 meters and always has cool weather and stunning views. Unsurprisingly, the British made it their summer capital, retaining its colonial aura through churches, mansions, resorts, culture, and British-named shops and homes. Christ Church and Scandal Point are major landmarks there. The Mall Road is the main shopping area and the Gaiety Theatre hosts several shows. Indian tourists visit from May to June, so if you want to evade the crowds, come in a different season. October and November are great times to visit, but book in advance. Keep an eye out for brass bands, sports screenings and pony rides.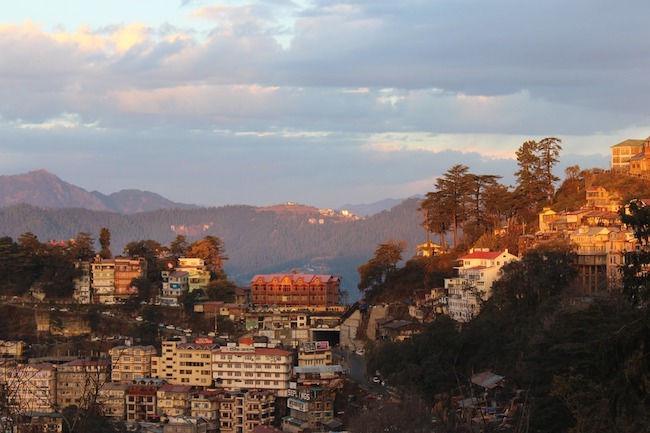 Nice colonial and relaxed vibes – Shimla
Kashmir Valley – A Heavenly Delight
The Kashmir Valley is easily one of India's most beautiful destinations. This exquisitely cool and lush place is like heaven on earth. Entering from Jawahar Tunnel or Zoji La Pass, the views will be fantastic, verdant and perfectly mountainous. The snow-capped Pir Panjal Range, the bright green fields of corn, wheat, almonds etc., and some of the highest quality wood only adds to Kashmir's beauty. Benign spices blended perfectly make the cuisine special. Not too industrialised, the renowned handicraft of Kashmir is worth checking out. Kashmir is also home to Gulmarg Ski Resort. For those looking to ski in India, check out our blog!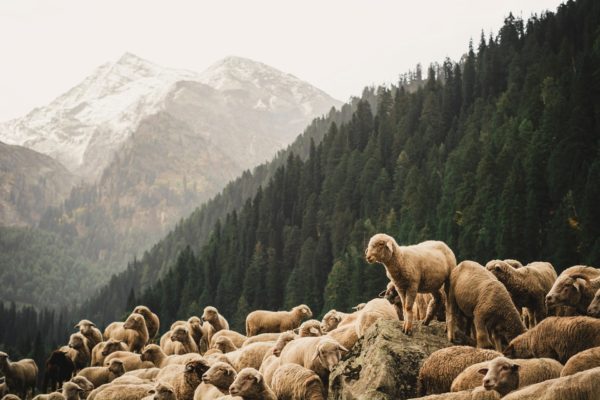 Fall in love with the beauty of Kashmir Valley (Photo Credit – Dibya Jyoti Ghosh)
Leh and Ladakh – Distinctly beautiful valley
It's an entirely separate part of the country in administration, culture and terrain. 'The Land of High Mountain Passes' is often called 'Little Tibet' for its rich Buddhist culture. Ladakh is a Himalayan desert in North India and the ultimate experience for extreme bikers and drivers. It's a sparse landscape, but the terrain changes are otherworldly. Leh is Ladakh's stunning thriving capital. To its North lies KhardungLa, one of the highest drivable pass in the world that reaches the Nubra Valley's sand dunes. Pangong Tso is an incredibly lovely picturesque lake.
You need a permit to visit, so reach Leh a day early to get them. A jeep or a bike is ideal to traverse the region. While there is very little rain and snowfall, it's very inaccessible because of the heavy snowfall blockages to reach Ladakh. As you venture farther into the wilderness, it becomes less accessible but not impossible.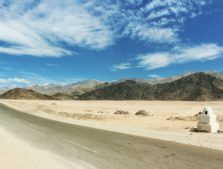 Vibrant Ladakh colours!
These are a few of our favourite places to visit in North India. We hope you now have some new destinations on your list, but feel free to contact us for any help planning your dream trip to India!
If you're interested in visiting any of these places, contact us or directly fill our form and we'll start planning your perfect trip.
helping you travel your way
Everything you need to know about India is here We have tried writing about everything you may need help with for your trip to India, If you need help in planning a trip to India Get in touch with us to to plan your trip of a life time.