things to do in shimla
Mountains are the beginning and the end of a natural scenery – John Ruskin
Shimla used to be the summer capital of the British rule on the Indian subcontinent. At one point, probably 20% of the world's population, was governed from this small hill station each year between March and October.
Today you can still find impressive colonial architecture and a British infrastructure like nowhere else in India. Shimla's mall is probably the only pedestrian street in entire India. The beautiful landscapes surrounding this place, leave a lot to explore and discover and also to see why this place got the title 'India's Queen of Hills'
Overwhelmed with the number of places to explore here? et that checklist, and be sure to add these to your list.
H

ere's a list of our recommendations of things to do in Shimla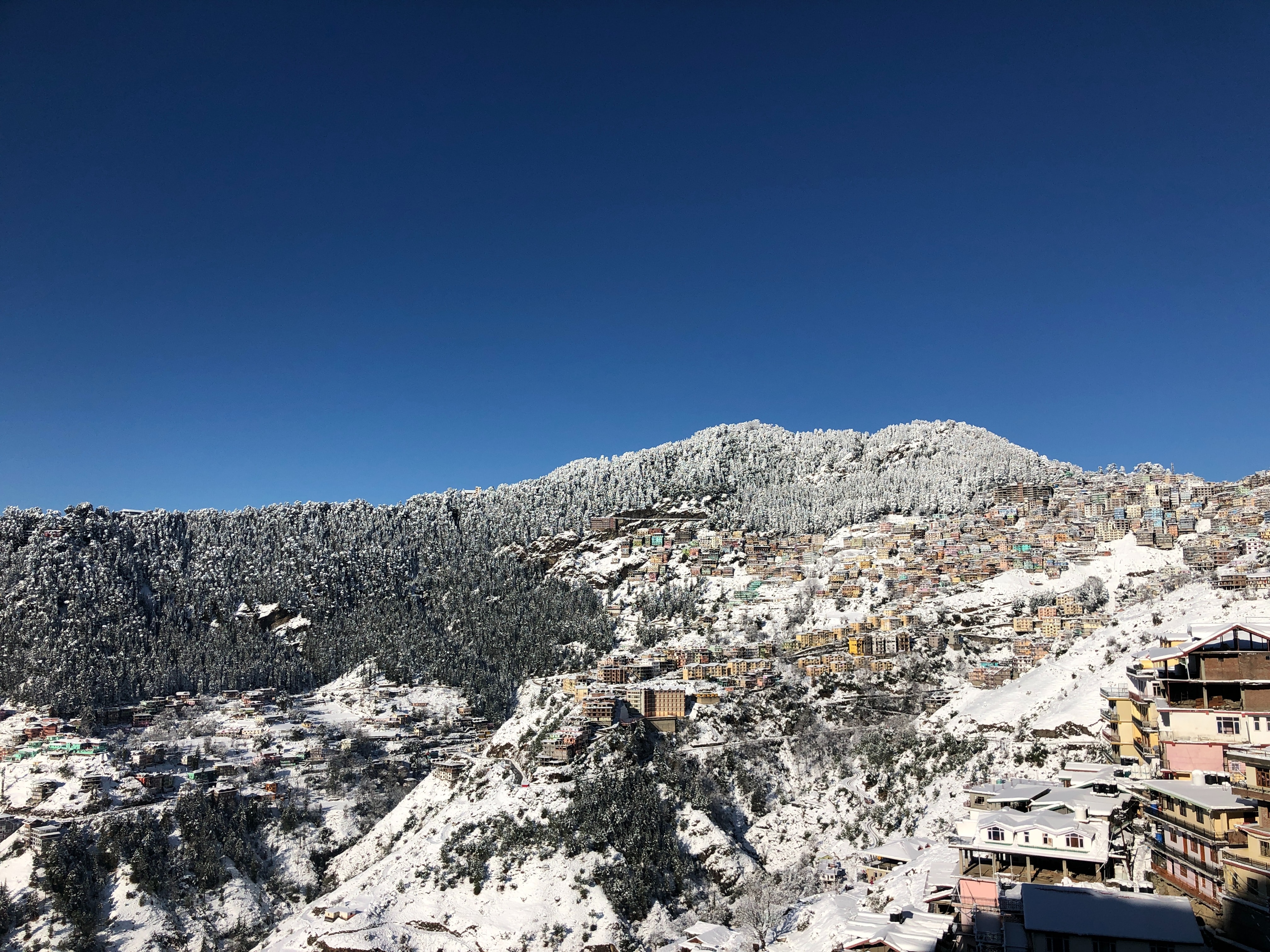 Shimla town covered in snow
Viceregal Lodge or Rashtrapati Niwas
This beautiful neo-renaissance building on one of the highest points of Shimla was built as the residence of the British Viceroy (Governor-General) of India. When you see it for the first time you won't believe you are still in India! Nowadays the building is used as a university for advanced studies so you can't visit all of its rooms.
But there is a small guided tour (Hindi speaking!) that shows you half of the ground floor and impressive hall – places where very significant decisions for India during the partition were made!
It also tells you about the technological features of the building like a steam electricity generator – first of its kind in India. You can't enter off-tour and you will be allotted a certain time slot. The manicured garden (a little neglected during winter months) can be visited without a tour.
VISITING HOURS: Monday to Saturday: 10:00-17:00 hours
ESTIMATED TIME: 2-3 hours
COST: INR 20 per person for Indian tourist, INR 50 per person for Foreign tourist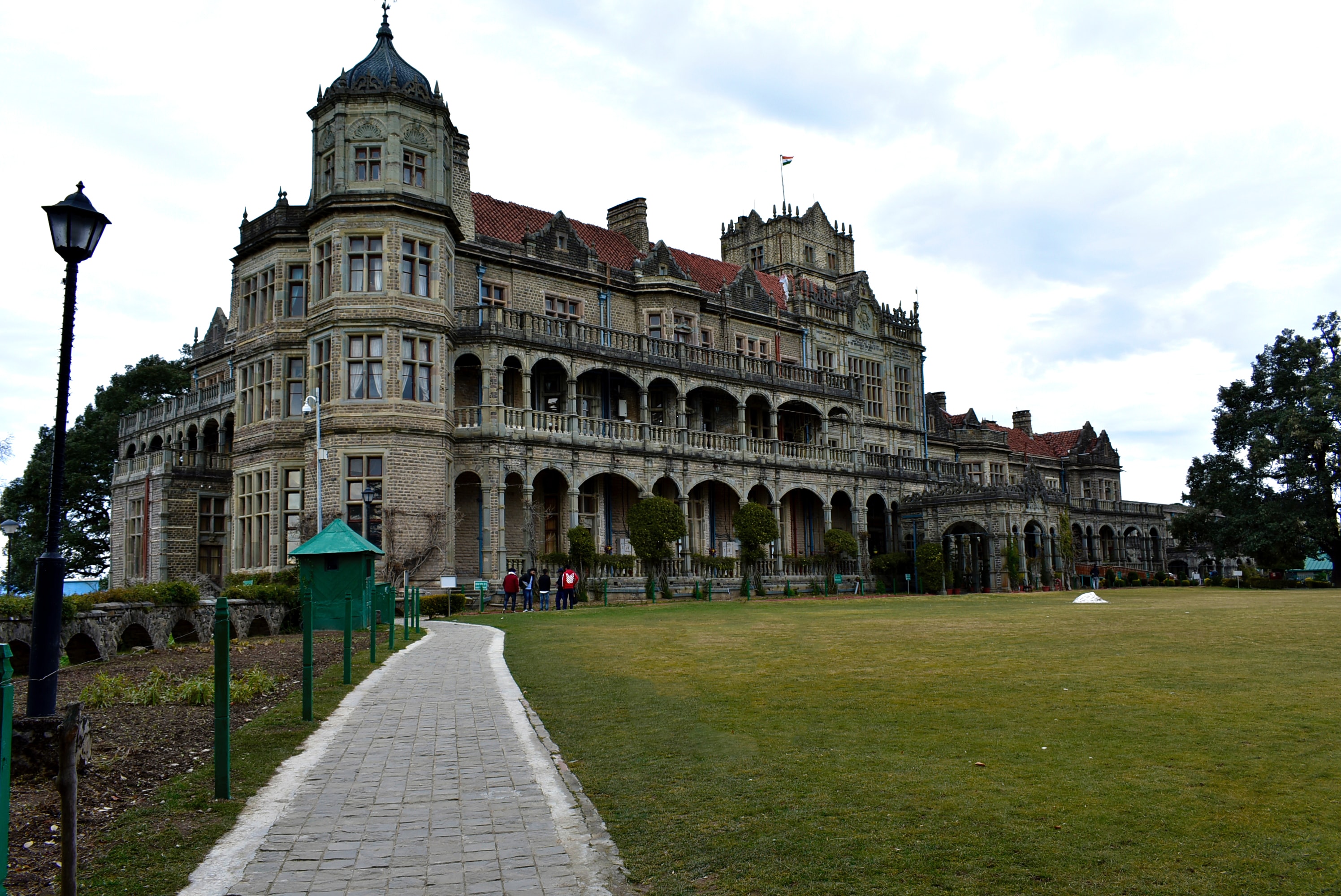 The stunning Viceregal lodge in Shimla
The Mall and The Ridge
The Mall and the Ridge are the main tourist magnets in Shimla as both of them are entirely vehicle-free roads in the center of Shimla. The mall runs a level below the ridge and is the longest street.
You can reach the mall by walking or with an elevator from the Old Bus Stand Road at the Hotel Combermere. The mall offers a lot of cafés, restaurants, and shops while the Ridge is more of a square where people meet and take lots of selfies. In clear weather, a jagged line of distant snowy peaks is clearly visible to the north.
VISITING HOURS: 08:00-18:00 hours
ESTIMATED TIME: 2-3 hours
COST: Free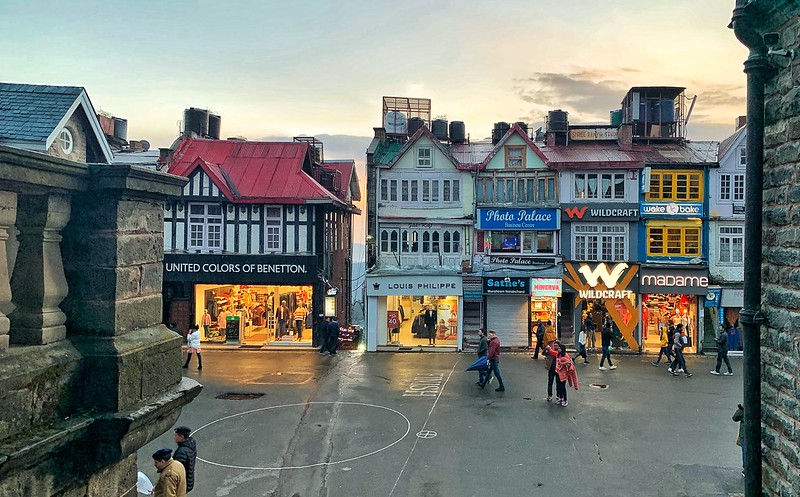 Shops on all road in Shimla
Christ Church
The main landmark of Shimla at the eastern end of the Ridge. Built-in 1846, it's one of the oldest churches in northern India and a perfect example of the Victorian colonial style. The interior is as beautiful and majestic as the exterior, with pretty stained-glass windows!
VISITING HOURS: Monday to Friday: 08:00-18:00 hours
ESTIMATED TIME: 20-40 mins
COST: Free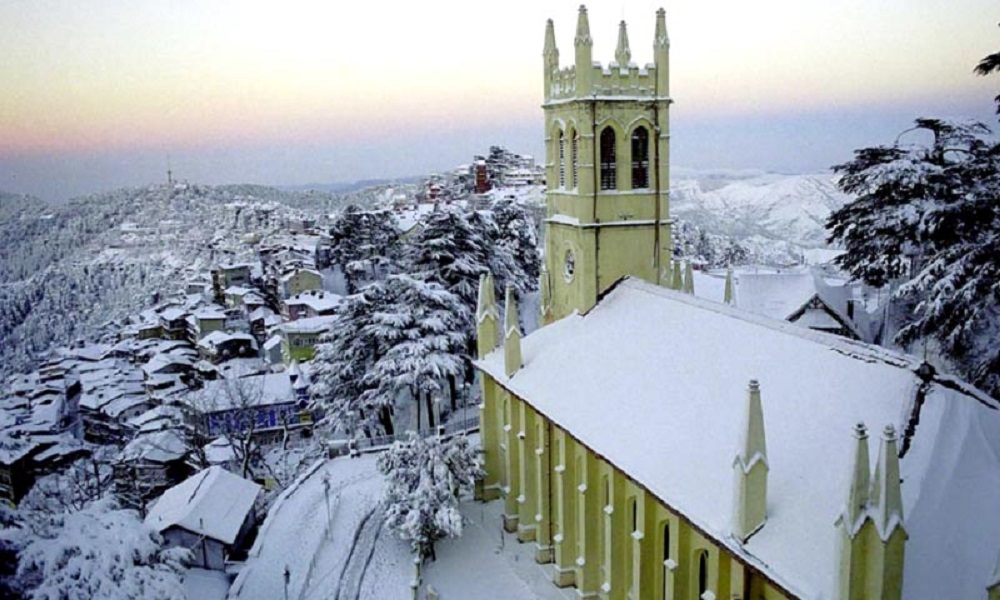 Christ Church covered in snow
Jakhoo Hill and Temple
One cannot miss the massive Hanuman (monkey god) statue rising above the Ridge on the highest peak of Shimla (2455 m, 8000 feet). It is told that this temple has the actual footprints of Lord Hanuman.
You can walk up here from the path behind the Christ Church. But be aware it's quite a steep walk. But it's worth it as the view from up there is one of the best in the entire city.
VISITING HOURS: All days: 05:00-12:00
ESTIMATED TIME: 1-1.5 hours
COST: Free
Gaiety Heritage Cultural Complex
This perfect example of neo-gothic architecture was opened in 1877 and has been the cultural and entertainment center of the city since then. The most popular attraction in this complex is the Victorian theatre where legends like Rudyard Kipling, Prithvi Raj Kapoor, Baten Powel, K. L. Sehgal, and others have performed.
You can see the coat of arms of the Amateur Dramatics Club hanging on the door to the upper level of Gaiety Theater on the Ridge. The ADC is one of the oldest clubs of its type in the world and continues to operate to this day.
VISITING HOURS: Monday to Friday: 09:00-17:00 hours
ESTIMATED TIME: 1-2 hours
COST: INR 10 per person for Indian tourists, INR 25 per person for Foreign tourists.
Annandale & Army Museum
The Annandale was the major playground for the British pre-independence where they would play Cricket and Polo and organize picnics with a great view of the city and its beautiful surroundings. Today the major attraction is the fairly interesting Army Heritage Museum. If military history is your cup of tea then this museum is the right place for you.
Other interesting buildings to marvel at colonial architecture: Cecil Oberoi Hotel, Shimla Railway Board Building, Gorton Castle, Ellerslie, and all buildings around Scandal Point including a general post office and the town hall.
VISITING HOURS: Tuesday to Sunday: 10:00-14:00 hours & 15:00-17:00 hours
ESTIMATED TIME: 1-2 hours
COST: Free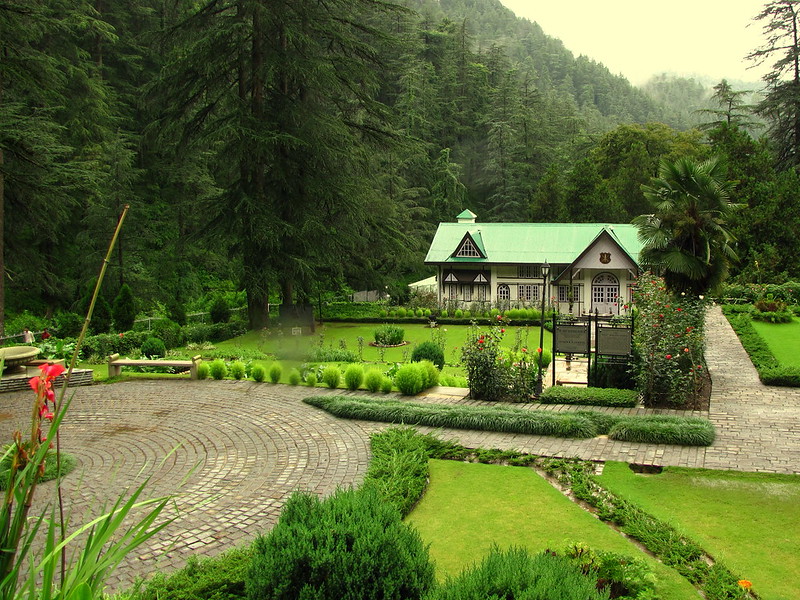 The Army Museum and Annandale (Photo Credits – Rohit Chhiber)
We hope our recommendations help you explore Shimla. If you need any assistance, do get in touch with us and we would be happy to help you.
Also, if you are planning your trip but can't choose what to do after Shimla or before? Don't worry we can help you plan your trip to India, Just get in touch with us and we will plan a trip that is tailor-made to suit your travel style. Be it adventure, cultural experience, basking in the midst of nature, or spotting rare wildlife, India has it all and so much more.
helping you travel your way
Everything you need to know about India is here We have tried writing about everything you may need help with for your trip to India, If you need help in planning a trip to India Get in touch with us to to plan your trip of a life time.