Cost of traveling in India
India has many merits as a travel destination: the exciting history and its left behind monuments, the colourful and rich culture, the delicious food. But one of the most important virtues of travelling in India is that it suits all pockets and offers experiences for every type of traveller- from the backpacker with more time than money to the luxury vacationist seeking authentic experiences and maximum comfort. This article will help you to figure out your trip to India cost to help you plan your budget and get out the most of it.
India is foremost an inexpensive travel destination due to its low transportation, accommodation, service and food rates and due to a weak currency. But one doesn't have to stay at hostels and simple BnBs or eat cheap street food as a given. Everything from mid-range boutique to 5-Star-Hotels & Resorts, comfortable 1st class train travel to domestic flights and car with driver service, simple restaurants to gourmet and international cuisines – everything is available!
In this article we want to give you a feel for the costs of travelling to India. We divided it in three groups: the low-budget backpacker, the mid-range traveller with a sense of comfort but also keen on saving and the luxury traveller who desires to indulge in originality and ease. We are trying to give as many details and context as possible but eventually it of course always depends on your personal preferences and travel style.
Overall Costs
This includes accommodation, transport, entry fees for commonly visited sights and meals. It does NOT include personal expenses (the Pashmina scarf you bought at a shop for granny or the leather sandals discovered on a bazaar for your best friend etc.).
Budget Traveler (USD 45-50/EUR 40-45 per day, per person)
This would include stay in dormitories at backpackers' hostels or private rooms at cheap budget hotels. You would travel on local buses and trains and take only one domestic flight for the longest distance.  You would eat both street food and in restaurants and visit the most popular sights.
Mid-range (USD 85-90/EUR 70-80 per day, per person)
If you can increase your budget by adding USD 40 or EUR 30 to that of a backpacker trip, you will be able to add significant value to your trip. You can stay at charming boutique hotels and friendly homestays, travel faster by including a few internal flights, the best train classes available and few chauffeur-driven car rides. From time to time you can treat yourself with a meal at a fancier restaurant and add one activity per city like cooking classes, dessert safari or a trek.
High-end (USD 140-145/EUR 125-130 per day, per person)
If you're used to luxury travel, you'll be delighted with the variety of options India has in store for you, especially in terms of hotels and resorts. You can fly your way to most destinations and travel in a comfortable, air-conditioned SUV. All the big cities and some of the smaller cities as well offer great gourmet dining options that cannot be missed.
Cost of two week holiday in India
The following table should give you an overview on estimated total cost of a two-week holiday to India. We have tried to account for all expenses that you would incur. However, depending on your travel style and preferences you may under or over spend a little.
Please read the detailed explanation in the table to understand the various cost aspects.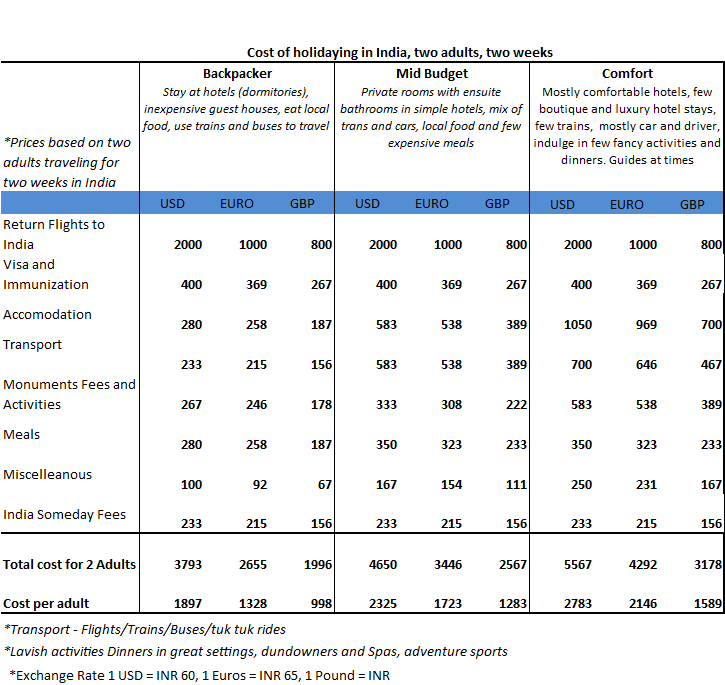 Flights to India if booked reasonably in advance tend to cost on an average USD 1000 per head from USA/Canada and Euros 500 if flying from Europe.
A thirty-day tourist visa to India costs USD 60/ EUR 54 per head.
There are no compulsory vaccinations to travel to India, yet a lot of travelers choose to take a few and that would cost you around USD 150/ Euros 140 per head.A number of our guests choose not to take any vaccinations before travelling to India, and naturally they are cautious with what they what they eat and the water they drink.
Cost of accommodation in India
In bigger cities, especially Mumbai, in certain tourist areas like Goa and in the winter months of December, January and February the hotel tariffs are higher. They are the lowest in the off-season in Monsoon, from May to August.
Budget Backpacker Traveler – As a budget traveler you can easily find hotels/hostels in India between INR 700-1500 a night that offers a clean simple room or a nice dorm bed. Breakfast is usually not included in this price, although occasionally it is.
An exciting new prospect for backpackers looking at touring India is the quirky new hostels that are springing up across India. They are safe, clean, fun (they plan great activities) and a wonderful place to meet travelers. We tend to include them a lot while planning trips for backpackers.
One can also find cheaper places to stay in India. As low as INR 300 to INR 500 a night, but cleanliness and safety is questionable. These are best if booked after being personally inspected. Our calculation is based on budget hotels between INR 800-1500 a night.
Mid Budget Traveler – A little more comfort! If you are looking at a private room and private bathroom at all times. Ranging between simple and spotless rooms on average, to quirky and a few heritage or boutique stays you would spend an average of INR 2500 for a room a night.
You would have breakfast included in your tariff for most nights, always have a private bathroom, some of your hotels may have a pool, a garden or a very nice view.
To give you an idea on hotels that you would be staying at: Mewar Haveli, or Kankarwa Haveli in Udaipur (later is a little more expensive but great views) or a lovely homestay in Jaipur.
Comfort Traveler – You like a comfortable bed, affordable boutique or heritage hotels, rooms with a nice view (when possible) and a nice pool every now and then. Then you would spend an average of INR 4500 for a room a night.
A rich and nice breakfast would always be included. A number of your hotels would either be boutique or heritage hotels.
For instance, Shahpura house in Jaipur or Ratan Vilas in Jodhpur are such heritage hotels with a little bit more comfort.
Cost of transportation in India
Backpacker – You would predominantly be using trains to get between places. We have accounted for fares using A/C class train travel. Remember trains are a great and inexpensive way to travel around India, but on some routes trains are not possible or train tickets get sold out by the time you decide to book, so you would have to take buses then. Sometimes local buses are only available at the destination and cannot be booked by us.
You will use public transport, foot or tuk-tuks (auto rickshaws) to travel within cities. You should account for an average of INR 800 (USD/ EUR 12) per person per day as transport expense.
North India by train and bus or Backpacking Tour of South India is inexpensive and fun.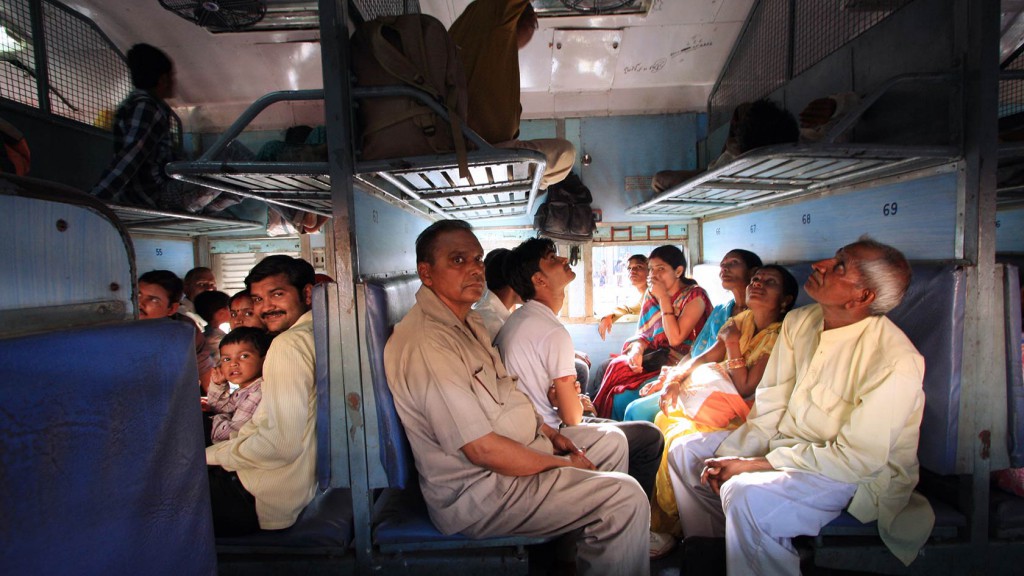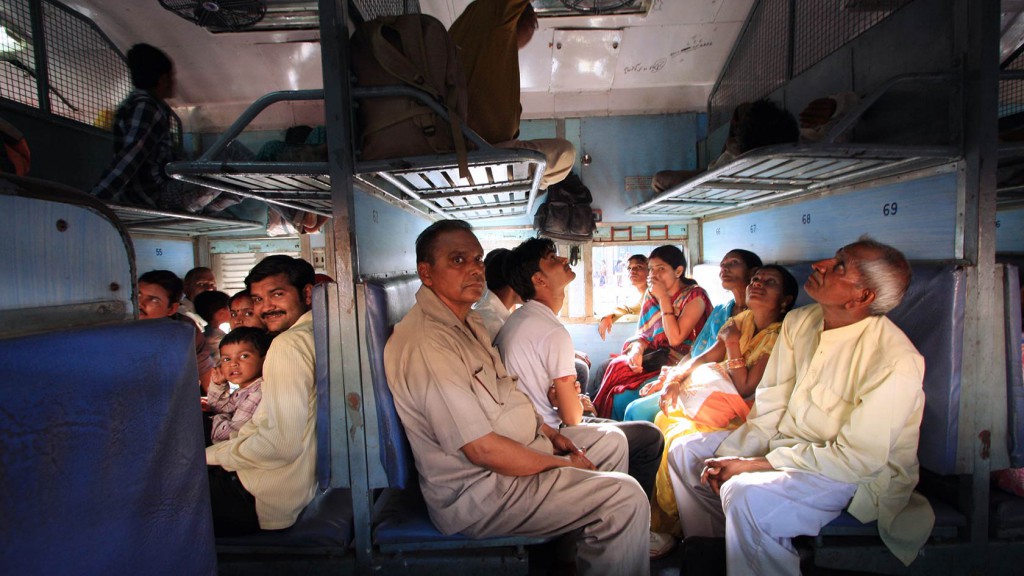 You would be spending an average of INR 1250 (USD/ EUR 20) per person per day for transportation.
Comfort Traveler – You would have a car and driver drive you for most of the route. In addition, train rides would always be the best available A/C class and only an option if it is the most convenient solution. You would take flights whenever distances are too long. Having a car and driver through your trip in India is a comfortable and flexible way to explore the country.
You would be spending an average of INR 1500 (USD/ EUR 25) per person per day for transportation.
Cost of meals in India
India is not an expensive destination when it comes to food. However, in bigger cities and touristic places food can be expensive at times.
In general, if you eat at local restaurants you would get breakfast (omlette/paranthas/idli/dosa) and a cup of tea or coffee for around INR 60-80 (USD/ EUR 1.25) per person. Lunch and dinner would cost you a minimum of INR 80-150 (USD/ EUR 1-2.5) per person/per meal. And you can expect a warm and fulfilling meal at that price.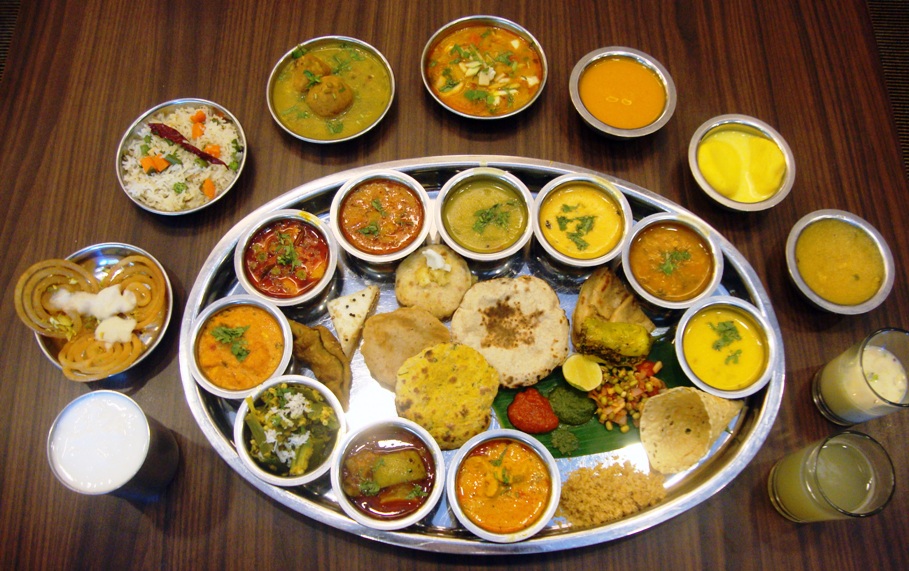 Few challenges with local restaurants
Hygiene could often be circumspect, but that is a risk you are always going to have to take when travelling to India. Often food from good restaurants can get you sick too. To reduce the risk, always avoid deserted restaurants, eat at places that have a lot of people.
Finding local restaurants in bigger and mid-sized cities (Delhi, Mumbai, Jaipur) is quite easy. In smaller towns and especially the touristy areas of smaller towns it is harder as restaurant after restaurant is set up for tourists (=expensive). Be prepared to explore and go beyond the very touristy parts of small towns.
Meals at nice restaurants can set you back by approx. INR 250 – 400 (USD/ EUR 4-7) per meal, per person. This price would not include alcohol.
If you plan to go to fine dining restaurants, eat at five star hotels with a great view then a meal can cost anywhere between INR 1000 – 2500 (USD/Euros 15-40) per meal, per person.
Cost of Alcohol in India
There are couple of aspects one needs to keep in mind when it comes to alcohol in India. i.e. availability and the price.
First, availability: alcohol is not very difficult to find in India. However, you cannot take it as a given that all hotels and restaurants will serve alcohol. A lot of restaurants may not have alcohol on their menu (as they do not have a license to serve) but will arrange it for you if you ask them.
Hotels that do not serve alcohol usually let you carry your own alcohol to the hotel. Alcohol cannot be purchased at supermarkets, but India has what we call 'wine shops' that are dedicated just to selling alcohol. 'Wine Shops' are not easy to find, so ask your hotel / driver about the nearest one.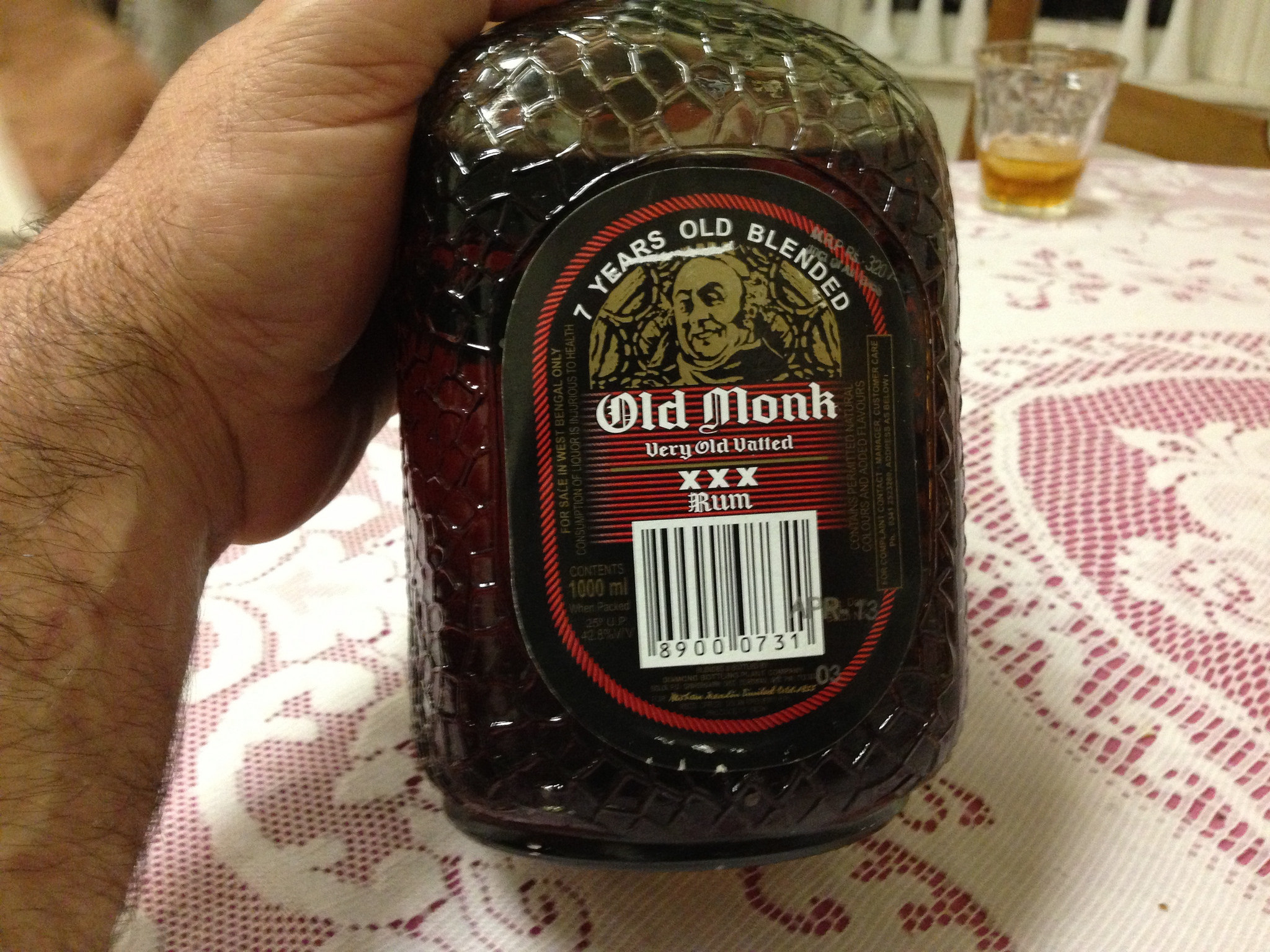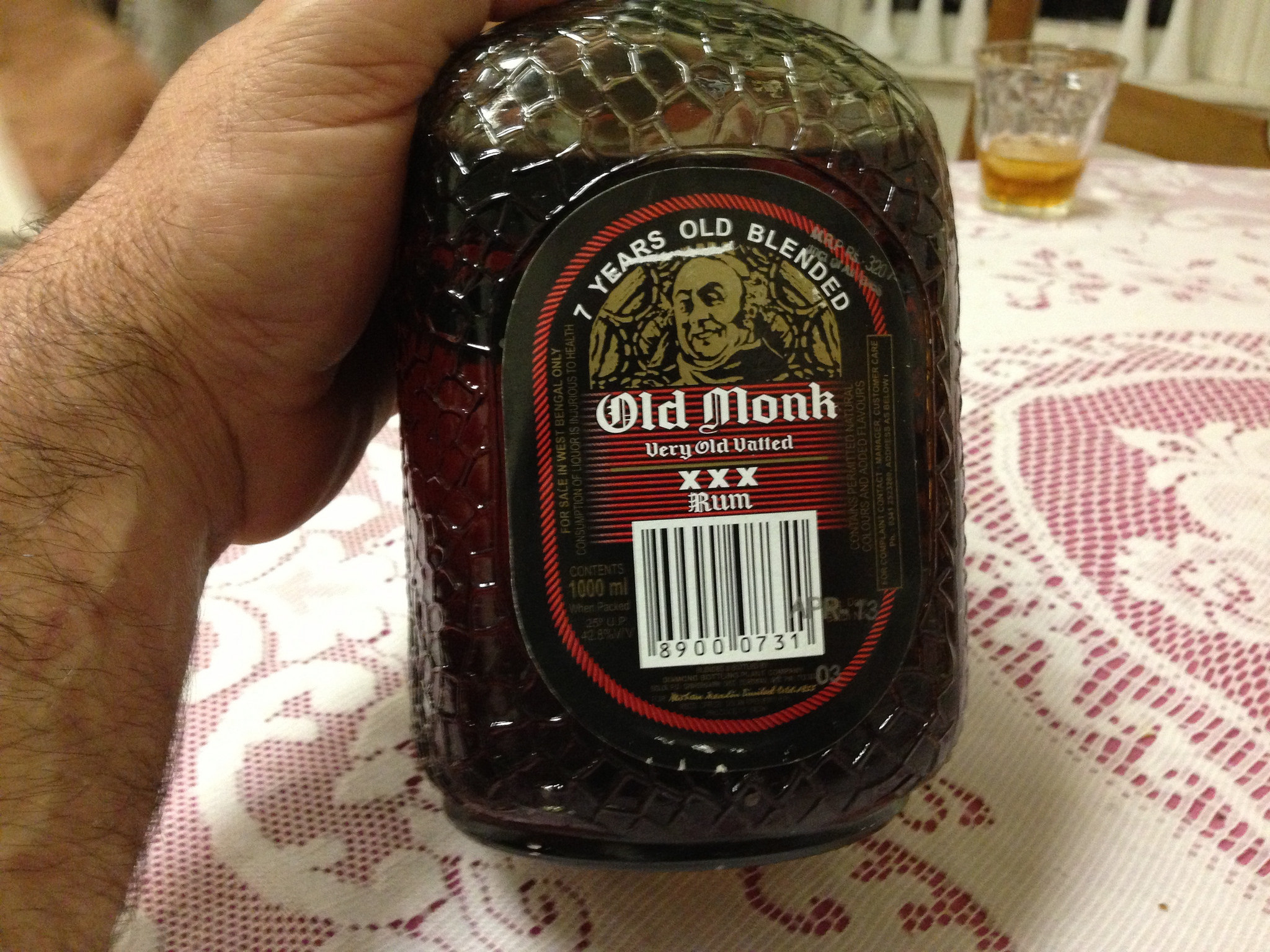 Old Monk is a domestically produced rum which is relatively cheap.
Second, price:  Alcohol is more expensive in bigger cities like Mumbai and Delhi where taxes are high. A beer at a bar/pub would cost you INR 200 – 250 (USD/EUR 4), stronger drinks (whiskey/gin/vodka etc) would cost INR 200-300 a peg (USD/EUR 4-5). Alcohol is about 30-35% cheaper in smaller towns. A beer at a 'wine shop' would cost INR 50 (80 cents).
Cost of Monument entry fees and activities
India charges a differential monument entrance fees to Indians and to foreigners. (15x more to a foreigner). This might seem a little unfair but it is mostly to create the possibility for every citizen of India to visit every kind of monument despite financial restraints.
However, children under the age of 15 still enter free into most monuments. If you have a valid student ID you'd get a highly discounted entrance fee.
You should budget INR 3000 (USD 60/ EUR 55) per person for monument entrance fees when visiting India. However, in some places like Delhi, Jaipur or Agra you will spend more for Sightseeing than in other places like Goa or Kerala, just because there are more sights that demand an entry fee. But in the places with less monuments you will most likely spend more on activities.
Activities that you are likely to spend money on: You would probably participate in a range of activities when visiting India. The cost of the same can vary from activity to activity. At times it would sound unreasonably cheap and at times compared to prices of everything else in India feel a little expensive.
Cooking classes cost between INR 750 to 1500 per head (USD/EUR 12/25). This is usually a 3-4 hour class and you get to eat an entire meal that you've just prepared. So great value for money.
Riding an elephant in Amer Fort, Jaipur costs INR 1000 for two people/riding one elephant. But be aware that the elephants don't always enjoy fair treatment!
A half day canoe ride in the backwaters of Kerala, usually including a meal costs INR 1200/1500 (USD/EUR 20/25)
Watching a traditional dance show in Kerala cost you around INR 200 (USD/EUR 3)
Flying fox/Ziplining in Jodhpur costs around INR 1500 (USD/EUR 25)
Account for INR 6000/10,000 (USD/EUR 110/150) per head for two weeks for such activities.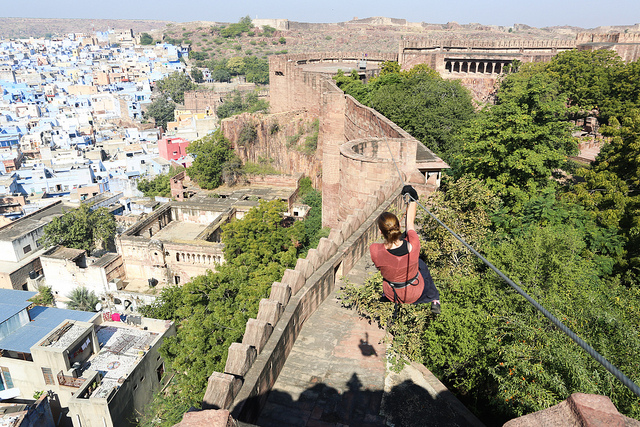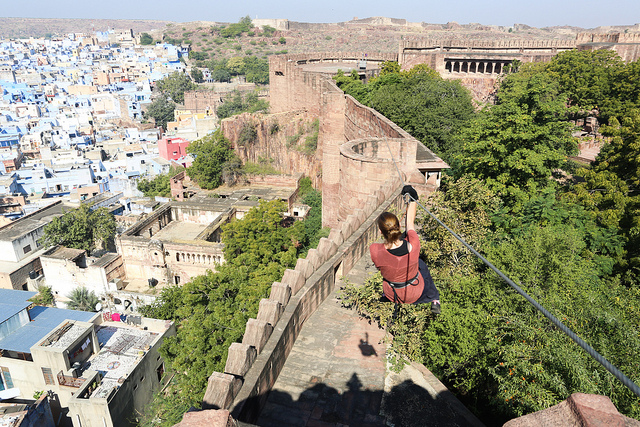 In addition to the above discussed expenses we expect you'd spend money on shopping and other miscellaneous things.
While it may seem like using a travel company is an unnecessary cost, we'll actually save you a huge chunk of your budget by streamlining your trip. We can get you better deals on hotels and travel and make sure you don't get duped. By advance bookings of flights and trains you can save good money and travel more comfortable. Save up that extra cash for more gift for yourself and loved ones at home. Tell us about your plans to travel India and your budget and let us do the rest.