Cost of travelling in India
India as a travel destination has many merits: from the exciting history and its trailing architectural wonders to the rich culture and delicious food. But one of the most important virtues of travelling in India is that it offers experiences at prices for any type of traveller, backpackers and luxurious vacationists alike. By reading this, it'll help figuring out the cost of travelling in India and help plan the budget for your trip to India.
Wondering the cost of travelling in India? India is inexpensive because of its value for money accommodation options, transportation, service and food, as well as its weak monetary value. But one doesn't necessarily have to stay at hostels, simple BnB's, and eat cheap street food non-stop. India provides you a huge variety of options in every category. From 5-star hotels to mid-range boutique hotels and resorts, luxurious train travel, private cars, gourmet and international restaurants – everything is available!
=
'[Overall Cost of travelling in india
Your overall cost of travelling in India includes accommodation, transport, entry fees for commonly visited sights and meals. It does NOT include personal expenses such as the Pashmina scarf or the leather sandals you bought at a shop.
Budget Traveller: INR 2,000-3,000 (30-50 USD / 25-45 EUR per day, per person)
The cost of travelling in India for a backpacker is perfect which makes it the best way for young adventurous backpackers ready to experience India to the fullest. This would include stays in dormitories at backpackers' hostels or private rooms at cheap budget hotels. You'd travel on local buses and trains and take only one domestic flight for the longest distance. You'd also eat both street food and in restaurants and visit the most popular sights.
Mid-range Traveller: INR 3,000 – 6,000 (50-90 USD / 45-80 EUR per day, per person)
If you're the kind of traveller who likes to keep the cost of travelling in India on the economic side, but without excluding comfort from your vacation, this category is for you. If you can increase your budget by adding 40 USD or 30 EUR to a backpacking trip, you will be able to add significant value to your trip. You can stay at charming boutique hotels and friendly homestays, travel faster by including a few internal flights.
You can also choose from the best train classes available and a few chauffeur-driven car rides. From time to time you can treat yourself with a meal at a fancier restaurant and add one activity per city like cooking classes, a desert safari or a nice trek.
High-end Traveller: INR 6,000 -12,000 (90-175 USD / 80-150 EUR per day, per person)
If the cost of travelling in India didn't matter and if you're used to luxury travel, you'll be delighted with the variety of options that India has in store for you, especially in terms of hotels and resorts. You can fly your way to most places and travel in a comfortable, air-conditioned car. All the big cities and some of the smaller cities as well offer great gourmet dining options that shouldn't be missed.
India has some of the most delightful palace-turned hotels and gorgeous boutique luxury hotels. Let us surprise you.
Look at some of our different travel plans here and here.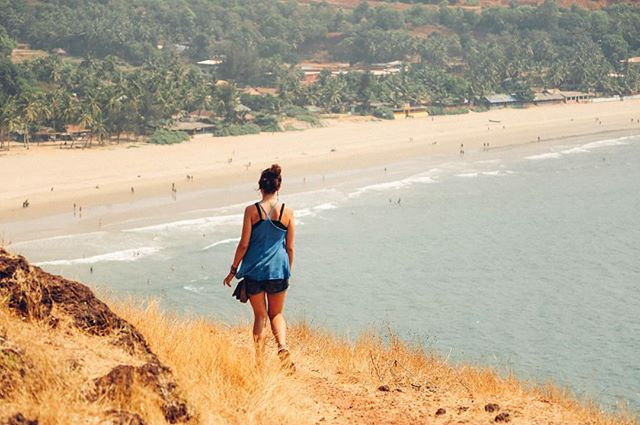 Whether you're backpacking or looking for a luxury holiday, we can help budget your tour for you (Photo Credit – Daniel Triguero Puchades)
Cost of travelling in india (accommodations)
cost of travelling in IndiaThe hotel tariffs are generally higher in big cities, tourist havens and during the peak winter months of December, January and February. They're lowest in the off-season and the monsoon season which is from mid-June to September.
Budget Traveller (
Backpacker)
As a budget traveller you can easily find hotels/hostels in India between INR 700-1,500 (9-20 USD, 8-18 EUR) a night that offer a clean simple room or a nice dorm bed. Breakfast is sometimes included but not always.
Over the last decade, India went from having its first to over a couple of hundred hostels. They are safe, clean, fun (they plan great activities) and a wonderful place to meet other travellers. We tend to include them a lot while planning trips for backpackers.
One can also find cheaper places to stay in India. As low as INR 300-500 (4-7 USD, 3-6 EUR) a night, but cleanliness and safety is questionable. These are best if booked after being personally inspected. Our calculation is based on budget hotels between INR 800-1,500 (11-18 USD, 9-18 EUR) a night.
Mid-Budget Traveller
A little more comfort! You're a mid-budget traveller if you're looking at a private room and a private bathroom at all times. Ranging between simple and spotless rooms on average, to a few heritage or boutique stays you would spend an average of INR 2,500 (34 USD, 29 EUR) for a room a night.
You would have breakfast included for most nights, a private bathroom every night, and some hotels may have a pool, a garden or a very nice view.
To give you an idea on hotels that you would be staying at: Mewar Haveli or Kankarwa Haveli in Udaipur or lovely home-stays across India.
Comfort Traveller
You like a comfortable bed, affordable boutique or heritage hotels, rooms with a nice view (when possible) and a nice pool every now and then. Then you would spend an average of INR 4,500 for a room a night.
Comfortable beds with nice views, affordable boutique and heritage hotels, and a nice pool for majority of the time; INR 4,500 (65 USD, 70 EUR) is the average a night. A rich and nice breakfast would always be included.
You'd be staying in many heritage hotels or boutique stays. For instance, Shahpura House in Jaipur or Ratan Vilas in Jodhpur are such heritage hotels focused on comfort.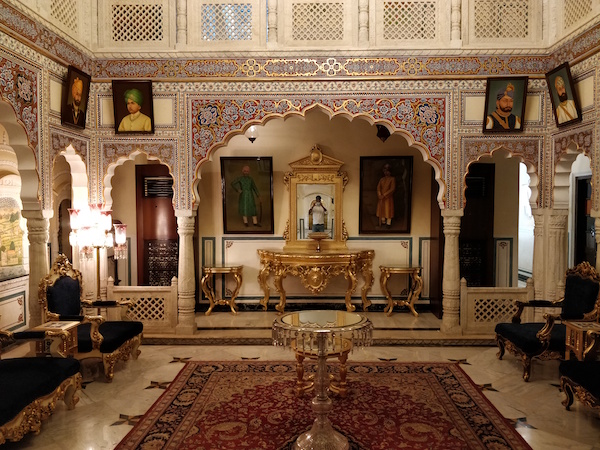 Hotels like this one are all for comfort, aesthetic, relaxation and a luxurious stay
Cost of travelling in india (transportation)
Budget Traveller (Backpacker)
You would predominantly be using trains to get between places. We have accounted for fares using A/C class train travel. Remember trains are a great and inexpensive way to travel around India, but on some routes trains are not possible or train tickets get sold out by the time you decide to book, so you would have to take buses then. Sometimes local buses are only available at the destination and cannot be booked by us.
You will use public transport or tuk-tuks (auto rickshaws) to travel within cities. You should account for an average of INR 800 (11 USD, 9 EUR) per person per day as transport expense.
North India by train and bus or a backpacking tour of South India is inexpensive and fun.
Comfort Traveller
You would have a car and a driver for most of the route. In addition, train rides would always be the best available A/C class and only an option if it were the most convenient solution. You would take flights whenever distances are too long. Having a car and driver through your trip in India is a comfortable and flexible way to explore the country.
You would be spending an average of INR 1,500 (USD 20/ EUR 16) for transportation per day.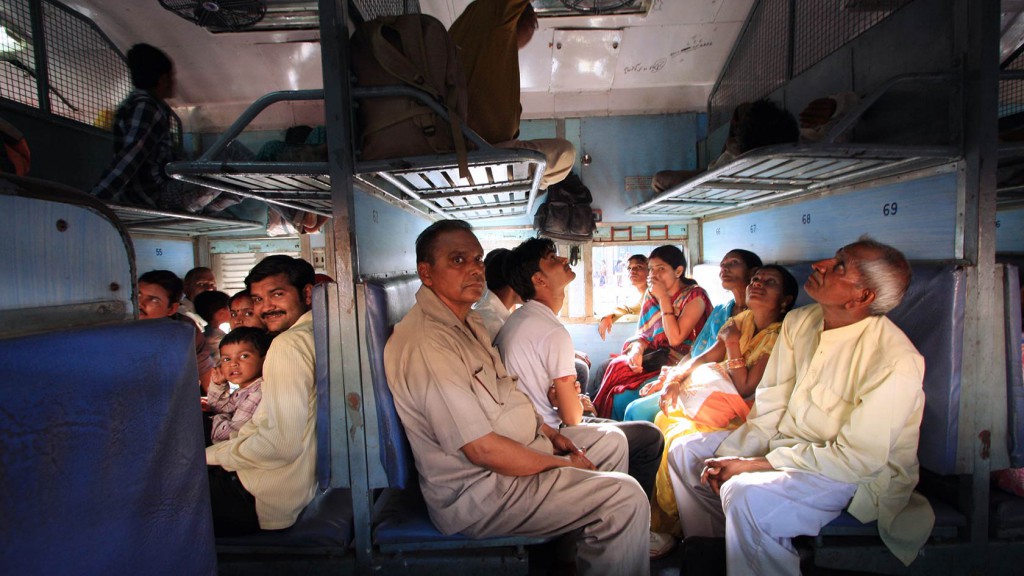 Consider travelling by train to keep the cost of your trip down
Cost of travelling in india (meals)
India is not an expensive destination when it comes to food. However, in bigger cities and touristic places food can be expensive at times. In general, if you eat at local restaurants you would get breakfast (omlette/parathas/idli/dosa) and a cup of tea or coffee for around INR 60-80 (1 USD/ EUR) per person. Lunch and dinner would cost you a minimum of INR 80-150 (1-2 USD/ EUR) per person/per meal. And you can expect a warm and fulfilling meal at that price.
Few challenges with local restaurants
Hygiene could often be circumspect, but that is a risk you are always going to have to take when travelling in India. Often food from good restaurants can get you sick too. To reduce the risk, always avoid deserted restaurants; eat at places that have a lot of people.
Finding local restaurants in bigger and mid-sized cities (Delhi, Mumbai, Jaipur) is quite easy. In smaller towns it is harder as every restaurant is set up for tourists (expensive). Be prepared to explore and go beyond the touristy parts of small towns.
Meals at nice restaurants can set you back by approx. INR 250-400 (3-6 USD/ EUR) per meal, per person. This price would not include alcohol.
If you plan to go to fine dining restaurants, eat at five-star hotels with a great view then a meal can cost anywhere between INR 1,000-2,500 (12-35 USD/EUR) per meal, per person.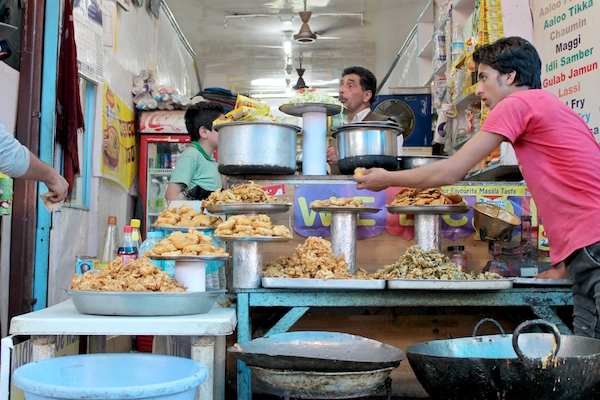 With delicious food anywhere you go, it's relatively inexpensive to eat heavily
Cost of travelling in india (Alcohol)
There are a couple of aspects one needs to keep in mind when it comes to alcohol in India. i.e. availability and the price.
First, availability:
It's not very difficult to find alcohol in India. However, you can't take it as a given that all hotels and restaurants will serve alcohol. A lot of restaurants may not have alcohol on their menu (as they do not have a license to serve) but will arrange it if asked to.
Hotels that do not serve alcohol usually let you carry your own alcohol to the hotel. Alcohol cannot be purchased at supermarkets, but India has what we call 'wine shops' that are dedicated just to selling alcohol. 'Wine Shops' are not easy to find, so ask your hotel/driver about the nearest one.
Second, price:
Alcohol is more expensive in bigger cities like Mumbai and Delhi where taxes are higher. A beer at a bar/pub/club could start from INR 150 to 500/600 (2-6 USD/EUR) depending on the place you're going to. Stronger drinks (whiskey, gin, vodka etc.) could cost from INR 200 to 1,000 (2-13 USD/EUR). It's hard to generalise because it very much depends on the place you're in and what you're ordering in particular. It could range from extremely cheap to very expensive even for foreign standards. Alcohol is about 30-35% cheaper in smaller towns. At 'wine shops' expect the price to be relatively cheaper in everything.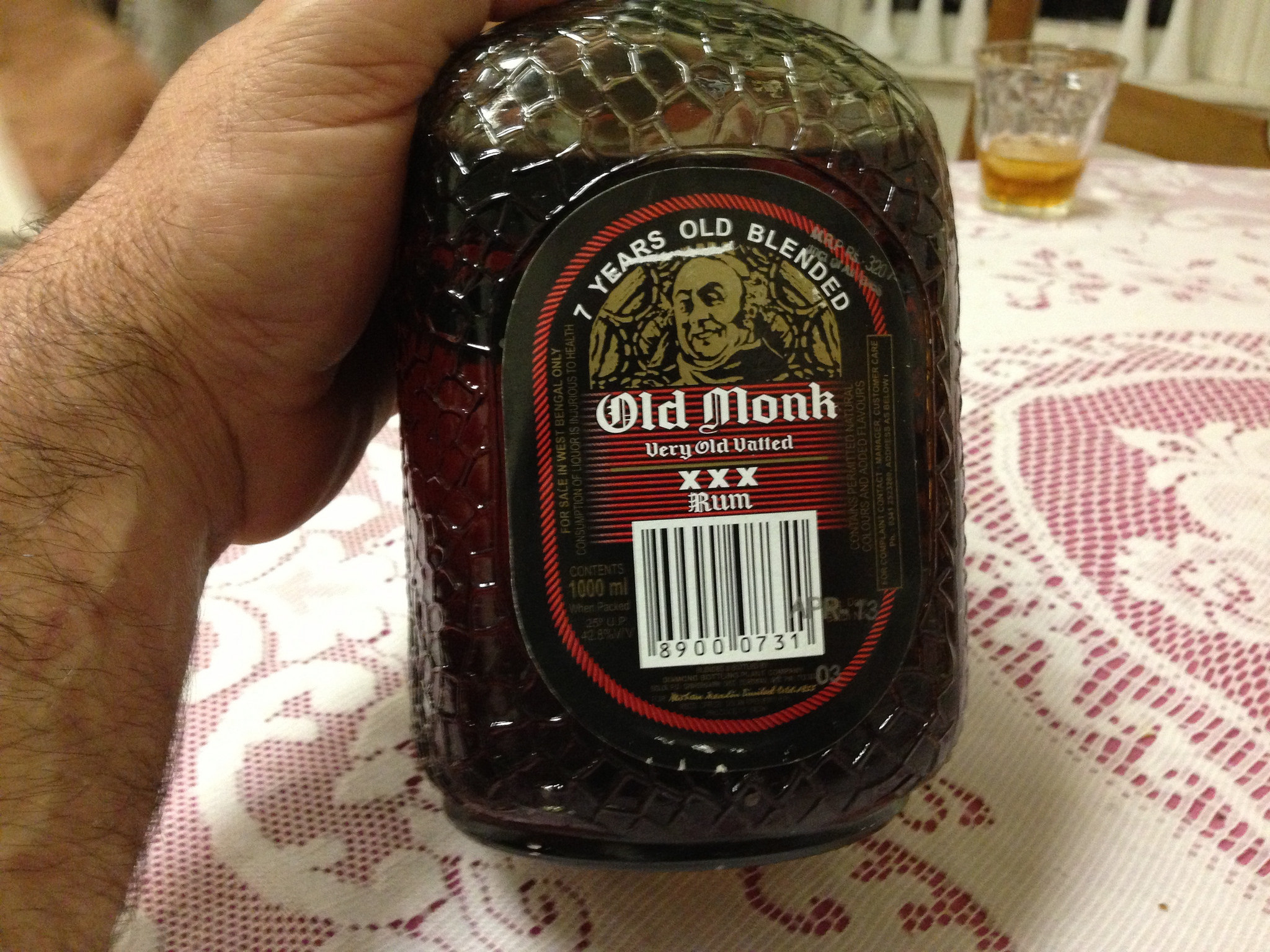 Old Monk is a domestically produced rum which is relatively cheap
Cost of travelling in india (Monument entry fees)
India charges a differential entrance fees to Indians and to foreigners, (15x more to a foreigner). This might seem a little unfair but it is mostly to create the possibility for every citizen of India to visit every kind of monument despite financial restraints.
However, children under the age of 15 enter free in most monuments. A valid student ID gets you a highly discounted entrance fee.
You should budget INR 6,000 (80 USD/ 70 EUR) per person for monument entrance fees when visiting India. However, in some places like Delhi, Agra or Jaipur you will spend more for sightseeing than in other places just because these places offer more of sightseeing monuments. In other places like Goa or Kerala, which have fewer monuments you will most likely spend more on activities.
In addition to the above discussed expenses we expect you'd spend money on shopping, miscellaneous things, and the occasional tip.
Keep in mind however, that these are all approximate prices and can be slightly different to the real-time prices. Since the rupee changes quickly and sometimes even drastically, expect some slight changes. Regardless of the changes, we give a comprehensive list at every location with no transparent costs, so you won't be surprised when something comes at you.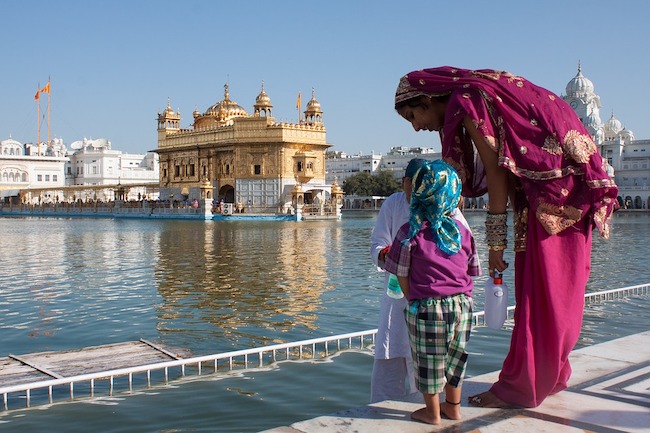 Foreigners are expected to pay more to enter monuments than Indian citizens, but don't get bitter as prices in the East are still far cheaper
Activities that you are likely to spend money on
You would probably participate in a range of activities when visiting India. The cost of the same can vary from activity to activity. At times it would sound unreasonably cheap and sometimes compared to prices of everything else in India it may feel a little expensive.
Cooking classes cost between INR 750 to 1,500 per head (10-20 USD, 9-18 EUR). This is usually a 3 to 4 hour class and you eat an entire meal that you've just prepared. So great value for money.
Riding an elephant in Amer Fort, Jaipur costs INR 1,000 (10-15 USD/EUR) for two people/riding one elephant. But be aware that the elephants don't always enjoy fair treatment!
A half-day canoe ride in the backwaters of Kerala, usually including a meal costs INR 1,200/1,500 (16-20 USD, 14-18 EUR)
Watching a traditional dance show in Kerala costs you around INR 200 (2 USD/EUR)
Flying Fox/Zip-lining in Jodhpur costs around INR 1,500 (20 USD, 18 EUR)
Account for INR 6,000/10,000 (110-150 USD/EUR) per head for two weeks for such activities.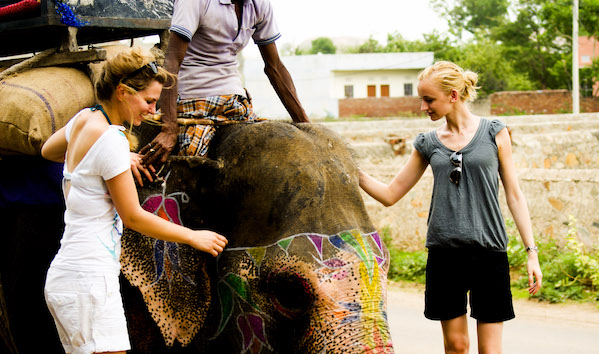 Plan ahead what activities you would like to do so you can budget accordingly
While using a travel agency may seem like an unnecessary cost, we'll actually save you a huge chunk of your budget by streamlining your trip. We can get better deals on hotels and travel and make sure you don't get duped by folks looking for some easy money. By advance booking of flights and trains you save good amounts of money, so you can spend it on something for yourself. Tell us about your travel preferences and your budget, and let us do the rest of the tedious stuff for you.
FEW MORE COSTS WHILE TRAVELLING TO INDIA:
Now that you have a fair idea of what to expect when it comes to making a travel budget before you visit India, there are some less glamorous costs to keep in mind as well.
Travel Insurance:
No matter which country you come from or travel to, travel insurance is something you should never compromise on. With a valid travel insurance plan, not only does your travel to and from India get covered in the case of any mishap, but it also covers loss of baggage, important documents and even health concerns or accidents during your travel.
Emergency Cash:
Always keep emergency funds on the side. These funds are over and above any India travel budget you put together. Before you visit India, ensure you save money for flight changes, any unprecedented natural disasters, any acts of violence or war, loss of passport and identification documents, theft or assault, or unforeseen family emergencies. Anything is possible when you travel around the world.
Foreign Currency Conversions:
Always stay up-to-date with the latest currency exchange rates, not just before you visit India but also during. Keep some change handy in both currencies (INR and your country). This will be particularly useful in parts of India where ATMs are not readily available or you're in the mood to eat street food (most vendors do not accept card or online payments). A few dollars also come in handy if you're in transit at an international airport.
Taxes and Extra Charges
Whether you attend a show, visit a monument, enjoy fine dining or book a hotel in India, there are taxes and charges to be paid. So when you do research for your upcoming trip, including putting together a travel budget, always leave extra room for extra charges. After calculating the average price of a meal, remember to add service charges or taxes as a percentage on top of the total amount. This way, you won't be stuck having less than enough money at any given point of time.
Read Further: Get Acquainted with India's Abundant Pursuits
Frequently Asked Questions:
Q. What is the total cost of travelling India?
The total cost of travelling to India depends on various factors, including trip duration, time of year, type of travel (budget versus luxury), where to stay and the places you plan to visit. Add to that your airline ticket and visa, any other official expenses and some taxes and fees along the way. The average daily travel budget can be calculated as about INR 1000 to 3000 a day for the budget-conscious comfort traveller, including food, sightseeing and transport. That comes to about USD 12 to 36. Having said that, always look up price fluctuations and currency rates closest to your trip, to get a more accurate estimate.
Q. How to do budget travelling in India?
India can be a very affordable destination if you learn how to budget well. Some useful ways to ensure your budget is well-planned include:
Travel in the off-season months
Book red-eye flights for cheaper airfare
Consider staying at hostels or couchsurf while you're in India
Pack light to avoid overweight baggage fees
Book hotels, trains and events well in advance to avoid last-minute surge prices
Always ask for discounts, offers or any seasonal deals
Q. What is the average cost of tourism in India?
The average cost of tourism in India includes average daily travel budgets for accommodation, food, transport and activities. If you count as a mid-range traveller, then you can expect a daily average expense of about INR 3000 or USD 12. Budget travellers can save costs by using public transport, eating at cheaper restaurants and sightseeing at free-entry tourist spots.
Q. How much money should I take for 2 weeks in India?
If you are planning to travel to India during peak tourist season, you can expect double the pricing for accommodation, commute and activities. But if you travel during the less active months of the year, a total of INR 15000 or USD 181 should be enough to cover your commute, food and daily expenses. You can even throw in a few fine dining experiences, depending on the places you visit.
Q. How can I travel with low cost?
Making a travel budget that doesn't leave you empty-handed by the end of your trip isn't as difficult as it seems. There are many ways to cut corners, while planning a trip anywhere in the world. The following steps can help you ensure you enjoy your holiday to the maximum, while draining your pocket by the minimum:
Choose your travel dates from off-season months
Book your flights well in advance for discounted rates
Get cheaper accommodation via couchsurfing and hostels
Check with hotels, transport services and travel agents for discounts, offers or any seasonal deals
Get used to using public transport within the country
helping you travel your way
Everything you need to know about India is here We have tried writing about everything you may need help with for your trip to India, If you need help in planning a trip to India Get in touch with us to to plan your trip of a life time.