Backpacking in India – Here's what you need to know!
India is a dream destination for backpackers! You can easily travel on a low budget and experience a distinctive culture unlike any other. From staying with friendly families in homestays or other backpackers in dorms of hostels to travelling like a local on inexpensive train journeys, Backpacking in India will offer you an adventure of a lifetime.
Why is India so inexpensive?
There are multiple reasons as to why traveling in India is so inexpensive.  A not so strong currency, a great network of public transport and cheap food options make India such a low budget travel destination.
Hostel stay in India should not cost more than 6 – 8 Dollars a night. Even transport on  A/C trains and buses will not set you back by more than 15-20 dollars a journey.
India is a food haven for vegetarian and has a few interesting options for meat eaters too.  The meal costs in India are ridiculously low and a budget of USD 15 should be enough for all meals. For more infos on costs of travelling in India here.
How Tough is it to do Backpacking in India?
A lot of backpacker hostels, budget home-stays and economic public transport makes India a very backpacker-friendly destination. However backpacking in India is cheaper/more expensive based on the region you would be visiting.  For example Rajasthan is easier to backpack in than the North-east or on unbeaten paths in central India. South India has a great infrastructure and local transport but accommodations are more expensive. Hotels in Mumbai are expensive too but the food is very cheap.
Why should you choose India for your backpacking adventure?
Of course one of the main benefits of backpacking in India is the fact that one doesn't need to break the bank for a satisfying journey. But there is so much more to the travel experience in India . You can experience a very distinctive culture unlike anything you find elsewhere. The bright colours and interesting details of everyday life , the variety of religions and respective customs, the landscapes and nature, the traditional architecture and interesting stories behind it, the dynamics of the young generations and the wisdom of the elderly – this all makes India an experience of a lifetime. Furthermore, travelling in India definitely pushes you out of your comfort zone and makes you run into situations you never thought you would be in: Dancing and singing with locals on a night train, eating spicy food you actually enjoy,  being the centre of a selfie with local kids or sleeping under detailed wall decorations which are centuries old. Many of our guests had the time of their lives in India. Read their testimonials here. 
How much can you see in two weeks of backpacking in India?
Two weeks in India is ample time to explore one region well.  On a fast paced trip you could see a little more.  In North India you could explore Delhi,  Rajasthan and Agra (Taj Mahal). This is probably the most popular tourist circuit in the country.   Start off in the capital, followed by a visit to the Taj Mahal and the culturally rich cities of Rajasthan.
The places you would be visiting on this route are rich in history, culture and architecture.  Great rail and road network and abundance of budget hotels, home-stays and hostels make North India a backpacker friendly region. Find an example tour with details here.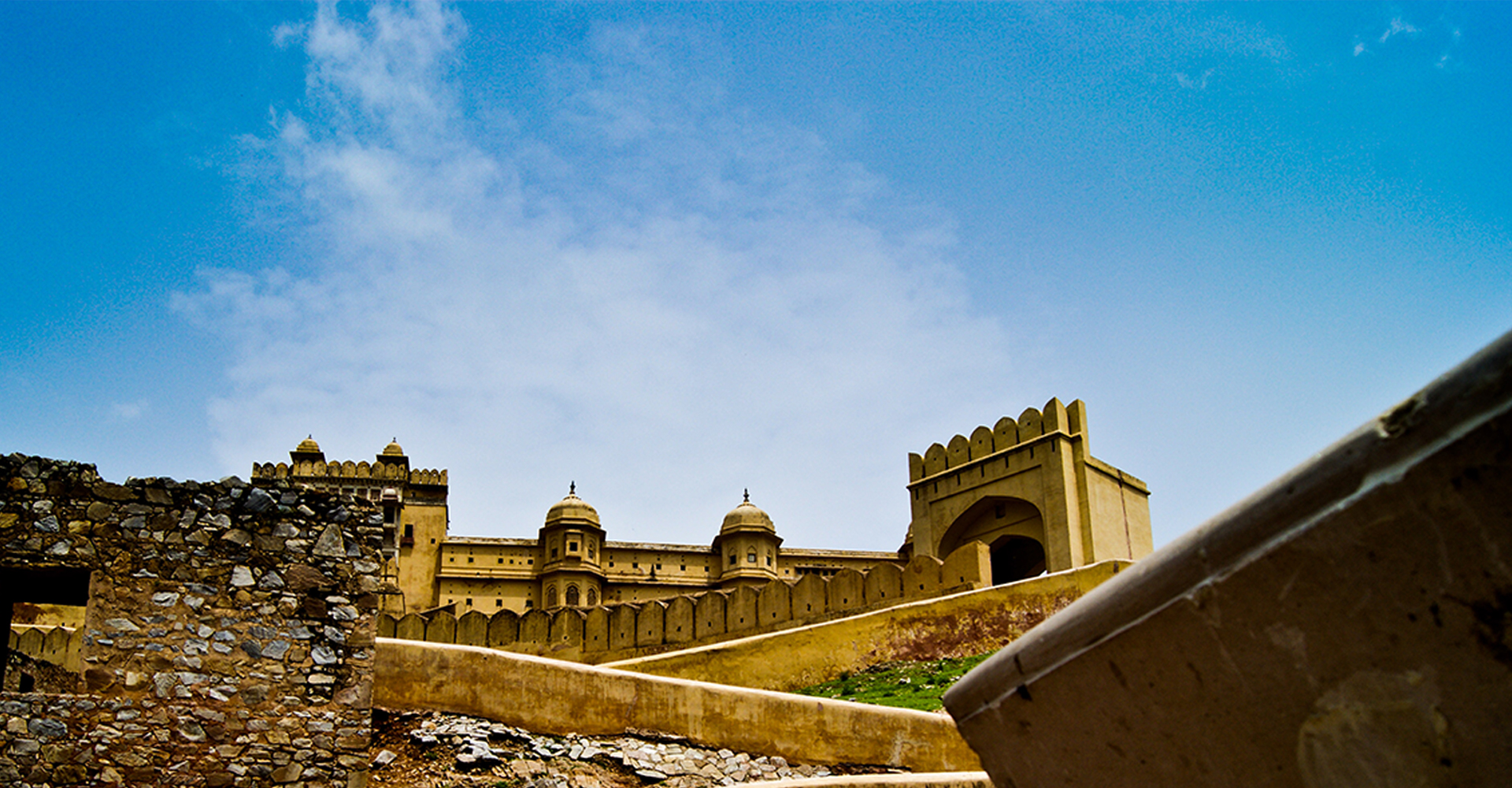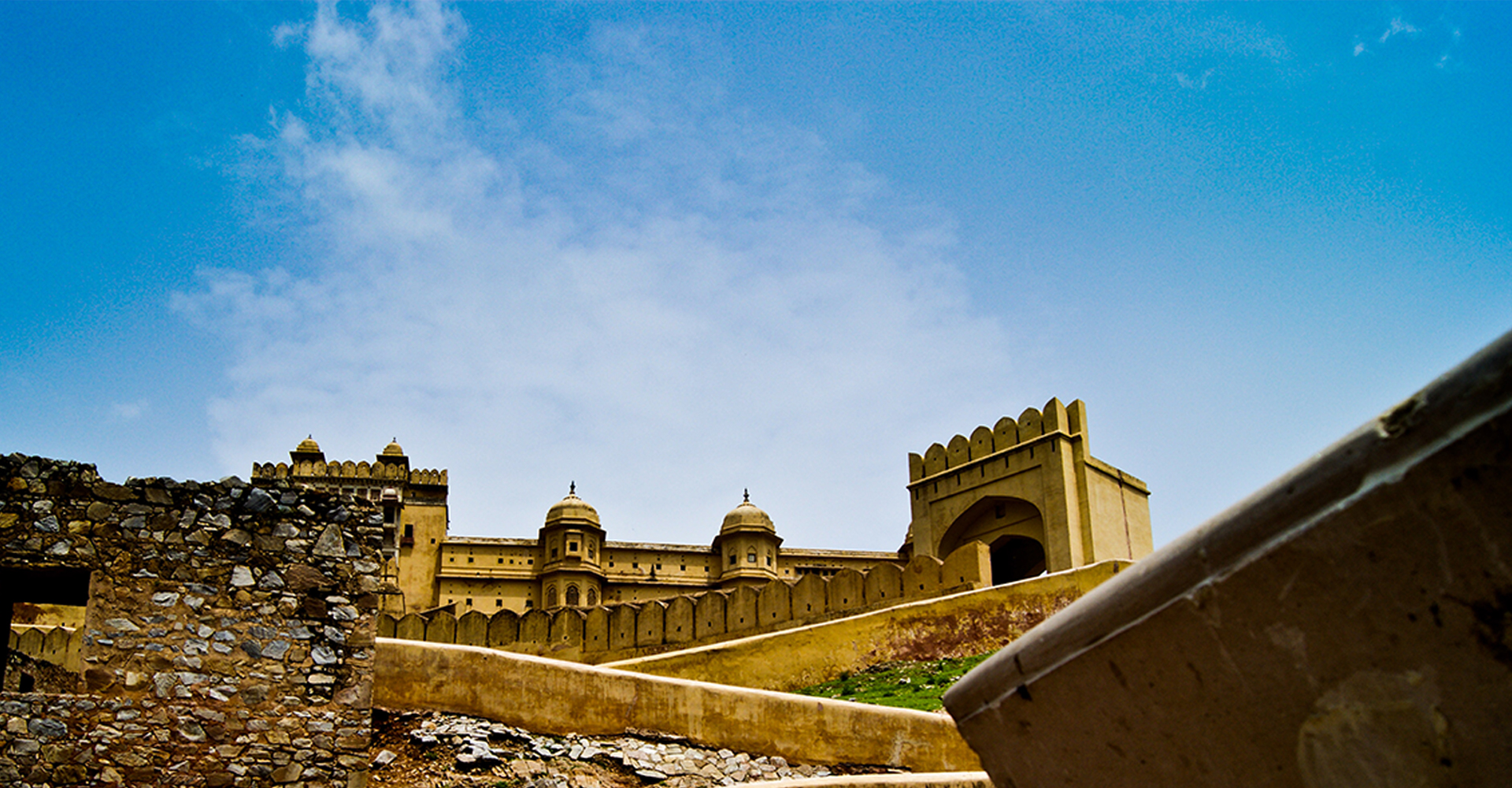 Explore the massive forts and beautiful palaces of Rajasthan.
North India is also home to places of spiritual importance.  You could start this route in Delhi and visit Amritsar which is home to the Golden Temple. The Golden Temple is the most important site of worship in Sikhism.  You can then make your way north to Dharamshala which is home to the Dalai Lama and the in-exile Tibetan government.  From Dharamshala travel to Rishikesh, the Yoga capital of the world and home to a lot of adventurous activities like river-rafting and bungee jumping.
Click here for a detailed list of options on traveling for two weeks in North India.
South India is very different from the North, beautiful in every sense of the word. South India is  blessed  with beautiful beaches,  forests and  great food. It is also a great region for backpacking despite higher accommodation rates.
You can fly into Mumbai  and start your trip there. It is possibly the most expensive city in the country and a not a very touristic city. There aren't many budget accommodation options in Mumbai. Backpackers tend to like it due to its authenticity.  From Mumbai make your way south to Goa.  Goa is full of beautiful beaches, gorgeous churches and Portuguese colonial architecture. Inexpensive alcohol, great sea-food and relaxed laws are the reasons why Goa is extremely popular among Indian and international travellers.  A bus ride later you can be in Hampi, a relaxed backpacker town known for it's ruins and interesting rock formations. Hampi is a great place to bike around. You can then travel to Kerala with a stop in Mysore (known for it's palace and great food). Find out more about this trip here.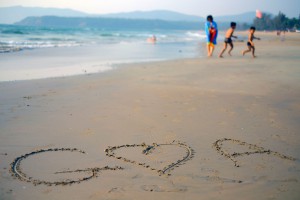 Enjoy the beaches of Goa without spending a fortune.
Kerala is one of the most visited states in South India blessed with hill-stations amidst tea plantations, waterfalls, national parks and the backwaters.  You can take the state bus/trains in Kerala to travel and most places have enough budget accommodation options. There aren't many hostels but low priced homestays make up for it. Tamil Nadu, their neighbouring state has great Tempel complexes and colonial cities. Click here for a detailed list of options on traveling for two weeks in South India.
How much can you see in four weeks backpacking in India?
The rise of e-visa has led to a lot of travelers visiting India for a month since Backpacking in India is extremely inexpensive compared to some other countries.
You could either choose to spend your month in North India and explore Delhi, Rajasthan, Agra and places like Dharamshala, Amritsar and Rishikesh.  This route is extremely popular among backpackers visiting India for a month because of easy travel connections and budget accommodation options.
A lot of travelers also choose to combine North and South India.  Flying into Delhi, visit Agra and make their way south to Rajasthan, Mumbai, Hampi, Goa and Kerala.  If you have a month and would like to experience the cultural richness of the north and the great landscapes of the south, this is the route we recommend. Click here for a detailed list of options on traveling to India for 4 weeks.
Why should a backpacker like you pay for the services of India Someday?
Being such a unique place, travel planning can be quite an overwhelming challenge in India. Even the most experienced traveler reaches its limits in India due to the vast selection of places to visit, travel routes, accommodations, experiences and the complexity of transport.
With India Someday you can get the right amount of assistance to help you plan your backpacking adventure in India without breaking the bank. With no hidden costs and a highly personalised service, we can make sure that your Indian adventure is well thought out as well as cost-effective. We guarantee you that we won't charge more for the hostels and hotels than the rates you can find online and due to our extensive knowledge and experience we know the most inexpensive route and transport options for you.
This is how we can support your backpacking adventure:
Travel planning according to your budget
Transparent Pricing with detailed cost break down
Flexible travel planning with you in control
Fast & immediate support during your travels
Tips for sightseeing & experiences
If you want to get the best out of your backpacking adventure in India plan your trip with us now.