Weather in India in October
Plan your trip
An overview of October weather in India
October is what we call 'in-between-month': the monsoon is over but it can rain at times. It can be hot but the winter slowly starts at the end of the month. The tourist season hasn't started yet but the room rates are rising. October brings also a sheer variety of weather zones to India. While the retreating Monsoon hits Tamil Nadu and Kerala, it starts to snow in Ladakh and Uttarkhand in North India. While it can get hot in central India and Rajasthan, the cold takes over in the hill stations up north. So if you are planning to tour all over India you better pack onion-style: many layers which can be removed.
While the weather surely plays an important role to choose the best time to travel to India another factor demands attention too: national and cultural festivals. And October has lots of them which we will explain below. But first let us dig into the different climates zones in India in October
North India in October
October is the perfect time to hit the mountains up north and north east. But don't go too far in: the high altitude regions in Uttarkhand, Himachal Pradesh and in Ladakh (Jammu, Kashmir) get already very cold, might even face snow and many roads and villages will be cut off due to the weather conditions. But you can visit Rishikesh, Shimla, Manali, Dharamsala and surroundings without issues and even enjoy great hikes and clear views. But pack some warm clothes too as it can get cold at night and in the morning and evening hours. Read more about fun filled travel routes in the Himalayas here.
In Rajasthan it can be very hot in the day time, up to 35°C and higher. It usually doesn't rain in October in Central India but it can occasionally happen. In the night it cools down by a big margin so pack a sweater and some socks for dinners outside or an optional overnight-camel-safari. Find some popular travel routes for Rajasthan here.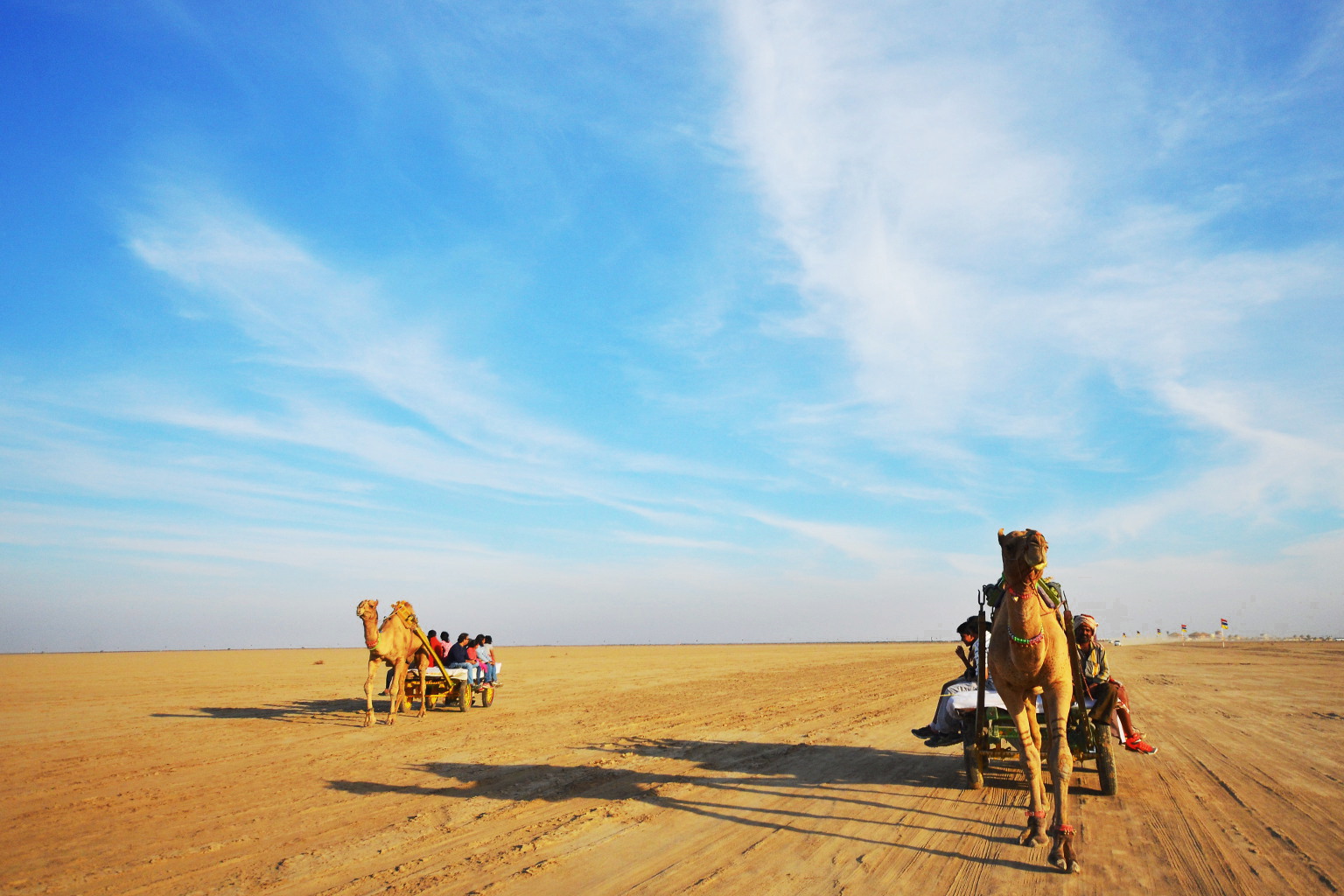 In Rajasthan you can enjoy an overnight-dessert-safari with camel ride. Be aware: it gets cold at night!
The main tourist season starts around mid-October so even though the room rates aren't hitting their maximum like they do in December and January the prices aren't as low anymore as in the previous month.
South India in October
Kerala receives a good amount of rain in October as the retreating Monsoon from the north east (the second monsoon hitting India every year) arrives. It is not as much as it was in June or July but it is more than in September and can come with heavy downpours and long lasting storms. It is again not the best time to visit the beaches but it is fun in the mountains. The landscapes are still coloured in a lush green and the lakes, rivers and waterfalls are filled with streaming water. It can get quite warm in the lowlands and cool in the mountains with temperatures varying from 16 to 30 °C. So even here you would need to be prepared for every weather change possible: from drizzle to storm, from cloudy to sunny, from hot to cold. See four popular routes for Kerala here. Karnataka's climate is almost the same as Kerala's but there is less rainfall. We have a suggestion for a backpacking tour in South India for you here.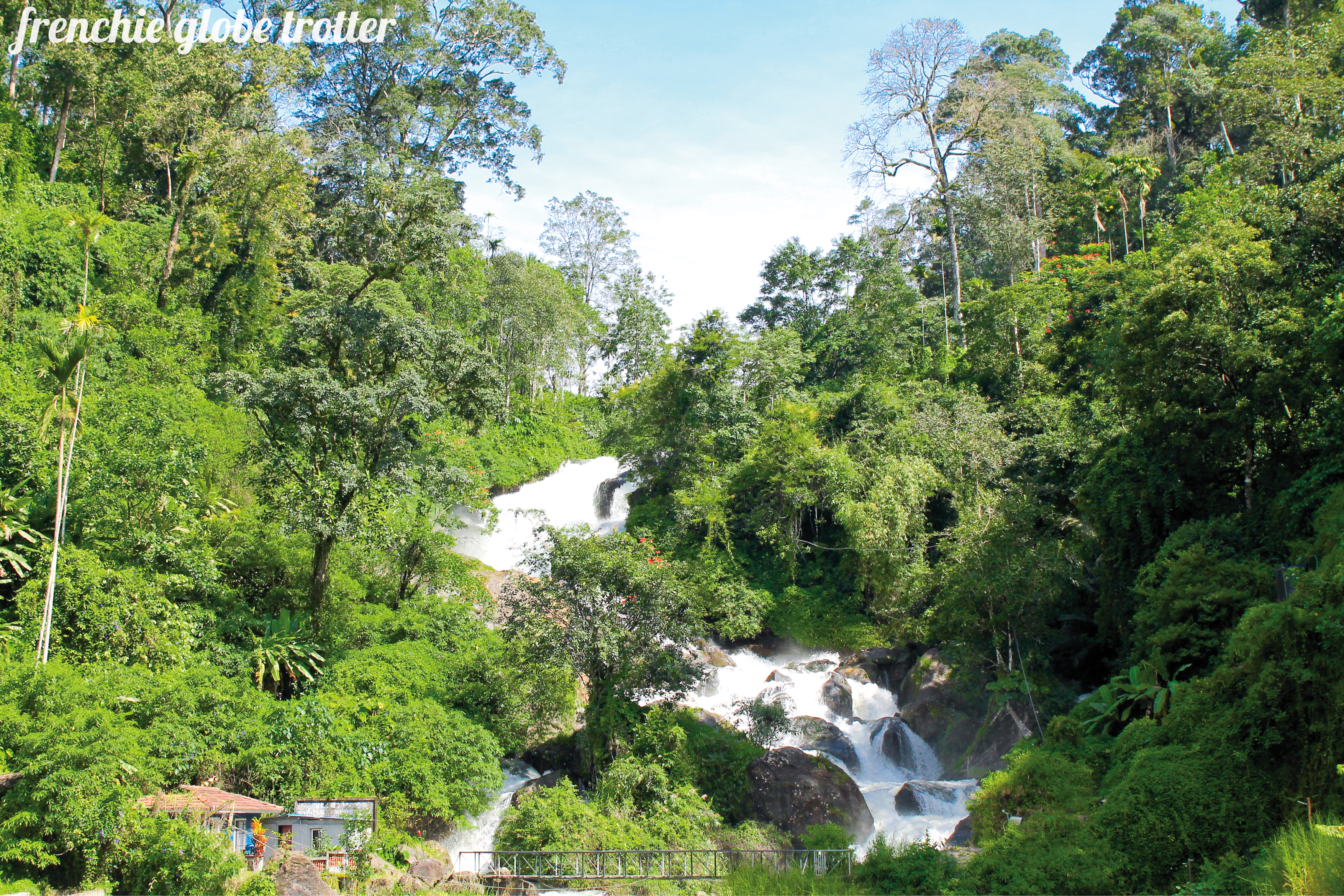 In October you can still see the effects of the rain season: streaming waterfalls and rivers.
Tamil Nadu's main rain season starts mid-October and lasts until mid-December. The region receives less rain fall in the south-west monsoon from June to September and therefore gets really wet in the last quarter of the year. It's better to avoid the east coast with places like Pondicherry, Mahabalipuram and Chennai in October.
In Goa business is slowly picking up by middle of October with many resorts and restaurants reopening for the new season. South-Goa is still slow and won't be very hospitable until November but you can definitely already have a good time at the beaches of North-Goa. It can be hot and it might storm and rain on some days but that should be a rare occasion.
Festivals in India in October
So while the weather can be quite unpredictable in October we are 100% certain that you can experience at least one great Hindu festival in October. Probably even the biggest of them all: Diwali, the ethereal festival of light (19/10/2017, 07/11/2018, 27/10/2019). In many parts of the country the festival lasts five days and people travel far to visit relatives and friends. Many consider it as a new year celebration with fireworks and crackers. It's a magical time to be in India and it would besdefinitely a great idea to stay at a homestay with a Hindu family who will invite you to participate in the ceremonies. Plan your trip with us and we make sure you can experience the an authentic and exciting Diwali festival.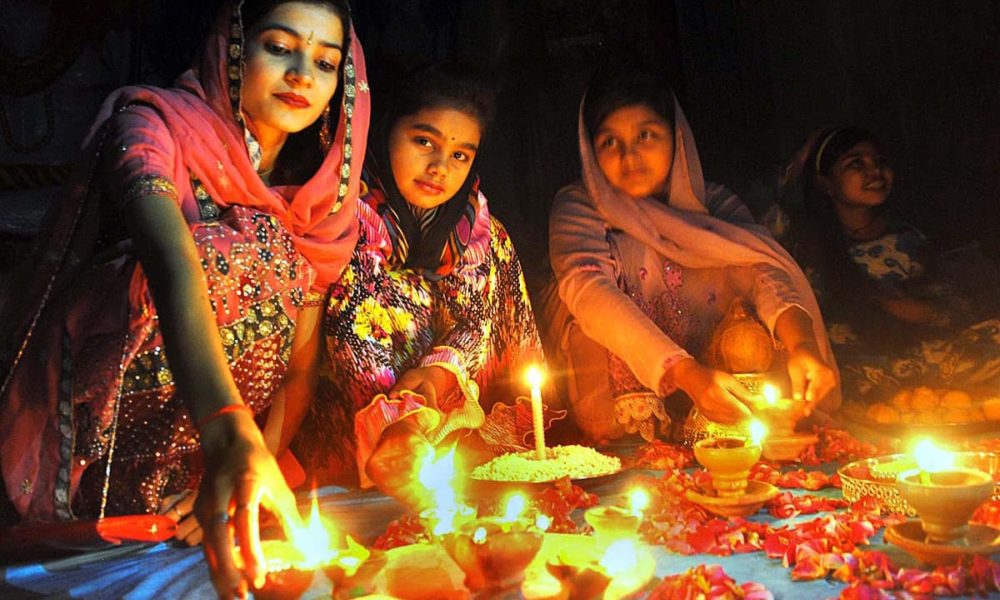 Diwali is the festival of lights, the biggest holiday for Hindus.
This time has a major drawback though: since many locals are travelling to visit home or relatives train and flight tickets are very expensive or even booked out long in advance. So it is better to travel in one region in the week before and after Diwali. You might be able to catch cheap flights on the day of Diwali but definitely not around the day if you are more of a spontaneous traveler. Good news: Hotels are often cheaper during Diwali as domestic tourism is low.
Other Festivals:
Ashura Festival. A Muslim festival that celebrates the martyrdom of Hazrat Imam Hussain, the grandson of the Holy Prophet. A large procession happens every year in Udaipur. (01/10/2017, 21/09/2018)
Navaratri & Dusshera. A nine-day long festival celebrating all forms of the mother goddess. People fast in the day and dance and fest at night. On the 10th day Dussehra, the victory of good over evil, is celebrated. The biggest celebration happens in Kolkata (Durga Puja), but you can also observe the ceremonies all over Gujarat, Rajasthan, in Delhi, Varanasi, Mumbai, Mysore and in the small town of Kullu in Himachal Pradesh. In 2017 it will be in September but in 2018 again in October.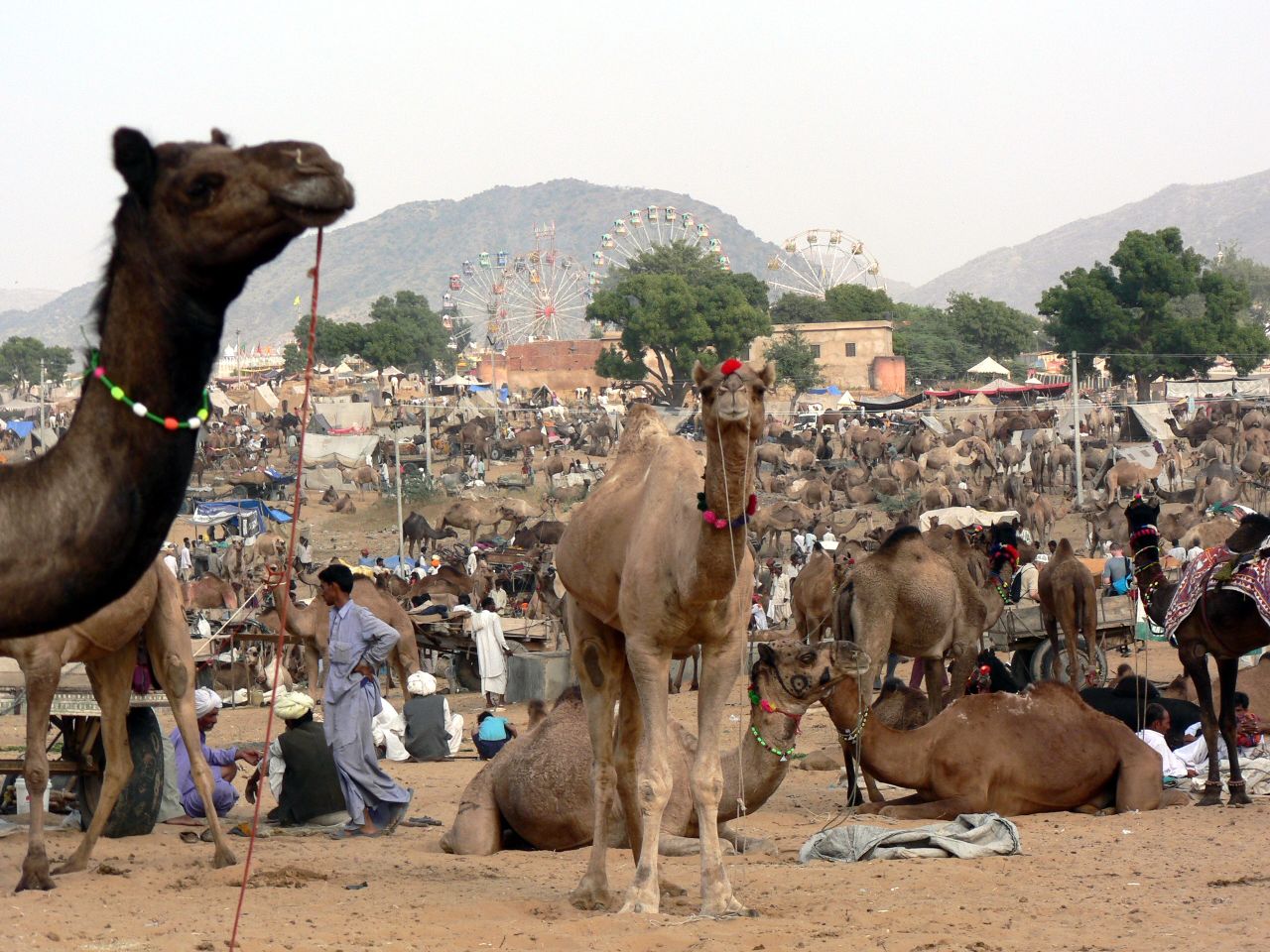 The world's biggest camel fair and one of India's biggest folk festivals in Pushkar every year in October of November. Photo by Cordelia Persen @Flickr
Rajasthan has many fun local events happening in October like the Marwar Festival and the Rajasthan International Folk Festival in Jodhpur and especially the Pushkar Camel Fair (28/10-04/11/2017, 15-23/11/2018), one of the biggest folk festivals in India and biggest camel fair in the world. The first days are all about camel trading, races, music and folk art while for the last days many pilgrims flock to the small town for the religious part of the event. In the final full moon night Hindus bath in the holy lake to free themselves from all sins and light up the town with oil lamps and fireworks. It would be very crowded and it is hard to find available accommodations, prices raise 5-10 times as high as the usual room rates in the rest of the year. But it is surely a great experience. We can help you plan a visit to Pushkar during the fair well in advance but might not be able to find a place to stay for the spontaneous travelers.
If you are thinking about travelling to India in October, plan your trip with us and we make sure to create a trip experience of a lifetime for you and your family and friends.