Pushkar Camel Fair Rajasthan
The Pushkar Camel Fair Rajasthan sees around fifty thousand odd camels; quite a unique character. It's extremely colourful, with a whole lot of activities happening. For example, folk performances, camel races, dances, great food and art and photography.
The Pushkar Camel Fair began as a local Therade fair for camel and other cattle owners. It takes place every year at the time of Kartik Purnima (the full moon in the month of Kartika in the Hindu Lunar calendar), and over the years, it has become an attraction for travellers.
Camel trading, coupled with a bunch of religious rituals is still the premise of the whole affair, and the trading is what draws most tourists. The later part becomes a pilgrimage and 'a must' is taking a dip in the holy Pushkar lake.
Villagers gather with their camels and other livestock at Pushkar Camel Fair (Photo Credits)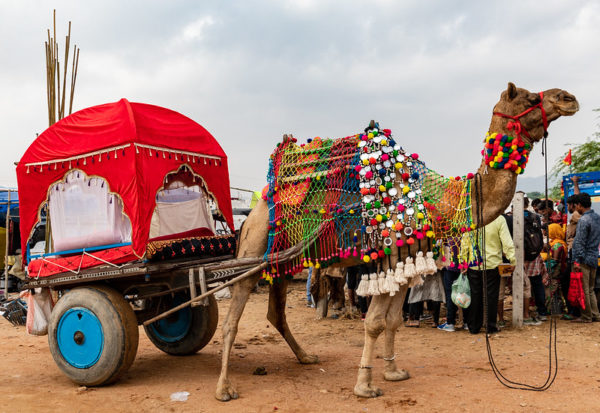 Decorated Camel Cart (Photo Credit – Ninara)
When and where is it held?
The fair is always held in Pushkar, near Ajmer in Rajasthan. It usually falls in November, depending on the Hindu calendar. In 2020, it will start on Sunday 22nd November.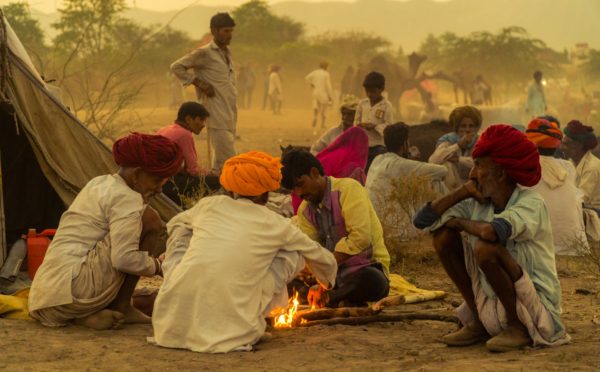 Looking at planning a trip to India around Pushkar Camel Fair? Contact us! – (Photo Credit – Siddharth Singh)
Getting to Pushkar
Ajmer is the nearest railway station to Pushkar, with trains coming from all the major cities in the country. Alternatively, Ajmer is about 30 minutes drive away from Pushkar and there are other means of transport available, for example, buses. You can even take an auto-rickshaw, but all the best getting the rickshaw driver to take you by the meter. Either way, you should only be paying him INR 100. If you're flying down. Jaipur is the closest airport and the drive to Pushkar is about 2.5 hours. Taxi fares will be super expensive (25-45 GBP) during the Camel Fair.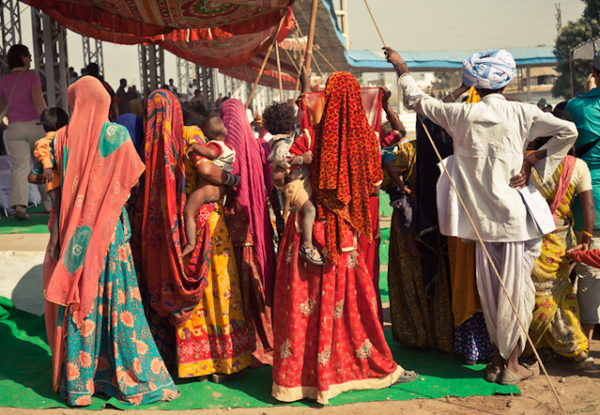 A local family watches the opening ceremony of the Pushkar Fair at the camel grounds (Photo Credit – Jason Rufus)
How is Pushkar Camel Fair celebrated?
The first thing you'll notice when you get here is … camels! They're everywhere. They are all dressed up and being paraded for sale, you will almost miss the two odd lakh people that are in the area at the same time. Camel traders, pilgrims and tourists are all there to play their parts in this old school but still going strong, colourful carnival.
There are camel races, temple dancing, snake charmers, folk singers, classical musicians, acrobats, an art and craft bazaar, camel dances and traders, and carousel rides.
There are another set of pious people you'll find here who have come for the purpose of pilgrimage. They bathe in holy lake waters of to wash their sins. Pushkar is considered the only holy land for worshipping Lord Brahma – the creator of the universe and the lake is said to have formed where he dropped a flower. After all the hoopla with the camels is over, full moon and two days around it are dedicated by pilgrims to bathing in the lake. It is said the special blessings are bestowed upon those who take a tip in the Pushkar Lake on full moon day.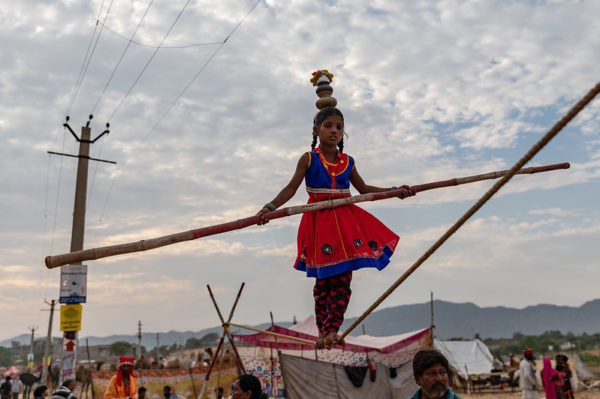 Performers come from semi-nomadic communities (Photo Credit – Ninara)
Best ways to experience the Pushkar Camel Fair while travelling in India?
If you are willing to spend, you might want to go up in a hot air balloon and get an aerial view of the scene. Go on one of those special Pushkar Fair walking tours (they run in the morning-evening). The morning walk is best to see pilgrims bathing in the lake and have a first-hand experience of rituals being performed. While the evening is the best time to witness the ground where the bustling fair is held at its best.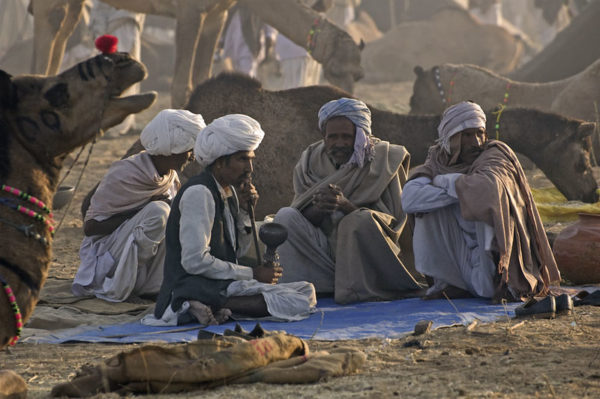 Men with turbans and Hookah (Photo Credit – Koshy Koshy)
Precautions for Pushkar Camel Fair in India?
Pushkar is full to the brim with visitors during fair, and accommodations prices skyrocket while rooms run out very fast. That's why it's better to arrive a few days before and get a good cheap deal to make your bookings. You can choose to stay anywhere between a home/farmstay, a guest house, a desert tent or a swanky heritage hotel in Pushkar.
Pushkar is a bit infamous for its drug scene and you know how sometimes, things can go out of hand at such places during festivals. Thus, it's best to stay on your guard. Don't get duped by local pundits (priests) and other greedy people who are looking to make a buck off tourists. It gets very crowded during the fair and you're basically in a desert, so stay hydrated, cover your head and face to avoid the sand troubling you, dress relatively conservative so you don't get the wrong kind of attention (it's Rajasthan you're in, not Goa).
Visiting India during November? Here is what you need to know regarding the weather and other best places to visit during this time.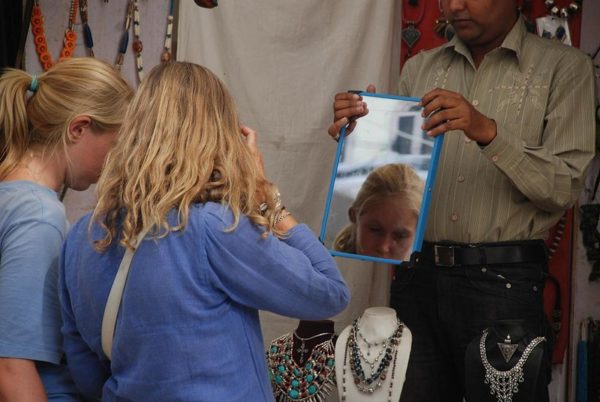 Shopping during the Pushkar Camel Fair (Photo Credit – Sheetal Saini)
Contact us to plan your trip to India around Pushkar Camel Fair.
helping you travel your way
Everything you need to know about India is here We have tried writing about everything you may need help with for your trip to India, If you need help in planning a trip to India Get in touch with us to to plan your trip of a life time.