An honest review of 'Mewar Haveli' hotel Udaipur
Mewar Haveli is one of the hotels we suggest you stay at in Udaipur. It is placed in a romantic city, perfect for honeymooners, luxury travellers and mid-range budgeters. This honest review will help you decide if it meets your criteria for your trip.
Romantic – Yes, especially if you have a lake facing room. Even otherwise, it is a cosy hotel with tasteful attention for detail and the roof top restaurant takes up a different mood from morning to sunset to night.
Backpacker friendly – Not really, initiating interactions with other guests in the hotel did not seem easy. It gets a varied age group and families, so not a high percentage of young backpackers.
Children friendly – Mewar Haveli does not have any games room or activities per se for children. Yet, families with kids would be comfortable here. It is easy to step out and get around on foot; again the restaurant with the lake view would always be fun for the kids.
Rates – Remember Mewar Haveli is between a budget and value for money hotel. Rooms start at INR 1,400 and go up to INR 2,100 approx.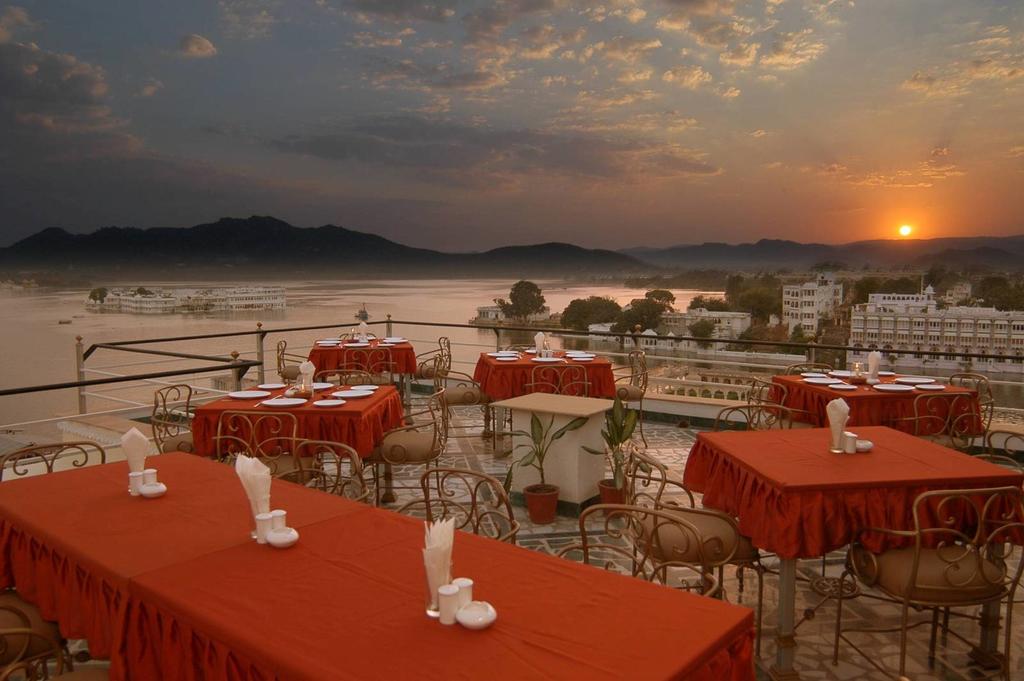 A wonderful rooftop restaurant overlooking the lake (Photo Credit – Bookings.com)
What we love about Mewar Haveli
That it is an eleven room, cosy and homely hotel with great location.
Has a gorgeous rooftop restaurant with a commanding view of the Pichola Lake.
If you can get one of two lake facing rooms, they are a steal at the price. The element the view can add to stay is indescribable.
That you can just walk to the city attractions around, or stroll around the town from Mewar Haveli.

The indescribable view of Pichola Lake from one of the rooms (Photo Credit – Bookings.com)
What we like about Mewar Haveli
The room was spotlessly clean, clean linen and cushy bed (nice soft mattresses).
The bathrooms are perfectly adequate, running hot water and very clean.
The staff were polite and non-pushy.
It has an elevator to get to the rooftop restaurant, other similar hotels around the lake do not have an elevator. And it feels a little uncourteous to walk up passing other people's rooms.
The rooftop restaurant prepares lovely non-greasy, fresh and non-spicy vegetarian food. And the prices seemed fair.
What we did not like
Personally we did not have any complaints for the Mewar Haveli, Although the following is good to bear in mind –
The rooms are of different sizes and most of them are compact. Not a deal breaker, but if you travel with a lot of suitcases you might fill the room up.
That they only have two lake facing rooms. The rest are equally comfy, but after having stayed at both, you want to try and book in advance to get a lake facing room.
Comfortable rooms
We hope this review has given you a better idea of what to expect and make a decision! If you have any questions or need any assistance do get in touch with us, we would be happy to help you.
helping you travel your way
Everything you need to know about India is here We have tried writing about everything you may need help with for your trip to India, If you need help in planning a trip to India Get in touch with us to to plan your trip of a life time.