Hostel-hopping through Rajasthan
A true Backpacking Experience in India
Another blog entry written by Nicky Millar, for more about who she is, and about her awesome travel/volunteering adventure check her blog.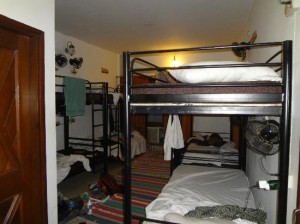 A classic dorm set-up (this is the 8 person one in Stops)
Bizarrely, despite the large backpacker contingency in India the idea of hostels is still relatively new. In fact, I am hard pressed to think of any dormitory-type options when I was traveling in the south! In saying that though, the places we did stay at were truly exceptional and I think that it is a concept that will grow exponentially in the coming years.
When it comes to travelling on a Budget, hostels in North India can be a great option
Travelling on a budget, myself and two other girls opted to stay in the cheapest options available (mixed/female only large dormitories) and throughout the adventure we felt completely safe and never once did I worry about my possessions as there were always secure lockers available! The biggest "problem" (if you can even call it that) was the limited hot water, as geysers tended to be small and you had to constantly turn the water on and off to wait for it to heat up again. Other than that I would, without hesitation, stay at these places again were I given the choice! This is even despite the fact that it was sometimes actually more expensive (when traveling in a group, one can tend to get a room for Rs 600 that you can then split whereas the bunks were about Rs 450 to Rs 550 on average) because for me, the atmosphere of communal areas and being able to meet like-minded travelers is priceless!
The Hostels we stayed at
While traveling in the north we were lucky enough to stay at (in my opinion) the three leading hostel chains in the country, therefore I will try give a brief summary of each and their specific standout features.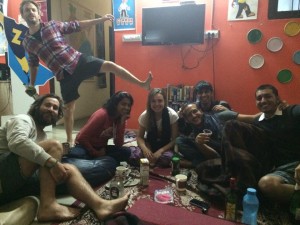 Impromptu drinks at Zostel in Jodhpur!
Perhaps the smallest of the three, it was a great introduction to the hostel scene! All the facilities were completely up to scratch and the common room, right slap bang as you walked in, was particularly inviting. It did not take much to feel like you were at home and between socialising with other travelers and needing to use their main computer for personal reasons (for a really long time), the staff were always super helpful and accommodating!
Side note: if you are unable/unwilling to go to this hostel I would recommend Yogi's Guest House. Although we did not stay there, the lady was exceptionally helpful and provided some amazing advice for planning our camel safari. Having only spent a couple of hours there, in addition to the wonderful owner, I can vouch for an amazing rooftop restaurant and a prime location!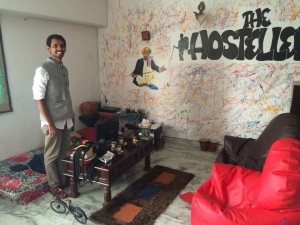 Shree, the manager at The Hosteller, one of the most friendliest and helpful people I have met to date!
Opening a mere 3 weeks before our arrival, the staff were truly outstanding! Not only were the ensuite rooms comfortable and the breakfasts sublime, but everyone went out of their way to make our stay the most enjoyable it could be! From planning 3 separate itineraries for us (we were all parting ways at some point and needed to make individual travel arrangements), organising an auto to pick us from the bus stand/show us around the city, to socialising with us in the evenings—they were a top notch team!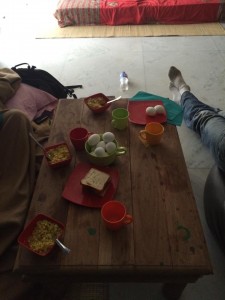 Breakfast of champions at The Hosteller – endless chai, eggs, toast and a hearty bowl of poha!
STOPS

(Varanasi)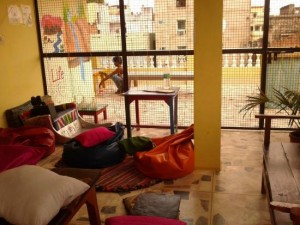 One of the plenty common rooms in Stops – this one is where you tend to have breakfast (there is a proper table behind where the photograph has been taken)
By far the most organised hostel we stayed at, with a daily itinerary of tours (small additional costs) and nightly events from boat cruises to Bollywood nights, this is easily the best place to meet people! The common areas are vast, funky and always busy while also maintaining a sense of calm and a lovely homey feel! Breakfasts and evening chai are included and make for great debrief/planning sessions with fellow travelers. Whats more, there is an "intern program" where foreigners work here for a couple of hours a day and receive free board—which, in addition to being something that one can consider doing yourself, means that there are travelers like you who have been in Varanasi for at least 1 month and have some fabulous tips and tricks to share!
Conclusion: Our take on staying in Hostels in India
Overall, I genuinely enjoyed all of these places and as implied before, would not hesitate to recommend them (and even though I didn't stay in their other counterparts, I can only imagine that that the Zostel in Udaipur, for example, is just as great)! The only drawback that I can think of, and it is common for all the hostels, is that they tend to be further out of the city than other guest houses. So on average you will have to spend about Rs 100 to get an auto into the centre, which is easy enough of course but just something to bear in mind.
While we traveled independently the help provided by my travel companion's friends travel agency India Someday was invaluable. Booking our Varanasi to Agra train ticket, putting on a comfortable bus from Mumbai to Udaipur, recommending this awesome new hostel in Jaipur. If you are pressed for time and wish to have a security net while travelling in India we can highly recommend them. They are unlike the traditional travel agencies you'd find.