Kankarwa Haveli Udaipur
Kankarwa Haveli is a heritage hotel on the banks of Lake Pichola in the Lal Ghat area. Mr. Janardan Singh and his son Divyarishi have restored their ancestral home into a hotel. They have maintained the traditional charm of the original Haveli but refurbished it with modern amenities to appeal to the international audience. This, we felt is a very good mix.
We stayed in the Deluxe Lakefront Suite which had an amazing view of the Lake Pichola and the opulent Taj Lake Palace. The room was large, well lit and ventilated and had a very romantic air about it. That is the magic of a lake facing room. It's worth spending the couple extra bucks (although we received a free upgrade!). It had a separate sitting area overlooking the lake which was a plus. The bathroom was white and spotlessly clean with modern European fittings.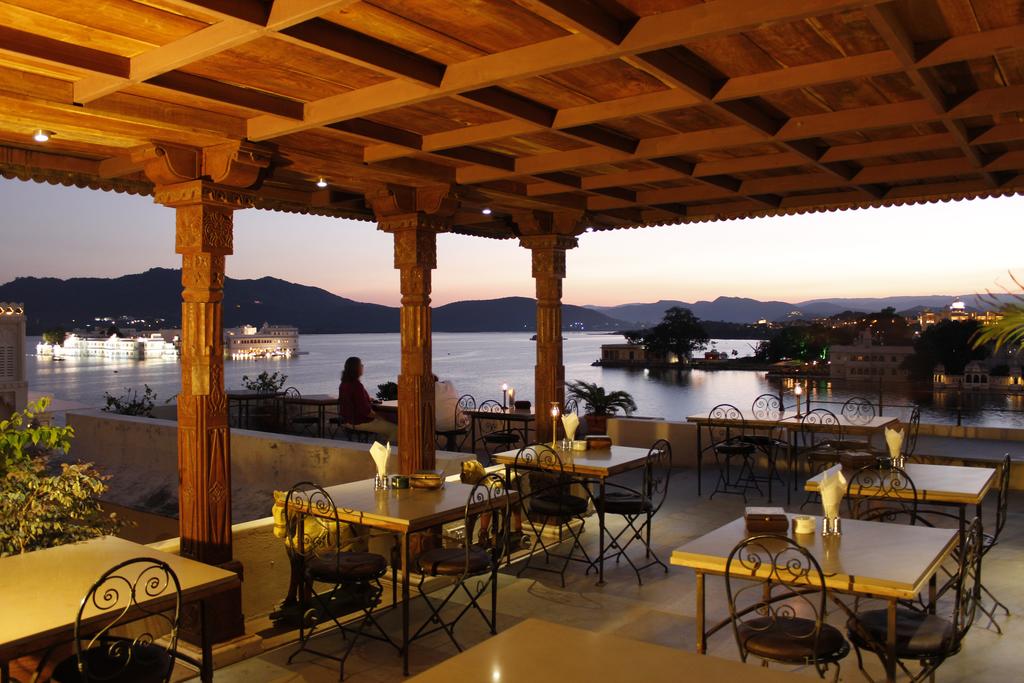 Lakeview Restaurant
What we love about Kankarwa Haveli
The rooms are done up really well and no two rooms are the same in terms of size and décor. Simple, classy interiors with clean and comfortable bedding. The partial lake facing rooms also have a decent view of the lake with a cushioned sitting area near the window.
Divyarishi is more than willing to have a quick chat and help you with directions and things to do. They can arrange a car or if you wish bicycles for you to get around Udaipur.
What we like about Kankarwa Haveli
The proximity to the City Palace and shopping spots.
Breakfast served at the rooftop was non-greasy and appetizing. You can choose anything from the menu even if already paid for with the room.
What we did not like
Although it wasn't an issue for us, the staff speaks very little English and it can get difficult if you need help when the owners are not around.
The stairs are huge and steep which can be difficult to climb and risky for old persons or young kids.
They do not have room service. We would have loved to sit in the comfort of our rooms with a beer or even a hot cup of chai.

Rooms in heritage style
Kankara Haveli is ideal for
Couples
Perfect for a romantic stay and if looking for privacy.
Rates and details for Kankarwa Haveli
The hotel is moderately priced and the room rates start from INR 3,250 for a partial lake facing room. Lakefront suites are INR 5,000+
Contact Person: Mr Janardan Singh and Mr Divyarishi
Website: http://www.kankarwahaveli.com/
For TripAdvisor Reviews of Kankarwa Haveli: Click here
To plan your thoughtful and economical trip across Rajasthan, contact us.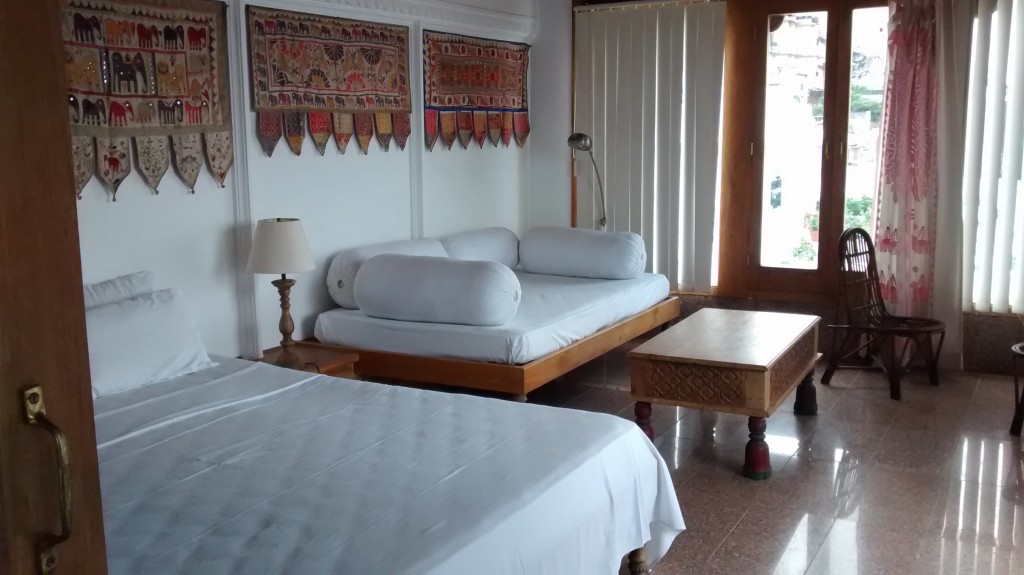 Spic and span suite at Kankarwa Haveli
If you need our assistance in planning your trip to this beautiful region, do get in touch with us. We would be happy to help you plan a customized trip according to your need!
helping you travel your way
Everything you need to know about India is here We have tried writing about everything you may need help with for your trip to India, If you need help in planning a trip to India Get in touch with us to to plan your trip of a life time.