Deciding if you should visit North India or South India?
One of the biggest questions travellers face when planning to visit India is – should I go to North India or South India? And, of course, when they think 'North India or South India', they're usually considering between Rajasthan (and the surrounding region) and Kerala (and the region). These are two beautiful states/regions with a lot to see and do and have great accommodation options, so it's no wonder they're wildly popular with tourists!
While Rajasthan and Kerala are by no means the only two regions worth visiting in India, the intention of this article is to give you a practical overview of both, and the key factors to consider when deciding between them or deciding to include both the regions in your trip. This will help you decide if you should visit North India or South India – or both!
India has a number of other beautiful regions to explore such as the Himalayas, the Northeast India, Central India just to name a few. If you would like to know more about any of them, just get in touch.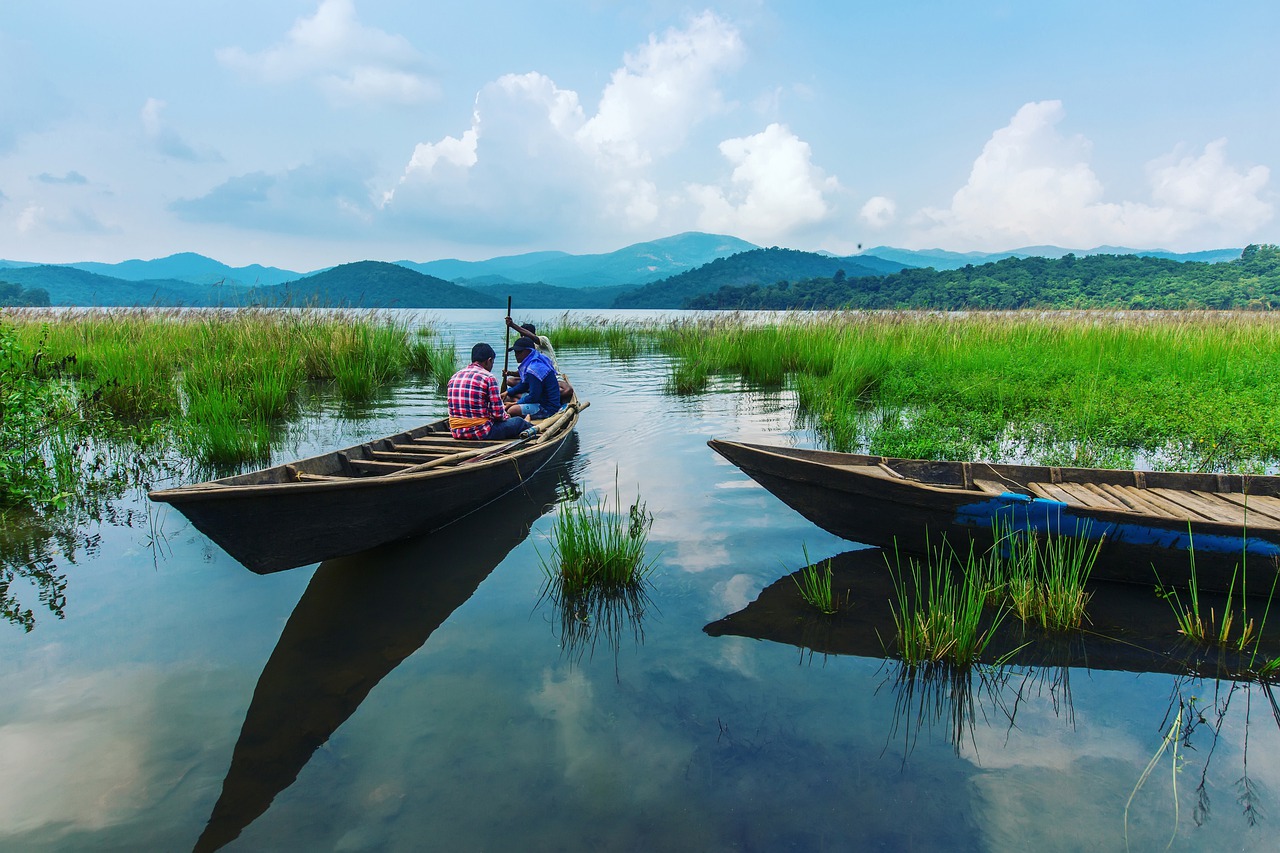 Take a boat ride in the backwaters of Kerala
North India: Rajasthan-Delhi-Agra
(What we and former guests love and like)
Between Delhi, Agra, and the cities of Rajasthan, this part of North India has some of the most fabulous architectural marvels of India. There's the Taj Mahal, of course, as well as many magnificent forts and palaces. Exploring these forts and palaces is a delightful experience. They showcase intricate architecture, some offer commanding views, and they tell incredible tales of history.
If you are a huge history buff, you can read up before visiting the monuments or hire a guide (or an audio guide). Even if you aren't into history and do not care too much about the stories behind the monuments, aimlessly wandering around them is a lot of fun.
Rajasthan has a huge variety of delightful heritage and traditional properties to stay at. A lot of old palaces and homes have been converted into hotels. Perhaps in no other region of the world will you find so many heritage properties to stay at within one region!
From the religious city of Pushkar to the Ranthambore tiger reserve, and the lakes in Udaipur to the desert town of Jaisalmer, Rajasthan offers very diverse experiences.
Rajasthani locals add bright bursts of colour to the countryside in their saris and turbans.
Rajasthan offers many chances to get a glimpse of rural life as you travel between towns. There are a few rural excursions to choose from, too – contact us if you're interested in one!
You can explore our two-week travel routes focused on North India and also have a look at Chiara's two week Rajasthan tour.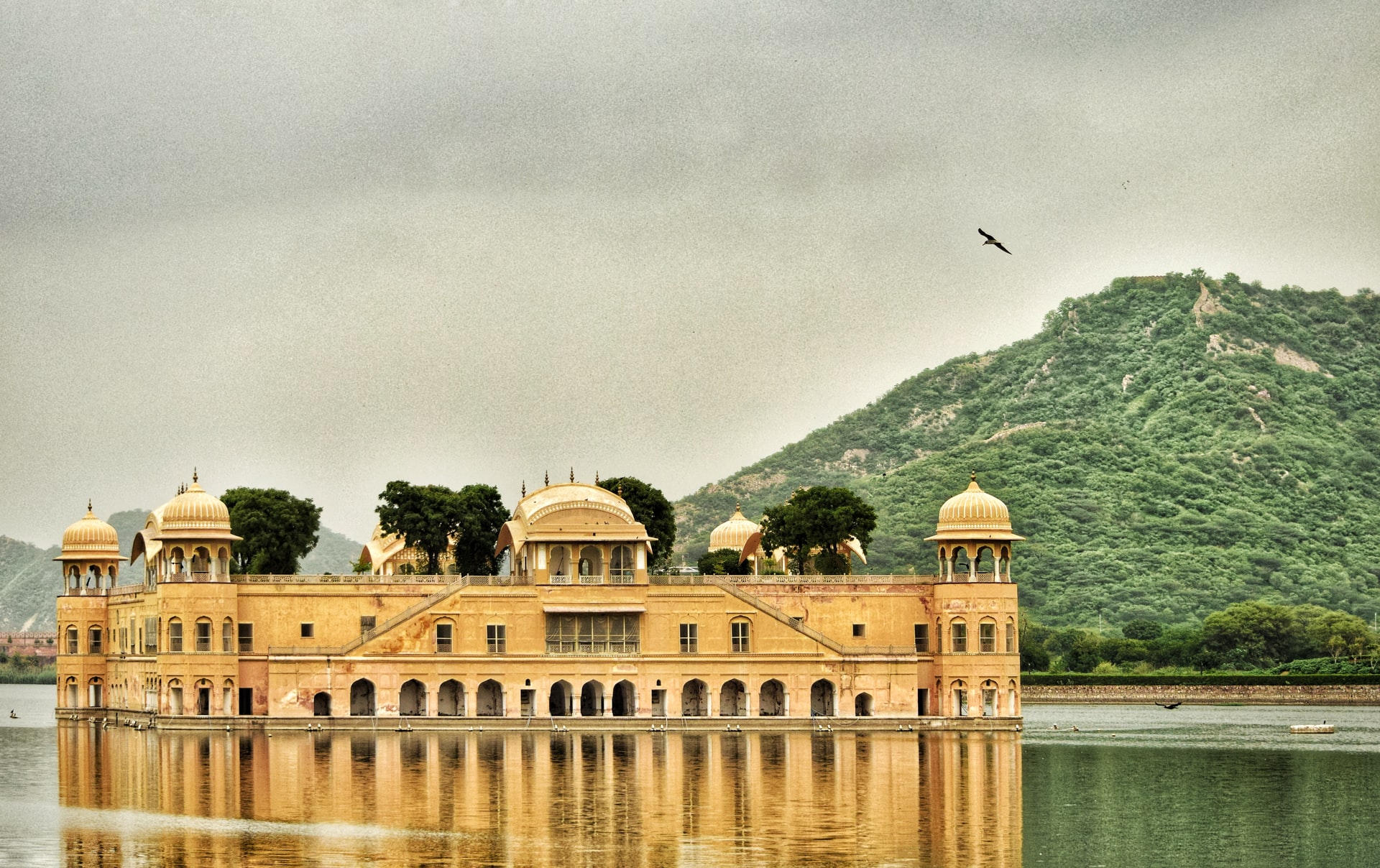 Jal Mahal (Photo Credit – Sumat Gupta)
What you may not like about Rajasthan and North India:
Travelling between towns takes time and often involves a combination of modes of transport. You should always expect multiple five to seven-hour road journeys. Overnight bus and train journeys from Jaipur are among the most used ways to reach Jaisalmer, though there are now flights from Jaipur, Mumbai and Delhi as well.
Delhi, Agra and Varanasi (and even Rajasthan to an extent) are aggressive. We basically mean a lot of touts trying to sell you things or services, or overcharging you. This is significantly less prevalent in the South of India (Kerala).
On the whole, Rajasthan is dry and arid in contrast to the forever-green Kerala.
Rajasthan might not be too conducive when travelling with very young kids. Distances are long, and there's not as many activities for kids. Having said that, forts and palaces can be great fun for imaginative young kids to explore.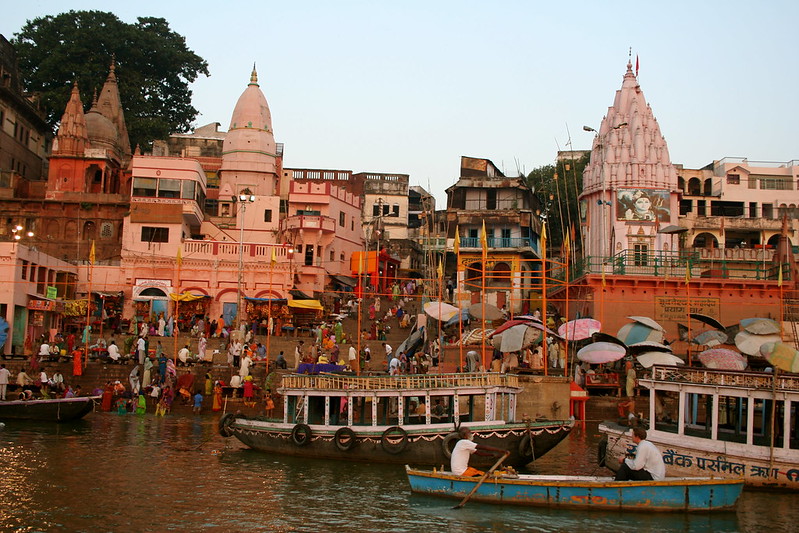 Varanasi, though vibrantly alive, is a bustling and aggressive city (Photo Credit – Jon Rawlinson)
South India
(What we and former guests love and like)
Kerala is extremely green! It's a stunning state, and very easy to relax in.
The hill station of Munnar offers breathtaking views of tea plantations and rolling hills and valleys.
Thekkady, near Periyar National Park, offers great trekking opportunities along with boat rides on the lovely Periyar Lake and spice plantation tours.
Fort Cochin is arguably the quaintest town in India! It has old India, Dutch and colonial structures, ancient markets, and plenty more. It's very easy to walk through and explore at your own pace. Our tip: a Kathakali dance performance is always fun to watch when you're here.
Kerala is easier in the sense that travel times are much shorter – 3 to 5 hours is typically the longest you'd spend in transit, and the attitude is not as aggressive and 'touty'. You are more likely to get a fair price and will not be harassed to spend your money as much as you would in North India.
Kerala offers delightful accommodation options, too. In contrast to Rajasthan, there are not really any palaces converted into hotels. However, you will find lovely traditional villas, homestays, the famed houseboats and colonial stays. In most cases, it's the views that make the stay. You can easily find a room that overlooks a valley or stay by the waterfront along the backwaters.
Somehow, hospitality in Kerala is more laid back and honest. People are always trying to make sure you are well fed!
Kerala is ideal for young kids.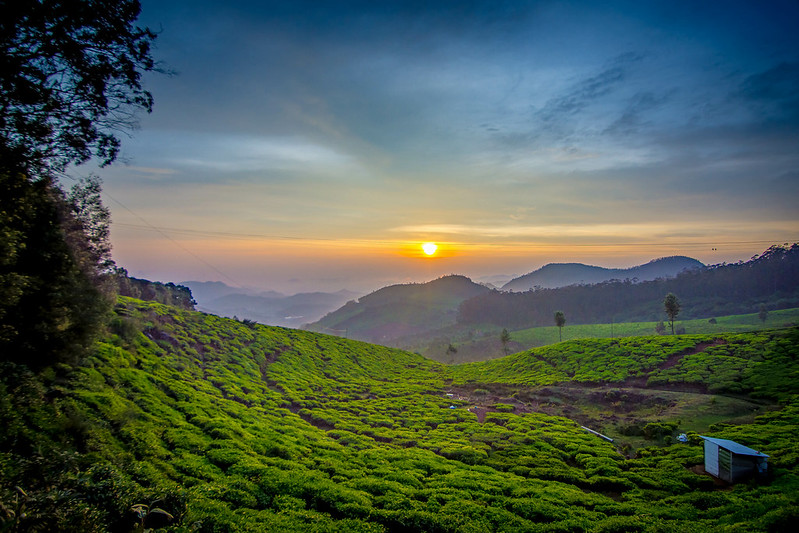 Tea plantation (Photo Credit – Subharnab Majumdar)
What we do not like about Kerala:
Kerala by itself has nothing you can complain about. It is only when you contrast it against Rajasthan and consider the benefits of North India or South India that you'll see that it offers no forts, palaces, monuments or noteworthy temples to visit. But, then the theme of a holiday in Kerala is different. It is all about nature and relaxation.
You can explore our two-week travel routes focused on South India and also look at Tom and Amy's Kerala tour.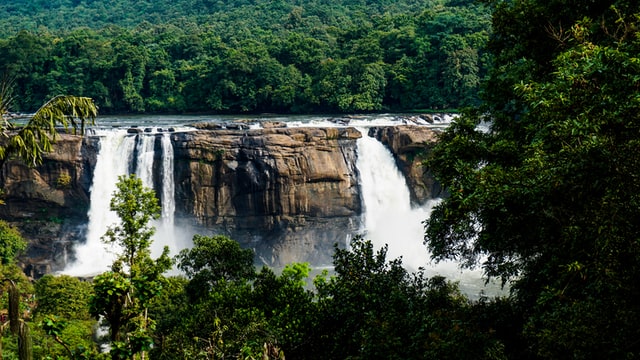 The Athirapally Falls in the Thrissur district are the exact kind of thing waiting for you in Kerala (Photo Credit – Rashi Raffi_unsplash)
North India or South India – what do you choose?
If we are allowed to be biased, for a first-time visitor, Rajasthan trumps Kerala. This may just be for the sheer stunning monuments it has to offer. If you like exploring history and ruins and want an active holiday, then perhaps North India is more suited for a ten-day holiday.
On the other hand, if you are convinced that you want to relax during your holiday, experience nature and engage in some light trekking, then Kerala is your answer. Kerala is absolutely gorgeous, and you have the backwaters, the hills and tea plantations, and loads of lovely accommodation options to choose from.
Our suggestions
If we had couple of weeks to visit India, would you recommend only North India or South India or both Rajasthan and Kerala?
This is a hard choice. Kerala by itself for fourteen days would be a leisurely paced, relaxing holiday, A North India trip can easily span over fourteen days without getting excessive or feeling repetitive.
So the choice is either to just take a North India trip or include Kerala in the itinerary. It's important to understand that a combined trip works out a little more expensive. This is because you have to take flights between the two regions.
We usually send our guests multiple travel plans to help them decide. Here are a few routes which some past guests have done.
If you have seventeen to eighteen days or up to three weeks then, you can include both in your trip.
**Please note, this article only focuses on Rajasthan and Kerala and does not include regions like Goa, the city of Mumbai or other regions of India and the merit/demerit of visiting them. However, they are worth considering too.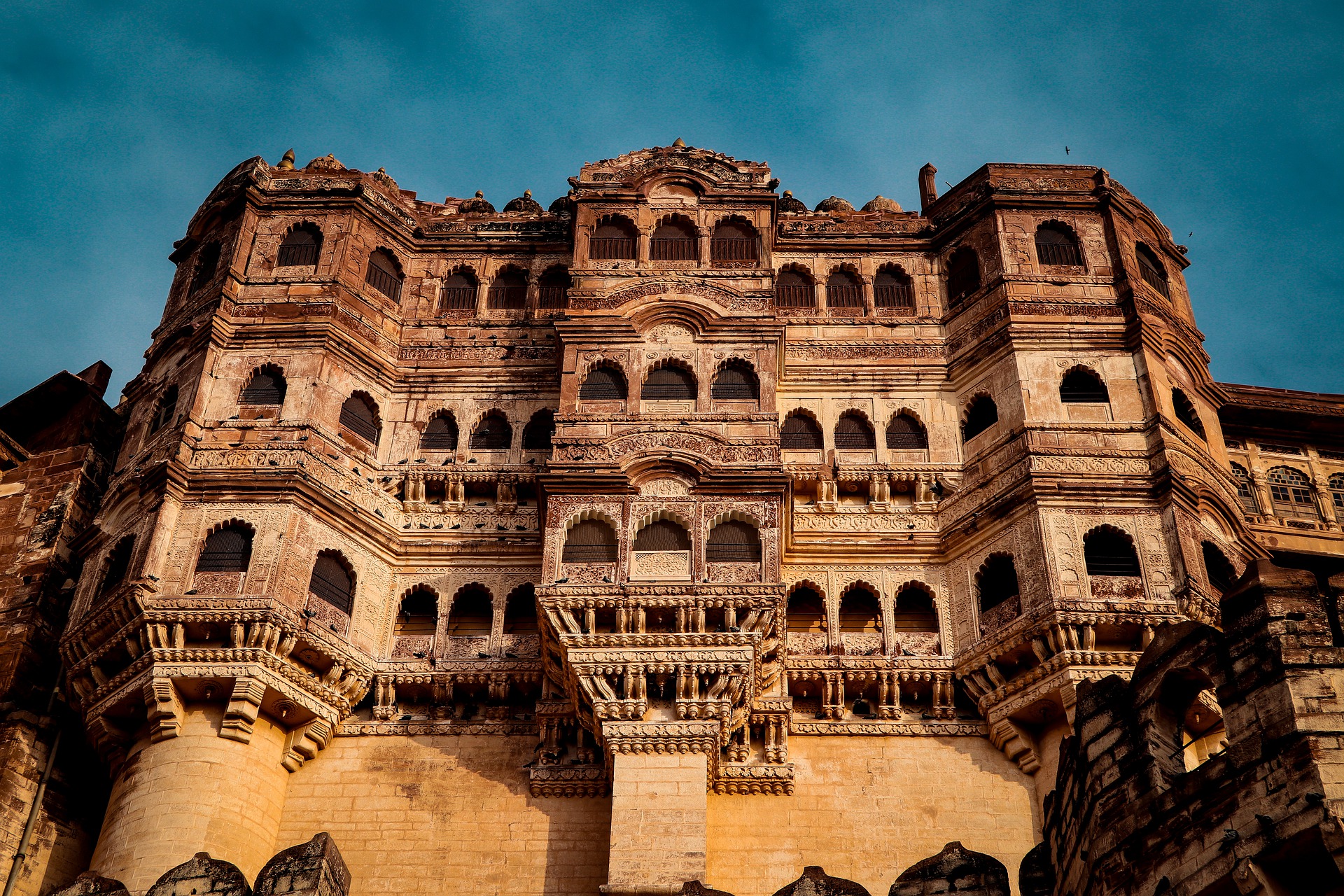 Mehrangarh Fort (Photo Credit – Anshul Tilondiya)
Click on Plan Your Trip for your ideal itinerary.
helping you travel your way
Everything you need to know about India is here We have tried writing about everything you may need help with for your trip to India, If you need help in planning a trip to India Get in touch with us to to plan your trip of a life time.