Rajasthan-Agra-Varanasi by bus and train
Created by Harsh Sonawala,
Last Updated on November 2, 2020
Bus and Train are a great and inexpensive way to travel in India. We asked one of our friends and client to write about her experience travelling through Rajasthan, Agra, and Varanasi. This blog entry is written by Nicky Millar (for more about who she is, and about her awesome travel/volunteering adventure check out her blog).
3 girls, 12 days and 6 stops –
I was on a whirlwind trip! Deciding that we were on a tight budget with money, as well as time, we took on the railways and roads for the duration of this trip, and the train and bus travel was an experience all on its own!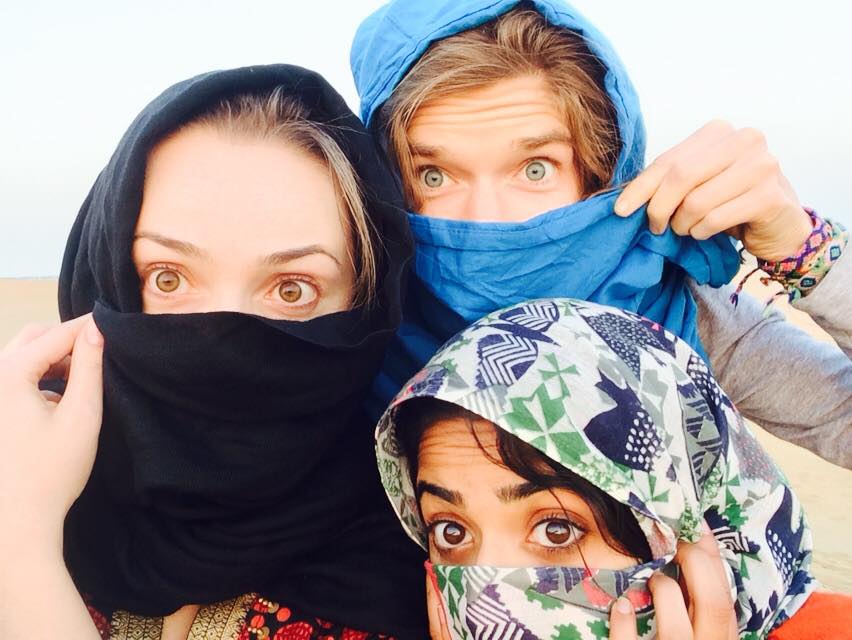 Hanging out in Jaisalmer
Mumbai to Udaipur by Bus
Starting from Mumbai, we booked a 14-hour semi-sleeper bus through India Someday to get to our first stop, Udaipur. In hindsight, probably not the best way to start. That bus raised our expectations far too high! From soft leather seats to receiving blankets when it got too chilly, the journey, although long, was a dream (notwithstanding the snoring man behind me of course). The bus exceeded our expectations about travel in India.
As with all bus trips, there were food and toilet breaks which were invariably in the middle of nowhere (think road + random building + toilet + an ever-present snack shop). We tended to have our own nibbles with us (as the stops were a bit inconvenient and we got hungry), but generally, the food on offer was good.
Be prepared for basics as English menus are a true enigma! If hungry, stick to the simple dal fry and rice and you will never go wrong. As for the restrooms and toilets, although stinky, they were definitely usable.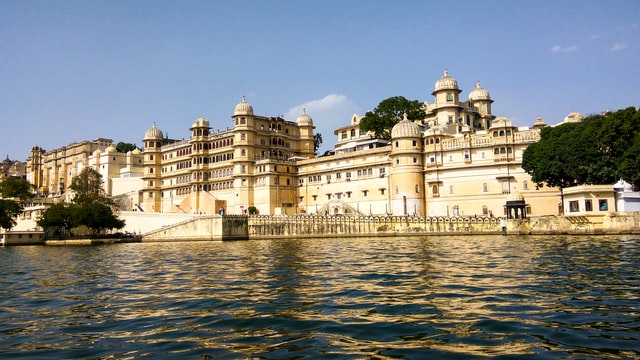 The Majestic City Palace of Udaipur sits on the banks of Lake Pichola
Udaipur to Jodhpur by bus
Next was a bus to Jodhpur. This trip from Udaipur was by far the worst (even though it appeared to be a "private company"). We were plonked right in the back and bounced around for nearly 10 hours due to delay. The delay was because of its own insistence to stop at every junction.
It did so to get more passengers, despite already being double-booked for most seats! It is with this journey in mind that I will divulge the greatest lesson learned when it comes to bus travel:
Try to book in advance so as to have the luxury of more options, and in the same vein, and
2. Always ask for a seat in the front. The ever-blasting horn may be louder, but your butt will thank you immensely.
Let's just say that the bus' suspension is not its strongest selling point. The best option though is to travel here by car. Even though it may be a little expensive but after the long and tiring journey, it's absolutely worth it!! (check out this blog on car travel)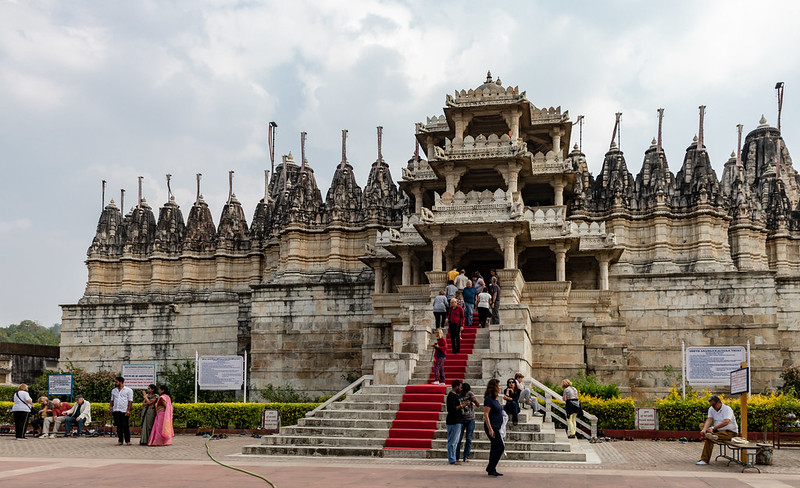 You can visit this beautiful Jain Temple in Ranakpur on way to Jodhpur (Photo Credit – Ninara)
Jodhpur to Jaisalmer by bus
It is hard to make a comprehensive conclusion about bus travel, because cliché as it is, every single trip is unique! No kidding, a public bus (the RSRTC, Rajasthan State Road Transport Corporation) can be better than the private or at least equally amusing.
Plus a night bus may not always save you that precious day of sightseeing. Also, not very preferable as you'd have to catch up on sleep when you arrive exhausted at the destination! For example, in a completely unprecedented event, our bus from Jodhpur to Jaisalmer was EARLY – until that point I was convinced it was a completely foreign concept in India!
Overall though, I consider bus travel a relatively fun experience. And in most places, there are many multiple companies with different departure times.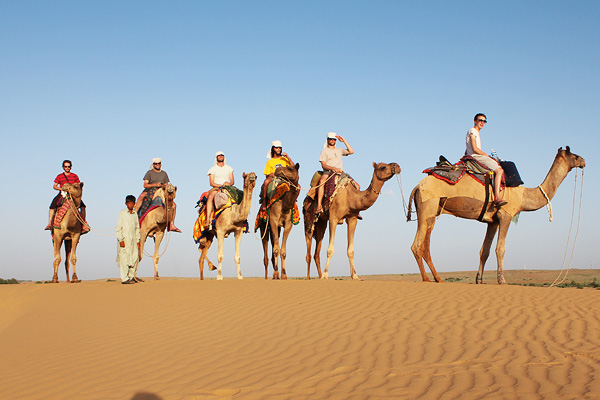 Incredible Golden city of India – Jaisalmer
Jaipur to Agra by train
Now when it comes to trains, I would greatly urge you to do at least one when in India. I mean you have to. It is quite simply the quintessential Indian experience! Our first one, Jaipur to Agra, was a simple afternoon trip, which we took in Sleeper class.
It was a short and fun journey, spiced up by a few interesting people that you will inevitably come across while travelling.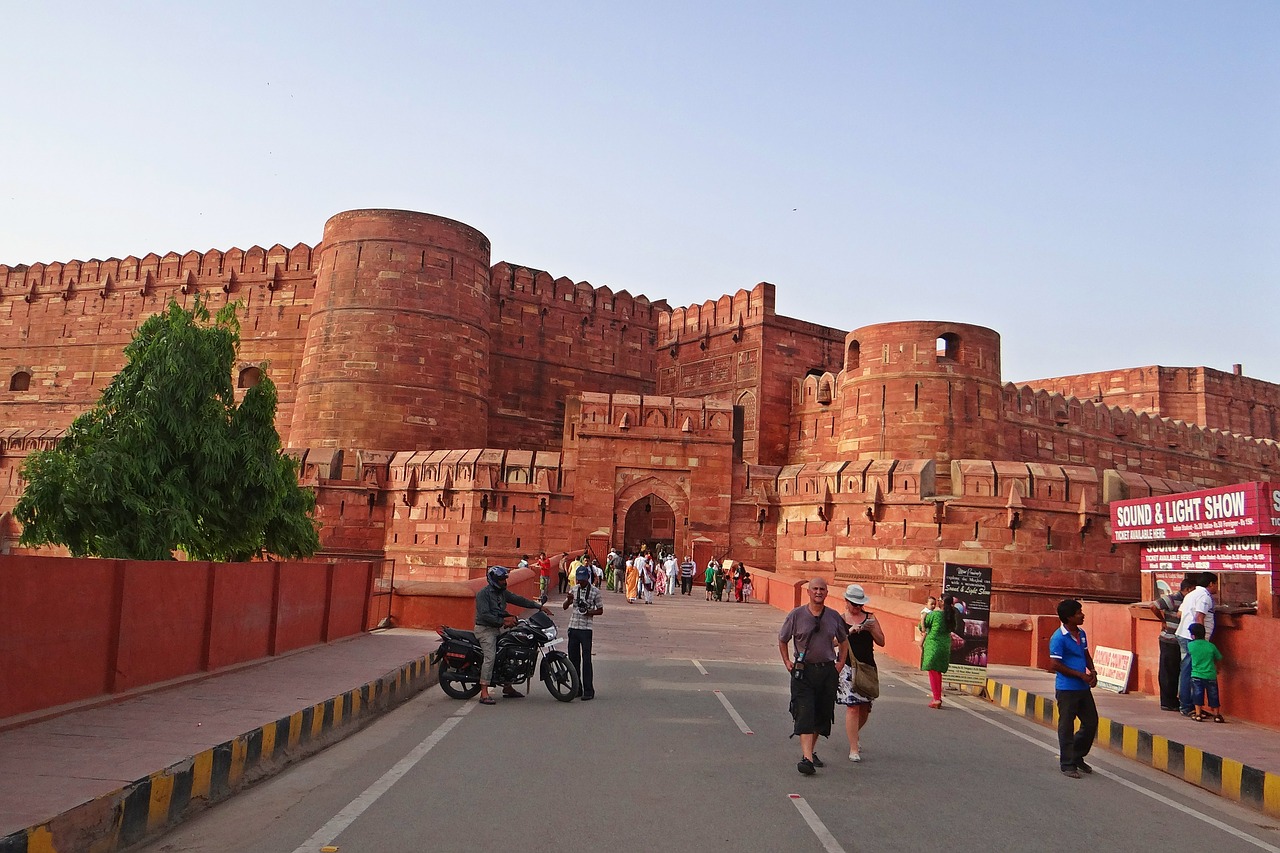 Great fort to explore, lovely red stone and distant views of Taj Mahal – Red Fort, Agra (Photo Credit – Bishnu Sarangi)
Agra to Varanasi by train
This was our second train journey and heading from Agra to Varanasi. Since this was a long journey we upgraded to an AC 3-tier (read up on different train classes.) In classic backpacker style, we booked an 11 pm train to be able to enjoy the whole day in Agra and then still get a half-day in Varanasi (ETA 12 pm the next day). Here is a blog on a two-week travel route which includes Varanasi and Rajasthan.
However, our departure was delayed by 5 hours and our arrival by nearly 9 hours. So do bear in mind that at times, especially in winter, long-distance journeys can be heavily delayed.
India showed us that planning a trip here by ourselves is not always easy and using local knowledge would have saved us a lot of time! Trying to maintain "inner zen", we waited first in the ticket office's private rooms and when that closed at midnight we shifted to the First Class waiting rooms next to the platform (despite a sleeper class ticket, we just paid Rs 100 and it was all good).
Luckily, given that it is the ultimate tourist route, there were heaps of foreigners which made for good company! To compare, the sleeper and Ac three-tier, the Ac three-tier has the exact same layout (open plan, triple bunks) with AC. But, at a greater cost, the atmosphere is a lot calmer and the greatest bonus – sheets, and blankets are included!
Things to keep in mind and in check
Again, it is impossible to definitively say what your journey will be like on a train. But the law of averages says that you will be delayed at some point in your trip! If one compares to bus trips, your choice of food is far greater, as you have chai and thali wallas constantly coming through the carriages.
Also, the ability to jump off at any of the stops and grab a bite (the train tends to wait at least 10 minutes at each station, and it starts again so slowly that it is easy to jump back on), meaning that you have an array of goods to choose from!
Toilets on the train were the same in the sleeper and 3 AC (but the latter did have a western-style one on offer too).
Train travel in India can be frustrating. Just be patient and amuse yourselves with the humourous element of your situation.