Things To Do In Varanasi
'It is a strange city where you can feel like a dweller and an alien at the same time. It's ancient modern, progressive and sometimes regressive all at once' – Richa Chadda
Unlike anything you've experienced before, Varanasi is a city that'll make you feel you're living in an alternate universe. It's one of the oldest Hindu cities in the world and has the divine Ganga flowing through it. The devotion and faith in the people here will leave you astonished.
Apart from the spiritual aspect, there are a variety of things that will intrigue you, from the food to the narrow alleys and witnessing another side of the Indian new culture. But, the most beautiful thing about this city is that you find peace amidst customs and crowds and beauty in the everyday chaos.
Another city with through which the divine Ganga flows is the city of Rishikesh. Read more about the things to do in this interesting city.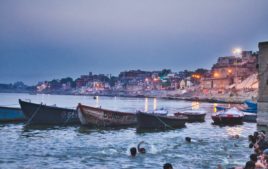 Evening view of the divine Ganga, Varanasi
Chaukhandi Stupa Sarnath
Sarnath is the place where the Buddha preached his first sermon after attaining enlightenment. 10kms from Varanasi, people flock to this place to deepen their knowledge and pay their respects to Buddha. In order to visit all the sites here you'll require half of your day.
Begin with the archaeological sites from the Ashokan era. There are two famous stupas, one of them being the Chaukhandi Stupa. This stupa, surrounded by a garden commemorates the spot where the Buddha met his first disciples.We would recommend spending some time meditating here. It will be blissful!
VISITING HOURS: 09:00 to 17:00 hours. (closed on Mondays)
ESTIMATED TIME: 30 mins
COST: INR 300 per person for foreign tourists, INR 30 per person for Indian tourists
Archaeological Park and Dhamek Stupa
The other stupa is the Dhamek Stupa, built by Emperor Ashoka at the exact same spot where Gautam Buddha preached to his disciples. Built to commemorate the great Buddha, other monuments too within this complex (some ruined due to invasion) gives us an insight of the Ashokan era and his epiphany of Buddha. There is also a deer park which is a nice stop after the long walk inside the complex.
There is also a museum right opposite this park with many artifacts. The most famous display: the lion capital from the top of the Ashoka Pillar which became the national emblem of India. The museum is quite interesting and worth the visit.
VISITING HOURS: 09:00 to 17:00 hours. (closed on Mondays)
ESTIMATED TIME: 1-hour
COST: INR 300 per person for foreign tourists, INR 10 per person for Indian tourist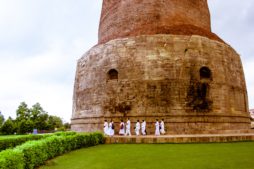 Priest praying around The Dhamek Stupa, Varanasi
The Sarnath Temple
Gear up for a visual treat at the Buddha temple, with paintings showcasing the story of the important events in the life of Buddha. These fresco paintings were done by a Japanese painter, which is why you will find a resemblance between the facial features of Buddha and the Japanese.
What makes this temple so unique is that, you can not only seek blessings from Buddha but also grow your knowledge about his life through the paintings displayed here. Make sure you deposit your shoes outside before entering the temple.
VISITING HOURS: 09:00 to 17:00 hours. (closed on Mondays)
ESTIMATED TIME: 1-2 hours
COST: Free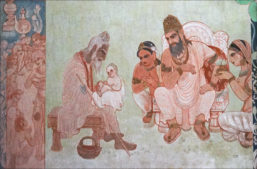 Paintings on the life of Buddha at The Sarnath Temple, Varanasi (Photo Credit – Jean-Pierre Dalbèra)
Kashi Vishwanath Temple
This temple of Lord Shiva with two domes covered in pure gold is of utmost importance to many devotees. You can participate or observe the Darshan (prayer ritual) that takes place in the temple. Almost nothing is allowed inside. No camera, no phone, no wallets, bags etc. However, you need to bring your passport. If you want to continue your sightseeing day without returning to the hotel afterward to get everything back, you can lock in your valuables at shops surrounding the temple.
A friendly and safe place is the shop Om Handicrafts in front of Gate No. 2. The entrance to the temple is free, however, if you want to skip the extremely long line there is a special ticket that allows you to directly enter the temple.
Seeking blessings inside the temple will make the wait in the queue truly worth it. If you are visiting this temple for the first time, do not miss the Golden Chattri (dome) as whoever looks at it will have his/her wish fulfilled. The only way to know if it's true is if you try it yourself!
VISITING HOURS: 09:00 to 17:00 hours. (closed on Mondays)
ESTIMATED TIME: 1 hour
COST: INR 600 per person for a special ticket for foreign tourist, INR 300 per person for a special ticket for Indians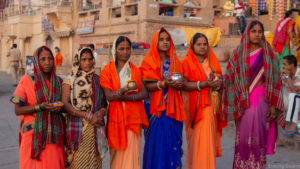 Women offering prayers in Varanasi (Photo Credit – Etienne Valois)
Banaras Hindu University
The BHU is the largest residential university in Asia. The wide tree-lined streets on their campus are a peaceful relief from the busy old city. There is a great museum called the Bharat Kala Bhavan.
It showcases miniature paintings, as well as 12th-century palm-leaf manuscripts, sculptures, and local history displays. There is also the famous New Vishwanath Temple, a replica of the original in the city built in the '60s. There is so much to see here, make sure it's a part of your itinerary for the day.
VISITING HOURS: 10:00 hours to 17.30 hours, Monday to Friday
ESTIMATED TIME: 1 hour
COST: Free
Chet Singh Fort and Ghat
VISITING HOURS 5:00 hours and closes at 10:00 hours, ESTIMATED TIME 30 mins, COST Free
This fort which once witnessed a fierce battle between the local Maharaja Chait (or Chet) Singh and the troops of the representative of the British East India Company in 1781, is now a very peaceful fort, mostly abandoned and slowly falling apart.
However, the rustic feel makes it worth the stop. To be able to walk inside without anyone stopping you is a bit difficult, but since it's super quiet you might just get lucky. You will not just get an amazing view of the river but also some peace and quiet away from the maddening crowds.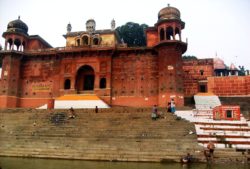 Chet Singh Fort and Ghat, Varanasi (Photo Credit – Achilli Family | Journeys)
ACTIVITIES to do in Varanasi
Aarti At The Dashashwamedh Ghat
The one thing you cannot miss before you leave Varanasi is the Ganga Aarti (prayer ritual). The aarti takes place at the Dashashwamedh Ghat close to the Kashi Vishwanath Temple. A group of young priests conduct the ceremony where there is chanting, praying with fire, smoke and incense.
People from all over come to see it, which also means lots of boat owners, street sellers and beggars are around to talk to the tourists. Even tourists join in the chants as it's easy to follow.
Just sitting there and observing everyone in prayer, regardless of which religion they follow, is a heartwarming sight. Make sure to reach early to get a good spot and leave about 5 mins before the whole ceremony is concluded to avoid the rush while exiting.
VISITING HOURS: 19:00 hours
ESTIMATED TIME: 45 mins
COST: INR 500 per person for foreign tourists, INR 500 per person for Indian tourists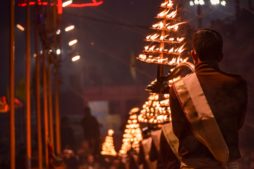 Evening aarti at The Dashashwamedh Ghat, Varanasi
Take a Boat Ride On The Holy Ganges River
The boat ride is when you will see Varanasi in a whole new picture. As the boat passes along the ghats and your guide narrates what each ghat signifies along with the history of Varanasi, it will be like watching a live movie and experiencing something surreal.
At every ghats boatmen approach you for a boat ride, you can book one with them. However, we would recommend pre booking this with your hotel along with a guide. The sunrise boat ride will be very special, as that's the only time Varanasi will be at its utmost calm.
VISITING HOURS: Sunrise and Sunset
ESTIMATED HOURS: 30 mins
COST: INR 500 per person for foreign tourists, INR 500 per person for Indian tourists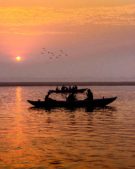 Sunset boat ride along The River Ganga, Varanasi
Off Beat Thing To Do – Akhara Martial Art
On one hand, we have world-famous wrestling matches like the WWE and Sumo Wrestlers, on the other, we've got Varanasi making sure we are not left behind. Akhara is an old Indian form of martial arts, where the men battle it out but in the calmest and dignified manner.
Just on top of TulsiGhat, north of AssiGhat, you can find one of the oldest Akhara schools in Varanasi where young men meet every morning to train and fight. It's a unique art form to witness.
VISITING HOURS: 07:00 to 07:30 hours
ESTIMATED HOURS: 30 mins
COST: Free
Enjoy A Few Walking Tours
Differently themed tours, some which include the boat ride, all for about 3 hours each. The tours include local guides that take you through the typical sightseeing places along with a few offbeat locations. These guides are passionate about giving visitors their perspective on their city.
Each tour company has a different price range, depending on the things they cover during the tour. Here is a list of a few good walking tour companies Varanasi Walks and Stop Hostel Walking Tour
VISITING HOURS: Sunrise or evening tours
ESTIMATED HOURS: 3 hours
COST INR 1800 – INR 2000 per person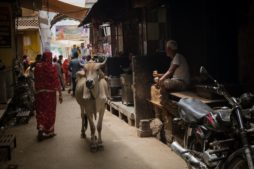 Busy streets of Varanasi
Stroll Along the Ghats Of Varanasi
Every ghat in the city of Varanasi has a noteworthy story to tell. It is on the banks of these ghats that you will see the faith and belief of people coming alive. Believers come to take a holy bath in the river, some chatting prayers and other performing religious rituals.
You can watch all of this respectfully from a distance. The Darbhanga Ghat is the perfect spot for some nice photos, as it is the most picturesque Ghat of all of them.
ESTIMATED HOURS: Depending on how long you wish to explore
COST: Free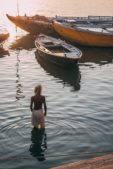 Man taking a dip In The Ganga River, Varanasi.
Moving around in Varanasi
Varanasi has it all, from the classic hand rickshaws to the modern-day Olas, keeping the streets busy and making your travel easy.
Auto Rickshaw
The auto-rickshaws (tuk-tuks) in Varanasi are very easy to find and the simplest way to commute. They do not run by the meter so make sure to haggle for the best rate.
Cycle RickShaw
These tiny cycle rickshaws (tuk-tuks) are a smart choice to explore the areas which are slightly busy. Especially if there is traffic, these cycle rickshaws manage to maneuver through the traffic and crowd well. Again, before sitting in, make sure you've practiced your bargaining skills.
On Foot
Exploring the city on foot is an adventure. There is so much to observe and keep your eye out for. Walking around is sometimes the best option, given the traffic or road blocks due to festivals.
Olas
Olas (similar to Uber services) are the more comfortable means to move around. We would recommend booking one for long-distance journeys when you are moving a bit away from the main city for sightseeing.
You will definitely leave Varanasi feeling like a whole new person. We hope this list of things to in Varanasi allows you to experience this city to it's fullest. If you wish to know more about where to travel next, get in touch with us and we will assist you in carving a personalized trip across India.
helping you travel your way
Everything you need to know about India is here We have tried writing about everything you may need help with for your trip to India, If you need help in planning a trip to India Get in touch with us to to plan your trip of a life time.