Train travel in India
Created by Harsh Sonawala,
Last Updated on September 27, 2023
The Indian railway system and train travel in India is very complex and demanding. It takes a while to understand its procedures. When you go to purchase a ticket you have a vast amount of options. Booking tickets can also get fairly complicated, with confirmed seats and wait lists. As an India Someday client, your only hassle with train travel in India is being able to recognize the different classes available. The rest, you can leave to us.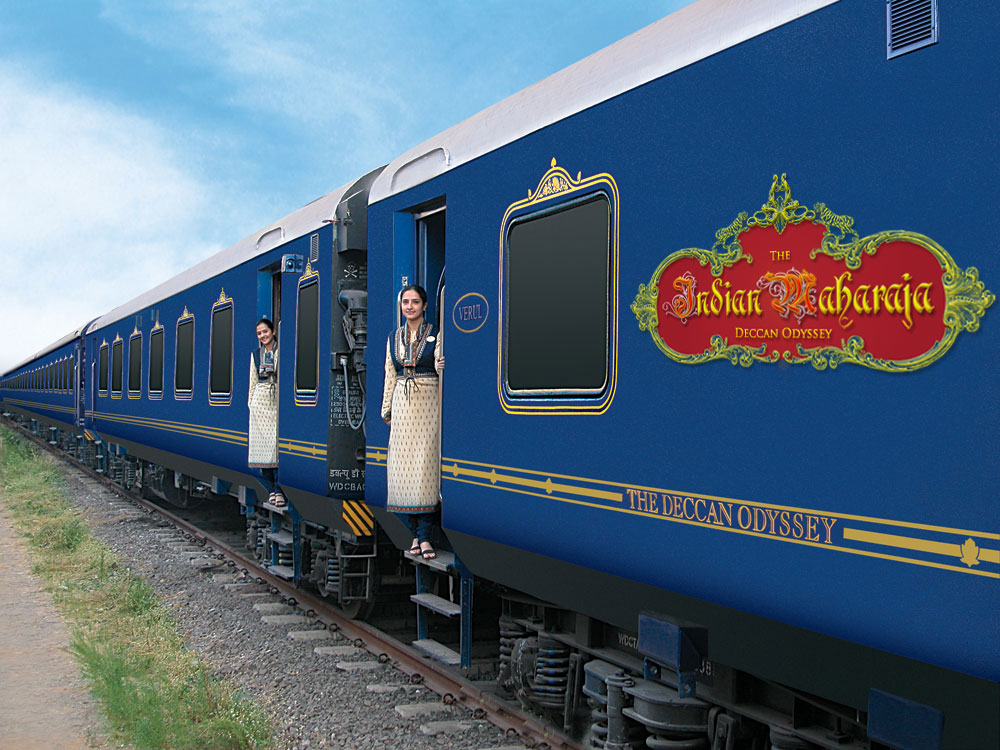 Travel in comfort in the Deccan Luxury
What are the different train classes in India?
The Indian railways has multiple train classes. ranging from personal cabins in First Class to plane style seating in AC Chair Cars. For the budget conscious, travel in Sleeper Class would be alright if you don't mind roughing it out or experiencing the 'real' India. 1AC and 2AC are more private and spacious while travel in 3AC is perfect option for comfort and price.
AC First Class (1AC)
This is a coupé with four or two beds, a lockable door and an attendant. 1AC is a very comfortable way to travel. The berths convert to seats for daytime use. You will find these only on the most important long-distance trains and costs about twice the price of 2AC. The attendant will help make your beds and assist in a more personalised way.
The windows are slightly tinted and do hamper the view a bit, but you can see the scenery change as it speeds by. Each bed has a reading light and an electrical power socket to charge your electronic devices. The washrooms have a western style WC, and normally contain toilet paper but it's always better to carry your own, just in case. They are usually very clean and well maintained, making 1AC the best choice for train travel in India.
AC 2 Tier (2AC)
2AC is not too different from the 1AC. It does not have a lockable door and the additional space for luggage. It is very comfortable and the bedding (pillow, blanket and bed sheet) is provided. The air-conditioning can fluctuate and so the temperature may vary. It may get very cold, but overall it's a great experience. For people over the height of 6.2 ft. your legs might stick out of the berth. Even in the AC 2 tier, you can pull the berths down and convert them into seats for daytime use.
Each AC 2 tier also has a reading light and electrical power sockets for all four passengers. The washrooms have normally very clean Western and Indian style toilets but depending on how the other passengers use them, their usability decreases. For the seasoned user, this is a great choice when it comes to train travel in India.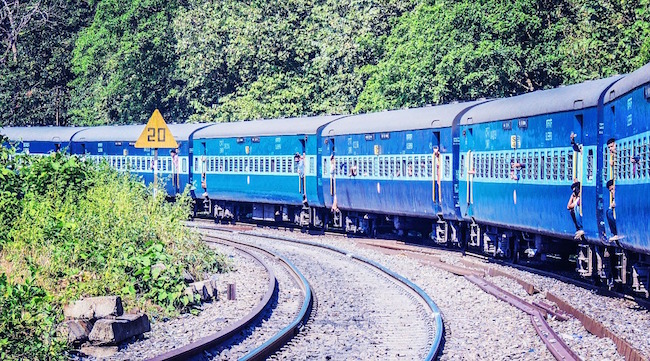 Trains are a great way to see the countryside if travelling by day, and by night a great way to meet new people
AC 3 Tier (3AC)
The AC 3 tier is the cheapest of the air-conditioned options. The only discomfort is that instead of being 2×2 seating it is 3×2 seating. It has three tiers of bunks – upper, middle and lower on one side and two bunks on the other side of the aisle. It's more crowded than 2AC, and lacks the privacy curtains and individual reading lights found in 2AC. You are still provided with bedding for overnight trains.
Unreliable at times, there are power sockets to charge but you will have to share these with the other passengers. The washrooms have Western and Indian style toilets, and just like in the 2AC, might get less usable as more people use it. This is a great way to meet locals who speak considerably good English and to still travel authentically.
Non-AC Sleeper
This is non-air-conditioned and available in a 3×2 seating style, a replica of the 3AC tier. This is the way most Indians travel and can get quite crowded. Every single train has multiple sleeper class compartments. Bedding is not provided, so bring along a blanket/sleeping bag for longer journeys.
The sleeper class is very basic and the bathroom hygiene can be below par. There might be plug points for charging. However, you get a great view of the countryside compared to the AC coaches, where the windows are sealed, tinted, and sometimes dirty. Summer journeys can get hot, but with the ceiling fan and breeze while moving it tends to cool down. During monsoons the windows have to be kept shut so it can get quite stuffy, but the views are the most spectacular. Winter journeys on the other hand can be quite cold so wrap yourself up at night and bring appropriate clothes.
This is a good choice for more adventurous backpackers ready to experience India with the locals. A great way to share stories, songs and food with locals to lighten up the journey. Train travel in India can be twice the fun if you choose to journey this way, so don't shy away from the adventure.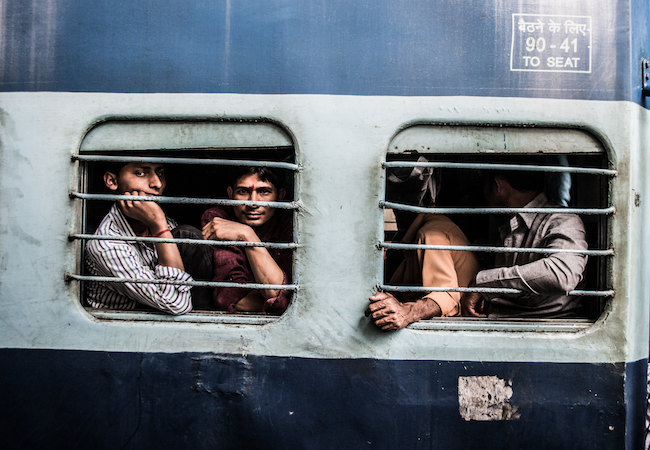 Locals looking out the window of the Non AC Chair Car compartment
AC Chair Car (CC)
Normally trains making shorter journeys and certain frequently travelled business sectors have AC chair cars. These have a similar layout to an airplane and have overhead space for your luggage. They have common charging plugs, 1 plug for 3 passengers. Great for day trips, the bathrooms are clean and basic, with Western and Indian style toilets.
Non-AC Chair Car (SS)
The Non-AC Chair Car is a little more cramped than the AC one and has no power outlets. These are recommended for daily travellers and tourists often do not choose this class. When tickets are hard to get, a 2 to 4-hour ride can be enjoyed in this class. We recommend emptying your bladder before these short trips, as the WC will not be perfectly hygienic.
Unreserved
This is an experience only for the seasoned backpackers, used to heavy and intense crowds. It has wooden or padded plastic seats and you will see large groups of Indians fighting to secure a seat in this train. It is the most economical and hassle-free for booking, so be prepared to be extremely crowded and still have people coming into the train.
Of course, the ideal thing to do would just be to pick out all the destinations you want to see, give us your preferences in terms of train travel in India, and let us do the work. Nevertheless, even the most expensive classes are relatively cheap for the distances being covered. But you don't have to worry about booking anything, that's on us. Contact us here if you'd like to start planning a train journey through India.
what to expect from Indian trains?
Trains are a convenient and inexpensive way of travel (Photo Credit – Rolling Okie)
Again, the Indian railway system is confusing and vast, but here are a few simple tips and facts that will help in getting ready for train travel in India.
Booking early
Indian railways transport close to 18 million people daily. Booking your tickets as early as possible is a must when undertaking train travel in India. You are allowed to book tickets only 120 days before your date of travel. Or, in some trains, even just 30 days prior. Unless you are backpacking and have lots of time on your hands to wait to get a confirmed ticket, booking well in advance is required.
Booking in First Class travel
Some shorter train journeys have a First Class, but they normally have 24 to 32 seats in one 1AC car. It's very difficult to get these tickets, but 2AC and 3AC are very nice and comfortable and provide the experience you're looking for.
If you're looking for a luxury train experience, have a look at some of the most luxurious trains in the world.
Foreigners' quota
For the undecided foreign traveller, you can purchase a few tickets under a special quota which are reserved for foreign visa holders (not if you are registered in India). You can do this only once you reach certain train stations in India and we can't book them for you. Nevertheless, between October to March, peak season, even these tickets sell out quickly so don't get them last minute either.
Here's more detailed information about this type of ticket for foreigners.
Long-distance trains in India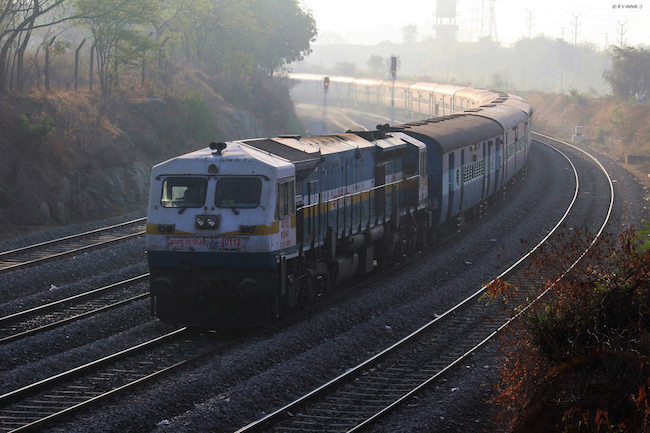 Long-distance trains in India are a very comfortable and very efficient way to move around the country
There are several types of trains for one single route, for example, the Mumbai to Delhi route has several options. We advise choosing trains that start and end in your origin and destination. Trains that arrive from somewhere else have a higher likelihood of being delayed. We speak from experience: having to wait for 6 to 10 hours at train stations is no fun.
If you want to check out some of our best train routes, here is a good place to start.
Food on Trains
Carry your own food during trips unless you are open to eating a little questionable food at train stations or from the train pantry. The food here is delicious but we do not advise eating too much if you do not have a well-trained stomach. Stick to hot food, and carry some sandwiches and snacks to keep you satisfied. If you have to eat a meal on the train, try and get something fresh from the station but don't miss your train if it starts tooting and moving.
The Bathrooms
The bathrooms can get a little dirty after continuous use from other passengers. Carry toilet paper, soap and maybe a can of deodorant to spray before using it. The AC compartments mostly have western toilets and are fairly well kept, but there's no harm in being prepared, especially on long train journeys.
Learn More: Travel Costs in India
This guide should give you everything you need to know about train travel in India, but you can always contact us if you have any doubts. Now, if you can't wait to board the trains of India and travel across the country in a comfortable and authentic way, get in touch and plan your trip with us.
helping you travel your way
Everything you need to know about India is here We have tried writing about everything you may need help with for your trip to India, If you need help in planning a trip to India Get in touch with us to to plan your trip of a life time.