Things to do in Jaisalmer
In the heart of the Thar Desert lies the beautiful city of Jaisalmer. This was built and named after Maharawal Jaisal Singh. It is popularly known as the Golden City because of its golden sand and the yellow sandstone that is used in every structure, giving it a yellowish-golden tinge. Unlike the rest of Rajasthan, Jaisalmer is truly a different experience in itself. There are many things to do in Jaisalmer, from exploring history, to shopping, to adventure, to photography, to awakening your taste buds, and much more. Jaisalmer offers something for everyone.
The fort, havelis, lakes, narrow lanes, shops, and temples are bound to captivate you, but the highlight of your trip will be the golden sand desert! If you are overwhelmed with the number of places to visit in Jaisalmer don't worry we've got you covered! Here is our list of the top things to do in Jaisalmer.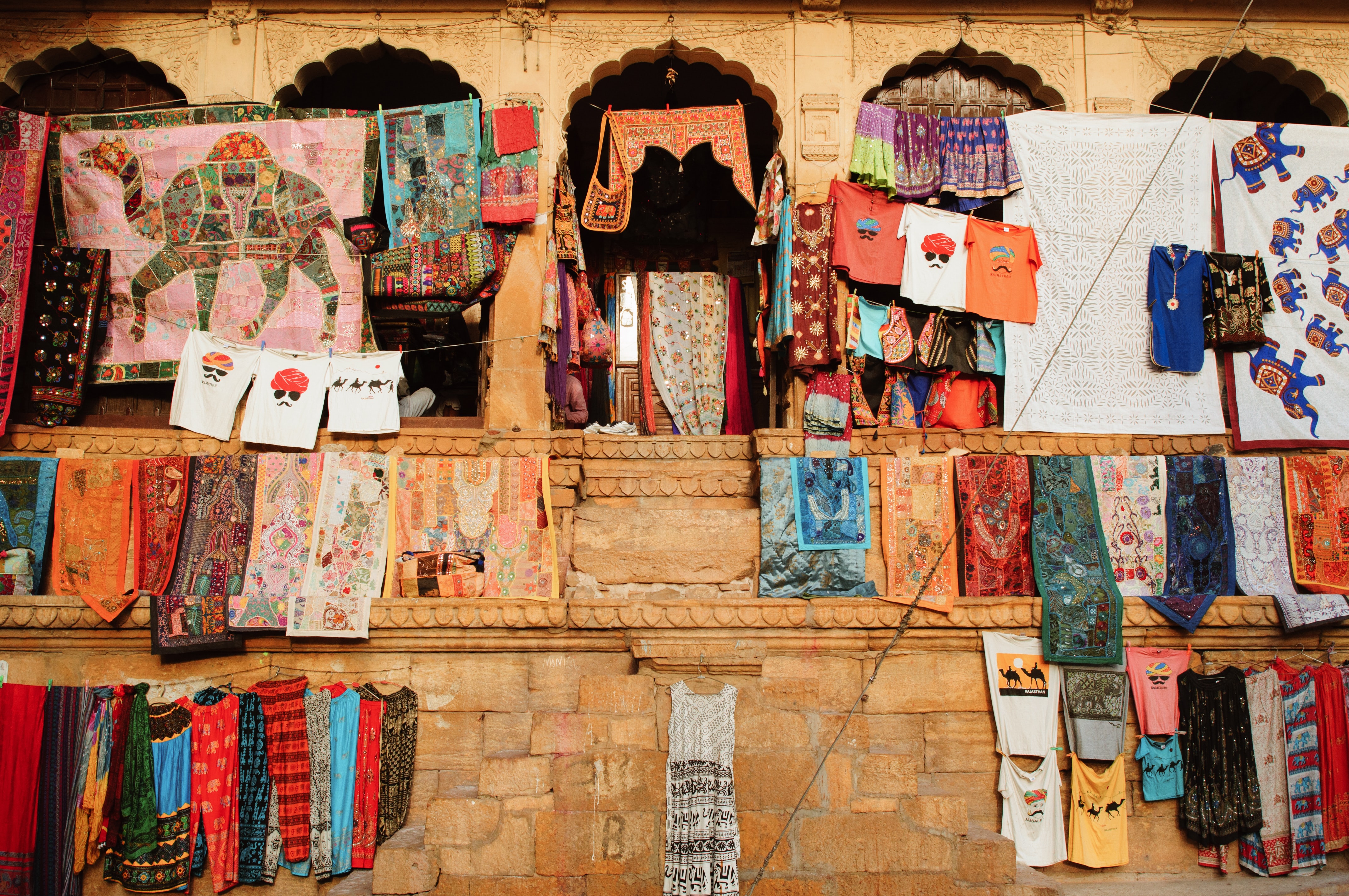 Local handicraft clothes shop in Jaisalmer
Jaisalmer Fort
Located on the southern edge of the city, Jaisalmer Fort is a maze of narrow streets with bustling activities. Built with yellow sandstone this fort is popularly known as 'Sonar Qila' which means 'Golden Fort'. It is one of the few forts which still has people residing amidst it and also comprises of hotels, homestays, temples, houses, and shops.
Take a walk through the narrow lanes and immerse in the beauty and culture the fort has to offer. However, one may get confused and lost within the narrow streets. If you'd prefer, you could hire an official guide as they are well aware of the places to see and the history behind it. You could hire one at the main entrance to the fort.
Visiting Hours: 09:00 to 17:00 hours
Estimated Hours: 2-3 hours
Cost: Free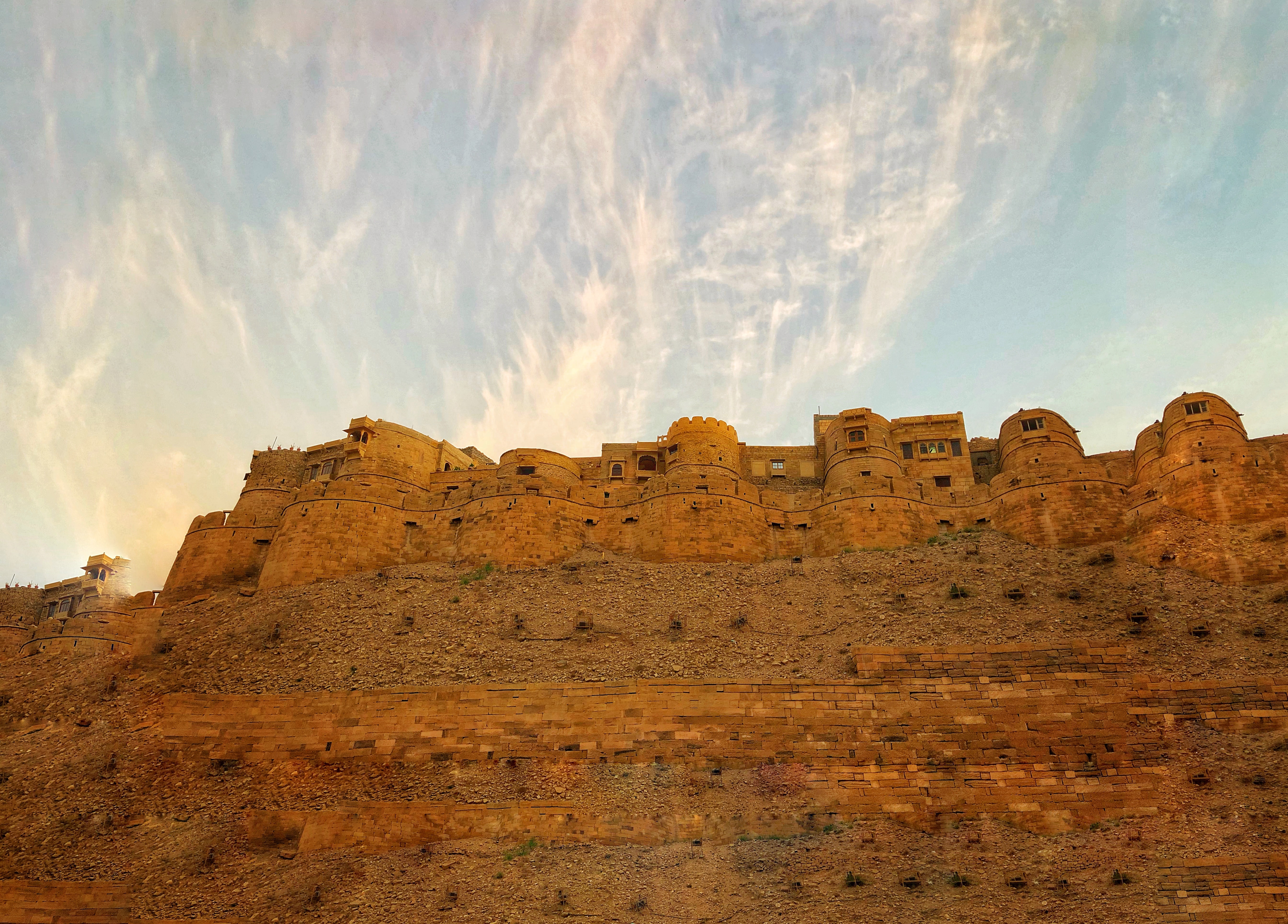 The stunning yellow sandstone at The Jaisalmer Fort (Photo Credit – Josephine Thomas)
Gadisar Lake
Just on the outskirts of Jaisalmer lies the beautiful Gadisar Lake. The bank of the lake is surrounded by artistically carved chattris, temples, and shrines. Its charm lies in the fact that it was the only source of water for the Jaisalmer city in the olden days.
Due to its proximity to Keoladeo National Park (formerly known as the Bharatpur Bird Sanctuary), different migratory birds can also be spotted on the banks of the lake, adding to its beauty.
We'd recommend that you either visit the lake in the early hours of the day so that you could avoid the crowd or capture the beautiful sunset.
Visiting Hours: 24 hours a day
Estimated Time: 1-2 hours
Cost: Free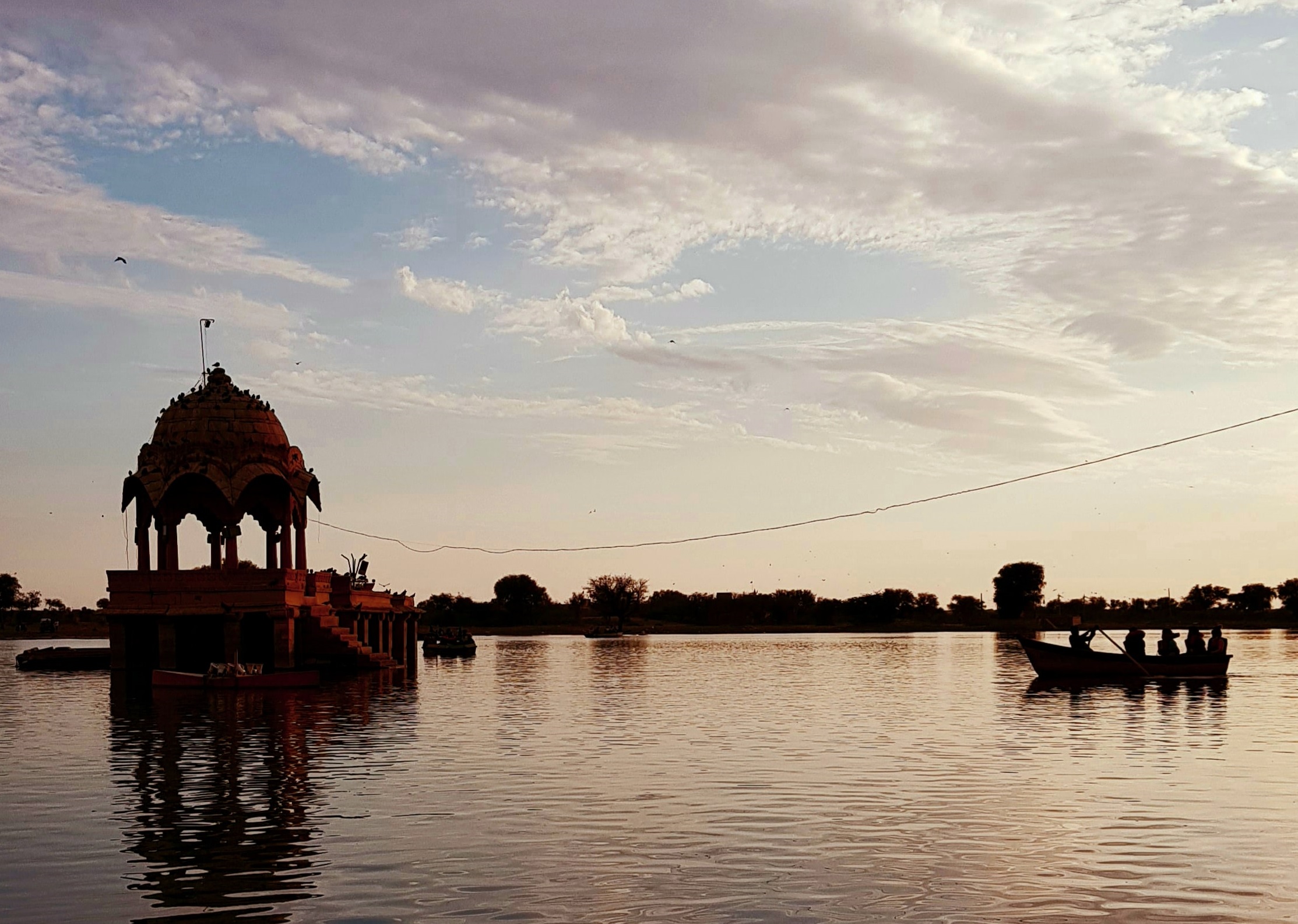 Gadisar Lake at sunset
Kuldhara Village
Around 18-20 kilometers to the west of the desert town of Jaisalmer lies Kuldhara. A well-planned settlement with straight and wide streets that run in grids with houses opening into them.
Legend has it that during the time of Salim Singh, the Diwan of Jaisalmer, known for his debauchery and unscrupulous tax-collecting methods, set his eyes on the beautiful daughter of the Village Mukhiya (Village Chief). The Diwan was absolutely adamant about marrying this girl and had threatened the villagers of dire consequences should they not agree with his proposal.
Fearing the wrath of the Diwan, the residents of the entire village fled one dark night, leaving behind their homes and everything within them. Kuldhara was abandoned by its very own people. No one saw the thousand-odd members of the village leave nor does anyone know where the Paliwals have moved to.
All that is known is that they cursed the town when they left – that no one would ever be able to settle down in Kuldhara ever again. A curse that stands good to this day as the Village of Kuldhara is uninhabited. Once a prosperous village now lies in shambles. The houses are in the same condition as they were left years ago. The government today maintains these ruins as a heritage site.
Visiting Hours: 08:00 to 18:00 hours
Estimated Time: 2-3 hours
Cost: INR 10 per person, INR 50 if you are travelling by car.
Bada Bagh
Bada Bagh, also called Barabagh (literally Big Garden) is a garden complex about 6 km north of Jaisalmer. The garden comprises cenotaphs of all royal Rajputs Kings of 6 centuries and other prestigious family members of Jaisalmer.
The cenotaphs are pretty simple, only adorned with chattriyas that are square or hexagonal. While the beauty of the cenotaphs will fascinate you, the picturesque sunset adds to its beauty!
Visiting Hours: 09:00 to 18:00 hours
Estimated Time: 1-2 hours
Cost: INR 100 per person for foreign tourists, INR 50 per person for Indian tourists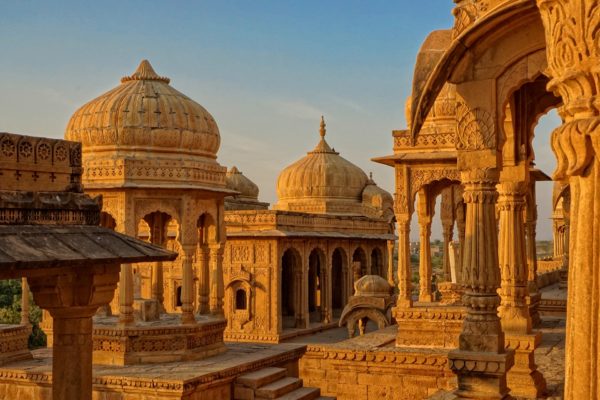 The royal cenotaphs of rulers of Jaisalmer (Photo Credit Volker Glätsch)
Lodhruva
Just approximately 20 km from the main city is Lodhruva, the ancient capital city of the Bhatti Dynasty that has stunning detailed carvings. The golden sandstone and tall structures are adorned with arching balconies, jaali works, and dilwara style of architecture.
However, the highlight of this remarkable Jain temple is its unique entrance and the occasional sighting of peacocks within the complex.
Visiting Hours: 09:00 to 17:00 hours
Estimated Time: 1-2 hours
Cost: Free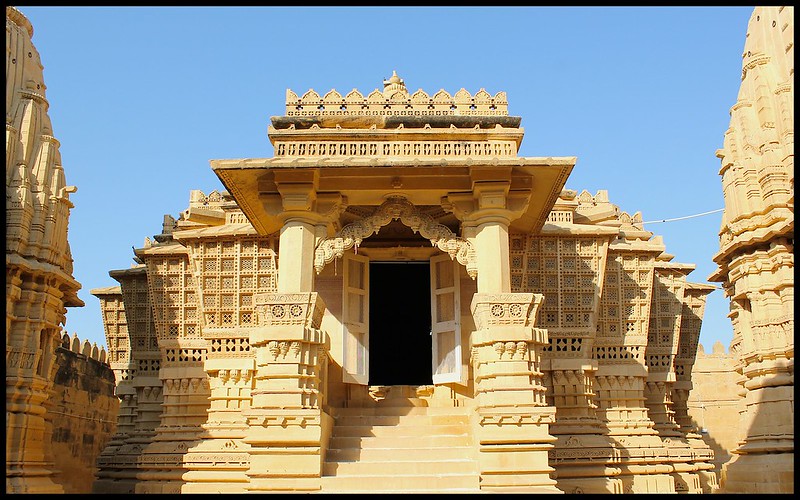 Stunning architecture and carvings in Lodhruva (Photo Credit – Kandukuru Nagarjun)
Nathmal Haveli
Nathmal Haveli was built in the 19th century and is located right in the heart of the city. The stunning structure which is a combination of the beautiful Islamic and Rajput style of architecture was commissioned to serve as the residence of the Prime Minister of Jaisalmer.
Designed by two brothers, Hathi and Lulu, the exterior of the haveli to be flanked with impressive architecture and two elephants made of sandstone who guard the entrance. The interior consists of miniature paintings of horses, cattle, flora, and modern amenities like cars and fans. It has been said that the artwork done by them was based only on descriptions of what the people saw, as none of these were ever seen by the brothers themselves.
Visiting Hours: 09:00 to 17:00 hours
Estimated Time: 1-2 hours
Cost: Free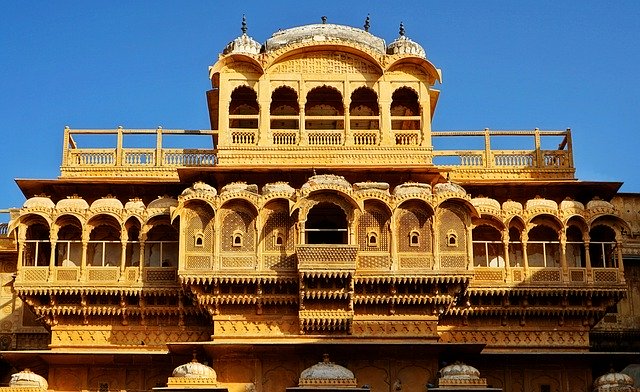 Marvelous detailed architecture and carvings on Nathmal Haveli
Desert Safari
Jaisalmer is the mystical land of sand dunes and your trip will not be complete without experiencing the great dunes of the Thar Desert. However, we strongly recommend that you organise a special tour for exploring the sand dunes as this has become a tourist trap.
You could explore the desert by either visiting one of the three locations – the Sam Sand Dunes, Khurri Sand Dunes, and Lakhamana Sand Dunes. If you are the kind who prefers some isolation and peace, Lakhamana would be the right choice for you as the Sam Sand Dunes are extremely commercialized and hence crowded with tourists. You also could enjoy a camel safari, a jeep safari, dune bashing, parasailing, quad biking, etc.
The experience of the mystical desert and sleeping under the stars is an experience that goes beyond words. It is an experience that you would cherish for a lifetime and we'd totally recommend this whilst you visit Jaisalmer.
Visiting Hours: 17:00 to 19:00 hours (Sunset Safari), 13:00 to 20:00 hours (Half-Day Safari) & 13:00 to 11:00 hours (Overnight Safari)
Estimated Time: 2-22 hours
Cost: INR 3,500 per person for a sunset safari., INR 6,500 per person for a half-day safari, INR 10,000 per person for an overnight safari.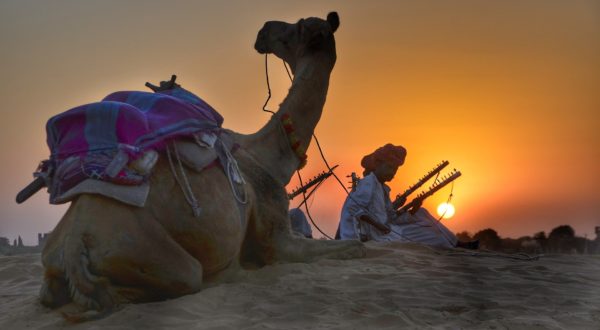 Explore the Desert (Photo Credit – Richard McCall)
Getting Around in Jaisalmer
On Foot
You cannot explore the city on foot as it is a fairly big city, however, you could explore certain parts of it on foot. This is ideal if you are really keen on observing the people here. Also, some of the buildings in the fort that you come across are great to stop and admire.
Auto Rickshaw
Auto rickshaws (tuk-tuks) in Jaisalmer are a convenient mode to move around especially while going sightseeing. The tuk-tuks generally run on meter however most of them refuse to do so. So be ready to haggle for the price and do not settle for the first amount told to you.
Hire a Car
If you wish to hire a car, you would have to do the same from your accommodation or a car rental service in advance to avoid scams and travel in comfort.
Rent a Bike
One of the best and most efficient ways to explore the city is by bike. You can hire a bike for INR 1,500 – INR 2,000 per day.
Wondering how to get to Jaisalmer or how to fit this fascinating destination into your itinerary? Well, get in touch with us and we'll plan the ideal trip for you while catering to your interests, budget, and time constraints. In case you are curious about other cities in Rajasthan, you can have a look at this blog to get an idea of what to expect.
helping you travel your way
Everything you need to know about India is here We have tried writing about everything you may need help with for your trip to India, If you need help in planning a trip to India Get in touch with us to to plan your trip of a life time.