Two week North India tours with Rajasthan and Varanasi
This is a two week North India tour starting with Delhi, followed with Varanasi, Agra and then a loop around Rajasthan. A little quick paced, but you would pack in some fantastic towns and sights. The tour is explained in detail with an explanation on tour costs. Feel free to contact us for any questions.
For a lot of our travellers two weeks is all the time they have to travel around India. Taj Mahal and Varanasi is often on their bucket list when they look at touring the Northern part of India. Rajasthan, is a wonderful mix of architecture, small medieval towns and lots of colour.
The following tour is ideally suited for those, looking to visiting India for two weeks while also looking forward to explore Rajasthan, the Taj Mahal and Varanasi.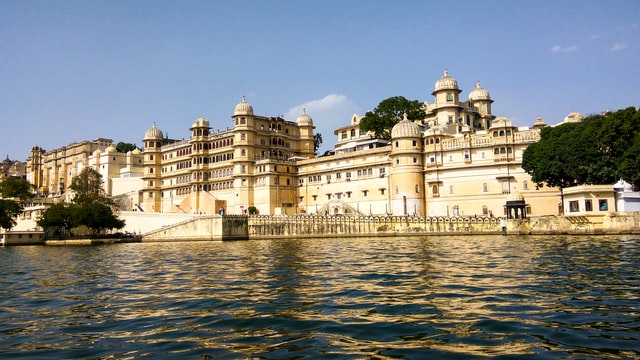 The Majestic City Palace of Udaipur sits on the banks of Lake Pichola
Tour Overview
This is a relatively quick paced trip; covering a lot of distance (some of the travel is made easy with internal flights). But, you will visit some fantastic destinations.
The city of Varanasi is one of the most ancient and spiritual cities in the world to Jaisalmer. Here stands an old fort town by the edge of the endless Thar desert. There is also the city of lakes and palaces, Udaipur and the Taj Mahal in Agra, respectively.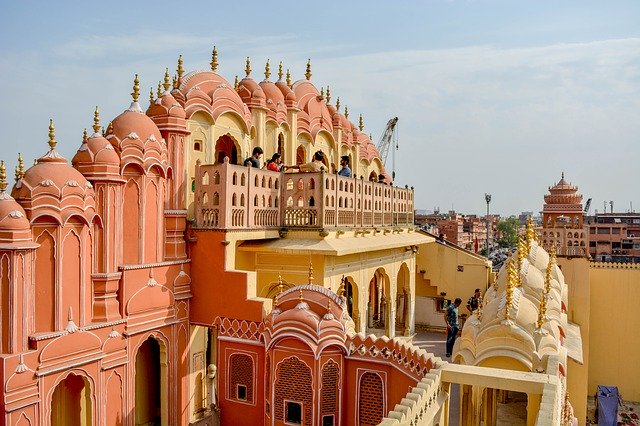 Hawa Mahal, one of the many beautiful monuments in Jaipur
Trip Pace and modes of travel
Being a fast paced trip – average stay at each destination would be two nights, you would make use of a combination of internal flights, train journeys (including an overnight train journey), a car and a driver.
Highlights of Varanasi, Agra and Rajasthan Tour
Plenty, to be honest.
Boat rides in the Ganges/Ganga Aarti at Varanasi (one of our guests account on Varanasi)
Taj Mahal at the break of dawn
Spending the night in the desert under stars
The romantic and adorable city of Udaipur
The mesmerizing Meherangarh Fort in Jodhpur
For some, the overnight train journey
This tour is ideal for?
Backpackers, young travellers, those who do not mind fast paced travel, solo travellers (the route is where you can meet other fellow travellers).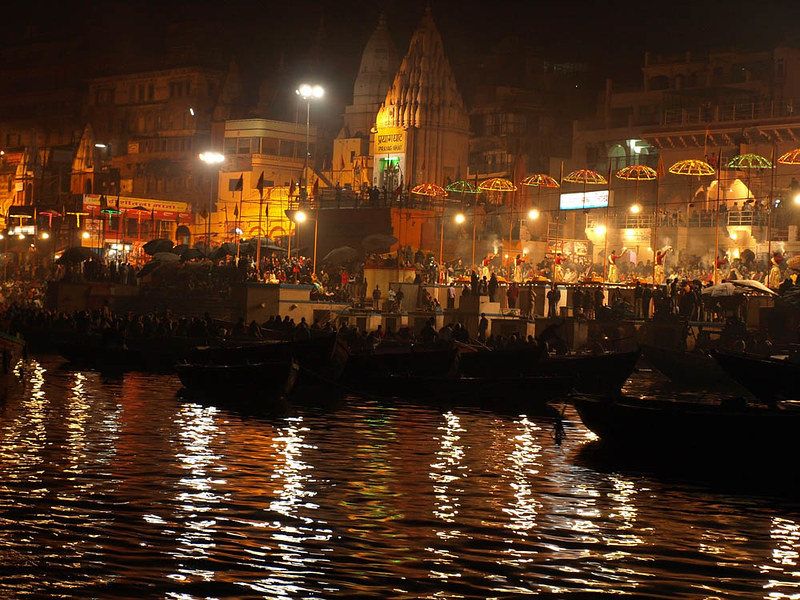 Varanasi Ghat (Photo Credit – Ainis)
Cost of North India Tour with Varanasi and Agra
Depending on your style and preferences, the tour can range from USD 500/EUR 450 to USD 1000/EUR 900 per person.
Depending on:
– You are happy staying at budget places and hostels (lots of cool hostels in India now)
– Or if you'd like to stay at a few mid priced heritage hotels (in Udaipur, for example)
– Don't mind substituting one of the flights with trains
– Willing to change one of the train rides with a private car and driver
The costs include:
– Overnight stay throughout your trip
– All train tickets
– Taxi and a driver between cities when train is not possible
– India Someday planning and bookings fees
– All taxes
Trip Route and Trip Notes
The tour follows the following route: Delhi – Varanasi – Agra – Jaipur – Jaisalmer – Jodhpur – Udaipur – Delhi (Route on GoogleMaps)
While you cover a lot of distance on this tour, the first two long legs i.e. Delhi to Varanasi and Varanasi to Agra, are quite convenient with direct internal flights
A drive from Jaipur to Agra allows you to stop and visit two great sights, the Fortress city of Fatehpur and the less visited, but stunning Abhaneri Step Well
The travel around Rajasthan is a mix of trains and buses/cars. It's countryside is really pretty with small rural towns, the countryside lifestyle, their occupation of rearing cattle, and in certain stretches the wilderness
For a number of our guests the overnight train from Jaipur to Jaisalmer is a memorable experience. The passengers you meet on Indian trains are always eager to strike a conversation with you
Jaisalmer, Jodhpur and Udaipur (Southern Rajasthan) are all spectacular little towns. It seems as though they are frozen in time; endless alleys and old houses
Jaisalmer offers one to spend a night in the desert, ride a camel and sleep under the stars (our guest Samantha, chronicles it beautifully here)
There cannot be a more perfect end to an Indian holiday than Udaipur. A charming town, by the banks of Lake Pichola. Beautiful lake views, sunsets and one can go trekking or cycling in the hills nearby.
Click here to read some of our reviews and get in touch with us to discuss your trip.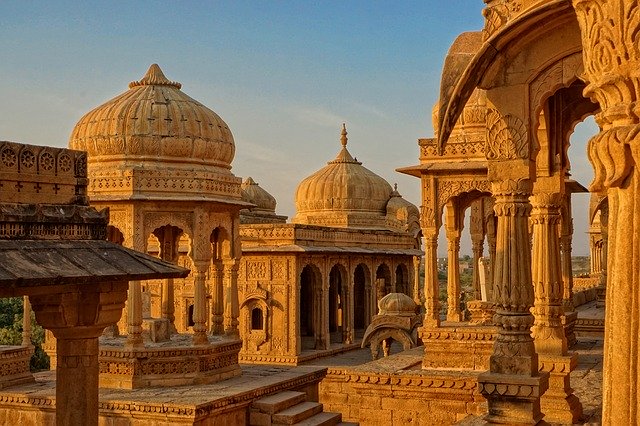 Bada Bagh in Jaisalmer
Where will we stay during our North India Tour
It really depends on your budget. We plan tours for backpackers where most of the accommodations are hostels/inexpensive hotels and home-stays. We've planned trips with mid-budget places to stay, small heritage hotels, comfortable BnB's and a couple of splurge stays. You can also choose to stay at the nicest boutique/luxury places that each of the towns have to offer.
The following information should give you an idea on what kind of accommodations to expect at what trip cost.
Backpacking North India @ USD 500/EUR 450 per head
You would be staying at hostels and cheap guesthouses. North India has some fantastic hotels that are ideal for backpackers. Clean, safe, inexpensive, fun and you get to meet a lot of travellers.
Moustache in Delhi, Stops Hostels in Varanasi, Hosteller in Jaipur, Zostel in Udaipur, just to name a few.
Hostel Hopping North India – a blog entry on the hostel experience in North India by one of our friends.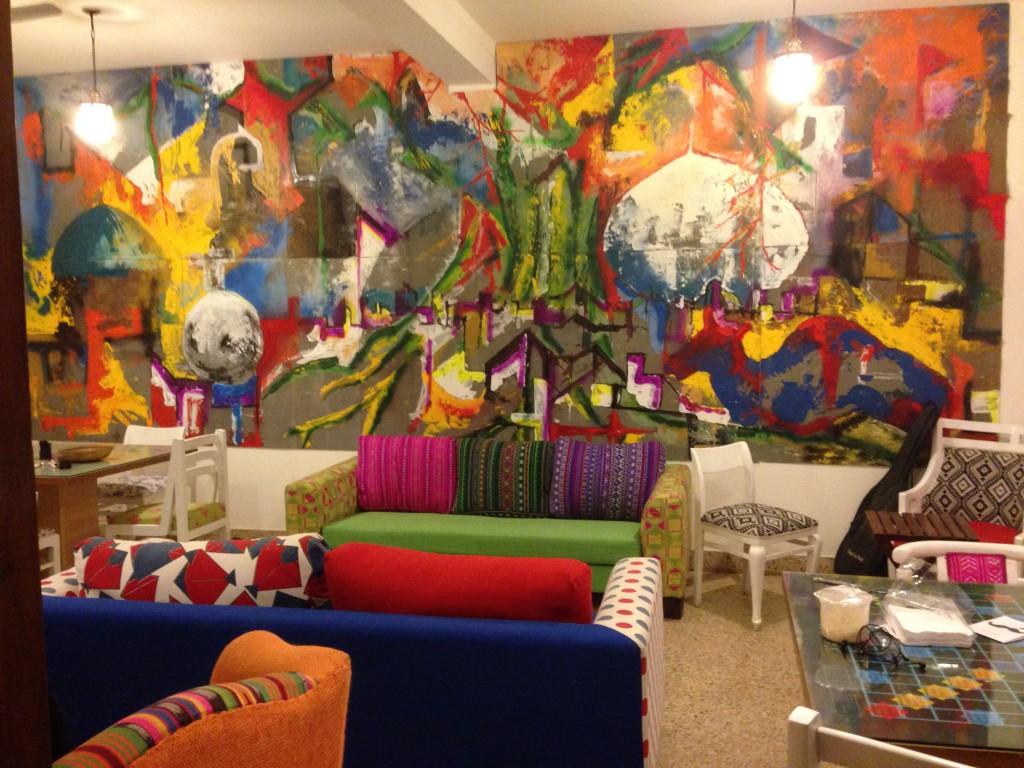 Common area Moustache Hotel Delhi
Mix of hostels, Home-stays and few heritage hotels @ USD 700/Eur 600 per head
When travelling as a couple you wouldn't mind staying at a hostel, but you'd also like your own private room every now and then. Rajasthan offers some wonderful small heritage hotels and home-stays that do not cost a fortune.
These Heritage hotels and home-stays cost under USD 50/EUR 45 a night for a private room.
All Seasons Homestay in Jaipur, Devi Bhawan in Jodhpur or Hotel Mahendra Prakash in Udaipur.
Thus, a stay with a combination of both – home-stays and heritage hotels, would be a great mix to experience.
Always a private room and bathroom, heritage hotels, quality home-stays @ USD 1000/ EUR 900 per head
If you prefer having a private room at all times and look for accommodations that are always comfortable, then your budget would go for around USD 1000/EUR 900 for a North India tour.
Between USD 50 to USD 80 a night, you can always stay at a very charming and comfortable BnB/Guesthouse/home-stay or heritage hotel in North India.
Some of our favourite hotels in North India are, Aashray Homestay in Varanasi, Meghniwas in Jaipur, Tree of Life in Delhi, Pleasant Haveli in Jaisalmer.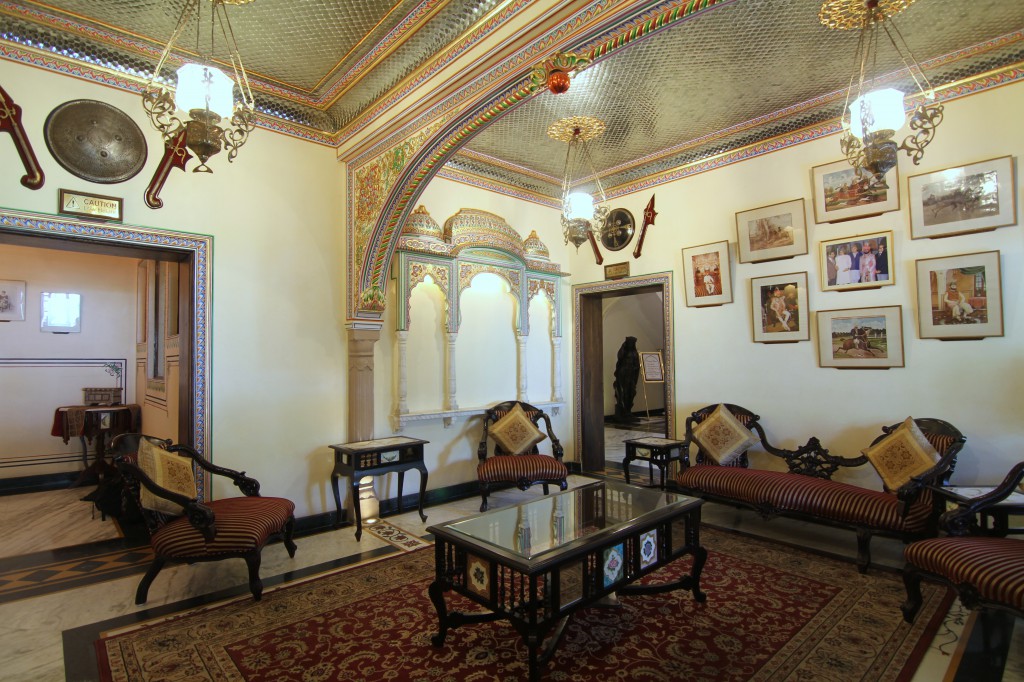 Shahpura House in Jaipur (Photo Credit – Shahpura House)
Stay in Rajasthan's Royal Palaces and luxurious campsites – USD 2000/Eur 1800 ++ per person
No state in India (perhaps the world) can boast of so many royal palaces. If you'd like to live like the Rajasthani Kings lived a few centuries ago, then you can stay at one of their Palace converted hotels.
There are many newer, chic-boutique hotels too that offer uber luxury and some mesmerising campsites in Rajasthan.
Suryauday Haveli in Varanasi, Amarvilas in Agra, Samode Palace in Jaipur, Serai Campsites in Jaisalmer, RAAS in Jodhpur, Taj Lake Palace in Udaipur.
We plan trips across budgets. So just get in touch with us if you are interested in a tour similar to the one described in this blog. We'd love to help you plan a memorable Indian Holiday!
helping you travel your way
Everything you need to know about India is here We have tried writing about everything you may need help with for your trip to India, If you need help in planning a trip to India Get in touch with us to to plan your trip of a life time.