Travelling in different train classes in India and food
Created by Harsh Sonawala,
Last Updated on August 14, 2020
Magdalen and Brian, our American guests, did a three week tour across North India. They were most excited about travelling by trains in India and wanted to use them extensively. While many of our guests prefer only travelling by the top-tier AC classes, they wanted to try a mix of all. (AC Seater Class CC, non AC Seater Class SS, Sleeper AC Class, 3 AC and creme de la creme AC FIRST CLASS, 1 AC).
They share their experiences and advice in this blog post. Their original post and many of their adventures can be read on their blog.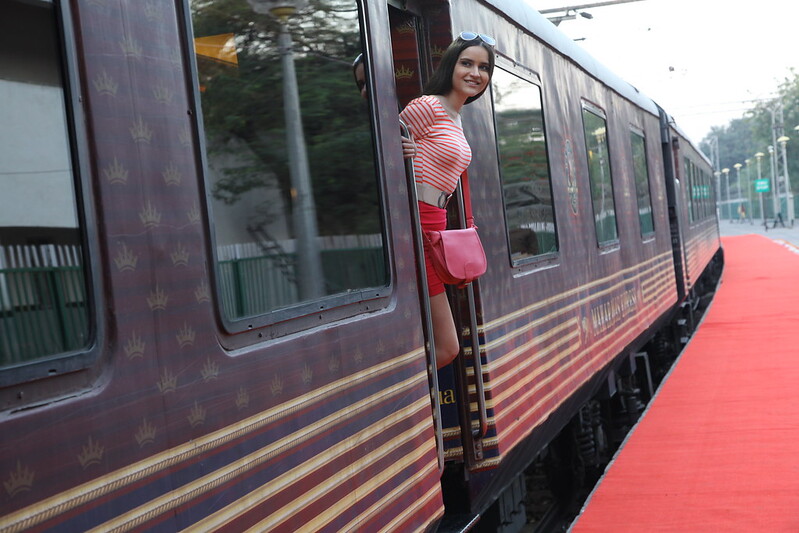 Maharaja Express for luxury travel (Photo Credit – Shekhar Virdi)
Trains in india: An Indian adventure!
During our 3-week India trip, we took trains for much of the travel we did. While we were at it, we learned a lot about trains in India. The short story: Trains in India are fantastic.
A quick note about prices of train classes in India – most of the prices listed here were specific to our experience (or estimates of our experience). We last travelled in the summer of 2015. Prices may have changed since then – when you are reading this. But just keep in mind, this was our experience.
In planning our trip, we made sure to book trains of a variety of different classes. We did everything from a fancy first class AC overnight car to the reserved seat non-AC car. We did not do the lowest class, the 'general population' sleeper car. All in all, we found trains to be a safe, affordable, and an easy way to travel.
There are some great resources out there for much more detailed accounts of the various train classes in India, or tips on how to book trains – for this blog, we just wanted to describe some of our general experiences.
Look at some of two week and month long travel routes across India, which are conveniently connected by multiple train journeys.
Train travel in India – Old coaches, but a lot of fun!
Reserved non-A/C Seater (aka SS – second seating class)
We wanted to try the different train classes in India. First, the reserved seat non-AC car. We took this class from Agra to Delhi in the early evening. The ride was about 4.5 hours long. The train arrived in Agra on time and got to Delhi pretty much on time. The car holds perhaps 90 people or so. All of the seats are labeled, so you just check your ticket for your assigned seat. When we arrived, someone was in our seat, and they moved after we politely asked.
Throughout the journey countless food vendors walked up and down the car selling food. More on food in Indian trains later. This ride cost us INR 223 total for two people. It was quite economical. There were people standing up in the aisle but there was space for our bags in the overhead rack. Since there is no AC, all of the windows were open, which made the trip quite loud. If you bring a pair of earplugs you will probably use them. There were plenty of fans on the ceiling.
Wondering when is the best time to visit India or the cost of travel in India, our detailed blogs will give you an overview.
A/C Seater Class (CC – A/C Chair Car)
On one of our trips during the day we rode in a 'Chair Car'. We were both a bit worried this wouldn't be an AC car as it doesn't explicitly say 'AC' in the title (whereas other classes are specific). Turns out this car looked and felt like a train car in Europe or the US might look and feel. There were 6 seats across with an aisle down the middle. The chairs reclined some and yes, there was AC.
Sleeper Overnight Trains (3 Tier, 3 AC class and 2 Tier, 2 AC class)
Next, we took the 3-tier and 2-tier AC cars, both different train classes in India. Both of these are sleeper cars. The main difference is the number of people in the car. The 3-tier has more people & fewer privacy features. Essentially the car is divided up into rooms (minus walls) where there are berths of beds. The beds can be changed into seats as needed.
The 2-tier AC means that if it's daytime there are two people who might sit on the bench, and none of the beds are folded up. In the 3-tier AC the middle bed is folded up during the day so that people can sit upright on the bottom bunk. In the 2-tier the top bunk does not fold up.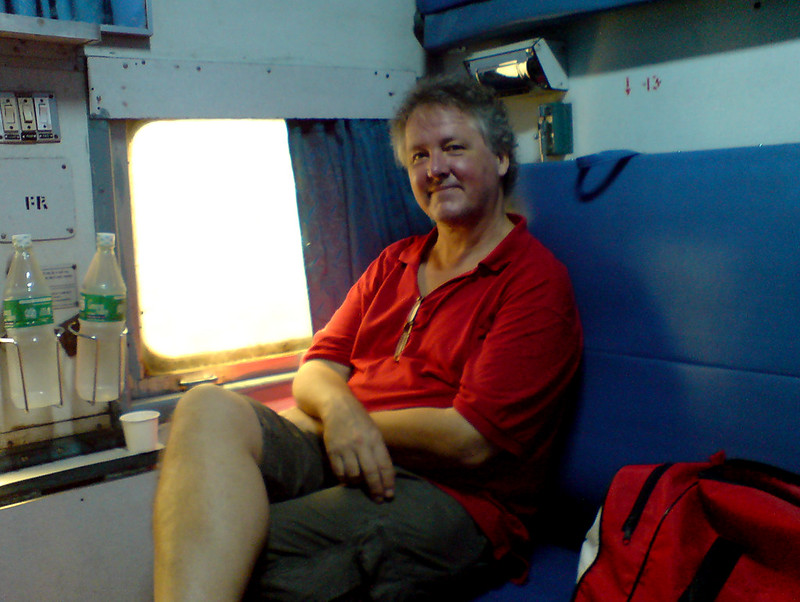 Typical 2 Tier A/C (2 AC) – The backrest folds up into the middle berth! (Photo Credit – Peter Fristedt)
Live Life Kingsize! (1st class AC, FIRST AC)
Finally, we took the 1st class AC car for a ride from Udaipur to Delhi. For just under INR 6,000 (for two) it was the most expensive journey we took. We were happily surprised to find we got a private room assigned to us. Two beds behind one door. It was a cute little 'home' for the 12.5 hour journey. There was a bell to ring for the attendant to come down and make the bed or help with whatever task. Upon arrival in Delhi, bag porters were knocking on our door to help with our bags. This is definitely the most luxurious of all the train classes in India.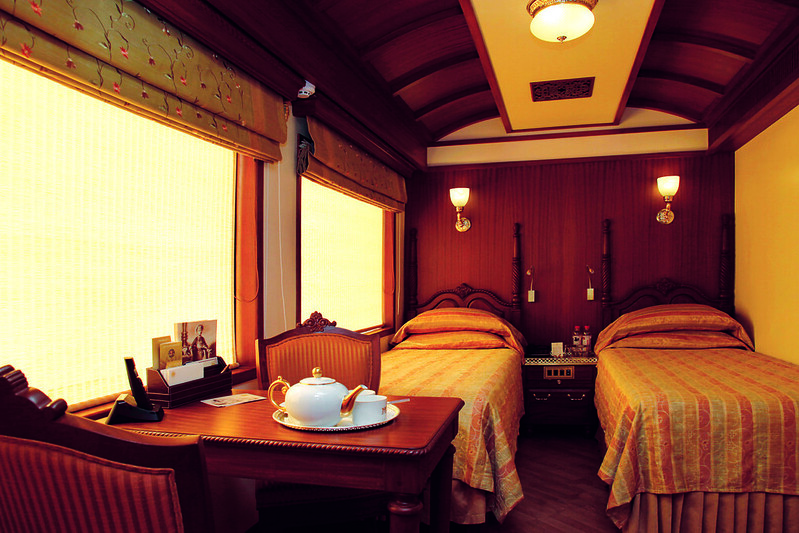 You will get an experience like home in luxury train (Photo Credit – Luxury Train Club)
All you need to know about food on Indian trains
We found this to really vary from train to train and station to station. Sometimes, we were bombarded by tons of food sellers.
On the drinks side, they sell everything from cold bottled water (INR 20) and other cold drinks to milk masala Chai (INR 10) and coffee (not sure what this really was). We found the guy saying 'Chai Chai' had better chai than the guy saying 'Chai Coffee'. We think the Chai Chai vendor has pre-brewed & sweetened masala chai, whereas the chai coffee vendor has boiling hot milk, tea bags, and instant coffee mix. Obviously the pre-brewed & sweetened masala chai is better unless you want coffee.
On the food end of things there also was quite a range. There were the guys selling chips, biscuits/cookies/crackers, and other small snack items. Then there was the guy selling two types of patties – we think one was made out of dal – the other could have been potato or chick pea. Either which way, the patties were INR 10 or so.
Our Train Favorite – Tomato Soup!
Next up, the Tomato Soup guy. In our opinion, this was the best.
First off-the way they said 'Tomato Soup!' just made us grin ear-to-ear each time we heard it. Then for INR 20 to get a small cup of super tasty Tomato Soup (with really yummy croutons in it), it was just amazing.
Next up were the guys selling vegetable cutlets and other types of cutlets. We tried a veg cutlet once. It was two pieces of some sort of breaded spiced potato 'cutlet' and two pieces of buttered bread. If you were starving (which we were) this is good enough. Otherwise, we would skip it next time. We seem to remember the price was INR 20. There was a guy selling omelets, but we did not try it.
Full meals and Indian Trains
Finally were the guys selling full meals on our overnight trains. I think this might have just been for the upper classes (we only saw it in First & 2 Tier AC classes). For INR 150 you get a full thali plate. There was a dal, a potato dish, and a paneer dish. This was served with chapatti (which we found to be too thick, cold, hard and not appetizing), rice, a gulab jamun and a plastic spoon. All in all, the meal was good enough with plenty of spice and it felt fresh and hygienic enough (it was a tray sealed with plastic).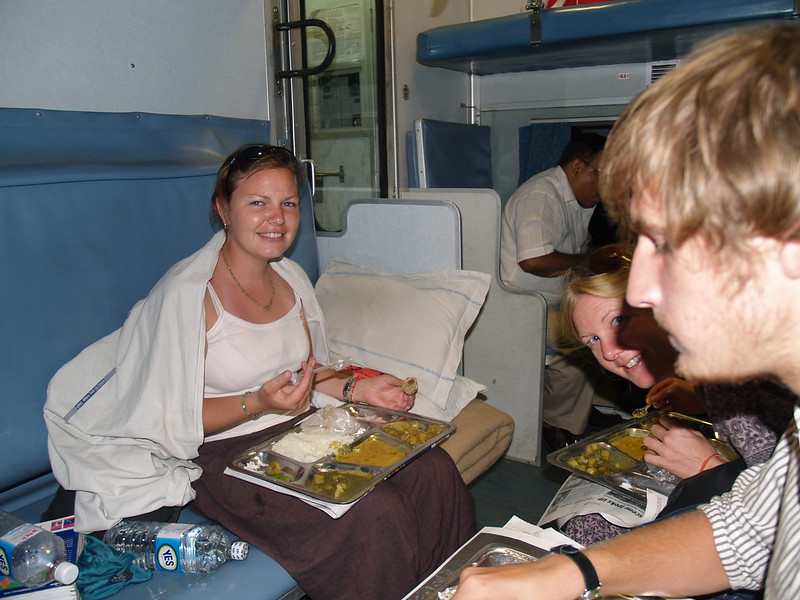 Dining on the train (Photo Credit – Steve Hicks)
Meanwhile, at the various stations you'll find a variety of food. Some stations will have nothing, but many will have at least a drink person with chips and other pre-packaged food. Still larger station