Things To Do In Udaipur
'The traveler who goes there first is likened to a man who begins his banquets with master-piece and is worried to find other dishes dull.' – Prince of Wales
Often referred to as the 'Venice of the East, the lake city of Udaipur is known as the centre of performing arts and crafts. Udaipur is surrounded by the placid blue waters reflecting ethereal white palaces and temples. Beyond which shimmer the distant Aravalli Hills, an old mountain range, predating the Himalayas.
It was founded in 1559 by Maharana Udai Singh II as the 'New Capital' of the Mewar kingdom. Udaipur is also renowned for its miniature paintings.
Furthermore, to ensure see the highlights during your stay, we have put together a list of things to do in Udaipur

Miniature painting on the streets of Udaipur (Photo Credit – Nevil Zaveri)
Boat Ride on Lake Pichola
At first glance, a boat ride in Lake Pichola seems a tad bit touristy. Nonetheless, it offers an entirely different perspective of the city. Lake Pichola is the centre around which the city was built. Buy tickets from the City Palace complex, and walk through the lawns to get on the boat.
The boat ride gives you a view of the city on either bank of the lake, a fairly close view of the Taj Lake Palace Hotel. You also get an opportunity to hop off at the Jag Mandir Island (one of the two inhabited islands in Lake Pichola). Stop for refreshments or a meal at Jag Mandir Island to complete your Lake Pichola experience.
VISITING HOURS: 10:00 to 17:00 hours
ESTIMATED TIME: 1.5-2 hours (including a stop at Jag Mandir)
COST: Adult INR 400, Child INR 200, Sunset Boat Ride: Adult INR 700, Child INR 400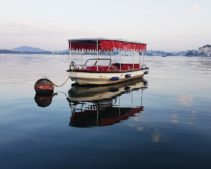 Boat ride on the still waters of lake Pichola in Udaipur.
City Palace in Udaipur
Please note that the City Palace complex houses a lot of other attractions like Mewar Sound and Light Show others and the entry tickets for which need to be bought separately.
This palace is rather grand in magnitude and is much bigger than it appears to be! Built-in parts over the course of four centuries, it is a blend of Rajasthani, Mughal, Medieval, European and Chinese architecture. An audio guide for INR 200 is available if you would like to take your time visiting and admiring this place!
It is advisable to start early at 10:00 in case you are a keen history enthusiast and end the visit with a boat ride on Lake Pichola, which can be accessed from the same complex.
VISITING HOURS: 09:30 to 17:30 hours
ESTIMATED TIME: 1-4 hours
COST: INR 30 Indians and foreigners for entrance to the common complex, INR 250 per person for Indians and foreigners (18 years and above) and INR 100 for children (5-18 years) for museum entrance.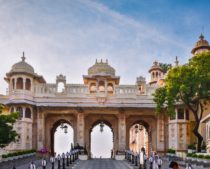 The entrance of the City Palace, Udaipur
Sajjangarh Palace (Monsoon Palace)
A visit to the Monsoon Palace is worth it for the gorgeous sweeping valley and a view of the beautiful city. An evening visit is recommended so that you can experience the magnificent and colourful sunset!
VISITING HOURS: 08:00 to 18:00 hours
ESTIMATED TIME: 1-2 hours
COST: INR 80 per person for foreign tourists, INR 10 per person for Indian tourists
Badi Lake IN UDAIPUR
If you would like to visit an off-the-beat location in Udaipur and are a nature and landscape lover, take a trip to Badi Lake! Just a 20-minute ride from the Monsoon-Palace (or about 40 minutes from the old city. The road leading to the Badi Lake is surrounded by small hills and greenery.
Upon reaching the lake, you can park the vehicle on the side of the road and walk to the edge of the lake. Dip your feet in the serene waters or simply sit on the smooth rocks and enjoy the view of the majestic hills. You can easily combine this visit with a trip to the Monsoon-Palace and have a picnic by the side of the lake.
VISITING HOURS: 08:00 to 18:00 hours
ESTIMATED TIME: 1-2 hours
COST: Free
Stunning view of the Badi Lake in Udaipur (Photo Credit – Manvendr Singh)
Walk down the streets of Udaipur
Walking along the narrow streets of Udaipur city while dodging cows and rickshaws is an enjoyable experience! From craftsmen on the street carving miniature figurines, shops selling handicrafts and art, to temples chanting prayers. Every corner will have something to offer!
You will be greeted with signs to a dozen rooftop restaurants screening Octopussy, a James Bond film shot in Udaipur decades ago.
VISITING HOURS: 07:00 to 19:00 hours
ESTIMATED TIME: 1-2 hours
COST: Free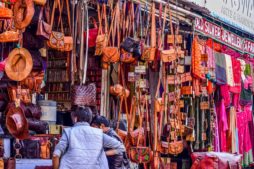 Leather shops on the streets of Udaipur
The ROPE WAY Ride
Udaipur offers one ropeway ride, which offers a stunning view of all the best sights the city has to offer! Catch a ride to reach the base, which is about 10 minutes from Pichola Lake/City Centre). As the ropeway pulls up, enjoy the view over the city and at the top you can see the other side of the city.
For the fit and adventurous travelers, it is recommended trekking down on the way back. Follow the ridge on the extreme right (offering a beautiful city view) and then walk along the fort walls all the way to the bottom.
VISITING HOURS: 09:00 to 21:00 hours
ESTIMATED TIME: 45-90 minutes
COST: INR 300 per person for foreign tourists, INR 150 for foreign children, INR 87 per person for Indian tourists, INR 43 for Indian children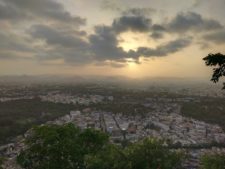 Sunrise views of the city of Udaipur city
Vintage Car Collection
Adorned with explicit beauty and history, Udaipur is the storehouse of several items of historical significance. It is a great place to see and learn the royal lifestyle of the kings!
Out of many, one of the most exciting places to visit is the Vintage and Classic Car Museum. The museum showcases some of the most exquisite collection of royal antique cars which make it a heritage site.
Along with the museum ticket, you can also purchase a meal ticket and enjoy authentic Rajasthani cuisine!
VISITING HOURS: 09:00 to 21:00 hours
ESTIMATED TIME: 30 minutes
COST: INR 250 per person for foreigners and Indians, INR 150 for children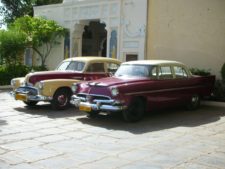 Two vintage cars outside the City Palace, Udaipur (Photo Credit – Tom Maisey)
Fateh Sagar Lake
Built by Maharana Jai Singh in 1678, Fateh Sagar Lake is one of the many artificial lakes in Udaipur. Fateh Sagar Lake is named after Maharana Fateh Singh who extended the lake during his reign.
Located on the foothills of Moti Magri, this lake is very important not only in terms of tourism but also to sustain the water supply in the city. There are quite a few activities you can do here such as a boat ride and` camel ride etc. Or you can simply walk around and enjoy the views!
VISITING HOURS: All-day
ESTIMATED TIME: 1.5-2.5 hours
COST: Free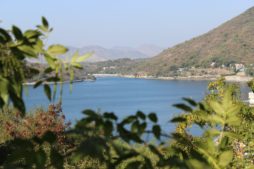 Views of the Fate Sagar lake in Udaipur
If you are looking to stay away from the touristy places in Udaipur, read this blog to know more about an offbeat stay in Udaipur
Bagore ki Haveli
Located on the waterfront of Lake Pichola, this attraction is a lovely experience for those interested in intricate architecture! You can walk around and visit different parts of the haveli and admire the architecture style! While the collection in the museum is unimpressive, the gorgeous structure and view that overlook the lake, make it well worth a quick visit!
If you have time to spare, you can also attend the Drahohar Dance show, which takes place every evening 19:00-20:00 hours and the tickets are available therefrom 18:15 hours on the same counter. The show consists of various styles of well-choreographed traditional dances with music.
The musicians playing the tabla and harmonium and the dancers wearing typical Rajasthani folk costumes of colourful ghagra's (skirt) and cholis (blouse). They are embodied with glass and embroidery work, dancing to the beat of the music, will definitely liven up your evening!
VISITING HOURS: 09:30 to 17:30 hours
ESTIMATED TIME: 30 minutes – 1 hour
COST: INR 100 per person for foreign tourists, INR 50 for foreign children (5-12 years), INR 60 per person for Indian tourists, INR 30 for Indian children (5-12 year)
The Drahohar Dance Show Cost: INR 150 per person for foreign tourists, INR 75 for foreign children, INR 90 per person for Indian tourists, INR 45 for Indian children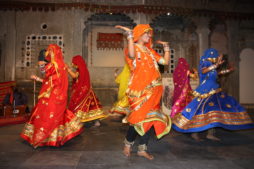 Dancers at the evening Drahohar Dance Show at Bagore ki Haveli (Photo Credit – Arian Zwegers)
day trip to Ranakpur Temple from Udaipur
Ranakpur is a small town located in the Pali district of Rajasthan. It is one of the five holiest sites of Jainism. Rajasthan is famous for its rich and prolific art treasures and home to some of the best architectural monuments in the world. The Ranakpur Jain Temple is one such beauty that you don't want to miss. It was built in the 14th and 15th centuries in the Arravali Ranges and arises from the hill in three levels, which are supported by no less than 1,444 carved marble pillars. All 1,444 pillars are unique and no two are alike. The temple is an eloquent testimony to India's cultural heritage, her unique architecture and the vision and acumen of her past master artists. Considering it is only a couple of hours away from Udaipur City, it is well worth a visit!
VISITING HOURS: 12:00 to 17:00 hours
ESTIMATED TIME: 2-3 hours
COST: Free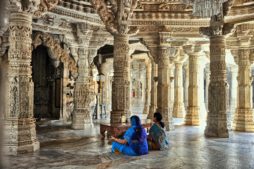 Devotees offering prayers at the Ranakpur Jain Temple.
A day trip to Chittorgarh Fort from Udaipur
Chittorgarh, the Garh (fort) at Chittor is one of the largest forts in India. Chittorgarh Fort was the capital of Mewar and is today situated in the Chittorgarh town. It sprawls over a hill above the plains of the valley drained by the Berach River. The fort is massive and covers a huge area that includes several historical palaces, gates, temples and two prominent commemoration towers. These monumental ruins have inspired the imagination of tourists and writers for centuries.
VISITING HOURS: 09:30 – 17:00 hours
ESTIMATED TIME: 4 – 6 hours to an entire day
COST: INR 100 per person for foreign tourists, INR 10 per person for Indian tourists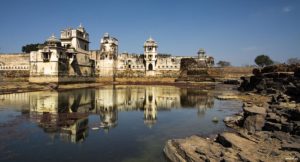 The Ranni Padmini Palace which is a part of the Chittorgarh Fort (Photo Credit – lensnmatter)
Moving Around in Udaipur
Conveniently, a lot of sightseeing spots can be visited by foot in the central part of the city. The narrow alleys can make it rather difficult, for a car/auto-rickshaw to easily pass through. However, to visit sites further away from the old city, one has minimal, yet reliable options available.
Auto Rickshaws
If you arrive in Udaipur via train, you can easily get an auto-rickshaw outside the railway station.
The fare is not calculated automatically by a metre, you must settle on a reasonable amount before the ride. It should cost you about INR 100-150 and take about 10-20 mins to reach your accommodation.
Similarly, you can easily hire an auto rickshaw INR 500-600 a day for sightseeing. Make sure you haggle the price beforehand, as drivers can overcharge foreign tourists and take you for a ride (in the literal sense too!)
Taxi
You can ask your accommodation to organize a car and driver service for sightseeing! You can also take day-trips to Kumbhalgarh Fort, Chittorgarh or Ranakpur Temples. This will cost you INR 3500 onwards for a small car.
Motorcycle/Scooter/Bicycle
Exploring the old city on a scooter or a motorcycle has become very popular. There are numerous shops renting out motorcycles and scooters for the cost of INR 500-800 a day.
This does not including fuel costs, and a deposit ranging between INR 200-500 depending on the vehicle and vendor. You will need to show your passport and driver's licence as proof of identification.
Unfortunately, bicycles are not as easily available but you may find a spare one in a renting store for about INR 100-200.
Also, Here is a blog of one of our guest sharing their royal experience in Udaipur.
We hope this list will help you explore this beautiful city of Udaipur to it's fullest. We'd recommend ending your stay in Udaipur because of its relaxed vibe If you would require assistance in planning your trip further, feel free to get in touch with our travel experts.
helping you travel your way
Everything you need to know about India is here We have tried writing about everything you may need help with for your trip to India, If you need help in planning a trip to India Get in touch with us to to plan your trip of a life time.