5 Train Routes in India
India has one of the largest rail networks in the world, meaning train routes are immensely interconnected, reaching thousands of destinations including remote villages. Further, travelling by train in India is extremely cheap. Costing a fraction of what you'd pay an airline and also falls in the responsible tourism manner of travel.
Indian train lines portray immense culture. They have an intriguing meal-order system. There are instant bonds that spring up with your co-passengers, by sharing meals and fun conversations. All this part of the great Indian rail adventure. Find out more about planning your train route in India through inspiration from our other posts.
Here we have put together five Indian itineraries that rely heavily on train routes to get you between destinations. We advise you to have train tickets booked in advance, please feel free to contact us for any help.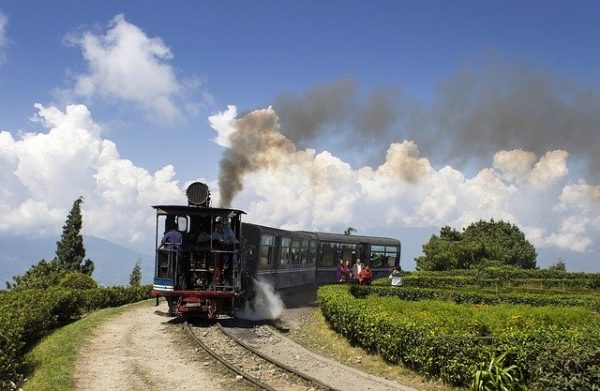 Scenic views by train travel (Photo Credit – donvikro)
1. Classic North India
Delhi – Varanasi – Agra – Jaipur – Jaisalmer – Jodhpur – Udaipur – Delhi (route on GoogleMaps)
Of all the train routes, this is perhaps best suited for first-time visitors looking to cover India's Golden Triangle. Start from Delhi, the teeming capital, and head out first toward the ancient spiritual town of Varanasi.
From here, you have all of Rajasthan's vast deserts ahead of you. So a little meditation now will do you good. Then, with a stop to see the Taj Mahal in Agra, meander through Rajasthan's most beautiful cities – Jaipur, Jaisalmer, Jodhpur and Udaipur. Each city is a backpacker's dream, and you should plan a few days in each so you can explore all their colourful alleyways.
The best part though is chugging past the desert landscape in your (preferably A/C) sleeper car, buying pyaaz ki kachori (an onion-stuffed fried snack). And tomato chaat from the vendors that pop up outside your window at stations.
You can also expect to meet and befriend a lot of fellow travellers along the route – all the better to swap stories over a game of cards on a long night on the train!
Trains: You have four overnight trains and two short day trains. You can also get from Jodhpur to Udaipur by bus.
For more details on things to do and see in Northern India, visit our blog post on the twenty best places to visit in North India. Generally, the best time to go to the North of India is between August and April.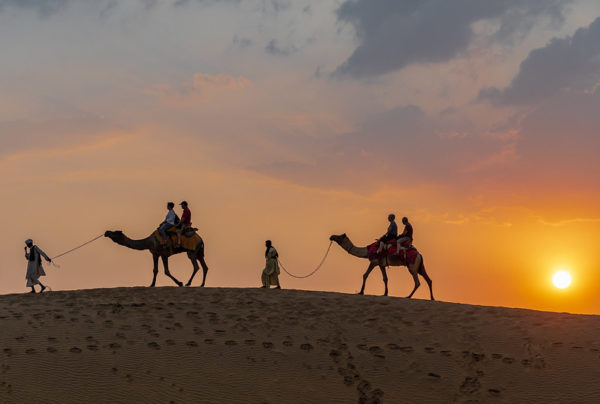 Sunset camel safari at the dunes (Photo Credit – Ninara)
2. along the coastline
Mumbai – Goa – Gokarna – Wayanad – Kozhikode (Calicut) – Kochi – Varkala (route on GoogleMaps)

We love this train route because it offers a slow exploration of India's beautiful western coastline. Your trains will pass over great, wide rivers and chug by palm-fringed fishing villages, with all the land to one side of you suddenly giving way to the endless ocean. You can also take pit stops at some of India's most famous beaches on your way. Catch your first train in Mumbai, a city with a facade of business and bustle that hides a sleepily beautiful history. Next stop – party central! Take your time in Goa, making sure to hit all the great parties, but also to understand the mysteries of its natural bounties. Take a breather a Gokarna, which is every bit as beautiful as Goa, but a lot less busy. Finally, make your way across Kerala, stopping wherever you feel like it – you really can't go wrong in God's own country! North Kerala is often ignored, but is a beautiful, non-touristy region of the state, with pristine beaches, hills, and forests. This route runs mainly along the Konkan line. This belt is one of the most beautiful in India – relaxed, tropical, hassle-free and safe. Trains: This route can be done with a mix of day and overnight trains. However, we recommend that you take as many day trains as possible, as the routes are very scenic. The best time to go is usually between October and April to enjoy the sunshine on the beach, although the monsoon months have their own charm, reaching peak greenness in September. For more information on exciting things to do in these locations, feel free to check out some more of our blogs relevant to your desired destination! Read on: Uncover the Best Season for Exploring India's Wonders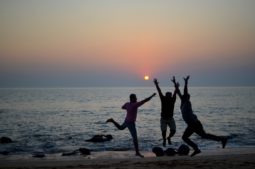 Travellers enjoying on the beaches of Goa
3. North to South
Delhi – Amritsar – Dharmshala – Agra – Udaipur – Mumbai – Goa – Kerala (route on GoogleMaps)
If you want to take in a cross-section of India on one trip, this train route is for you! You'll get to see it all, from Delhi, the stronghold of the North, all the way down to beautiful sun-kissed Kerala.
This will be one of your best opportunities to really compare the often starkly different cultures of the country, and besides, long-distance trains have a tendency to get people talking!
Watch the scenery unfold and change as you journey from the hills through the forests of the Western Ghats, passing some of the nation's most vibrant cities along the way. Delhi is only a teaser of the Punjabi culture that will grab you up in a hearty bear hug in Amritsar.
Stop here to pay your respects at the Golden Temple! Head up to Dharmshala for a bit of spiritual guidance with great views. Agra and Udaipur are home to some truly gorgeous architecture, and Mumbai has some of the greatest food to dig into!
Then you're southward bound, through the ever-charming beauty of Goa and into the sun-drenched backwaters of Kerala.
Give this route time – we recommend at least 3 to 4 weeks. Trust us; you're going to want to add more stops in between.
Trains: You should rely mainly on overnight trains, as some journeys may last up to 20 hours without a break. The best time to go on this trip would be between August and April, before the summer's heat sets in.
For more information on things to do on your trip down India, feel free to visit our blogs describing some of our favourite activities to do in the North of India, South India and where to go and when to come to South India.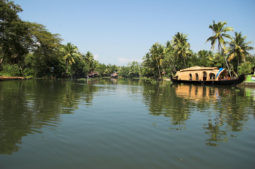 Backwaters of Kerala
4. Heading East
Delhi – Agra – Khajuraho – Varanasi – Darjeeling – Kolkata (route on GoogleMaps)
This train route meanders east, flirting with the mighty river Ganges along the way! Spend some time exploring Delhi and Agra before stepping back in time in the temple town of Khajuraho.
From here, take the delightful toy train up to Darjeeling for some quiet time in the tea capital of the world before moving on to Kolkata. Point of interest – Kolkata is rumoured to have some of the best railway-side fast food in the country!
That means steaming hot earthenware cups of chai, sticky, sugary sweets, overstuffed kathi rolls and spicy aloo chaat. Take full advantage of them!

Trains: This train route, again, is best done with a mix of overnight and day trains.
For the best weather, make this journey between August and April. For more information about this area, check out our blog: Travelling to North East India.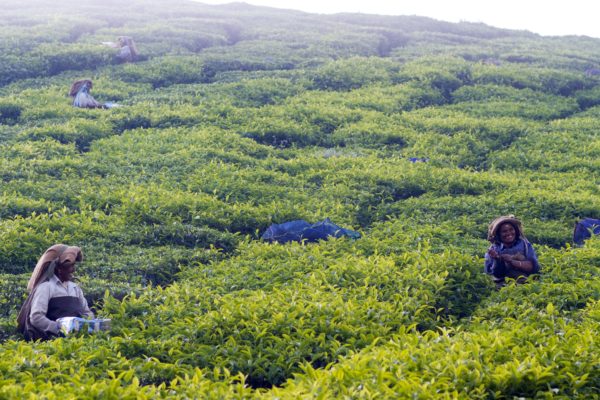 Women working in the tea plantations (Photo Credit – ian-wagg)
5. North India via short day TRAINS
Delhi – Amritsar – Rishikesh – Agra – Jaipur – Jodhpur – Udaipur (route on GoogleMaps)
Don't worry if you're not a fan for the overnight long hauls. There's still a way to sneak in some of the train routes in small doses. Each journey varies from 4 to 7 hours, so it's a great chance to get some nap-time, too!
Most of the cities on this route are in the Punjab-Rajasthan belt, except for Rishikesh. Rishikesh is a deeply spiritual city perched on the banks of the river Ganges, nestled in the foothills of the Himalayas in Uttarakhand. It's a good place to visit as it is a mix of spirituality, adventure etc.
For this trip, it is best to travel between August and April, once the worst of the monsoon is over. For more information about exciting things to do in North India, check out our blog: Top 20 things to do in North India.
All of these routes are merely templates, but feel free to contact us for any help in paving your perfect travelling experience across India.
helping you travel your way
Everything you need to know about India is here We have tried writing about everything you may need help with for your trip to India, If you need help in planning a trip to India Get in touch with us to to plan your trip of a life time.