THINGS TO DO IN RISHIKESH 
Want a break from your monotonous stressful city life? Rishikesh is the place for you. This destination, located in northern India surrounded by the Himalayan ranges will help you de-stress and also embrace your spiritual side, as the famous river Ganga flows through this city. Rishikesh because of its mountainous terrain and the riversides has many adventurous sports to offer which will keep you at the edge of your seat throughout your stay.
If you want to make sure you experience the city the right way, here are a few ideas of the things that you can do in Rishikesh.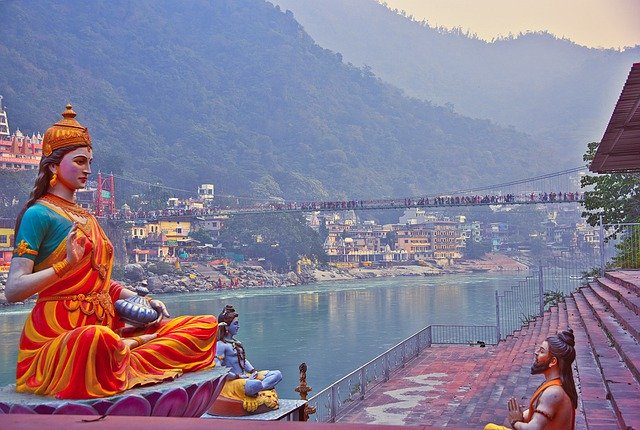 View of Rishikesh
Ditch The Gym And Enjoy Yoga in Rishikesh
Well, to the city that's called the 'Yoga Capital Of The World', it goes without saying that when in Rishikesh, yoga is a must. Even if you are not a yoga enthusiast, make sure you either take a one day yoga class or do a proper course here! If you are an expert then you can even go by the banks of the river and meditate on the rocks. It will be the most peaceful thing to do. If you are looking for classes, at every street on the walls you will find details of yoga classes taking place all around the city. A few good places to try this are at Anand Prakash Ashram, Sivananda Ashram, Yoga Niketan Ashram.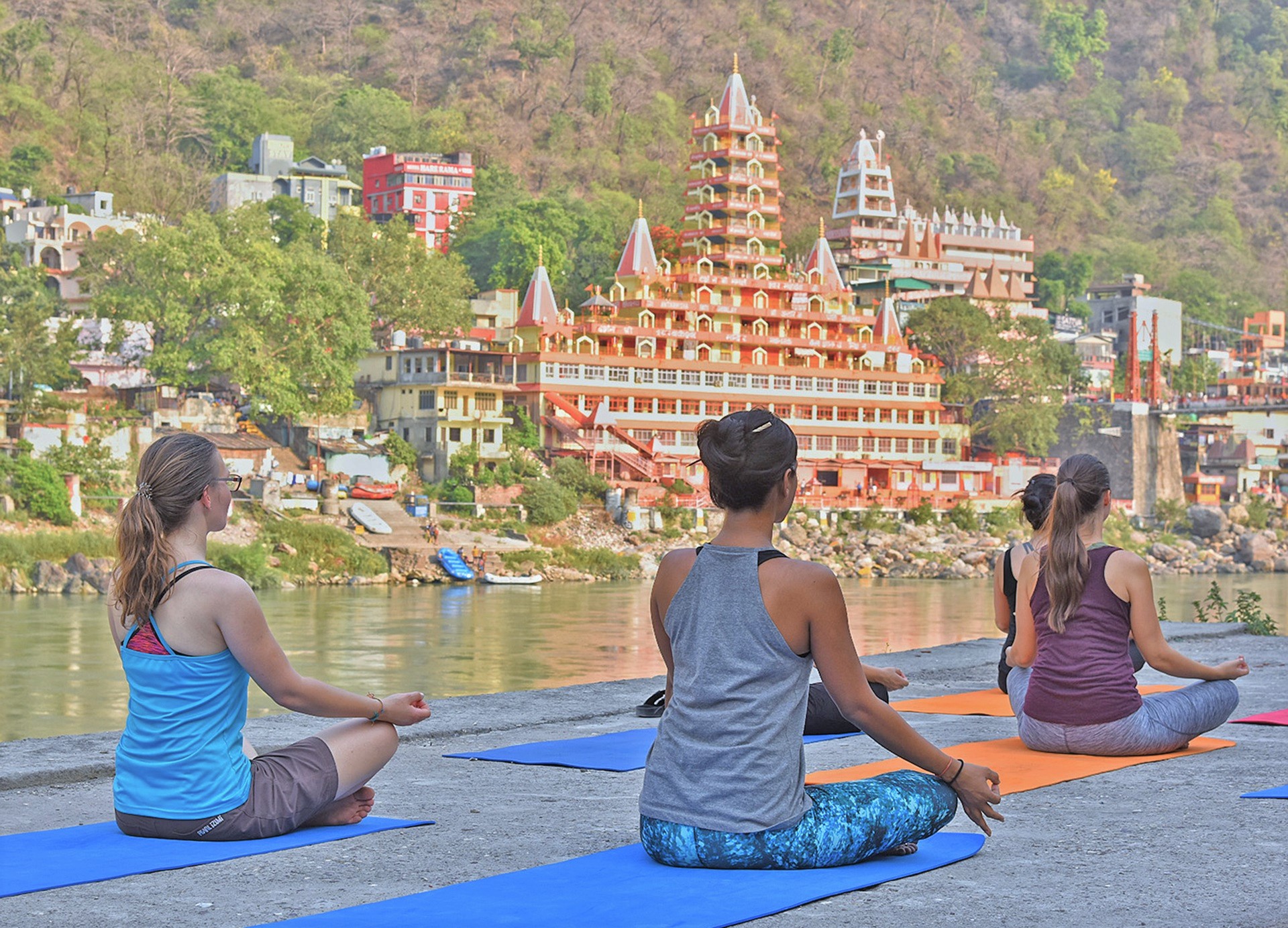 Practicing Yoga and Meditation, by the Holy Ganga River, in Rishikesh. – (Photo Credit: AYMYogaSchool _Pixabay)
Say Namaste To The Ganga First
One of the things that makes Rishikesh so special, is that divine Ganga that flows in this city first and then goes on to the rest of the states in India. The best way to feel one with this city is to partake in the Ganga Aarti (a prayer ritual) that is organized by Parmath Niketan. You would have to cross the Ram Jhula (bridge) to get to this place. The timings of the aarti would vary depending on which season you will be visiting Rishikesh. Hence, it's best to cross check with your hotel/hostel before getting there.
During this ritual you will see the priest praying and worshiping the Ganga, chatting players and the rest of the crowd as well join them by capping some even dancing to the tunes of the holy song. It is an experience you would not want to miss. You even get a chance to use the pooja thali (the holy plate) that the priest uses to pray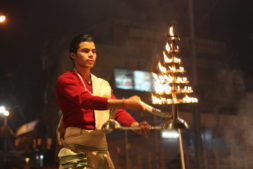 Priest conducting the aarti (Photo Credit – Arian Zwegers)
The Beatles Ashram in rishikesh
One of the reasons why Rishikesh got so famous internationally is because of the popular british band 'The Beatles' who visited Rishikesh in the 1960's. They had met Maharaj Mahesh Yogi in London, who had invited them to visit his Ashram in Rishikesh. And so they did! The ashram is now abandoned, it's a small hike up but it's worth it. The views from up, the graffiti on the walls there and the stone meditation caves too is very interesting. There is a cafe and museum as well inside. You have to pay a fee of INR 600 for forgein nationals who wish to visit the ashram. All you Beatles lovers can listen to some of their songs while walking around. I am sure it will give you chills!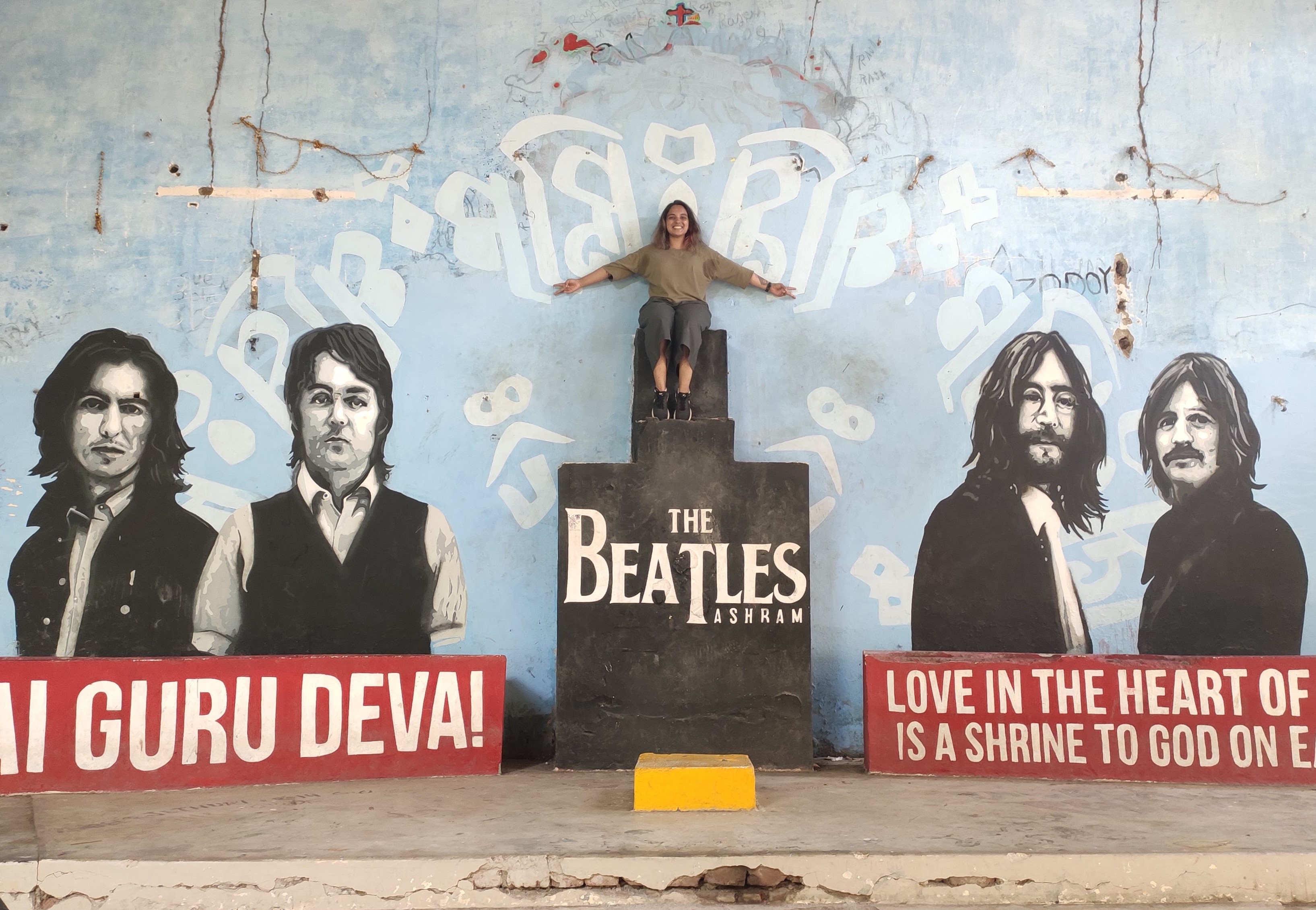 A homage to the legendary Beatles band, this ashram is where the band practiced meditation and composed some of their best songs.
Discipline Yourself At An Ashram in Rishikesh
Want to live a simple life for a while? Living in an Ashram is the way to do it! An ashram is a place where you can go for spiritual or religious retreats away from society. There are plenty of Ashramas stays in Rishikesh, however, the top recommendations would be – Yoga Niketan and Parmarth Niketan. They have fixed schedules of meditation and other courses during the day, it is not a compulsion to follow all of these, it is up to you. However, through this stay, you get to live the life of minimalist needs and it's great self-reflection. The accommodations are simple, clean, and basic. Do note you would have to dress appropriately, avoid sleeveless shirts, shorts or dresses.
There are quite a few rules to follow but it's a great way to learn to discipline yourself and fully immerse yourself in reflection and meditation.
Maintain discipline at an ashram, – (Photo Credits: Rick-McCharles)
Looking For Adventure, Say No More!
If you are that type of a person who cannot get enough of the pumping adrenaline while engaging in outdoor activities, Rishikesh is your go to place. There is so much to do from rock climbing, to mountain biking to white river rafting. Name it and Rishikesh has it! Rishikesh is known for its White River Rafting in all of India, the best time to do this is in the Summers and Monsoons because the streams are stronger at that time. You can enjoy Rock climbing at the Shivalik Hills, topography of this mountain makes it perfect for climbing, however you have to be mentally strong to conquer this task.
You can ask your hostel/hotel to have this arranged for you. So the next time you wish to plan an only adventure trip with your friends or alone, you know which destination has to be on your list.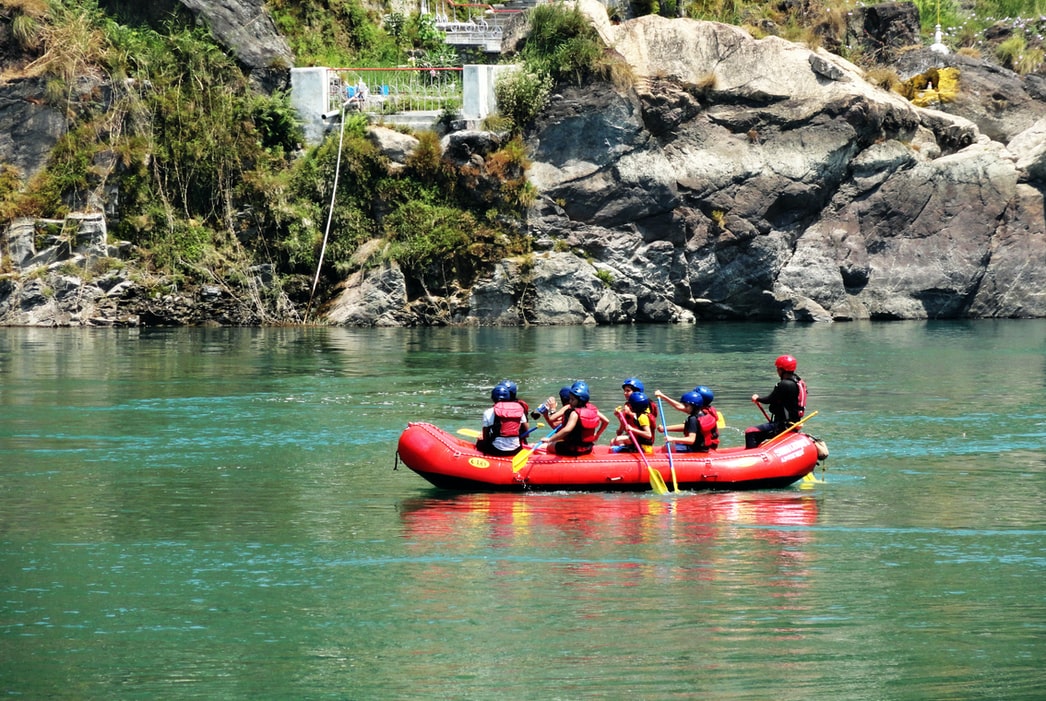 A haven for adventure enthusiasts, white water rafting in Rishikesh. – (Photo Credits: Narinder-Pal_Unsplash)
Day Trip To Devprayag – A Divine Confluence
About 2.5 hours away from Rishikesh, is where you get to witness the birth of the famous Ganga River. The sight is just breathtaking and will give you chills especially if you have a deep spiritual connection with the Ganga. The two rivers Alaknanda and Bhagirathi, meet and you can actually see the two different colours of each river meeting and then forming the Ganga. There are a few flights of stairs that you need to climb to reach the point to watch this meet, hence, do be careful at that point as certain steps can get a bit steep.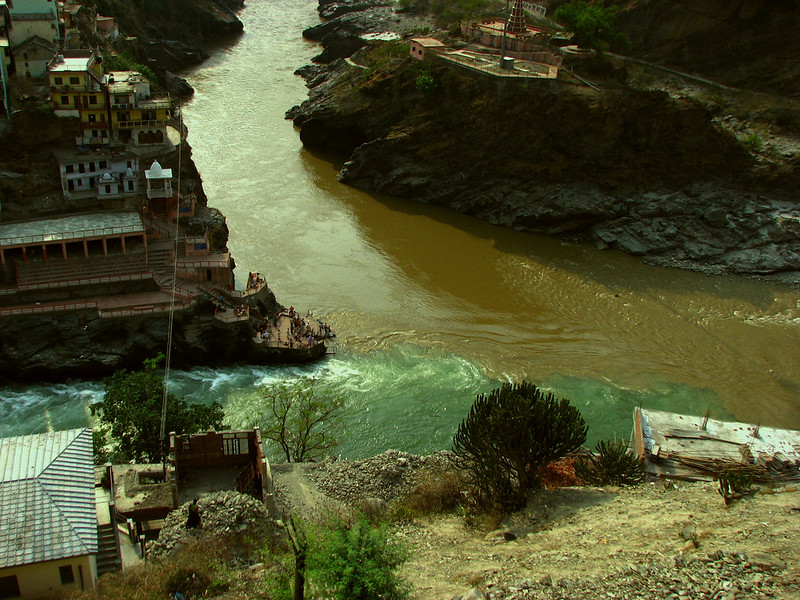 Ganga originates after the confluence of Bhagirathi & Alaknanda at Devprayag. – (Photo Credis:t Abhishek)
Jhilmil Caves Trek
This is not any ordinary trekking experience, while one treks through the Jhilmil caves, you not only enjoy the thrill of trekking itself but also get a experience these enchanting caves, furthermore there will also be Sadhus here who perform religious and spiritual activities, which is very interesting to watch. There are a set of 3 temples here and one of the trekking trails will take you through a National Park – Rajajj. Just make sure to trek here before it gets dark as there are a few wild animals around this area.
This trek is about an hour or so away from the main town of Rishikesh. And you might as well see a lot of pilgrims who come here for spiritual purposes. Make sure to visit Mouni Baba cave, as the Sadhu here has been living here since his childhood and is always happy to interact with the people.
Read on: Experience India's Unique Offerings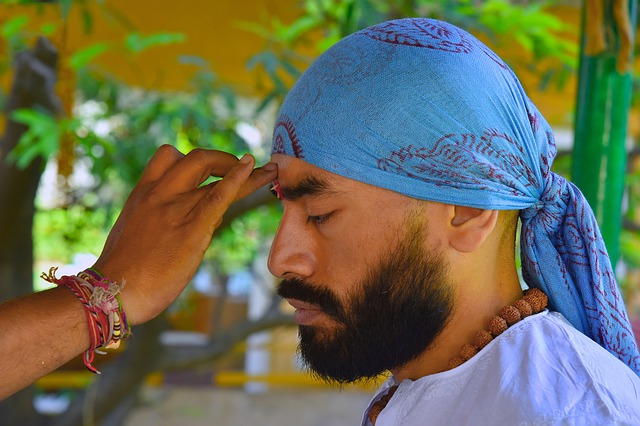 People come here for spiritual purposes
Cafe Hopping
If you want to start eating healthy, Rishikesh is just the place for you! Reason being they only offer vegetarian meals! However, do not get disappointed, the cafes here offer some really interesting veg dishes and have some of the best views. Here are a few of the ones that is must visit –
Little Buddha – Located near Lakshman Jhula, the views and food make it the perfect place to dine. There are vegan and gluten free options too! The Hummus and Pizzas would be the two favorites here.
Beatles Cafe -Overlooking the Ganga, this cafe is dedicated to the Beatles, the music, ambiance and views is simply the best. The food here will take a while to get prepared, however, it will be worth it. The must-eats would be the Veg Burgers.
Cafe Karma – The only good Karma you will get back is tasty food! They have a lovely range of drinks and food. The masala chai and hazelnut coffee are the favorites. If you have a sweeth Tooth try the Banana Chocolate cake.
Whilst you are cafe hopping, you get a chance to cross the two famous Jhulas (bridges) Ram Jhula and Lakshman Jhula. Get those Instagram-worthy pictures here, however, be careful of the monkeys here. Besides taking your food and anything that's in your hand, they also make for experts in Photobombing!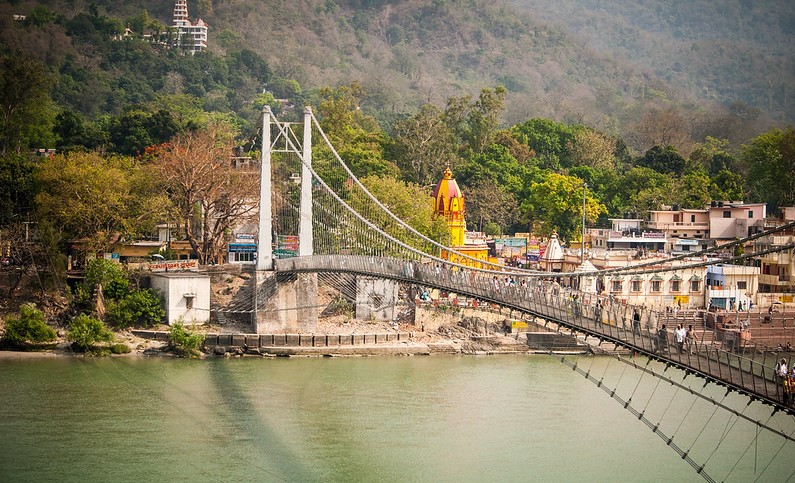 Ram Jhula (Credit_Rishabh Mathur)
Take a Dip at Neer Garh Waterfalls
Looking to enjoy a nice cup of chai with the voice of gushing water in the background coupled with a pleasing view? Take a trip to the Neer Garh Waterfalls. It is about 5 to 7 kms away from Lakshman Jhula. There are some nice cafes close to the waterfall which you can enjoy. To get a more up-close view of the majestic falls, you would have to trek for a while. It is nothing too strenuous. You can even take a dip in the waterfall. It can get a bit crowded, however, this should not stop you from visiting this fall.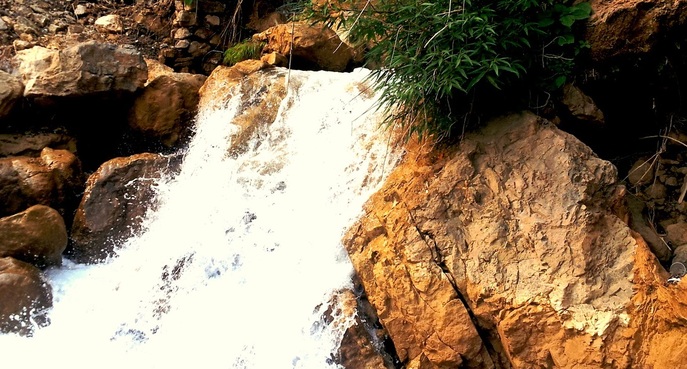 Neer Garh Waterfalls (Photo Credit_Kunal Gaurav)
An Afternoon On The Beach!
Yes, you've heard that right, you can enjoy a peaceful afternoon on this beach, called the Goa Beach. However, if you have been to Goa, do not expect the tides to be such as the Goan ones, as it is called that because of the sand there that looks like the beaches of Goa.
You can take a dip in the Ganga, Meditate on the rocks or simply just get a nice tan. However, this beach tends to get a bit crowded during the summer months. But is it still relaxing and one even feels much closer to the sacred Ganga, as some tourists even offer prayers here. Spend the afternoon here after that delicious meal. The serenity and quietness here is something else!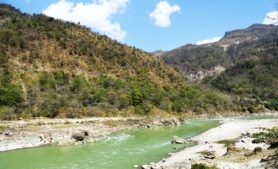 Find your peace by relaxing near the divine Ganga.
book a massage session in Rishikesh
After white water rafting, bungee jumping, and trekking it's now time to relax your body. So do yourself a favor and enjoy a massage session in Rishikesh. The relaxing views of this town will anyway get you eased up but a massage session will be a cherry on the top. The ayurvedic massage and herbal oils used will relax your muscles and leave you refreshed and rejuvenated.
There are multiple places where you can get this from – Prana Spa and Salon, Yoga Niketan Ashram, Tattva Ayurveda & Massage Centre.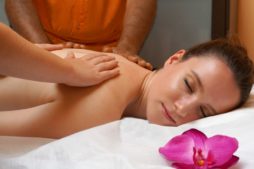 Ayurvedic spa massage (Photo Credit – Gundula Vogel)
Make sure you cross off all these things to do once you are in Rishikesh. Travelers usually spend around 4 – 5 nights here, however, those who are deeply interested in yoga and spirituality would spend more time here. I am sure you will leave Rishikesh promising yourself that you will be back again. If you want some more trips and help to get around in Rishikesh along with what to do next, Click Here and get in touch with our team of experts who can help you.
helping you travel your way
Everything you need to know about India is here We have tried writing about everything you may need help with for your trip to India, If you need help in planning a trip to India Get in touch with us to to plan your trip of a life time.