Things to do in Delhi
'Tombs of emperors stand beside traffic Junctions, forgotten fortresses command suburbs, the titles of lost dynasties are woven into vernacular, if only as street names' – Jan Morris
As soon as you set foot in Delhi, you will feel like you are in for an adventurous roller coaster ride. The bustling city can be quite overwhelming, but the capital city of India has a lot to offer. Once you navigate the initial aggressiveness of the city, you come to appreciate its beauty.
Delhi is much older than Mumbai, it is a great place to start and end your trip, as it has many historical monuments and a number of museums, markets, and great food! Just observing people go on with their daily life, indulging in the mouth-watering food, set in the perfect blend of the modern city and ancient Mughal architecture, makes it the perfect place to experience the best of both worlds.
To help you explore this beautiful city to its fullest we have compiled a list of thing to do in Delhi during your stay! But before we go ahead with the list we have a few things we would like for you to keep in mind while in this city.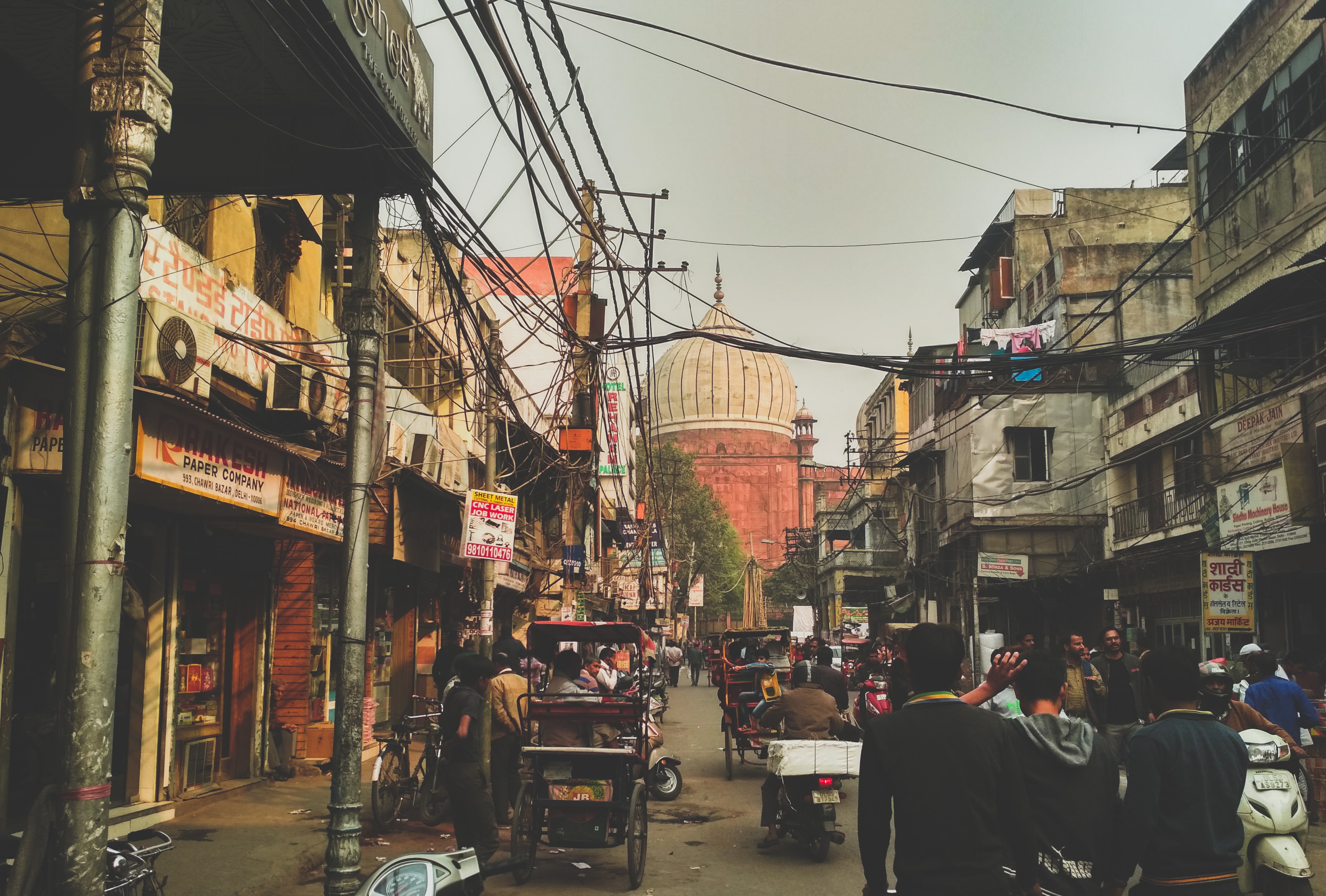 Chandi Chowk street in old Delhi
Safety and other precautions in Delhi
Delhi is a safe place to visit, nonetheless, there are a few things you should be aware of when travelling to the city. Avoid dark and narrow streets in the night, especially as a woman. In general, as a woman travelling alone, you should avoid travelling alone at night in the city and using public transport late in the evening.
Unfortunately, there are some scams in Delhi you should be aware of too. The most common one seems to be the ones at railway stations in India where tourists are misguided that their train is cancelled, and they should take a taxi to their destination.
Tourists are often approached by imposters who tend to wear a black jacket to pass off as a railway official. Please note that trains are cancelled only in extremely rare circumstances and we will always directly inform you in those cases, as well as arrange for an alternate means of transport.
In case you take a taxi from the airport, taxi drivers may try to tell you that the hotel/ hostel is closed or the roads to the hotel/ hostel are closed and you cannot even walk up to the property. This is not true. The reason for this scam is to take travellers to expensive hotels from where the taxi drivers can earn extra money on commissions.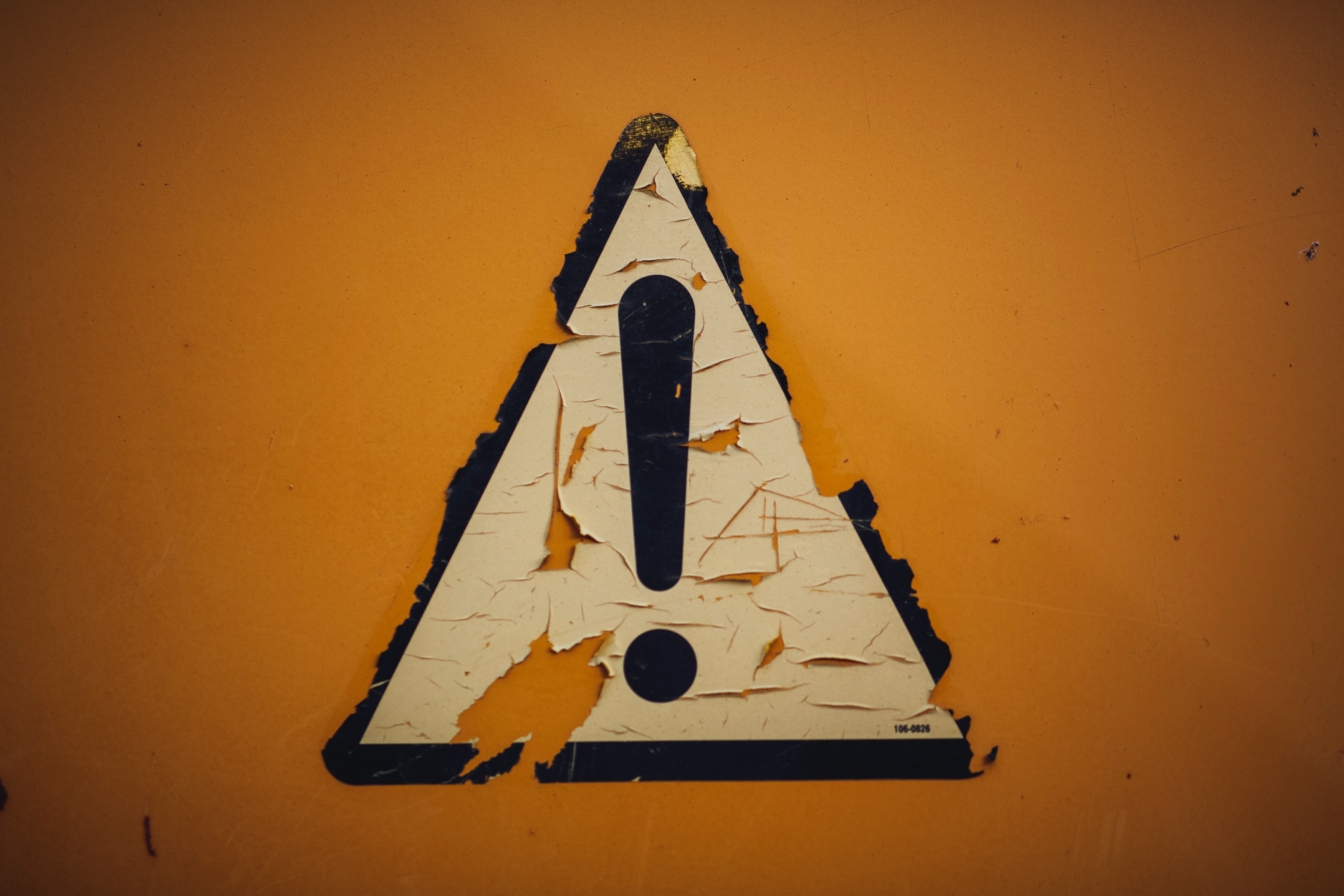 Caution sign
Here is a list of top things to do in Delhi
Gurudwara Sis Ganj Sahib Ji
The Sikh temple is just opposite the Chandi Chowk metro station and was built to commemorate the martyrdom of the ninth Sikh Guru who was beheaded on the orders of the Mughal emperor. Just listening to the prayers, observing the people and immersing in the spiritual atmosphere, amidst the chaos is truly an experience.
While you are here, do visit the community kitchen, the volunteers from the Sikh community serve free meals to everyone regardless of race, caste, and religion. If you get the opportunity to volunteer in the kitchen or see it, don't hesitate to do so. It's one of the best things you could have experienced.
As it is a sacred place, please avoid wearing shorts and short dresses. While entering you will be asked to wash your feet and cover your head, so we suggest carrying a scarf.
VISITING HOURS: 00:00 to 23:30 hours
ESTIMATED TIME: 20-30 mins
COST: Free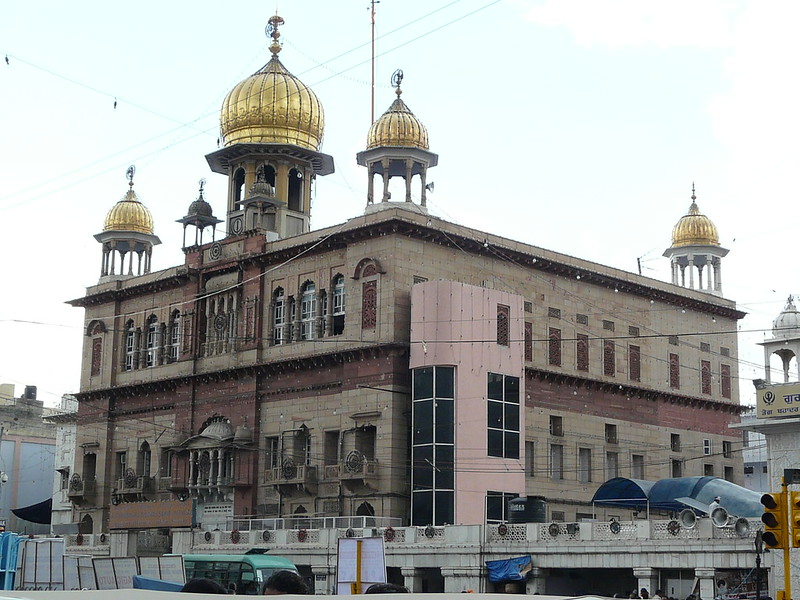 Gurudwara Sis Ganj Sahib Ji in Chandni chowk (Photo Credit – Varun Shiv Kapur)
Red Fort
This majestic red structure was once the residence of the powerful emperors that ruled India and is popularly known as Lal Kila which means Red Fort. The Fort consists of beautiful pavilions and gardens that were inspirations for many other similar ones across the country.
The Hindu, Islamic and Persian architectural influence and intricate carvings are worth marveling from the minute you set your foot inside the fort. The monument is one of the most popular places and is home to several museums!
After you are done exploring the Red Fort, do go for the famous evening light and sound show.
VISITING HOURS: 09.30 to 16:30 hours (closed on Mondays)
ESTIMATED TIME: 2-3 hours
COST: INR 500 per person for foreign tourists, INR 35 per person for Indian tourists, INR 25.for a video camera.
Red fort, also known as Lal Kila, Delhi
Humayun's Tomb
The tomb of the Mughal emperor is a great prelude to the Taj Mahal, made from red sandstone with intricate work of white marble. Located in the Nizamuddin area of Delhi, it is within close proximity to a few quaint mosques just a little ahead of the car park.
Peacocks roam the tomb garden regularly and if you catch its monsoon dance, it greatly adds to the beauty of the tomb.
VISITING HOURS: 06:00 to 18:00 hours
ESTIMATED TIME: 1-2 hours
COST: INR 500 per person for foreign tourists, INR 30 per person for Indian tourists, INR 25 for video cameras.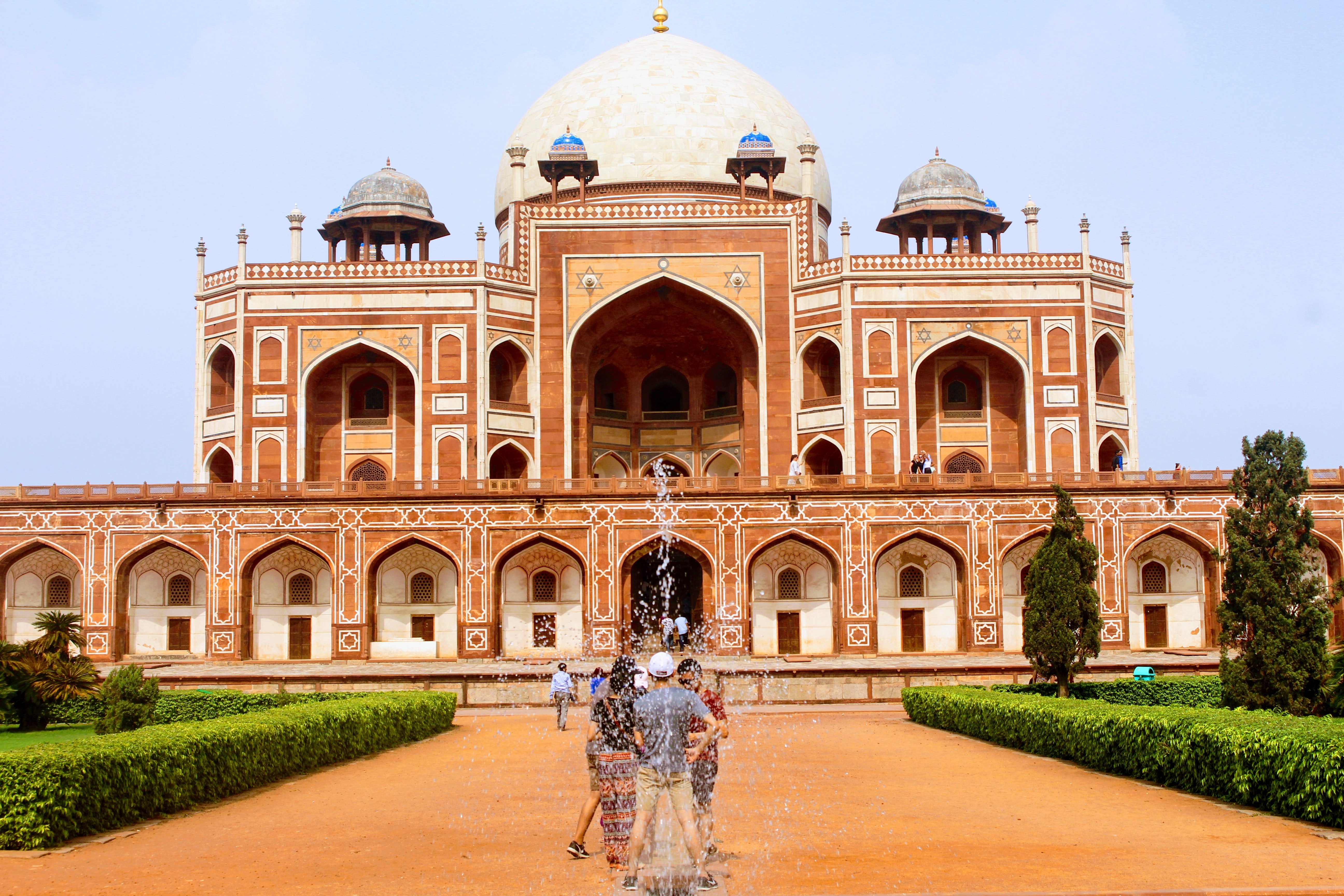 Humayun's Tomb in Delhi
Parliament House
Being the centre of Indian politics and the Judicial System, Delhi has the honour of having India's Parliament and secretary offices. It is home to the President and the Prime Minister of India, housed alongside other offices in the complex called Rashtrapati Bhavan. The Parliament is one of the most majestic architectural structures that stands as a witness to India's past, present, and future.
If you wish to enter the Parliament house and explore it, you will have to pre-book your ticket online. If the parliament is in session, it is not open for normal visitors but you can marvel at the structure from outside.
VISITING HOURS:10:00 to 22:00 hours
ESTIMATED TIME:1-2 hours
COST: INR 250 per person for foreign tourists, INR 50 per person for Indian tourists.
Safdarjung Tomb
Delhi has so many sights that it is difficult to accommodate everything. But if you still have a little time left, visit the grave of the Mughal ruler Safdarjung.
It was built in 1754 and reflects the architecture of the Mughal empire. Since this mausoleum is mainly made of marble and sandstone, it has a red shine. Make sure that smart monkeys don't steal your bags or snacks!
VISITING HOURS: 07:00 to 17:00 hours.
ESTIMATED TIME: 1-2 hours
COST: INR 200 per person for foreign tourists, INR 15 per person for Indian tourists, INR 25 per person for video cameras.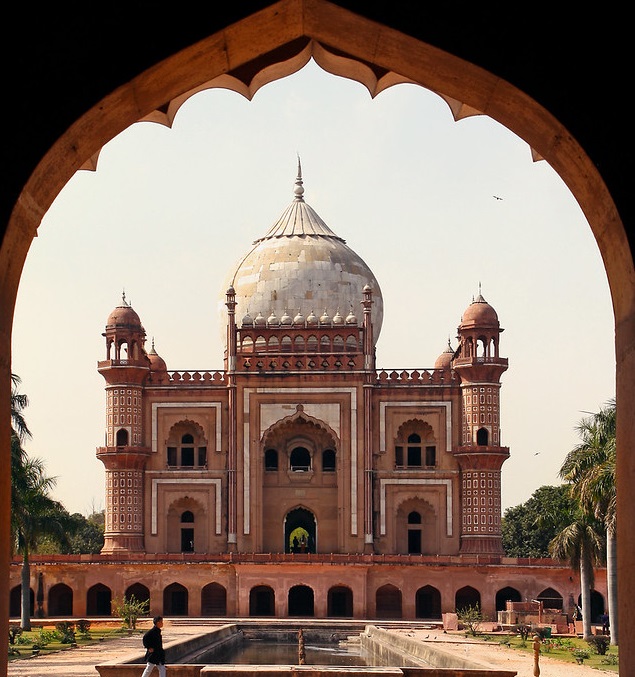 The Stunning Safdarjung Tomb in Delhi (Photo Credit – Dimitry B)
Jama Masjid
Constructed in the 16th, Jama Masjid is the largest mosque in India. Built with red sandstone and white marble, Jama Masjid is adorned with majestic minarets, domes, courtyards, and more that are inspired by Mughal architecture.
The architectural beauty and its vibe will captivate you and is truly an experience that you won't forget. Since this is a sacred place, please remember to dress appropriately for visits (covering head, legs, and shoulders).
VISITING HOURS: 07:00 to 12:00 hours, 13:30 to 18:30 hours
ESTIMATED TIME: 1-2 hours
COST: Entry is free, INR 300 for photography.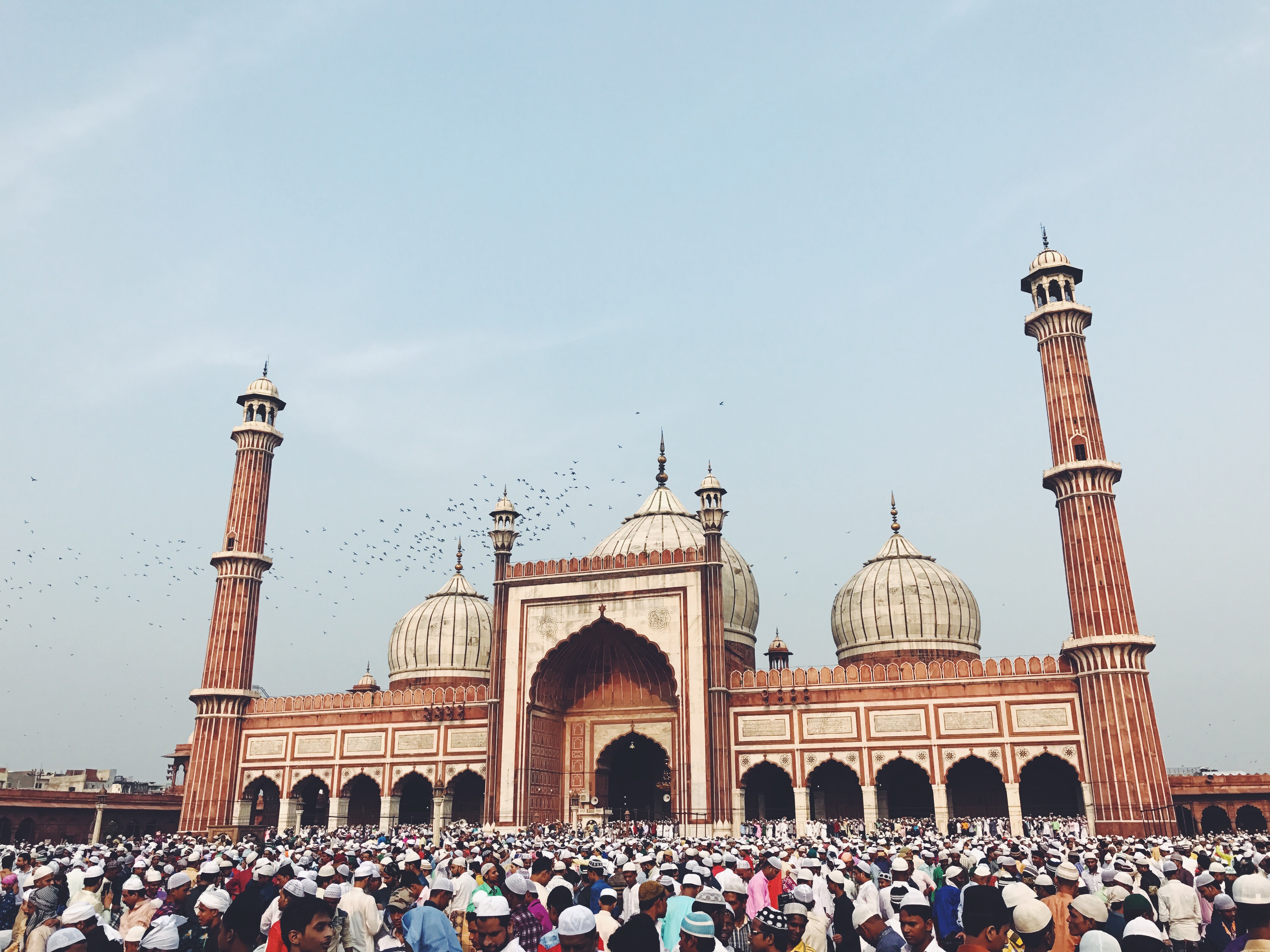 People praying in Jama Masjid
Activities to do in Delhi
A Street Food Tour
Old Delhi is a paradise for foodies, here you get all the culinary highlights of northern India in a very small space. On this tour, you will sample local dishes like chole bhature (chickpeas), Dahi Bhalla, aloo chat, as well as parathas (Stuffed roti), lassi (yoghurt drink) and the very sweet but finger-licking good jalebis (pretzel soaked in sugar syrup), and other Indian desserts.
You'll also experience the hustle and bustle of the neighbourhood but ride comfortably with a rickshaw from one place to another. You will also visit the Sikh Temple Gurdwara Sis Ganj Sahib and attend the traditional Langar where hundreds of people receive a free hot meal every day. An exciting evening tour that will show you new sides of Delhi!
VISITING HOURS: Afternoon: 13:00 to 17:00 hours, Evening: 17:00 to 21:00 hours
ESTIMATED TIME: 4 hours
COST: INR 2,000 per person.
Bicycle Tour
Experience the mega-metropolis Delhi in the early mornings, when the inhabitants slowly wake up and the colourful hustle and bustle begin. On the four-hour tour, which starts at 6 am, you will visit the most significant sights such as the Jama Masjid, city wall, the Sikh Temple, and many ancient Havelois experiences. In between, you will also visit a bakery and the famous spice market. In the end, a delicious local breakfast is also included.
VISITING HOURS: 06:00 to 10:00 hours
ESTIMATED TIME: 4 hours
COST: INR 1650 per person.
Sit back and relax at Lodhi Garden
This big garden in New Delhi is over 90 acres and is a peaceful location to take a break from the hassle of Delhi. This is a place where the business elite come for their evening walks and runs, where the common man comes to find a shade for an afternoon nap, and a place where the birds of Delhi flock in the evenings and early mornings. The Garden also has a few dilapidated Moghul architecture based structures.
VISITING HOURS: April to September: 05:00 to 20:00 hours, October to March: 06:00 to 20:00 hours
ESTIMATED TIME: 2-3 hours
COST: No entry fee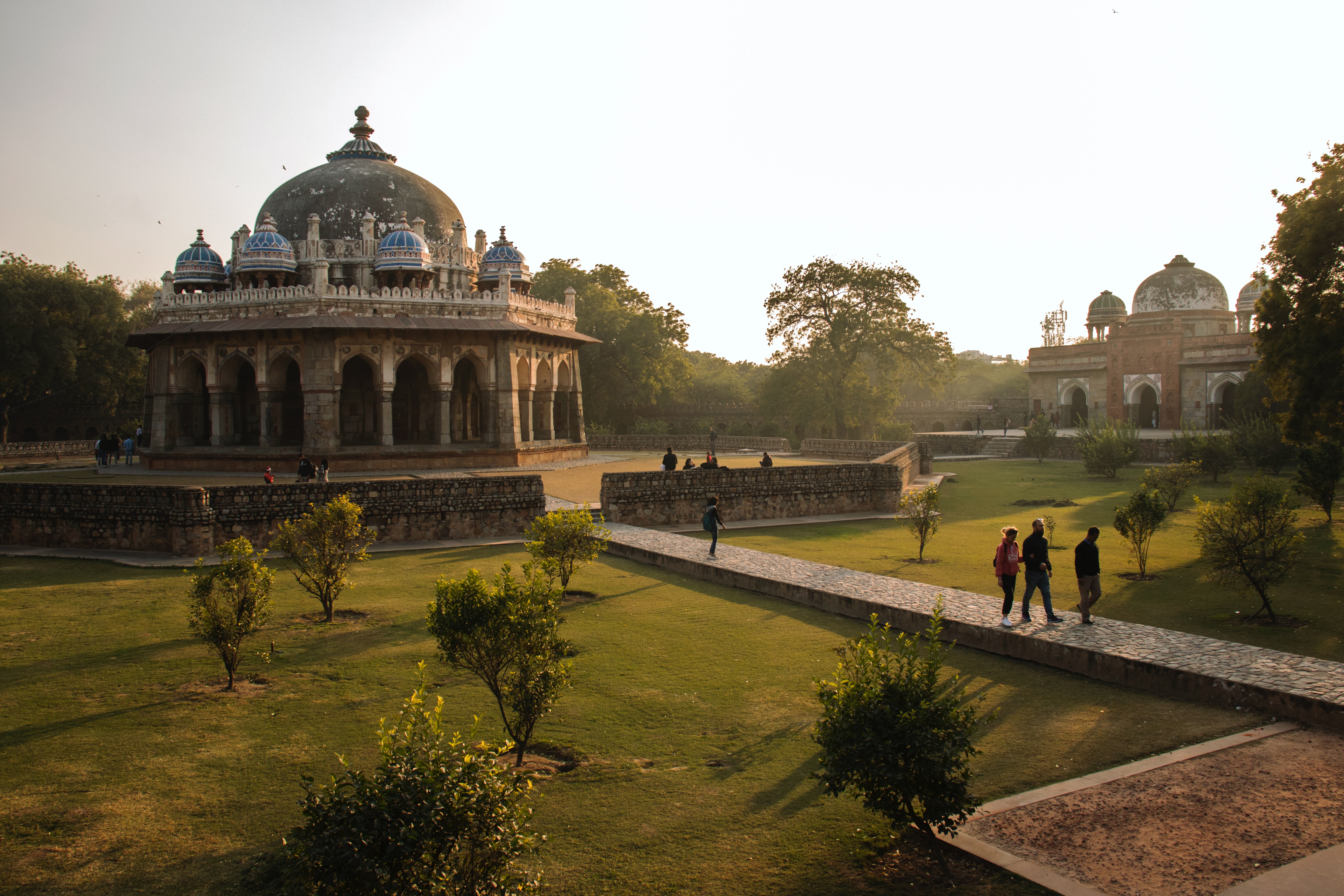 Sikandar Lodhis Tomb in Lodhi Gardens
Places to at Shop during your stay in Delhi
Janpath Market
Janpath is one of Delhi's popular markets that attracts locals and tourists throughout. The market consists of a Tibetian Market, Gujrati Market and a Flea Bazar! From imitation Jewellery to handicraft one will find everything they are looking for. It's the perfect place to buy souvenirs.
WHAT TO BUY: Anything
TIMINGS: 11:00 to 20:00 hours (closed on Sunday)
ADDRESS: Janpath Rd, Janpath, Connaught Place, New Delhi, Delhi 11000.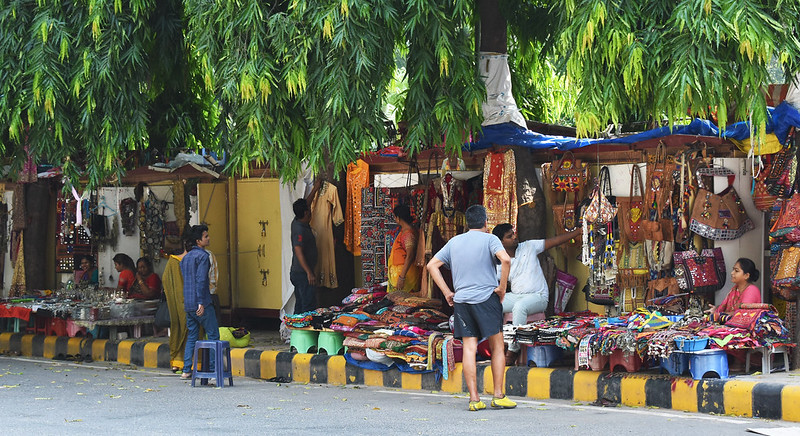 Janpath Street Market in Delhi (Photo Credit – Mike Fleming)
Connaught Place
Connaught is Delhi's largest commercial market and is home to some of the most popular international brands and showrooms. It's one of the most famous places in Delhi and is very popular among the people, not just for its shops and eateries but also for the multiple monuments that are around it.
Be it gemstones, Indian books, handcraft things, electronic products, various lodgings, eateries, bistro, and cinema halls, Connaught Place will be your go-to-market to start your shopping spree in India.
WHAT TO BUY: Anything
TIMINGS: 10:00 to 20:30 hours (closed on Sunday)
ADDRESS: Connaught Place, New Delhi, Delhi, 110001, India
Delhi Haat
Delhi Haat is Delhi's most famous market, this is the place to see the authentic buzzing Delhi and buying your souvenirs. Here you find various handicrafts and art from across India, such as colourful textiles, charming jewellery, and exquisite woodwork.
Of course, you will also find many food stalls here, where you can sample dishes across Indian Cuisine. A must-eat here are the momos and kebabs. Other than the wares for sale, they also organize musical events and shows in the evenings.
WHAT TO BUY: Anything
TIMINGS: 10:00 to 22:00 hours
ADDRESS: Kidwai Nagar West, Kidwai Nagar, New Delhi, Delhi 110023.
Moving Around in Delhi
Being the capital, New Delhi has a fair number of reliable options to get you around the city.
Auto Rickshaw
Auto rickshaws (tuk-tuks) in Delhi in theory work on meters, however, most of them will refuse to go by meter and ask for a fixed, often much higher price.
We recommend always trying to get a 'fair price estimate' from your hotel or homestay for different rides before setting out.. Using auto-rickshaws (tuk-tuks) is an economical and convenient mode to move around in the crazy traffic.
Cycle Rickshaw
Looking for the best efficient and eco-friendly way to experience the city? We recommend the cycle rickshaws, these tuk-tuks are a very unique experience and it's a great way to explore the small lanes of the Old City.
However, always make sure to haggle for the price and do not settle for the first amount told to you. The satisfaction of a good bargain is priceless!
Delhi Metro
Delhi's Metro will surprise you, even if you have a great metro service back home. One of the world's widest and newest metro systems. Most places in New Delhi can be reached by Metro.
It is one of the quickest ways to get around the city and you skip the crazy traffic. The fare typically ranges from INR 20-60, depending on the length of the ride
Uber & Ola
While Delhi does have the famous Kali Peli (black and yellow) taxis we recommend using Ola and Ubers instead to avoid scams and travel in comfort!
If you planning a trip to India and are overwhelmed with which city to visit next, we suggest you read our blog on two weeks travel routes in North India however if you are overwhelmed and would like assistance in planning a hassle-free memorable trip please do get in touch with us and we would be happy to plan a trip based on your needs.
Explore More: Get to Know India's Fascinating Activities
helping you travel your way
Everything you need to know about India is here We have tried writing about everything you may need help with for your trip to India, If you need help in planning a trip to India Get in touch with us to to plan your trip of a life time.