The Golden Temple – Among the Most Positive Places in the World
Thinking of visiting the Golden Temple? One of our bloggers went to Amritsar and was overwhelmed by the positivity displayed at the Golden Temple. Read here to learn about the facts of the Golden Temple to help you plan your journey to Punjab.
'Skip the Taj Mahal,' I tell them, 'and head straight to the Golden Temple of Amritsar!' They look utterly baffled as I share my honest response to their request for itinerary advice. Yes, I do think the Taj Mahal makes for the quintessential 'I just went to India' photo. The remarkable history-rich mausoleum and mosque set up a striking backdrop. Don't get me wrong, it can indeed be quite fun to meet busloads of tourists from around the globe displaying an impressive array of selfie sticks.
But with only a few weeks to see the colours, chaos and flavours of India, I implore you to visit the Golden Temple. This is the holiest Gurdwara (place of worship) of Sikhism and one of the most positive places in the world. A white marble oasis where the tranquil sound of continuous chanting and tabla beats is paired with the golden glow of a magnificent temple floating in a mirror of still waters. Where the vibrancy, positive energy, devotion and communal spirit of the colourfully dressed crowds embody and proclaim great spirituality.
It is alive unlike anything I've ever seen or felt; the energy is almost tangible. An all-volunteer-run communal dining hall serving 60-80,000 people on an average weekday is not to be missed.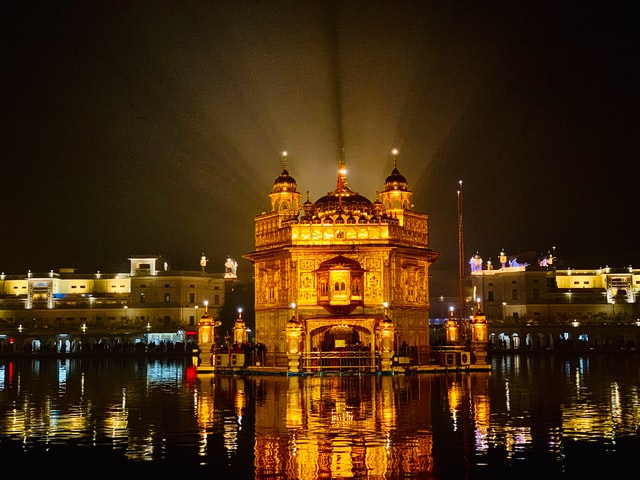 Golden Temple lit up at night (Photo Credit – Salil)
Arrival
When I first approached my train to Amritsar I sensed I was up for a new type of adventure on my you wander we pay trip. All of a sudden countless men with daggers and swords were travelling in the same direction as me. Little did I know then that this was kirpan (an iron dagger or full length curved sword). It is one of the '5 Kakar' ritually worn items by Sikhs. I needn't fear a violence ridden train ride.
From the moment I arrived and gave in my shoes, I was overwhelmed and overstimulated. While not an uncommon experience for me in India, this instantly felt extraordinary. I was overtaken by beaming smiles and vibrant colours as the loud buzz of Amritsar's hectic streets quickly faded behind. Peaceful sounds of chanting, flutes and string instruments whirred in the background.
As I dipped my toe in the entrance's waterway (all feet must be cleansed before entering), I was approached by a tall man dressed in his Chola, Sikh warrior attire. My eyes were drawn to his sword and distinctively curled moustache. I finally understood he was concerned I had put my shoes inside my small backpack, an absolute no-no for this sacred site.
I descended the white marble steps into the Harmandir Sahib complex and felt a complete and utter separation from the chaotic, consumerist world just footsteps away. The sun shining its brilliant light on the white marble, golden panels and radiant kurtas and kurtis (Indian garments) of the thousands of beautiful people. People circling clockwise around a pool of holy waters as the pulse of the parade pulling me in immediately.
I meandered across the grounds, straying from the carpets to feel the refreshing chill of marble on my feet, partaking in a steady exchange of smiles with the pilgrims leisurely encircling the concourse. While many tourists are uncomfortable being the target of constant staring in India, I delighted in the gazing game at the Golden Temple. I locked eyes and smiled with incredibly positive people eager to engage and share their upbeat energy. I say fear not and join in as engaging can truly enrich your experience!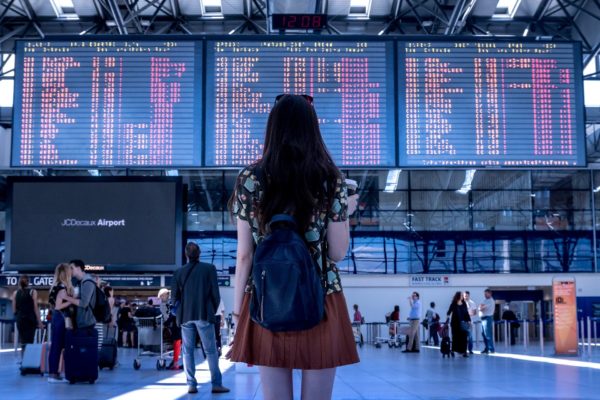 Time to book your flights to India (Photo Credit – Jan Vašek)
The Golden Temple
Next was time to wait in the (always) long line to enter the gilded temple itself. While some might dread what feels like a long wait, I relished in the opportunity to examine incredible clothing and jewellery. Folks, in great palpable spirit, excitedly asked me questions and wished to pose together for pictures.
From early in the morning until late in the evening, troves of colourfully dressed people magically add to the serenity of the Golden Temple. Women and men from all walks of life and religions are welcomed to worship equally, the temple's four entrances representing this openness. Check it out at all different times and shades of light. I've even spent the night!
Soothing hymns and gentle musical echoes across the sparkling lake. Pilgrims gracefully remove their Sikh attire to ritually immerse themselves in the pool of nectar, almost always emerging with an impressive holy afterglow.
One of the sounds I love most is the clanking of metal cups near the courtyard's corners, where contented volunteers use water and sand to ensure an unending supply of clean stainless steel drinking bowls for visitors to stay hydrated. It was amazing how quickly the time passed when on one of my visits.
I seated myself on an empty stool, joining in the sand-washing routine with the rows of colourfully adorned women, with whom I shared a language of smiles and head wobbling. I wasn't yet at my current Hindi level, able to chat and sing a song or two!
The opulence and sheer brilliance of the two-floored temple's ornate and intricately carved interior, golden-leafed canopy, exquisite flowers, reverberating music and enthralling (giant) Holy Book ceremonies stand out most in many visitors' memories (no photography allowed inside).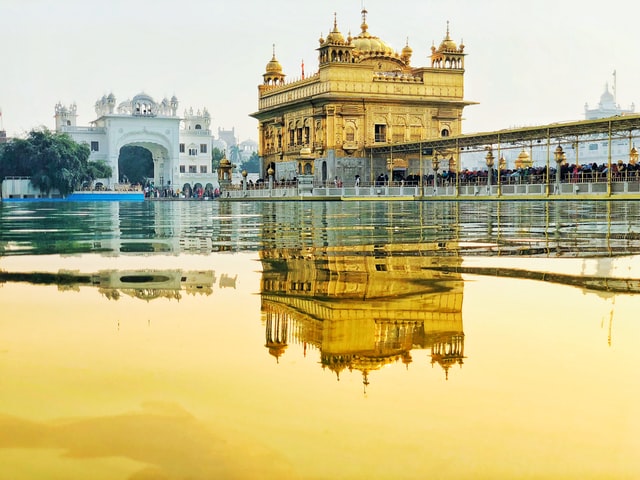 Golden Temple at it's best (Photo Credit – Ravi N Jha)
The Langar
I found the incredible langar, communal dining hall, to be its crowning glory. I am thoroughly mesmerized by the unforgettable devotion which could be felt in the air of the astounding temple. Its colours and sounds are nearly hypnotizing. But when I stepped inside the volunteer-run all-vegetarian communal dining hall, I felt spiritually moved. It serves 60-80,000 people a day.
Like a kid in a candy store, I gazed all around, soaking it all in. The sounds of clanking stainless steel dishes, the flow of beautiful people, the smell of freshly stewed dhal (lentils) and the incomparable, powerful positive energy. A sea of colourfully clothed humans ambled up a flight of stairs, rounding the corner slowly enough to catch a peek at the action down below.
Then we entered an enormous hall. This is where, like dominoes, we seated in countless long rows, back to back and face to face with the adjacent lines of happy hungry beautiful souls. Volunteers came around with giant pots and ladled us each healthy portions of dhal, stewed vegetables and a thick rice pudding called kheer. Into our open hands, yet another volunteer dropped fresh roti and another rolled a metal cart of water from which we could fill our while still seated.
A similarly beautiful and delicious meal can be found at any Sikh temple. The simple idea is that everyone, regardless of social status or religion, can sit on the ground together and partake in the same meal at the same time. What a delightful flavour of equality, especially in a country laden with hierarchies and disparity.
The Golden Temple langar is open 24 hours and the food is delicious. No one is dismissed and almost everyone gets their hands dirty helping out.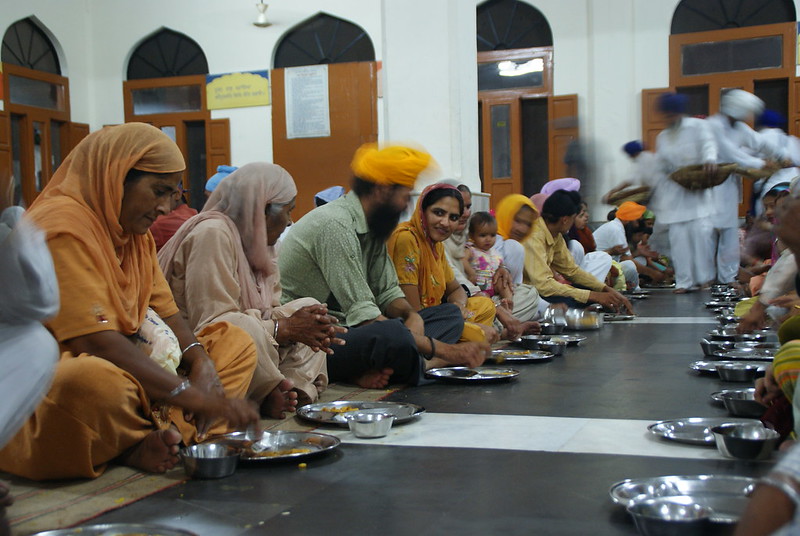 There's never a no for food to visitors here (Photo Credit – Clara Giraud)
Volunteering
Clank. Bang. Clink. Smash. Clank. I don't quite know what words could do justice to the clatter and ruckus to be heard upon exiting the large hall. It then makes its way down an assembly line of volunteers. I stared in awe at the action, distracted only by the throng of volunteers lined up at rows of sinks, washing dishes, women and men in separate areas. On my second visit, I jumped into volunteering, locking eyes and giant smiles with the radiant Indian women.
Fascinated by this amazing operation that happens daily, I can feel devotion in the air. My eyes were teary from the masses of onions being chopped by yet another beautiful team of volunteers. A Sikh gentleman, Mr. Singh, joined and informed me about fascinating Golden Temple facts. 'It takes tens of millions of dollars to run the langar'.
I'm told by Mr. Singh. He explained that many people chant 'Wahe Guru' while volunteering, which means "wonderful teacher" in Punjabi. It refers to the creator of all, God. Anonymous donors and scores of volunteers happily give their time and money here as part of their religious practice. They express some of Sikhism's most important ethics, Singh explained, 'sharing, community, inclusiveness and oneness of all humans.'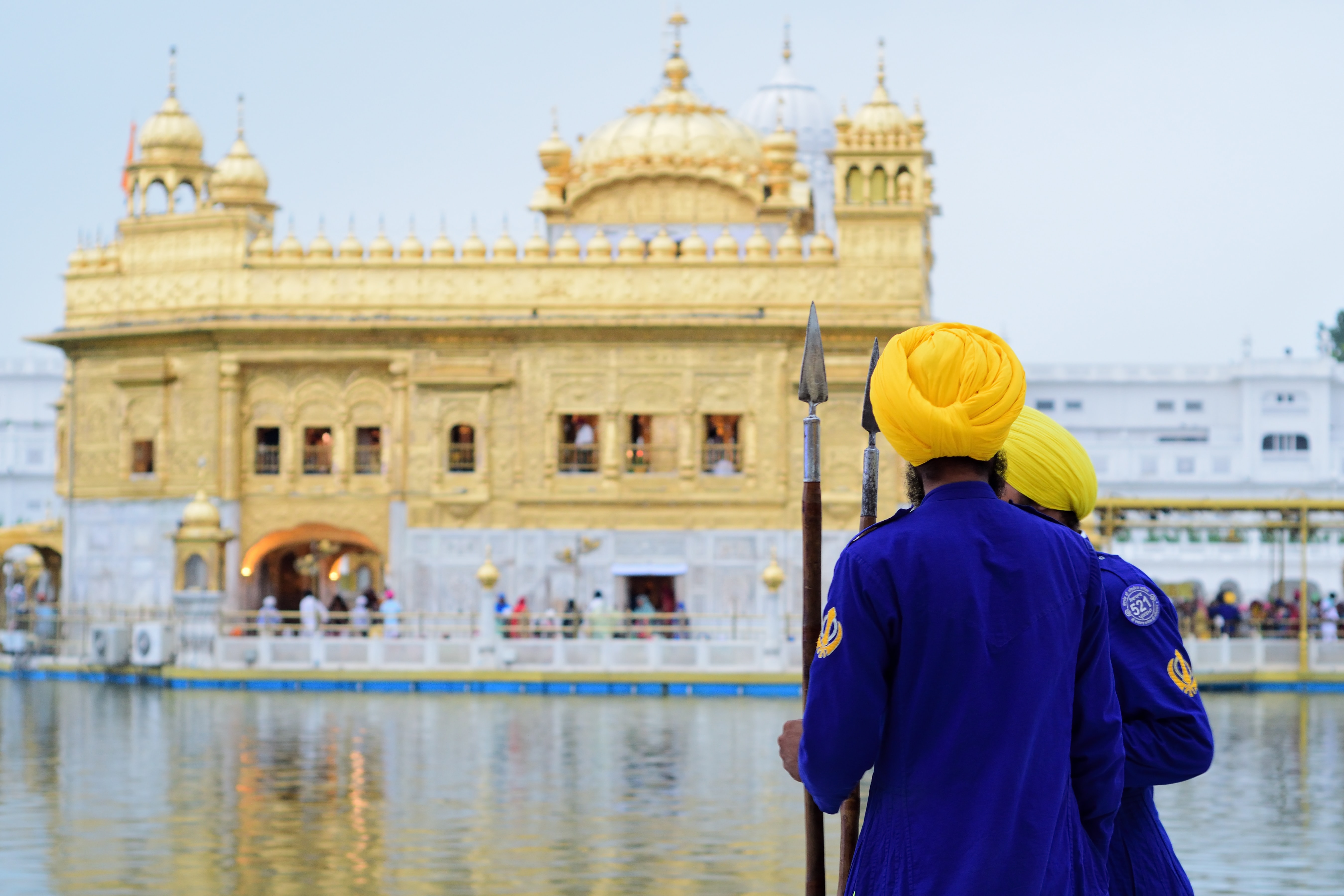 Khalsa – Ever volunteering and protectors of Sikhism
Pool of Nectar
I returned from this communal heaven to the blissful courtyard where I continued to circle the 'pool of nectar'. I take time to people watch and rest my feet in various spots along the way. Always trying to replicate the seating positions of my Sikh counterparts so as not to point my feet at anything holy. During each visit, I am nevertheless approached by decked out men with swords, asking me to change my position. The encounter seems somewhat mystifying yet magical.
That first afternoon, I eventually pulled myself away from the incredible marble and gold oasis to attend the famed Indian/Pakistan border crossing ceremony. I also tasted the legendary parantha thali of the century old vegetarian dive, Kesar Da Dhaba. Both are pretty awesome experiences which I highly recommend for your Amritsar visit, a dream city for serious foodies.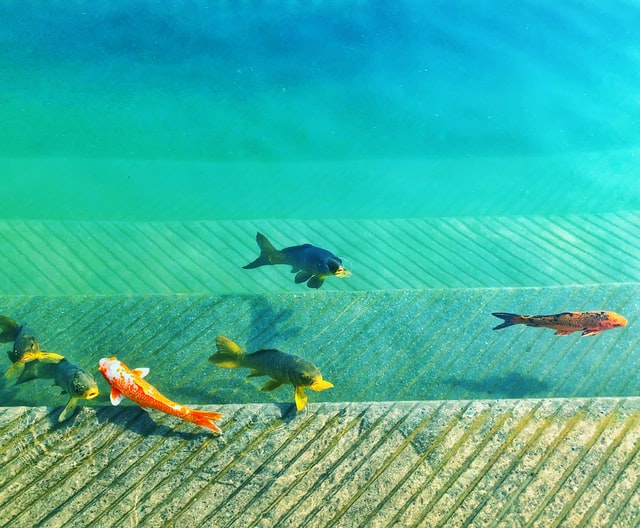 Clearwater with beautiful fishes
The incredible positive energy
Little did I know then that I would have been so wooed by the Temple that I would plan multiple visits. Two of these were more than 10 hours and one was overnight. At night volunteers remove every ceiling fan and clean each blade. The glowing smiles on their faces were captivating.
The transitions of light, slowing of the crowds, rolling up of carpets, continuous chanting, rituals for reading the holy book and endless display of volunteer work mesmerize me each time.
I linger at the temple as if I can store up the incredible, palpable and positive energy with me. If I could somehow transmit it to those who regularly come to my mind. People I have been moved by like the crime victims/survivors and colleagues I've worked with, family members, friends and others.
The Golden Temple is a delicious medicine for the soul. It is a humbling, magical and truly inspiring experience. I often think of Singh's words about sharing, community, inclusiveness and oneness of all humans. This helps me understand the power of these ingredients for creating the indescribable positive energy I experienced there. An all-natural, renewable energy our world could use a lot more of!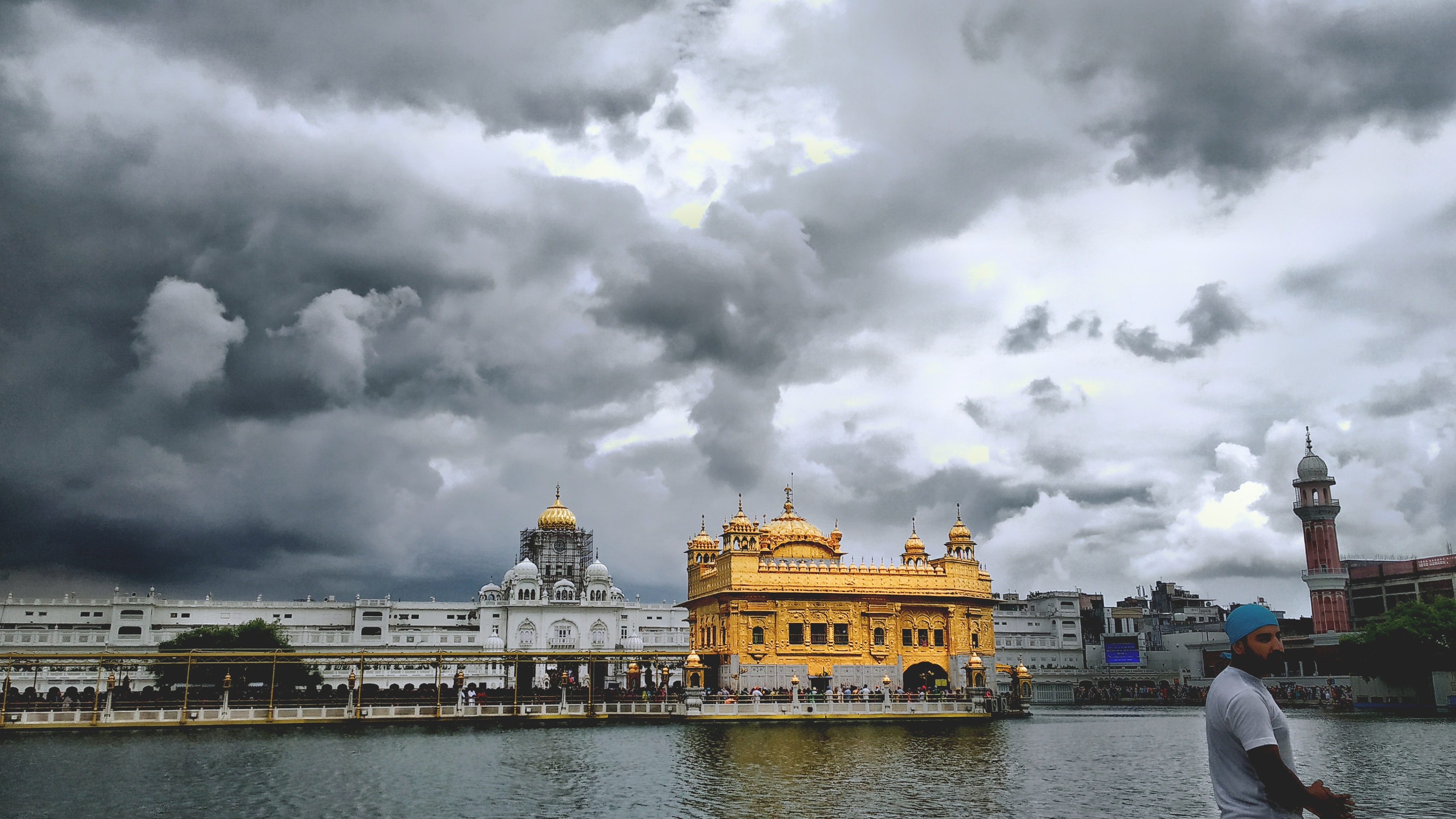 Golden Temple (Photo Credit – Chirag Jain)
helping you travel your way
Everything you need to know about India is here We have tried writing about everything you may need help with for your trip to India, If you need help in planning a trip to India Get in touch with us to to plan your trip of a life time.