Things to do in Agra
'Agra, a city famous for love, petha and which makes India more famous in the whole world' – Mitali Shukla
Agra is often on the list of travelers from across the world who are visiting India! And it should be, as you have one of the most enchanting and enthralling monument located here – 'The Taj Mahal'. This one monument is enough encouragement for you to take a trip to Agra. This city is best defined by its historical treasures, it carries within itself not only a comprehensive history but the entire culture of the Mughal dynasty in India.
Other tourist spots like the Agra Fort and Fatehpur Sikri do hold their own place in history and culture, but the crown jewel of Agra is the magnificent Taj Mahal. Here is a list.
Here's our list of the top things to do, while you are in Agra!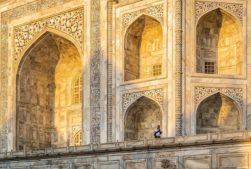 Sunset view of the Taj.
Taj Mahal
The expectations are high for the Taj Mahal, and it always delivers without fail. Described as a 'teardrop on the cheek of eternity' by Rabindranath Tagore. The Taj Mahal truly is a beautiful structure, awe-inspiring and unforgettable.
We highly recommend making the effort of waking up early and exploring Taj Mahal at the break of dawn. The reason being, there's less of a crowd and it is at its most atmospheric.
The opening and closing hours are adjusted on a daily basis, according to the time of sunrise and sunset of that day. Depending on the time of the year, the Taj normally opens anytime between 5:45 am and 6:30 am.
You can ask your hotel for the current timings, and try to reach the ticket counter at least 20 mins before the opening time. The ticket window is 800 meters from the Taj Mahal entrance. A golf cart takes you there for free from the ticket counter right up to the gate.
*If foggy conditions prevail in Agra (common in January) then the visibility within the Taj Mahal complex is low. You might want to visit later during the day. Some travelers have told us they waited in the complex till the fog cleared and it was the most surreal experience when the Taj Mahal magically appeared.
Eatables/Tripods/ Lighters/ Cigarettes are not allowed inside the Taj Mahal. Frisking is heavy, just do not carry these objects as you will find no place to keep them.
Note – Taj Mahal is closed on Fridays and is open on Friday afternoons only for those who need to attend prayers at the mosque inside the Taj Mahal. You can even view the Taj Mahal at night between 8:30 p.m. and 12:30 a.m, two days before and after each full moon.
Nighttime tickets will grant you half an hour's admittance. They should be purchased one day in advance from the Archaeological Survey of India Office on Mall Road.
VISITING HOURS: Sunrise or evening (varies day by day)
ESTIMATED HOURS: 2 – 3 hours
COST: INR 1100 for foreigners, INR 50 for Indians (note- Indians need to show proof of nationality Voters Card/ copy of passport), INR 750 for Nighttime tickets for foreigners, INR 510 for Nighttime tickets for Indians.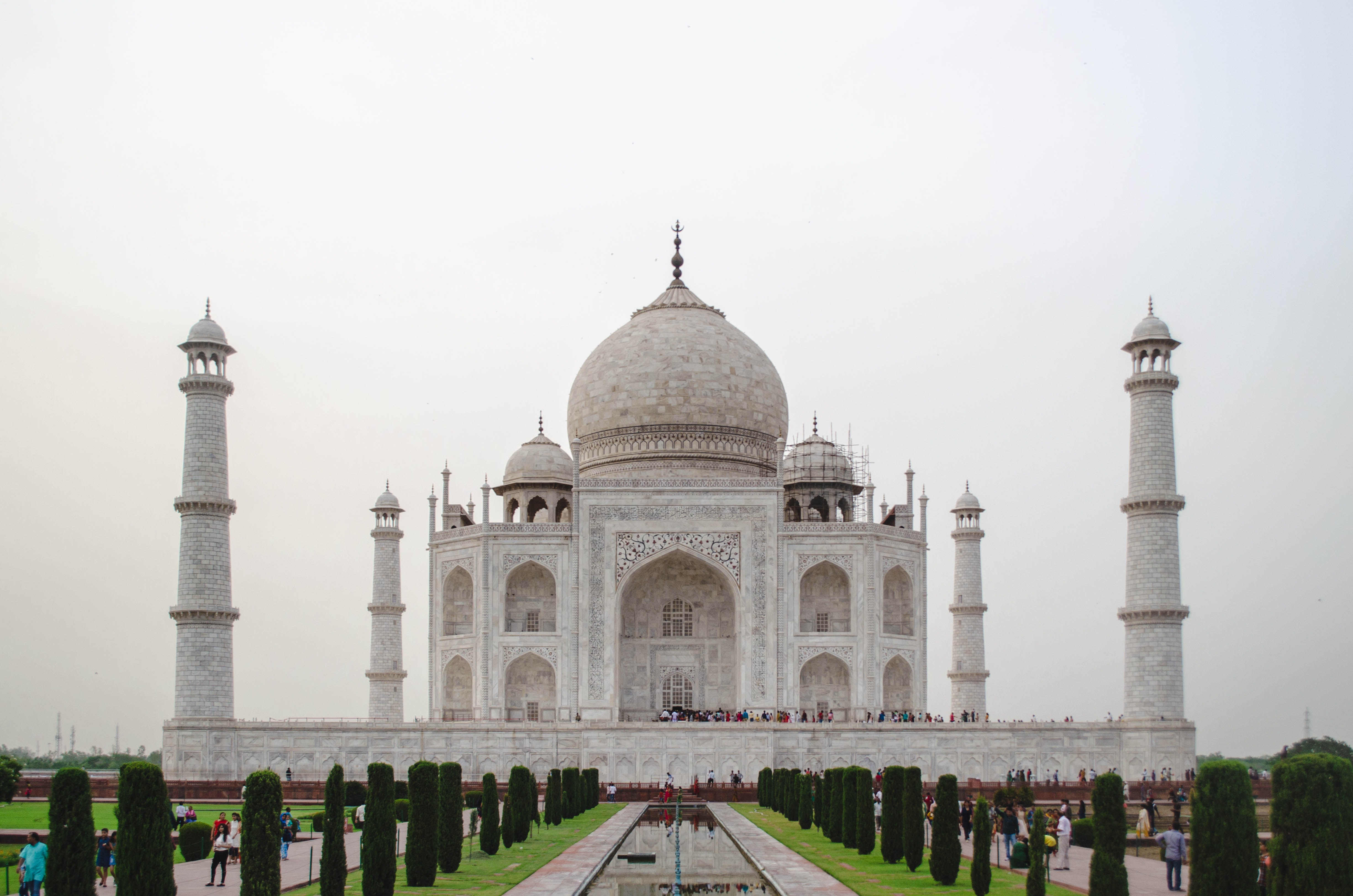 The majestic Taj Mahal
view the taj from Mehtab Bagh
Built before the Taj Mahal, this beautiful Mughal garden is located directly across the Taj. You won't have to battle crowds to get a view of the monument. You can even get a close-up view of the Taj Mahal by walking towards the river bank.
During sunset, you can see the sun rays fall behind the monument, gilding the gorgeous Taj and lending a magnificence to your view.
VISITING HOURS: Sunrise or evening (varies day by day)
ESTIMATED HOURS: 1 – 2 hours
COST: INR 300 for foreigners, INR 25 for Indians, Free for children below 15 years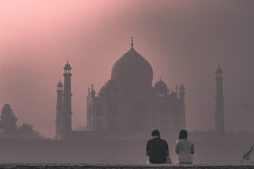 Travelers enjoying the view of Taj Mahal from Mehtab Bagh
Agra Fort
Unless you're in a real hurry, do not skip the Agra Fort. It is very pretty, beautifully intricate at certain parts, and offers great distant views of the Taj Mahal.
Parts of the fort are made of marble, and the sound and light show that that happens at the Agra Fort 30 minutes after sunset only serves to enhance its beauty. The first show is in Hindi and the second is in English, about an hour after the first show.
VISITING HOURS: 06:00 to 18:00 hours
ESTIMATED HOURS: 1 – 2 hours
COST: INR 650 per person for foreign tourist, INR 50 per person for Indian tourist, INR 30 per person for Indian students with ID proof
*If you show your Taj Mahal ticket at Agra Fort, a tax amount of INR 50 (in your INR 650 ticket) gets exempted. So, you pay INR 600 as a foreigner.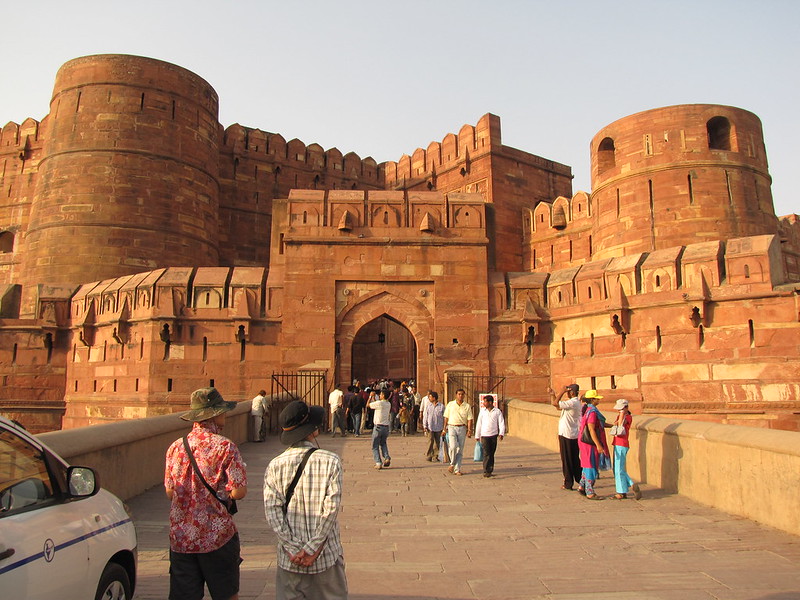 The mighty Agra fort (Photo Credit – Christopher John SSF)
Sheores Cafe
If you have visited the Taj Mahal and felt that tingle of excitement and could not comprehend the views in front of you, it's time for some other emotions to take over! A small café named Sheores Cafe will make your heart for feel all kinds of warm, fuzzy and will feel a sense of empowerment! Reason being all the workers (women) here victims of acid attacks.
Their positivity and empowering stories of how they overcame their battles is very inspiring. The art work on the walls of these cafes are done by the talented women here and you can even purchase a few of their artwork on display. The food here is of course delicious but the experience will be something that you will take back for sure. As travel enthusiasts, we cannot stop recommend this place enough! They evenhave outlets in Udaipur and Lucknow.
VISITING HOURS: 10:00 to 21:00 hours
ESTIMATED HOURS: 1 – 2 hours
COST: They don't have a price on their menu card, you pay your bill at your discretion.
Visit the artistians at Shilpgram
If you want to get away from the touristy traps while shopping, make a stop at Shilpgram. This is a craft village where the locals get to showcase their talents in the form of their artwork and performances. It is a great place to purchase a lot of ethnic products at a good rate. Foodies will also enjoy their time here as you get to indulge in the local cuisines, as there are a lot of stalls selling mouth watering meals.
VISITING HOURS: 07:00 to 19:00 hours
ESTIMATED HOURS: 1 – 2 hours
COST: Free
Artist performing at Shilpgram (Photo Credit – José Antonio Morcillo Valenciano
Follow
)
Tomb of I'timād-ud-Daulah (Baby Taj)
Try not to miss this cute little monument that is usually spared from masses of tourists. We like to call it the 'pint-sized Taj Mahal'. The tomb is the precursor to the Taj Mahal.
Built by Nur Jahan for her father, Mirza Ghiyas Beg (also called "the pillar of the state" or Itimad-ud-Daulah) in the years 1622-1628. That's about 5 years before the construction of the Taj Mahal began.
VISITING HOURS: Sunrise to Sunset
ESTIMATED HOURS: 1 – 2 hours
COST: INR 310 per person for foreign tourist, INR 30 per person for an Indian tourist, Free for Children below 15 years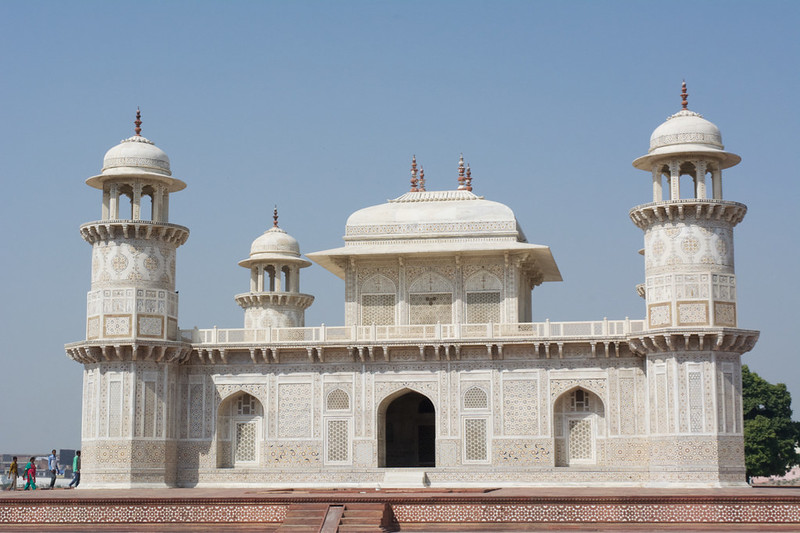 Tomb of I'timād-ud-Daulah also known as Baby Taj
Fatehpur Sikri
You can visit the once-blooming capital of the Mughal Emperor Akbar that goes by the name 'Fatehpur Sikri' on your drive to Jaipur. The name Fatehpur Sikri was formerly known as Fatehabad which is derived from a Persian word 'Fatah' meaning victory.
The purpose of building the city was Akbar's intention to honour the Sufi saint Salim Chishti. The entire palace complex is built around the saint's tomb.
This is a part of the Agra district and was abandoned due to the proximity of the area to the Rajputana neighbourhood and scarcity of water.
The capital was moved back to Agra and the town remained a ghost town during most of the older times. However, today the city stands as one of the most preserved specimens of Mughal Architecture in India.
While exploring this monument do bear in mind that this is a vast complex and moving around without a certified guide might get a little confusing. The signages within the complex are not very organized so we suggest you hire a certified guide.
VISITING HOURS: Sunrise to Sunset
ESTIMATED HOURS: 1 – 2 hours
COST: INR 610 per person for foreign tourist, INR 50 per person for Indian tourist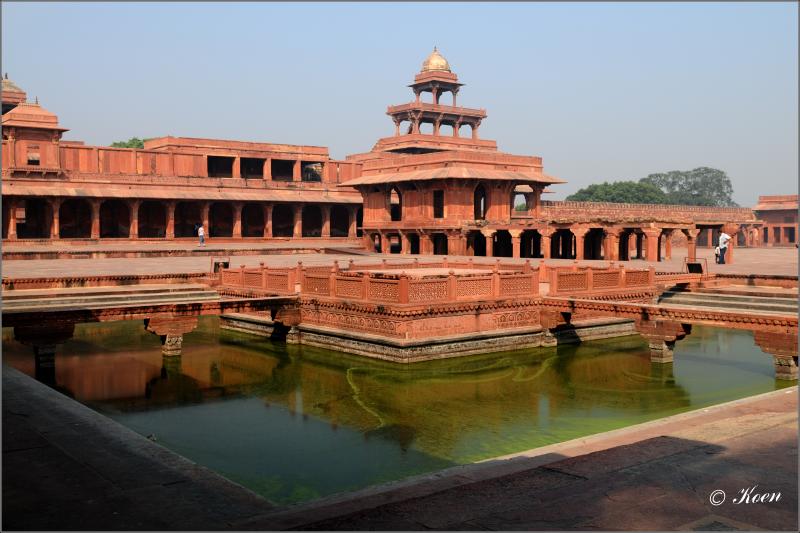 Fatehpur Sikri (Photo credit_Koen)
Akbar's Tomb
The Tomb of Akbar in Sikandra always remains forgotten in the shadow of the great masterpieces of Mughal Architecture (i.e. Taj Mahal and the Agra Fort). But in reality, this forgotten structure is a surprising gem of a monument.
The Tomb of Akbar is neither as magnificent as Taj Mahal nor as grand as the Agra Fort, but it is still a worth-visiting piece of Mughal Architecture. Again, it is not over-run by tourists.
VISITING HOURS: Sunrise to Sunset
ESTIMATED HOURS: 1 hour
COST: INR 310 per person for foreign tourists, INR 30 per person for Indian tourists.
Learn More: Discover the Pleasure of India's Diverse Activities
Getting around Agra
Being a really small city, there are very limited ways to get around.
Auto Rickshaw
Auto rickshaws in Agra do not travel by meter, instead, you must settle on a fare before starting your trip. A good yardstick is that distances less than 3 km should not cost more than Rs. 50.
Prices are fixed to take you to certain tourist destinations, and they differ for the Taj depending on what gate you choose to go to.
Cycle Rickshaw
Cycle rickshaws, or tuk-tuks, are available all across Agra and generally charge slightly higher fares if two people are riding.
Taxis
Agra is a fairly small city, and the prepaid taxi booth outside Agra Cantt is a service you can easily avail of. There's a minimal booking fee to be paid, after which your taxi will take you to your destination.
We recommend spending a day or two in Agra as it has so much more than just the Taj Mahala! We hope our things to do in Agra help you explore the city.
If you need our assistance in planning your trip to this beautiful region, do get in touch with us. We would be happy to help you plan a customized trip according to your need!
helping you travel your way
Everything you need to know about India is here We have tried writing about everything you may need help with for your trip to India, If you need help in planning a trip to India Get in touch with us to to plan your trip of a life time.