Things to do in Ooty
Located in the Nilgiri (which means blue) district is Tamil Nadus most beautiful town, Ooty – popularly known as the Scotland of the East. It was also a summer destination for the Britishers which is why you're likely to find British influenced architecture. And if you're looking for a quiet, relaxing holiday amidst nature, this little town is just the place for you. With mountains and lakes and sprawling tea estates, this little town will sweep you off your feet. A quick stop here, for a night or two, on your way to Kerala, will leave you rejuvenated. Especially with our list of the best places to visit in Ooty.
Given its location, Ooty is a year round destination for tourists and locals alike with a cool pleasant climate all through the year.
Wondering how to spend your time in this gorgeous hill station? We've got you covered. Here's our guide on the top 7 things to do in Ooty –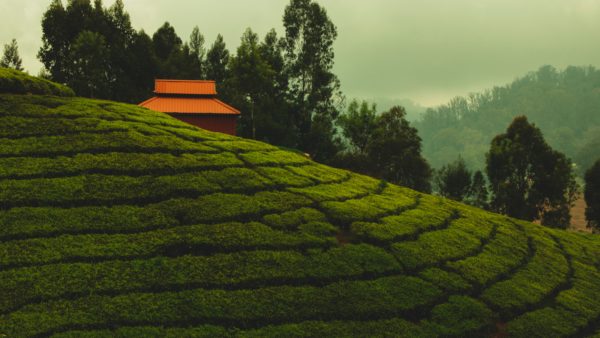 Surround yourself with posi"TEA"vity – Photo Credit Vijay S
Visit the Oldest Church
There are a number of fascinating places to visit in Ooty, and this church is one such place. St. Stephen's Church was built by the British in the 19th century, for those who visited Ooty during the summer. It is Nilgiris Oldest church and is very popular among tourists. The wood used for the structure was taken from the Palace of Tipu Sultan in Srirangapatna, who was defeated by the British in the Mysore War. The British influenced Architecture, paintings and stained glass windows are bound to leave you spellbound. The church is now under the churches of South India and still continues to have prayer ceremonies on Sundays.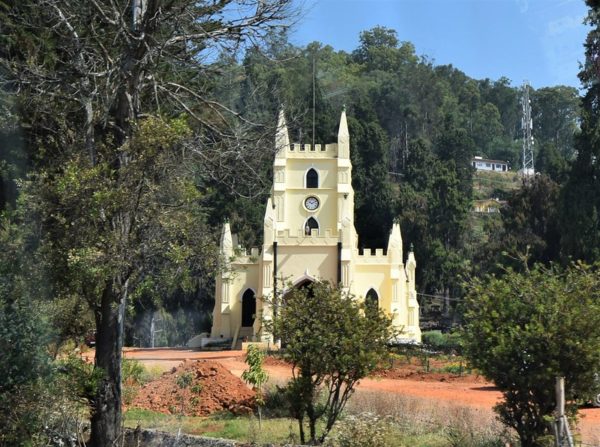 Let your faith be bigger than your fears – St. Stephen's Church, Ooty – Photo Credit Anne and David
Explore the Tribal Village
The tribal village in Ooty is inhabited by the Toda tribe who are part of the local population and earn their livelihood from farming and cattle herding. They are generally related to each other and belong to one community. The thatched houses of the Todas usually don't have any windows and are in a semi barrel shape. They continue to resort to ancient architectural practices when building their houses. Since the entrance to the house is extremely low and compact, you need to stoop to actually enter the hut, but you can stand upright once you're inside. The most fascinating site to visit here are the 2 Toda temples – Male Temple and Female temple.
Visiting this village should definitely be on your list of things to do in Ooty. An off the beaten path experience and the ideal way to engage with the locals and familiarize yourself with the local culture.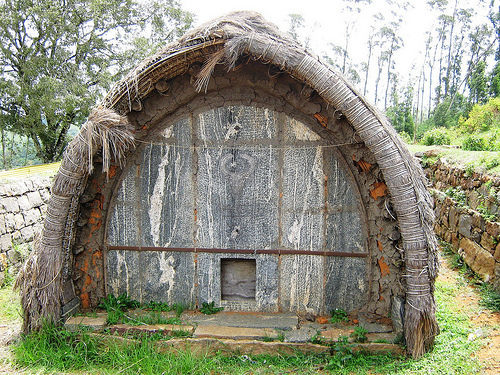 Abode of the Toda tribe – Photo Credit Prof. TPMS
Pick up a good read at the Famous Bookstore – Higginbothams
Listing a bookstore as one of the best places to visit in Ooty? Sounds odd, but yes, this charming book store is more than a hundred years old and a very popular landmark. Higginbothams is a treat for all those bibliophiles out there, with access to the best of books belonging to a variety of different genres – it's that same rush and joy you experience while setting foot in a candy shop! Book lover or not, do make sure you pay a visit to this heritage gem.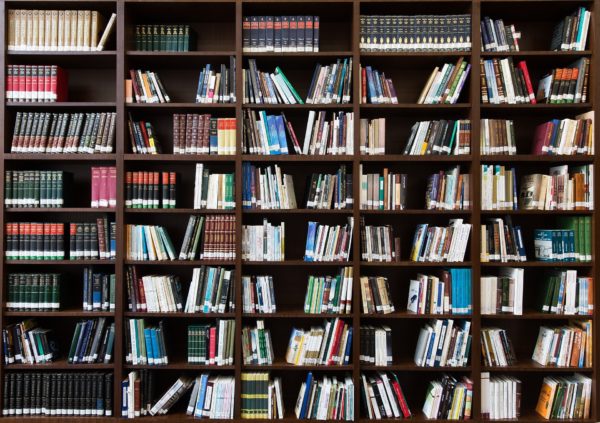 That's the thing about books. They let you travel without moving your feet. – Photo Credit Ahmad Ardity
Lakes that adorn this gorgeous town
While Ooty is famous for its mountains, lush green forests and abundant natural beauty, it is also known for its gorgeous lakes. You may not visit all but atleast one of these, ought to make it to your list of things to do in Ooty. If you're looking for a lovely boat ride with surreal views or wish to indulge in a local fishing experience, here's your chance. A piece of advice – hire a car here. This makes it a whole lot easier to get around. Here are some of our favourite lakes-
Ooty Lake
Visiting Ooty lake while you're in Ooty, goes without saying! This artificial lake is one of the prime attractions, Here you can go on motor boat rides, paddle boats or enjoy a ride in the rowing boats. While there is a lot to do on the lake you can also cycle around the lake (there are cycles to hire) or even indulge in horse riding.
Emerald Lake
This stunning lake is situated 20 – 23 kms away from the main city in an area referred to as Emerald village. It is part of the Silent Valley National Park. Surrounded by tea plantations, this is the perfect place for those looking to escape the city. One of the best places to visit in ooty if you seek solace amidst nature and all its beauty.
Avalanche Lake
This gorgeous lake got its name from the landslide that happened back in the 18th century. It is very close to emerald lake and can be visited on the same day. Go on a boat ride or enjoy fishing while you're here. It definitely makes for a fascinating activity on your list of things to do in Ooty. The lake is also surrounded by multiple trekking trails so if boat rides or fishing is not your cup of tea go on a trek or even a short stroll while soaking in the sheer beauty of nature and it's wonders.
Pykara Lake
Named after Pykara village, the lake is formed by the Pykara river and is in the midst of a lush green, dense forest region. It also happens to be India's Oldest Power plant. The lake also has a stunning cascade that adds to its charm. While you're here you can hire a speedboat and go on a ride, enjoy a fun picnic with the family or a romantic lunch date with your loved one.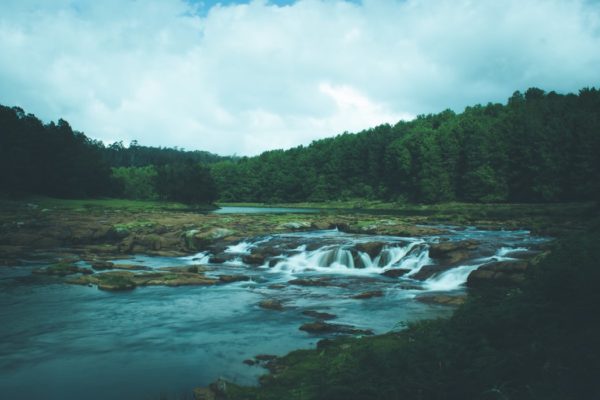 Set in the midst of the Shola forest, Pykara Lake's ambience and beauty is sure to leave you spellbound.
The picturesque cascades of Ooty
For all adventurous thrill seekers, here's what you were looking for. Since Ooty is based on the slopes of Nilgiri Hills and surrounded by mountains, there are a number of spectacular waterfalls all around. The waterfalls add a charm to the region and attract many tourists. Our list, of the best waterfalls to visit, is an endless ones, but here are our some of our top recommendations –
Catherine Falls
Kalhatti Falls
Katery Falls
Halasana Falls
All these waterfalls are 20 – 30 kms away from the main town, which is approximately two hours. The best way to get there is to take an auto or simply hire a car (Approximate cost – INR 4000 for a sedan). Catherine falls is definitely the most popular among these and is also India's most beautiful waterfalls. Thus making it one of the best places to visit in Ooty, a sight that's on every tourist's bucket list. From trekking to these falls and embracing the sheer beauty of nature to taking a dip in the plunge pools (while adhering to safety standards). From having a daytime picnic to simply enjoying some downtime to unwind. Each of these waterfalls have their own unique charm and are definitely worth the visit. So be sure to add this to your list of things to do in Ooty.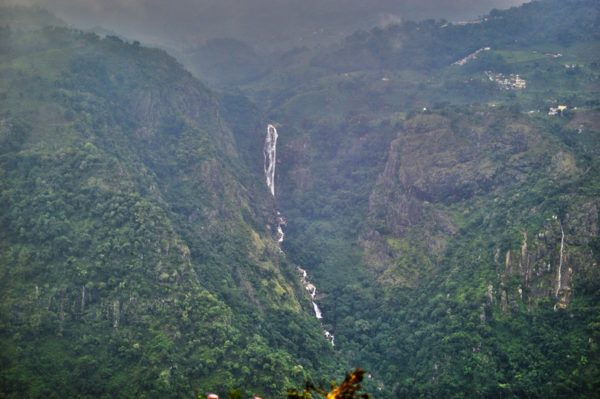 View of the Catherine Waterfalls from the Dolphins Nose – Photo Credit Darshan Simha
Touch that Dolphin's Nose
The tip of this peak resembles the shape of a Dolphin's Nose hence the name. It is approximately 1000ft above sea level and gives you one of the most stunning views of Catherine Falls surrounded by vast stretches of lush green landscapes. The view will take your breath away and you might just end up spending a lot more time here than you inbitially accounted for.
The best way to get here is by car, a scenic ride, with the opportunity to explore beauty beyond your imagination. The best time to visit this spot would be during the monsoons.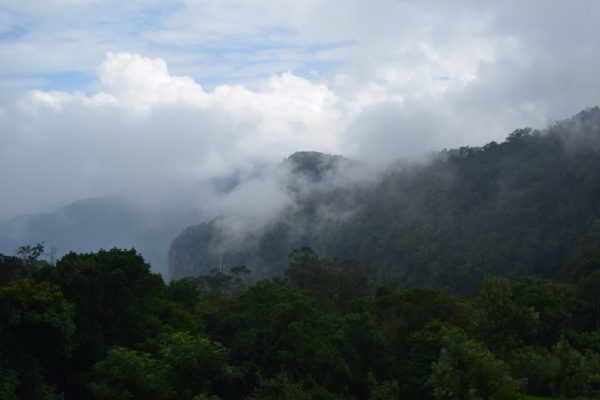 Another view from the Dolphins Nose – Photo Credit Emememy
Ride the Toy Train – One of the most scenic train rides.
Not known to many, south India too has a toy train that starts from Mettupalayam to Ooty. Built in the 19th century by the british, the Nilgiri Railway is now a world heritage site.The train runs on diesel locomotives and is the only rack rail in India.This train ride excursion is an experience we highly recommend. A scenic train journey that takes you amidst the valleys and the mountains, a ride through nature's paradise. It's a treat for all those nature enthusiasts and photography lovers out there. Be sure to add it to the top of your to-do list, if you're travelling to India with children.
With a bunch of things to do in Ooty and its unmatched beauty, Ooty is definitely a stop to make during your South India escapade. However planning your journey can be quite overwhelming while trying to fit in all the hidden gems of this region. Some of the places you can add to your itinerary, if you're in Ooty, include – Mysore, Coorg, Coimbatore and Wayanad. However, if you're looking to plan the ideal trip, a blend of offbeat destinations along with tourist hot spots, simply hit the Plan Your Trip button and get in touch with us.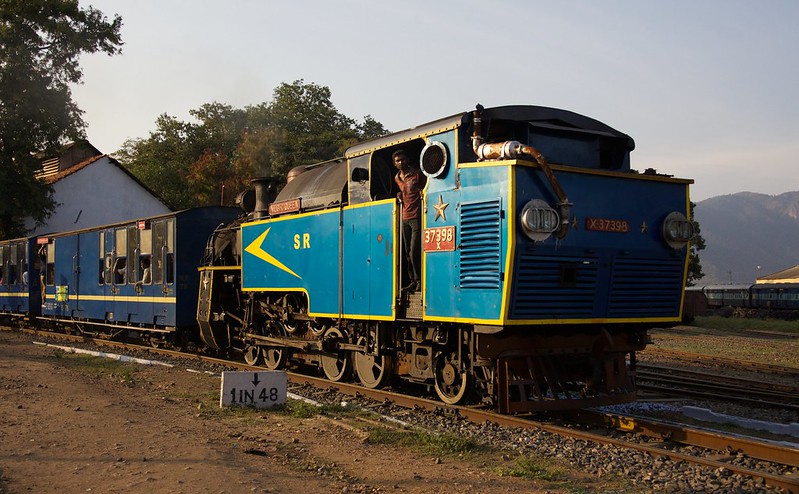 All aboard the choo choo train – Photo Credit David Brossard
Let us help you plan the perfect holiday across South India or even further up north. A trip curated to suit your budget and time constraints while catering to all your interests.
helping you travel your way
Everything you need to know about India is here We have tried writing about everything you may need help with for your trip to India, If you need help in planning a trip to India Get in touch with us to to plan your trip of a life time.