Best city to fly into India
Looking at travelling to India but not sure about the flights to India? which is the best city to fly into India? Our blog should give you an overview of the best cities to fly into India depending on which region you'd like to explore.
You can also explore our popular North India and South India travel routes.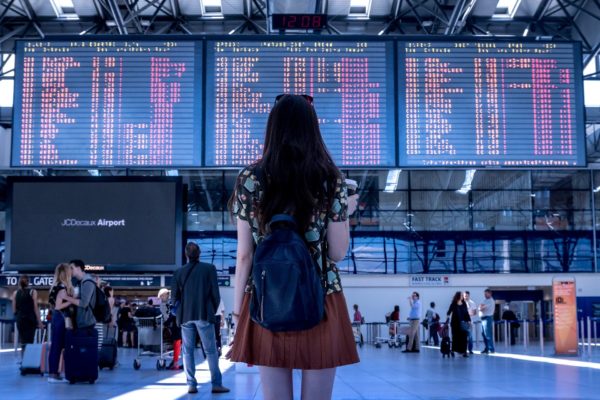 Time to book your flights to India (Photo Credit – Jan Vašek)
Touring North India? Fly into Delhi, but explore flights into Bombay
When planning a trip to a country as huge as India, the most frequent question that we get is which is the best city to fly into India?
If you plan to visit Rajasthan, Varanasi, or travel to the Himalayas (Kashmir, Leh and Ladakh or Himachal Pradesh) then the best city to fly in to is Delhi. Most international flights to India, fly into Delhi.
On the other hand, if you're thinking of touring around Rajasthan, do explore open jaw flights to India. For example, fly into Delhi and fly out of Mumbai (or the other way around).
Delhi and Mumbai are very contrasting experiences, definitely worth including both in your list of places to visit in India. Delhi has some splendid monuments and great history. Mumbai (especially the southern end) is very easy to walk around, and has a spirit which will simply engulf you.
Udaipur (Southern Rajasthan) is equidistant from Delhi and Mumbai. Hence, if you are looking at touring across Rajasthan you can fly into Mumbai and then travel to Udaipur and travel across Rajasthan. It can also be done the other way around; visit Rajasthan and end your trip in Mumbai after Udaipur.
Gujarat is another interesting and not a very touristy state. It is convenient to reach both on the way from Rajasthan to Mumbai or a stop on the way from Mumbai to Rajasthan.
Here are some great travel routes in North India if in need of inspiration.
Useful Tip:
A number of our guests from USA choose to fly on Air India (AI 102), as they operate a direct flight from New York (JFK) to Delhi, and Delhi to New York (JFK). Air India has a very good network of domestic flights in India too, so irrespective of where your trip ends in India, it connects you back to your Delhi-JFK return flight via an internal Air India flight.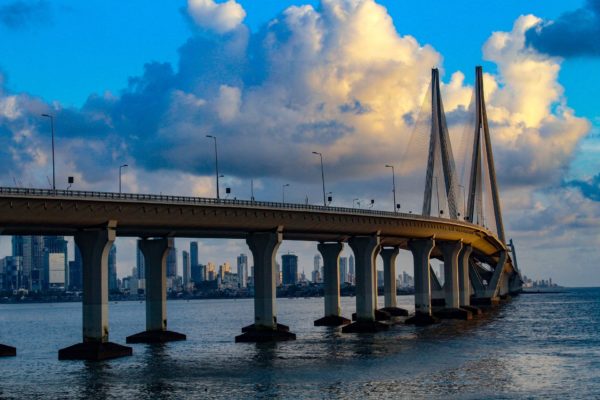 Bandra-Worli Sea Link (Photo Credit – Rajiv)
Touring Northeast India? Fly into Kolkata, Explore flights to Delhi
Visiting the Northeast, you have to ask yourself, are you planning to visit only the Northeast (cities like Kolkata, Varanasi, Darjeeling, Assam, Sikkim, etc.) or do you plan to spend some time there and then make your way westwards?
An interesting tour plan would be working your way from Delhi along places on the river Ganges i.e. Gwalior, Orchha, Khajuraho, Varanasi and then ending your trip with time in Darjeeling or Sikkim. Flying into Delhi and out of Kolkata would be a great option for such a tour.
You could also do this tour the other way around by flying into Kolkata and end in Delhi.
If you plan to explore the more remote Indian states of Assam, Arunachal Pradesh, Mizoram, Meghalaya, Tripura, Nagaland and Sikkim then the best city to fly into India would be Kolkata. However, if international flights into Kolkata are very expensive you can also look at flying into Delhi and then taking an internal flight.
The Northeast is a unique and beautiful place to visit, so check these reasons why it would be a memorable trip!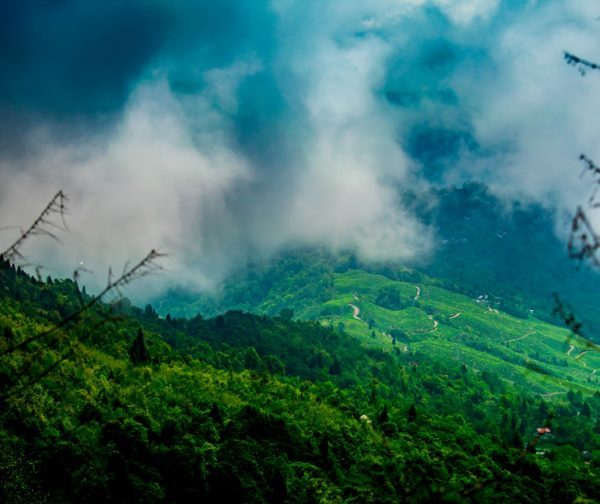 Visit the tea Gardens in the beautiful Darjeeling, you won't regret the peaceful nature here (Photo Credit -Boudhayan Bardhan)
Holidaying in Goa, and South India?
If you are looking primarily at a beach holiday and spending most of your time in Goa then the best city to fly into India would be Mumbai or Goa and explore Bengaluru.
There are over ten daily and inexpensive flights from Mumbai to Goa. Daily trains and buses too (for more information read getting from Mumbai to Goa).
If you are lucky you will find direct flights to Goa too! These are usually operational only during the winter months and common from Europe/Russia. Just explore and research in terms of flight connections.
Bengaluru may seem far from Goa, but it's well connected by daily and inexpensive flights. You can also look at flying out of Bengaluru and touring across the state of Karnataka by road as you make your way from Goa (Goa-Hampi-Mysore-Bengaluru).
Avoid looking at flights into Delhi, unless you also plan to visit the Taj Mahal or a little of Rajasthan. There are only a couple of daily flights from Delhi to Goa and they can get quite expensive.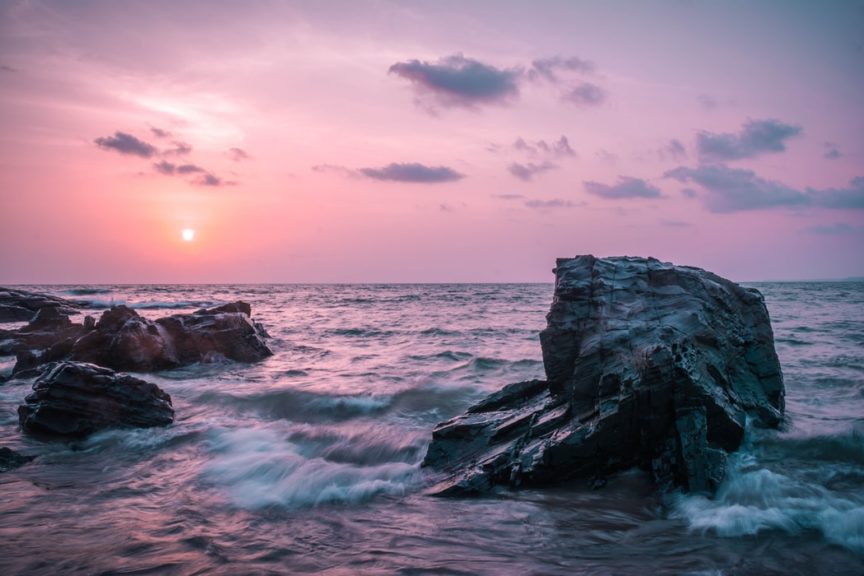 Looking at a South India Tour? Fly into Bengaluru, Chennai, or Kochi (if only visiting Kerala)
Looking at spending time across Tamil Nadu, Karnataka and Kerala?
For the South Indian tour the best city to fly into India is Chennai or Bengaluru. When planning a South India tour we usually recommend starting with Karnataka or Tamil Nadu and ending your holiday in Kerala. Kerala is beautiful, relaxing, and provides great massages so all in all, an ideal way to end your journey through India.
You may want to explore looking at flights to Bengaluru/Chennai and out of Kochi or Trivandrum. However, if expensive, remember Kochi to Bengaluru/Chennai flights are frequent and inexpensive.
While Kochi and Trivandrum (cities in Kerala) seem close to each other on a map they are a four drive from each other. So if you plan to end your holiday on a beach in Kovalam/Varkala then Trivandrum would be a perfect choice. However, if you are keen on Mararikulam then Kochi would be the right choice. Moreover, a lot of other places of interest in Kerala are close to Kochi as well. You may wish to bear that in mind when booking flights.
Useful tip: Most middle east airlines i.e. Emirates, Etihad, and Qatar Airways have good connections in and out of airports in Kerala.
At India Someday, we are avid travellers that specialize in assisting travellers plan their holiday to India. Whether it's flights to India, getting around or accommodation, feel free to get in touch if you have more questions, or fill out our questionnaire to plan your trip accordingly.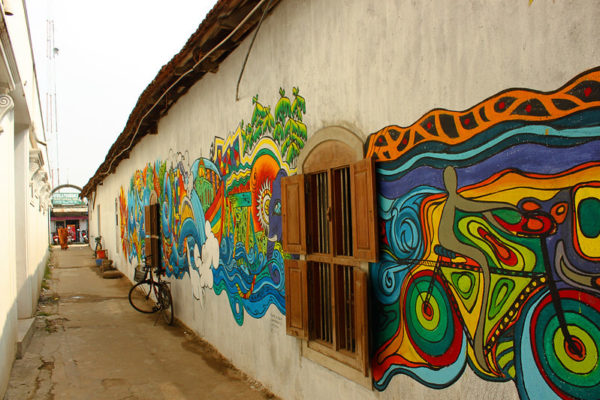 Apart from the wonderful beaches, Kerala has so much to offer (Photo Credit – Elroy Serrao)
helping you travel your way
Everything you need to know about India is here We have tried writing about everything you may need help with for your trip to India, If you need help in planning a trip to India Get in touch with us to to plan your trip of a life time.