Getting from Mumbai to Goa
This article will give you some insight into the best ways to get from Mumbai to Goa. Goa is the smallest state in the country, but definitely one of the most loved. A popular holiday destination for the youth, it's earned the nickname of the party capital of India. It's a coastal state on the western coastline stretching along the Arabian Sea. Goa is known for its beaches, fishing villages and rich heritage architecture. Goa is a popular tourist destination for Indian and International travellers. For more information about what to do in Goa, visit our blog!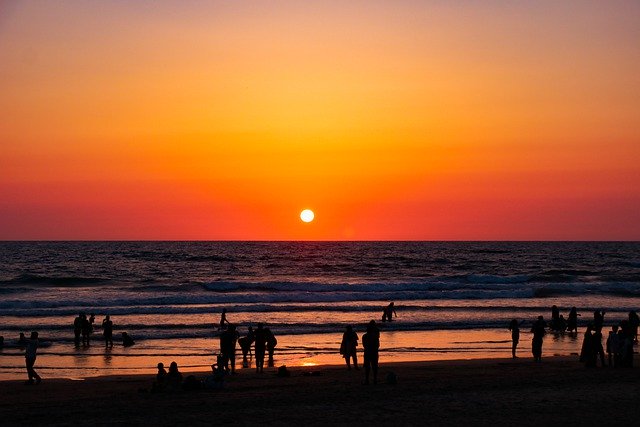 Stunning view of the sunset at Goa beach
By flight
Mumbai, just like Goa, is located on the western coastline. There are daily flights between Mumbai and Goa. It is the fastest mode of transport. If booked in advance the flights are cheap. Flights during Christmas or New Years or any of the long weekends (Indian holidays like 01st of May, 15th August, 26th January) are extremely expensive if booked at the last minute.
So if your trip coincides with Indian holidays, book your flights in advance. It takes an hour to reach Goa by flight. The Goa International Airport is located at Dabolim. Whilst this is probably the quickest mode of transport, flights are not the most sustainable way to travel.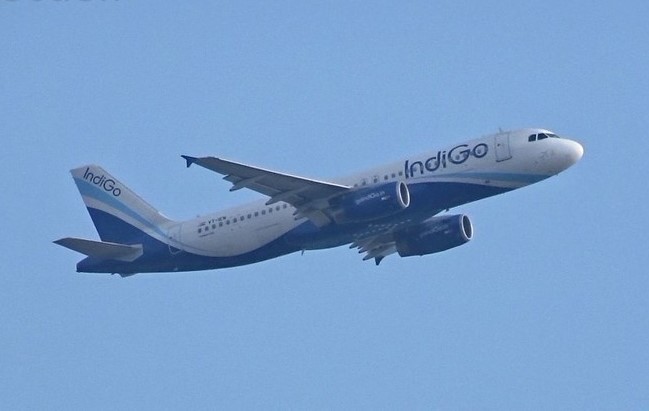 Fly from Mumbai to Goa in just 45 mins (Photo Credit – Joegoauk)
By train
Getting from Mumbai to Goa by train is relatively cheaper. It's obviously not as convenient as a flight. It only makes sense if you have time on your trip and are not on a tight schedule.
There are a lot of trains between Mumbai and Goa. You would want to take a train that originates from Mumbai. We would suggest avoiding one that starts from Delhi. These trains are often late and dirty. They do not stop at the more accessible stations in Mumbai, making your trip all the more difficult.
We suggest you pick any of these four trains:
1. Jan Shatabdi
Jan Shatabdi is the fastest train from Mumbai to Goa. It's an early morning train from Dadar railway station in Mumbai and ends in Thivim in North Goa. It's a single-track train and takes between 8 to 9 hours to reach Goa. The train leaves from Mumbai at 05:25 Hrs and reaches around 14:00 Hrs in Thivim. It's a beautiful ride full of mountains and waterfalls. It is the second-fastest route to Goa.
2. Konkan Kanya Express
The Konkan Kanya Express is another superfast train between Mumbai and Madgaon. You can board the train from CST (Chattrapati Shivaji Terminus) in Mumbai. Get down between Thivim (North Goa) and Madgaon (South Goa) depending on where you're staying. The train runs along the western coastline and covers a distance of 580 kms. This train is a night train from Mumbai, it leaves CST at 23:05 Hrs and reaches Goa at 10:45 Hrs. It takes around 13 to 14 hours, so ideally you go to sleep in Mumbai and wake up in Goa!
3. Mandovi Express
Mandovi Express is another daily train that runs between Mumbai (CST) and Goa (Madgaon Junction). It takes approximately 14 hours to reach Goa. The train is named after the Mandovi River, the lifeline of Goa. The route is the same as the Konkan Kanya Express, just slower.
4. Netravati Express
The Netravati Express is a Mumbai-Kerala train but has stops in Madgaon and Canacona. If you're staying near the beaches of Palolem, Patnem or Agonda then this train is ideal. It's a 45-minute ride from Madgaon to Palolem but if you get down at Canacona it's just 3 kms away. The train starts from LTT (Lokmanya Tilak Terminus) a major railway station near the central suburb of Kurla at 11:40 Hrs and reaches Canacona Station at around midnight.
5. Matsyagandha Express
The Matsyagandha Express is essentially a Mumbai-Mangalore train, with similarities to the Netravati Express. This train also originates from Kurla. It is a good option if you plan to stay in South Goa. This train stops in Madgaon and Canacona in Goa. It leaves Mumbai in the afternoon at 15:20 Hrs and reaches at 02:30 Hrs. The reason why this train is so far down the list is purely because of the time it reaches Canacona. Apart from that, there aren't really any major drawbacks to taking this train.
For more information about train travel in India, have a look at our blog.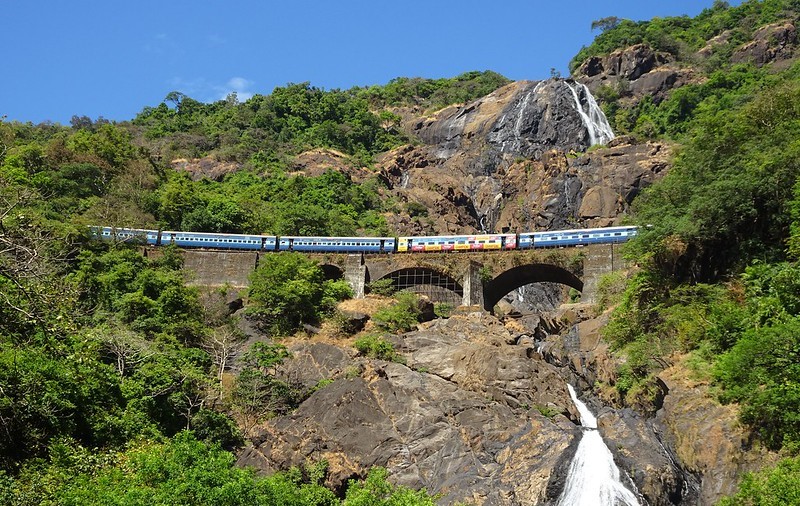 Dudhsagar Qaterfall view from train (Photo Credit – Joegoauk)
By Bus

The distance between Mumbai and Goa is approximately 600 kms. You can take a night bus from Mumbai and reach Goa in the morning. We suggest Paulo Travels. You board a Volvo at night, sleep through the journey and reach Goa in the morning. Bus services like Neeta and VRL are also good options if you don't get a train ticket and flights are too expensive.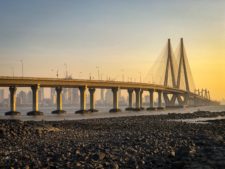 Mumbai, India
For some inspiration, check out Monica's trip to South India. Alternatively, for any more information or for help planning your perfect trip to India, feel free to contact us!
helping you travel your way
Everything you need to know about India is here We have tried writing about everything you may need help with for your trip to India, If you need help in planning a trip to India Get in touch with us to to plan your trip of a life time.