What To Do In Gwalior
'Monuments are not cemented bricks. They are animate with the feelings of artists etched of them' – Vandana Saini
Gwalior, although this city is really close to Agra, a lot of travellers skip this destination altogether. However, what they are missing out on is a city filled with historic tales and monuments so alluring that the fort here was referred to as "the pearl of Indian fortress".
Rightly so, the dominant fort on the hilltop and the magnificent Jai Vilas Palace are a few attractions that cannot be missed!. As you explore this city, multiple stories and myths will unfold, making you feel like you are unravelling a treasure box that is unknown to many.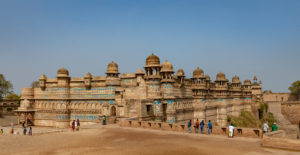 Panoramic view of The Gwalior Fort (Photo Credit – Ninara)
While Gwalior is just one of the many offbeat destinations, you can read this blog to know more on other off beat travel destinations.
Gwalior Fort
This Hindu fort, built by Man Singh, is an architectural delight to the eyes. The minute you enter the fort, you will be unable to comprehend how massive this structure actually is. From the Chinese dragons on the walls of the pillars here, to the tales narrated by guides about the historic events that took place, will keep you engrossed.
The Man Mandir Palace is the main part of this fort, where you will spend maximum of your time. It oozes of mystery and confusion, thanks to the underground rooms and narrow passageways.
The best views of the entire city comes from the fort top, so if you are unsure of what to do, in case history does not intrigue you, enjoy the peace and calm from the fort top. Please note you should take a guide along with you, as the areas inside the fort can get quite confusing.
VISITING HOURS: 09:00 to 18:00 hours
ESTIMATED TIME 2 hours
COST: INR 300 per person for foreign tourists, INR 25 per person for Indian tourists,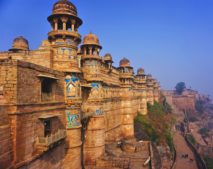 Stunning views of The Gwalior Fort
Tel ka Mandir and Sas Bahu ka Mandir
Once you finish exploring the fort, these mandirs (temples) are about a 5-minute walk from the fort. These temples depict a man with a thousand hands, i.e., Lord Vishnu.
As per the story, the wife of the kings dynasty during that time, was a devotee of Lord Vishnu while the daughter-in-law worshiped Lord Shiva. Hence, the two temples were built right next to each other, for each of them to worship their respective Gods. They both have similar architecture and you'll get a good view of the fort and the city from here as well.
VISITING HOURS 09:00 to 18:00 hours
ESTIMATED TIME 30 minutes
COST: The same ticket used for the fort is applicable here.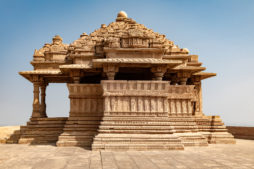 Intricate Work Of The Saas Bahu Temple (Photo Credit – Ninara)
Jai Vilas Palace
The Jaivilas Palace had been established by Maharaja Jayajirao Scindia, this place is still used by the current generations of Royal Family for important meetings and dinners. They have about 400 rooms and about 40 rooms have all been converted into a museum, it is undoubtedly one of the most beautiful and the most grand buildings in the whole of Gwalior.
A visit to the huge museum will give you an accurate understanding of the ways of the kings and queens during that time, and also has restored objects and games that were used by the children at that time. The grandeur of the rooms will make you wish you were a part of the Royal family!
VISITING HOURS 10:00 17:00 hours
ESTIMATED TIME 2 hours
COST: , INR 800 per person for foreign tourists, INR 200 per person for Indian tourists, Free for Children upto 5 years free, INR 300 if you wish to take your phone inside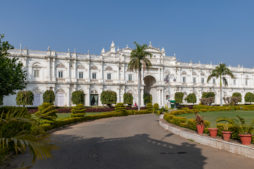 Royal Entrance Of The Jai Vilas Palace (Photo Credit -Ninara)
The Tombs Of Mohammed Ghaus and Tansen
Mohammed Ghaus was an important Sufi saint and musician during the 15th century and to honour him, we have his tomb in the eastern region of Gwalior. Architectural lovers, do yourself a favour and visit this tomb. You will find the Mughal style of architecture all over, from the domes, the intricate work done on the lattices (jaalis) and the peaceful garden that surrounds it, proves that it is worth visiting.
There are also other tombs that surround his tomb, like The Tomb of Tansen, however Mohammed Ghaus is very simple yet very pleasing to the eyes.
VISITING HOURS: 08:00 to 18:00 hours
ESTIMATED TIME: 1 hour
COST: Free
Gopachal Parvat
The Gopachal Parvat is unlike any other monument you would have seen in India! This rock cut Jain monument consists of 18 colossal statues which are 11 meters tall, there are some smaller ones as well. Exploring this monument gives you a feel of the Abu Simbel monument in Egypt. There are a few small caves which you will not expect at all, inside the complex.
A couple of the structures were destroyed by the Mughals but that still does not take away the fact that you will be wonder struck, when you set your eyes on these sculptures You can cover this monument on the way to the Gwalior Fort, there are no guides here so make sure to book one in advance.
VISITING HOURS: 06:00 to 19:00 hours
ESTIMATED TIME: 1 hour
COST: Free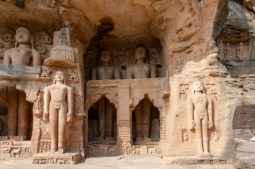 Jain Rock Cut Monuments At Gopalchal Parvat, Gwalior (Photo Credit – Ninara)
GETTING AROUND IN GWALIOR
Gwalior is a small city, but it is still quite busy and chaotic. Nonetheless, you have very limited options to move around.
Auto Rickshaw
Exploring the city in an auto rickshaw (tuk-tuk) in Gwalior is the most convenient way to move about. They do not go by the meter, hence make sure to bargain for a good rate before starting your journey.
Ola
In case you are looking for a more comfortable way to explore the city, you can book an Ola (similar to Uber services). In this way you can avoid scams and travel in comfort.
Now that you know what to do when you are in Gwalior, make sure you get in touch with us and our travel experts will make sure you choose the right stay, explore the city at a good pace and give you more tips regarding your travels in India. Gwalior will definitely not be the last of the many marvel you will uncover during your time in India.
helping you travel your way
Everything you need to know about India is here We have tried writing about everything you may need help with for your trip to India, If you need help in planning a trip to India Get in touch with us to to plan your trip of a life time.