Things To Do In Khajuraho
'A painter once told me that I'm like the Khajuraho, which you see once but which remains with you forever. I thought that was exquisite' – Vidya Balan (Indian Actress).
Khajuraho, this town gets its name from the Hindi word 'Khajur' which literally means 'dates' (dry fruit). The town was found to be filled with date trees during excavations, hence the name. The Chandela Dynasty ruled Khajuraho in the 13th century. It is known for its temples that were built over a period of 100 years.
These temples are amongst the most beautiful medieval monuments in the country. Upon the decline of the Chandela Dynasty, these monuments were long forgotten, as they were hidden under a thick forest cover, only to be discovered by a British surveyor T.S. Burt.
One mostly hears about the temples for its erotic sculptures, however only 10 percent of the carvings found in the complex are erotic. The rest are mostly depicting everyday life of a common man that existed during those times.
This list of things to do in Khajuraho will leave you mesmerised and make you fall in love with Khajuraho.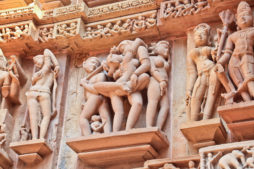 Erotic sculptures on the walls of the Temple (Photo Credit – Patty Ho)
The Western Group of Temples
The most important thing to do in Khajuraho is visiting The Western Group of Temples and we are sure you will fall in love with it. This is a UNESCO World Heritage Site, a title which it truly deserves. The sculptures here depict the everyday chores of people during that time. The various levels of perfection, inside and outside the temple, makes it totally worth a visit. Visiting this temple complex equals seeing 80% of Khajuraho. The best time to visit is during sunset, as it would be an ideal time for photographs.
Visiting Hours: 07:00 to 18:00 hours
Estimated Time: 3-4 hours
Cost: INR 600 per person for foreign tourists, INR 40 per person for Indian tourists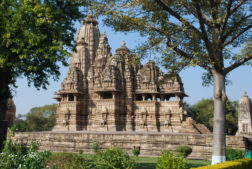 Picturesque views of The Kandariya Mahadeva Temple. (Photo Credit – Jeff Hart)
THE EASTERN GROUP OF TEMPLES
The Eastern Group of Temples belong to the Jain community (followers of Jainism). During the rule of the Chandela Dynasty, the Jain community lived on the eastern side of Khajuraho, hence you find Jain temples here. These temples are about 10 mins away from the Western Group of Temples. If you are still not tired from the Western Group of Temples you could visit Eastern Group of Temples as well, although they're not as marvelous as the former but it's still worth a visit.
Visiting Hours: 07:00 to 18:00 hours
Estimate Time: 30 mins – 1 hour
Cost: INR 700 per person for foreign tourists, INR 250 per person for Indian tourists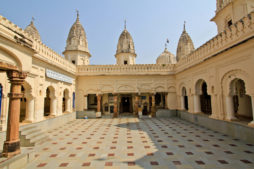 The entrance of the Jain Temples, Khajuraho (Photo Credit – Patty Ho)
The Light and Sound Show
The light and sound show is held in the complex of the Western Group of Temples. This show is a narration of the history of Khajuraho. Do not miss it if you are fascinated by history and culture. We'd advise that you carry a mosquito repellent cream or spray. If visiting during winter, do wear warm clothes.
Visiting Hours: 19:30 to 20:30 hours (March to September) & 18:30 to 19:30 hours (October to February)
Cost: INR 700 per person for foreign tourists, INR 250 per person for Indian tourists
OFFBEAT THINGS TO DO
Ajaigarh Fort
The Ajaigarh Fort is a monument which does not see many visitors as very few travellers know of it. Needless to say that this beauty gets skipped way too often. History and art lovers will not be disappointed when they explore the Ajaigarh Fort.
You have to climb around 600 steps to get here but the kaleidoscopic views of the Ken river, and the Vindhya Hills make that climb absolutely worth it. There are two temples, two gates and sculptures of Gods and Goddesses inside. The fort is quite deserted with no maps or food stalls. Do make sure to book a private guide in advance along with bottled water and some snacks.
Visiting Hours: 06:00 to 18:00 hours
Estimated Time: 2 hours
Cost: Free
Raneh Falls
Also known as the 'Mini Grand Canyon' of India, the scenic Raneh Falls is situated about 20 kms from Khajuraho. It is definitely worth a visit and we strongly recommend that you hire a guide for visiting this waterfall. You can also rent a jeep which will cost you INR 1,000-1,500.
The waterfall is situated on the crater of a dead volcano. You will notice that the crater consists of 5 different types of rocks. Waking up early to experience the picturesque Raneh Falls is definitely worth it. For photo fanatics this place is a paradise. There is also a small museum here which displays information of all the animals found in the area.
Visiting Hours: 08:00 to 17:00 hours
Estimated Time: 1-1.5 hours
Cost: INR 50 per person at the entry gate, INR 250 for a private vehicle, INR 75 compulsory guide fee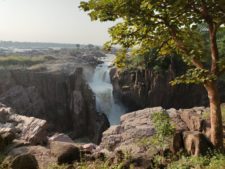 Spellbound views of The Raneh Falls (Mini Grand Canyon of India)
Panna Tiger Reserve
From the list of things to do in Khajuraho, The Panna Tiger Reserve would soar high up for most travellers. In very close proximity to the beautiful Raneh Falls, it is home to many species like the Indian wolf, four-horned antelope, rusty spotted cat, leopard and of course, tigers.
Vehicles will be allowed inside the Reserve, however there will be a charge which will be specified at the booking counter. Note: The Reserve is shut from July to September, as it is the mating period for the animals.
Visiting Hours: 05:30 to 09:00 hours and 16:00 to 19:00 hours (March to June) & 06:00 to 09:30 hours and 14:30 to 17:30 hours (October to February)
Cost: INR 6,500 (inclusive of a guide) for 6 people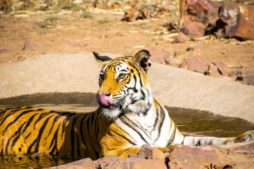 Tiger quenching his thirst at Panna Tiger Reserve
India has a number of national parks, here is travel route which focuses only on National Parks in India.
Moving Around IN KHAJURAHO
Khajuraho is not a big city and has limited ways to get around.
Taxis
One can easily find a prepaid taxi booth outside the railway station and book a ride. The rate is fixed based on your destination so you don't need to haggle for price. Once booked, find your cab by the booth and start exploring. Uber and Ola Cabs (an Indian version of Uber) are quite popular in most Indian cities, however, it is yet to be introduced in Khajuraho.
Auto Rickshaw
Auto rickshaws in Khajuraho do not travel by meter, instead, you must settle on a fare before starting your trip. This is a convenient mode to move around especially while going sightseeing. However, always make sure to haggle for the good price and do not settle for the first amount told to you.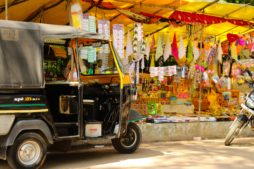 Auto Rickshaws (Tuk-Tuks) in Khajuraho
After you've completed your bucket list of things to do in Khajuraho and are looking for the next interesting destination, we have just the right suggestion for you. Here is a blog on the city of Gwalior, the next best destination close to Khajuraho! Experience it all while you are here, you can get in touch with our travel experts to plan your adventure to India in the right way.
helping you travel your way
Everything you need to know about India is here We have tried writing about everything you may need help with for your trip to India, If you need help in planning a trip to India Get in touch with us to to plan your trip of a life time.