Things To Do In Kochi
Created by Viveka F,
Last Updated on November 21, 2023
'Kochi, formerly known as Cochin, is a former European settlement with a large Christian population and a seafaring heritage. It is a town of enormous charms that reminds visitors of the Caribbean more than India' – Garry Weiss
Kochi, a town that feels like a home away from home, would be the most perfect way to describe this city. Once upon a time because of its bustling port, Kochi had witnessed diverse cultures from all over the world (Dutch, Portuguese, Britain) who could not resist the charm of the city and wanted to stay.
Tracing down how all these cultures that left their prints here, from a 450-year-old synagogue to the unique Chinese fishing nets and the Dutch-Portuguese styles of structures, you would feel exactly like the travelers of the past and not want to leave!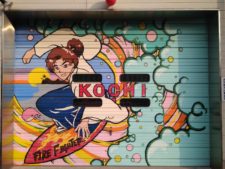 Street art on the walls of Kochi (Photo Credits – 7beachbum)
1. Stroll through the streets
This is the first thing you should do when you get here, make sure you take time out of all your sightseeing to just explore this town with nothing planned in mind. You will be amazed at what all would you come across. Watch the fishermen use the ancient Chinese fishing nets (some even allow you to try the technique yourself), enjoy the most aromatic spices markets, and if you do buy some and cannot wait to try it, you can go to any of the cafes or restaurants to get a taste of what to expect.
Graffiti on the walls of this town is something you will least expect but well Cochin is full of surprises! There is also a small section of this town that has the backwaters, you can take a day trip along the backwaters. You can also spend an evening at the Cherrai beach, just relax, breathe, and feel the warmth of this city.
VISITING HOURS:24 hours
ESTIMATED TIME: 1 hour
COST: Free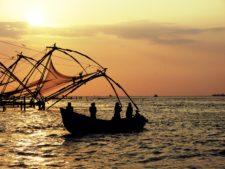 Fishermen using the Chinese Fishing Nets in Kochi
2. Mattancherry Palace
Located in the Fort Cochin area, the minute you set your eyes on this structure you notice the simplicity of the pre-colonial era. Gifted by the Portugues as a goodwill gesture to the king, this palace is also called the Dutch Palace since it was renovated by them (Dutch) in 1663.
The palace has a collection of Hindu murals on its ceiling, inspired by the famous Indian epic (Ramayan) and is the highlight of this palace. Besides that, there are various artworks, artifacts, and historical information about the kings. The whole structure from inside has the typical Keralite form of architecture with a tinge of the European influence.
VISITING HOURS: 09:45 to 13:00 hours; 14:00 to 16:45 hours (closed on Fridays and Saturdays)
ESTIMATED TIME: 30 mins – 1 hour
COST: INR 2 per person for Indian tourists, INR 2 per person for Foreign tourists, Free for kids below 15 years
3. Paradesi Synagogue and Jewish Town
As most of us know that India is culturally diverse with unique religions and communities living together, there is more to add to that list. The town of Cochin, once had a small number of the Jewish population, although, since the last few years there were only 6 members left from that community, traces of their tradition and culture still remain here.
Close to the Mattancherry Palace is the over 400-year-old Paradesi Synagogue, which is worth a visit to admire the grandeur and beauty of their culture. There is also the Jewish town right outside where you can purchase a lot of antique products, spices, and souvenirs (make sure you've practiced your bargaining skills). What is even more interesting, is that you can watch out for Jewish worlds and symbols on the walls of this town that still exists, making you feel like a treasure hunt game!
VISITING HOURS: 10:00 to 12:00 hours (closed on Fridays, Saturdays and Jewish Holidays), 15:00 to 17:00 hours
ESTIMATED TIME: 1 hour
COST: Free (except for the souvenirs you may purchase)
Explore More: Detailed Guide on Traveling Cost in India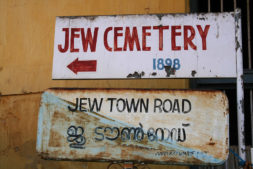 Signboard leading to the Jewish town (Photo Credit – Rick Rowland)
4. St. Francis Church
The main reason why you should add this stop while exploring the quaint town of Cochin, is because this church is the oldest European church in India. It's simplicity and historic importance is rather intriguing. Built by the Portuguese in the 15th Century, although it does not have a prominent form of European style architecture but is a mix of the Indo-European style.
It is said that Vasco Da Gama was buried in this church, however, his body was later taken back to Lisbon but his tombstone still stands here. Furthermore, you will also see a memorial for all the soldiers who fought during World War 1. So while you are you get a quick glance at the historic importance of this city in the past.
VISITING HOURS: 07:00 to 18:30 hours (Monday to Saturdays), 08:30 to 18:30 hours (Sunday)
ESTIMATED TIME: 30 mins
COST: Free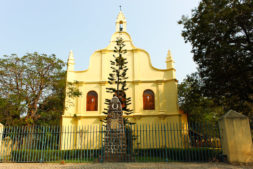 St. Francis Xavier's Church in Kochi (Photo Credit – Elroy Serrao)
5. Santa Cruz Basilica
The Santa Cruz Basilica has to be on your list of places to visit, located just a few minutes away from St. Francis Church, this architectural grandeur which calls you from afar with it's two lofty spires. The minute you see those you know this cannot be missed.
The construction of this basilica started with the arrival of the Portuguese missionaries in India. Afterwhich, the British came in and destroyed 90% of this structure, and it was again rebuilt again. While you have the history of the church on one side, the interiors of the basilica is the other aspect which will fascinate you.
The Gothic style of architecture, with stained glass windows, wooden panels, the painting of 'The Last Supper' by Leonardo da Vinci are just a few of the features, to know more make sure you visit this Basilica.
VISITING HOURS: 24 hours
ESTIMATED TIME: 1 hour
COST: Free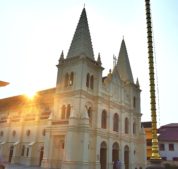 Sunset views of Santa Cruz Basilica, Kochi
ACTIVITIES TO DO IN KOCHI
Kathakali Dance Show
Kathakali is not just a dance form but a narrative of history and culture, as the dancers here not only dance but enact famous stories from the Indian epics. There is so much to look at from their expressions, to the elaborate costumes, to the intricate face paintings and heavy ornaments.
You will not be able to take your eyes off the stage even for a minute. So while in Cochin, experience not only the history but also the art forms that speak volumes about their culture. You can witness this at the Kerala Kathakali Dance Centre, it is close to Santa Cruz Basilica.
VISITING HOURS: 18:00 to 19:30 hours
ESTIMATED TIME: 1.5 hours
COST: INR 400 – INR 450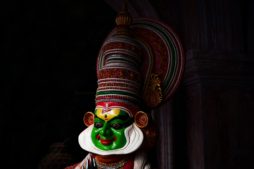 A Kathakali dancer performing in Kochi
Kochi-Muziris Biennale
If you have seen the graffiti on the walls of Cochin, you automatically sense the love towards art that the city has. Although larger in comparison to the graffiti on the wall, this contemporary art festival that takes place in Cochin has artists from all over the world exhibiting their glorious artwork.