Our Favourite Homestays In India
There is a saying in India, 'Atithi Devo Bhava' which literally translates into 'Guest is God'. That is exactly the kind of service and thought process that goes into many homestays in India. Anytime you walk into an Indian family home be expected to be treated extremely well. The homestays in India range from Royal palaces to lovely bungalows and even small two-bedroom apartments in cities.
We at India Someday highly recommend homestays because they just enrich your experience of the city. You not only get a local's perspective on the city but delicious home-cooked food along with it.
We began India Someday with helping people travel to India. However, when we started, never did we once think that we would come across such a lovely bed and breakfasts and homestays. After 6 years of running the company and having sent 3000+ people to different homestays in the country, we have tried to make a shortlist of some of our favourite homestays in India.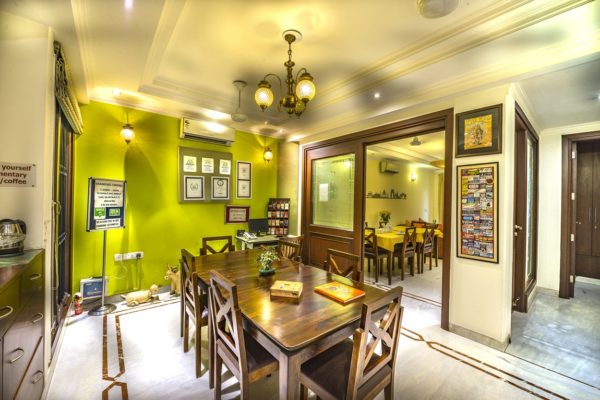 Spacious dinner area at Tree of life on each floor
Jaipur Friendly Villa – Jaipur
Run by a lovely couple, the Mehra's, this quaint home is tucked away in a quiet residential part of Jaipur. This is a cosy accommodation which comes with perks like a large projector to watch films and charming hosts, Shveta and Kul, who are always ready for a conversation.
Each room, of course, has en suite bathroom with 24 hours supply of running water (both hot and cold), air conditioning, and all modern amenities that you would need in a room. The two terraces are great places to lounge after a long day of sightseeing. Shveta and Kul both love helping people plan their day in Jaipur so ask them as many questions.
They run an absolutely amazing and friendly homestay, Oh and we must not forget the breakfast! Local food cooked fresh and delicious for every morning.
Clean, spacious and great facilities at Jaipur Friendly Villa (Photo Credit – Jaipur Friendly Villa)
Sunnymead Bed and Breakfast – Shimla
This charming little colonial-style property lies just before the chaos of Mall Road in Shimla. Hidden away by a long flight of stairs, this is one of our favourite places in the mountains. And the best thing about the property is its owner Madhavi, the most delightful lady you could meet, forever smiling, a world of information about the mountains, hidden walking routes and a great cook.
This place has four bedrooms, three double rooms and one small single room. A common area with a cosy fireplace, gourmet-style food, and lovely views from the rooms and veranda of the hills. Just a point to note is that if you are afraid of dogs and cats then this place is not meant for you as there are plenty of in house resident pets.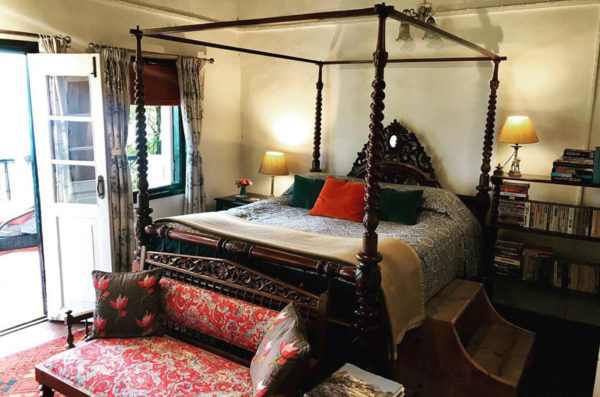 Witnessing Shimla in the snow is a beautiful experience during the winter months (Photo Credit – Sunny Mead Estate)
Tree of life – Delhi
More a bed and breakfast than a homestay, but this lovely property is home to Ashwani bazaz and his delightful family. In the leafy and green residential neighbourhood in Saket Delhi, Tree of Life has seven rooms and the family lives on the top floor of the building.
The rooms are spacious and clean and have all the amenities like television, air conditioning or heating in winter and earthy Indian interiors with a modern touch. The breakfast is fresh and cooked by the staff. The biggest draw to the place though is Ashwani's insight on the city.
A big foodie himself he has the best suggestions for places to eat and the hidden gems that make Delhi special. His mum does run another special place called Life Tree and that also is just as nice and in the market area of Lajpat Nagar.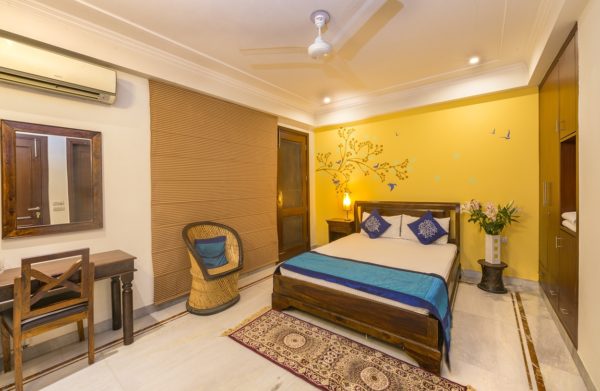 One of the many perfectly sized and nicely decorated bedrooms at the Tree of Life
Mohan Niwas – Jodhpur
Descendants of the Royal family, the owners of Mohan Niwas are a father-daughter duo. The house is full of character and trinkets, pictures and showcases the glorious history of the Royal family. The breakfast here is one of the best spreads you will have and don't be in a hurry to leave as when you sit down with Madanji conversations get interesting and then you inevitably end up sitting for longer than you expected.
They have five rooms and each are spectacular. Located close enough to the old city maybe 15-20 minutes ride out. A lovely place to come back to after the hustle of the old city.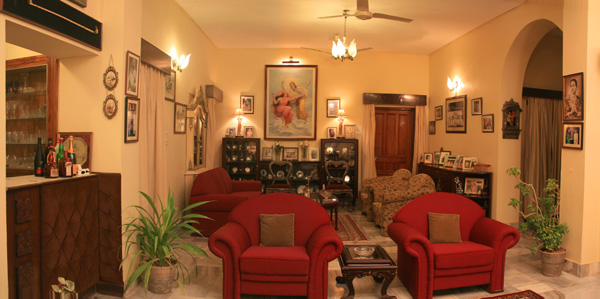 Perfect Heritage Homestay (Photo Credit – Mohan Niwas)
Dewar – Udaipur
This place is right up on our list, in the small village Sisarma 7 kms away from Udaipur is this beautiful home of colonel and his family. They live in one section where they serve you a delicious breakfast and meals or you can share a beer with them in the evening on the terrace which has a fantastic view of the entire city of Udaipur.
Having worked for the Maharajah of Udaipur for the longest time, hospitality is in this families blood and they are fantastic hosts. The rooms are nicely decorated and are extremely large. Local furniture and rugs brighten up the room.
They do have a few friendly dogs roaming the property. And you would wake up in the morning and spot peacocks and plenty of other birds. You can take a few short hikes from here also.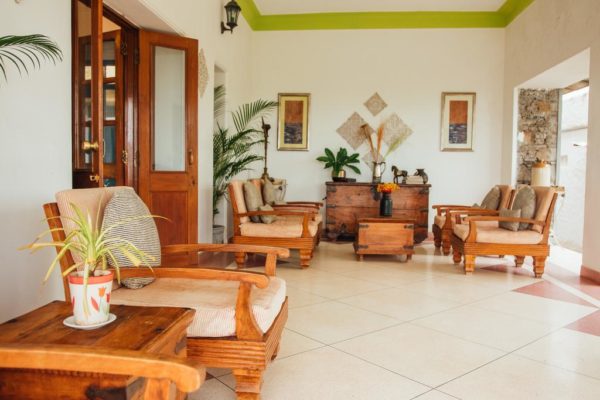 Open your front door and witness this pastoral, mountainous view from Devra Residency (Photo Credit – Devra Udaipur)
Seetalvan Apple Orchards – Kotgarh
This farm stay is in a small village 60 kms north of Shimla. Imagine 6 wooden cabins tucked away in the Indian Himalayas. A wood-fired pizza oven, great Indian food, a warm fireplace and a common room, an evening fire and with that two lovely owners.
They live in a separate house maybe 50 flight of stairs above the rooms and are always there for advice and conversation, but also give you enough space to just soak in the view of the property. Each room has a verandah which overlooks nothing but the Himalayan mountain range. You could snuggle up with a hot chai, blanket and a book for days.
You could explore the small towns nearby and visit a lovely little church, one of the oldest in India if we are not mistaken. If you visit in September it is apple season and the colours of the orchard are spectacular. A lovely offbeat destination for some downtown. Definitely a contrast to cities in Rajasthan and Varanasi.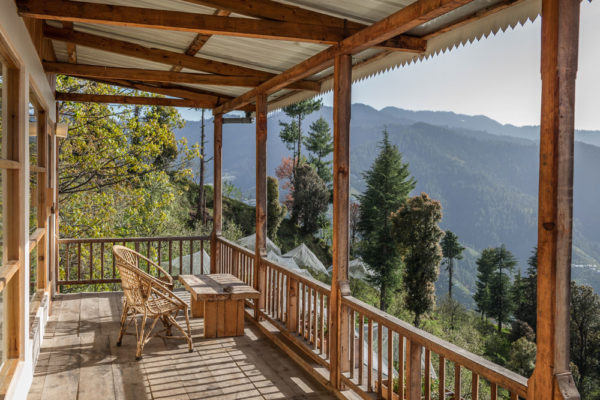 Breathtaking views day or night (Photo Credit – Seetalvan Orchards)
Aashray homestay – Varanasi
Another homestay made special because of the owners. The first thing we have to mention is their amazing food, we could go back there just to eat. The location is unfortunately not on the ghats. However, the wealth of knowledge that the Kapoors have about Varanasi history and heritage make up for that.
And it is a half an hour walk to the ghats. Sometimes Kamalji would accompany guests and share little details about the alleys. The trinkets of information that he shares make Varanasi so interesting.
This city can have a profound effect on you. The fact that living and dead seamlessly coexist can be alarming for a few. It is always good to have the comfort of a home to go back to at the end of the day. They have four rooms and have recently renovated the rooms on the first floor.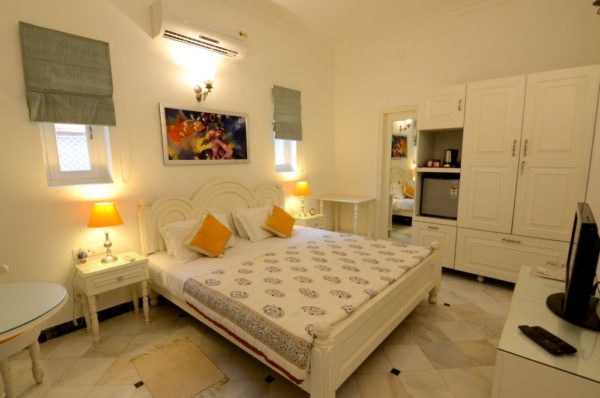 Feel welcomed at a homestay as though it was your own (Photo Credit – Aashray Homestay)
Note: We, the India Someday team have stayed in all of these properties. We further recommend these to our guests all the time. So if you would like to stay at any of these or a combination of them during your trip to India we would love to help you plan your trip.
helping you travel your way
Everything you need to know about India is here We have tried writing about everything you may need help with for your trip to India, If you need help in planning a trip to India Get in touch with us to to plan your trip of a life time.