Travel Routes through India: Explore India in 4 weeks
Travelling in India for a month? This article will explore travel routes through India in one month. The famous saying goes, 'a life time is not enough to explore all of India', and rightly so. Therefore, we suggest that one month in India is the least amount of time you would want to spend here.
There is no single best route to travel across India, so we have provided 5 different routes. Each outline covers 4 weeks in India and includes an overview of the routes, the destinations, the highlights, and the modes of travel.
The suggested routes are moderate to fast-paced trips, that contain the drawbacks of the tours. They also have an approximate indicative budget for each route, going from backpackers to luxury travellers. You can compare different routes of travelling in India and see what you should be prepared to miss out on. The E-Visa and Visa On Arrival have made India a much simpler place to get to for travellers wanting to visit India.
Read more to understand the best time to visit India and cost of travel in India.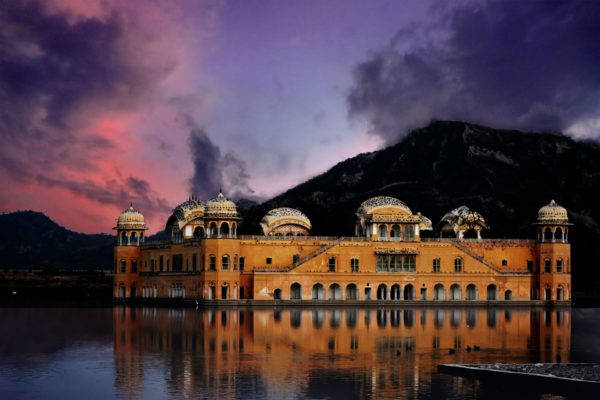 North India contains several such stunning sights (Photo Credit – Ravi Shekhar)
travel routes through India – route 1: the classic north and south
Route 1: Delhi – Varanasi – Agra – Jaipur – Jaisalmer – Jodhpur – Udaipur – Mumbai – Goa – Hampi – Kerala (Route on GoogleMaps)
This travel route through India is one of the most popular month-long routes for travellers, especially with backpackers. This route has you starting in the historically rich capital of Delhi. Head east to visit Varanasi, one of the oldest continually inhabited cities known to civilization. Travel west to visit the Taj Mahal, and then loop around the desert state of Rajasthan.
While traveling in India, you'll get to explore cities rich in culture and character in Rajasthan (Jaipur, Jodhpur, Udaipur). You can also take part in the Camel Safari & the Desert Camp in Jaisalmer. End the northern leg of your trip in Udaipur before taking a bus or flight to Mumbai.

Travelling to the South is more relaxing, as you'll be travelling along the same coast as Mumbai. Relax on the beaches in Goa. Explore the boulders and rice fields of the time-bound Hampi. Visit the beautiful state of Kerala known for its backwaters and its tea plantations.
For a more detailed explanation on travelling in India and the best things to do in North India and South India, visit our blogs.
Drawbacks
Depending on when you are looking to travel, this travel route through India can be quite busy. This is one of the most frequented routes by travellers wanting to visit India. If you plan on picking it, we suggest you ensure all your transport and accommodation is booked well in advance.
Since all these places are popular among tourists, it's likely you will bump into more than a few on this trip. While that isn't always a bad thing, but if you'd like to avoid the crowds we'd suggest you travel a little early (mid July – September). While the North would have great weather, the South would be wet, but beautiful.
Backpacker! Boutique! or mix and match, we can help you plan a well thought and cost effective month across India.
Cost of a four week tour across North and South India?
In terms of backpacking – dorm beds, day and overnight trains and a possible flight – you could potentially do this tour for as little as 700 EUR. Together, we can cater to your budget when booking hotels and modes of transport. Travelling in India isn't extremely expensive in regards to spending money, for example, the food is cheap yet healthy.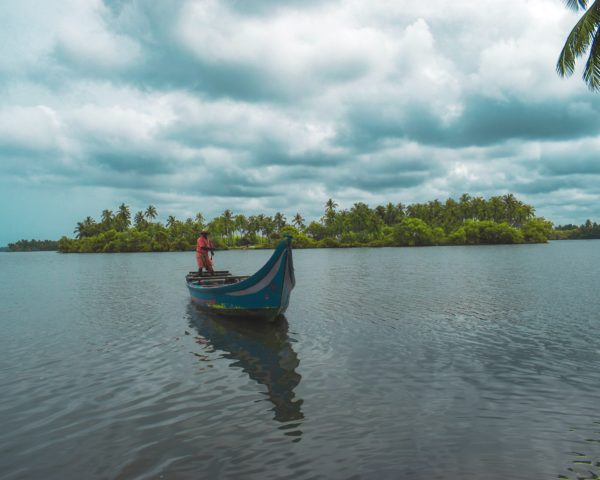 The backwaters of Kerala will steal your breath away (Photo Credit – Nahel-Abdul)
route 2: a glimpse of the mountains
Route 2: Delhi – Dharamshala – Amritsar – Rishikesh – Delhi – Jaipur – Jaisalmer – Jodhpur – Udaipur – Pushkar – Agra – Varanasi (Route on GoogleMaps)
Being home to a billion people, a million Gods and plenty of wacky rituals, India is also home to the incredible Himalayas. This is the best possible travel route for people who have only a month in India and want to combine their trip to India with a trek in Nepal (Everest Base Camp/Annapoorna Mountain Pass).
You will begin your trip in Delhi, a city extremely central to some of the most prominent locations in North India. From here on, head north to Dharamshala (home to the Dalai Lama), followed by Amritsar (known for the beautiful Golden Temple) and Rishikesh (the Yoga capital of the world, also known for its adventure sports).
After Rishikesh, you come back to Delhi before heading southwest, this time in to Rajasthan. Start with the state's three gems – Jaipur, Jodhpur & Udaipur – before visiting Pushkar and Agra and then taking an overnight train to Varanasi. Varanasi is quite intense, it's one of the oldest civilizations in the world and also a great place to end your trip in India. If you're up for an adventurous assault on the senses, you can take a bus from Varanasi into Nepal.
Drawbacks
Like the first route, this is also extremely popular among travellers, so if you decide to take it, you might want to book your train tickets well in advance. It is a hectic route, so we would recommend it to active travellers.
Apart from that, this is a good route to cover three regions (the Himalayas, Rajasthan and Varanasi) in the month you have in India.
Here's what our guests who travelled to India with us had to say.
Cost of a mountain tour in India
Again if you plan to backpack, take train and buses you can do the tour for as little as 600 EUR/ 700 USD per person. You would want to double your budget to travel comfortably.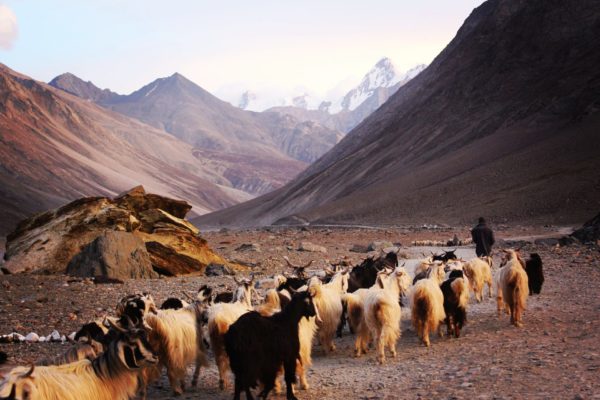 The Himalayas have hidden secrets to be explored (Photo Credit – Steven Lasry)
route 3: Exploring the south
Route 3: Mumbai – Goa – Hampi – Mysore – Bangalore – Chennai/Pondicherry – Trichy/Thanjavur – Madurai – Munnar – Thekkady – Alleppey – Kochi – Varkala (Route on GoogleMaps)
As a country, India has a myriad of facets and each region is often drastically different from the last. This travel route through India (the South) will be extremely gratifying – a full trip in itself.
Fly into Mumbai and head South to the fabulous beach state of Goa. Next, you can catch a bus or train to the evergreen Hampi and then spread out across Karnataka from royal Mysore to urban Bangalore before moving southeast to Chennai. Take a long break in Francophile Pondicherry or break it up with the southern spice of Trichy and Madurai. End the trip on the beach in Varkala or carry on to the stunning hill station of Munnar, and the backwaters in Alleppey.
For more detailed information about the best things to do in the South of India, read our blogs.

Drawbacks
South India is a beautiful region to explore, but it is slightly more expensive compared to the North. Flying into Mumbai and staying there can be quite expensive. There aren't too many budget options in the South, even though there has been a rise in the number of hostels. It's also sometimes convenient in the South to hire a car to get from one place to another, which racks up a higher bill than buses.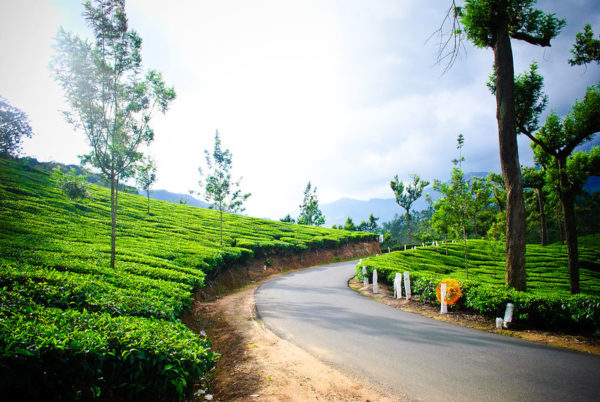 Munnar, and hill stations like it, are painted with a broad stroke of luscious green, especially in the monsoon (Photo Credit – Sudheesh S)
route 4: mix it up in south india
Route 4: Mumbai – Goa – Hampi – Mysore – Wayanad – Calicut – Kochi – Munnar – Thekkady – Alleppey – Varkala (Route on GoogleMaps)

This route, like the previous one, is all about exploring South India. However, while traveling in India on this route, you will not be travelling southeast. You'll fly into Mumbai and head South to Goa, Hampi and Mysore before crossing into Kerala and spending the rest of your days exploring God's own country.
This route is more relaxed and moves at a slower pace than the others, giving you time to soak in the beauty of the South without dropping dead from exhaustion. Getting from Mumbai to Goa to Hampi by bus is not tough, but if you throw in a few trains and maybe a car hire, it'll be easier.
Drawbacks
Limited to the South alone, and includes all the same drawbacks as the previous route.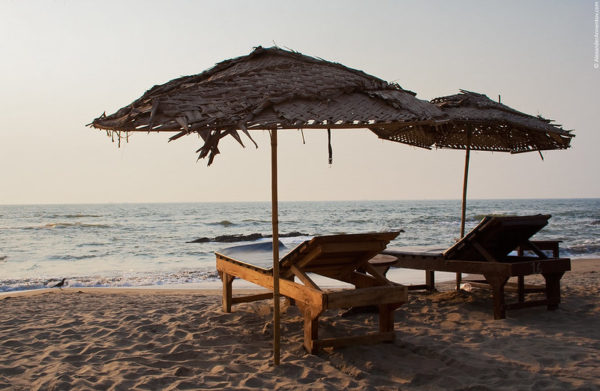 Goa! A dose of vitamin sea with high tides and good vibes (Photo Credit – Alexander Annenkov)
ROUTE 5: THE NORTH AND THE NORTH EAST
Route 5: Delhi – Bagdogra – Gangtok – Ravangla – Pelling – Namchi – Darjeeling – Kolkata – Varanasi – Khajuraho – Orchha – Agra – Jaipur – Jaisalmer – Jodhpur – Udaipur – Pushkar – Delhi (Route on GoogleMaps)
The Himalayas, the Taj Mahal and the serene backwaters are a few things that people associate with India. And rightly so! However, India is also home to the divine but underrated Northeast, a virtual paradise nestled in the out-flung arm of the country. So when travelling in India remember this gem as well.
If you are looking to go off the beaten track, this is a great travel route for you to take. Travel through Bagdogra, Gangtok, Ravangla , Pelling, Namchi and Darjeeling, then make your way west to Kolkata; one of the oldest metros in the country. From there you can catch a train to Varanasi, then move through Khajuraho (known for it's erotic temples), Orchha (the quintessential Indian town), Agra and Rajasthan, before heading back to Delhi.

Drawbacks
Apart from being diverse, India is also simply large. You may have to take a few flights, Delhi – Badgogra, or Bagdogra – Kolkata to save time, since there is only a month and so much to see and do in it. Travelling in the Northeast could be slightly more expensive as the local transport, though very economical, is inconsistent with its timings. You may want to trade some of your other luxuries on the trip for a comfortable car ride.
Places like Khajuraho and Orchha are beautiful places to visit, but make sure you've made travel arrangements in advance. There is a dearth of options and not very great connectivity either.
Further, depending on the time of year you are planning to travel, the North and Northeast can get pretty cold, especially in the mountains. For more information on travelling in India, contact us or check out our blog. Don't have a month? Here are a few two week itineraries you could follow for North India or the South India. For any further assistance, or for help with planning the trip of a lifetime, simply click on Plan Your Trip.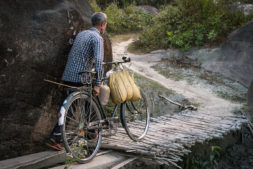 The magical states of Northeast India has ageless forests and formidable mountain ranges
helping you travel your way
Everything you need to know about India is here We have tried writing about everything you may need help with for your trip to India, If you need help in planning a trip to India Get in touch with us to to plan your trip of a life time.