Getting from Goa to Hampi
If you're headed to Goa for a while, we strongly recommend getting from Goa to Hampi. The ruins of Hampi beautifully compliment Goa, the land of sun, sea and inexpensive alcohol.
A village in North Karnataka, Hampi means 'champion'. It's located on the ruins of the ancient city Vijayanagara of the Vijayanagara Empire. The ruins are a timeless UNESCO World Heritage Site. Stuck in the 16th century and positively oozing with old world charm, Hampi is a delightful location. It's great for all kind of travellers, from backpackers to comfort to luxury, so it should definitely be on your itinerary if you're not willing to end the vacation in Goa.
Our practical guide explains the different travel options between Hampi and Goa and the pros and cons of each mode. It's not exactly a 'hop, skip and jump' away, but Hampi is truly worth the travel effort. The distance from Goa to Hampi is 344 km. There are no flights from Goa to Hampi so you can either take a train or bus.
Our blog gives you a detailed overview on all the modes of transport, we also explain a route that allows you break the journey with some beautiful stops.
If you're interested in going to either of these places, let us know and we'll handle all the logistics for you.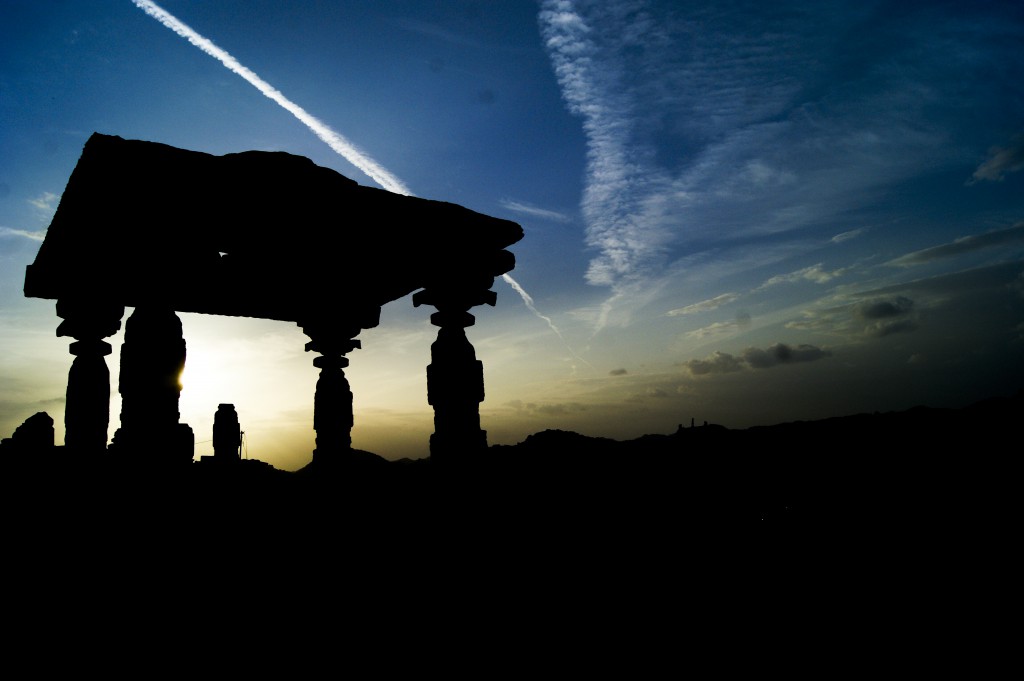 Once you have relaxed on the beaches of Goa you now can explore Hampi
getting from goa to hampi By bus
There are state transport buses that run from Goa to Hampi. They tend to take much longer and can be uncomfortable. You often have to change state buses at Hubli or Belgaum which are the hub transport towns in Karnataka.
We frequently use Paulo Travels, which provides two bus services from Goa to Hampi and vice versa. You have the choice of a Volvo Sleeper and a Non AC bus. Both buses are scheduled for the evening. One departs at 18:55 IST and the other at 19:04 IST. It takes about 7 to 8 hours to reach Hampi by bus and should not cost you more than INR 600 – 800 (USD 8-11, EUR 7-9).
Private buses ply frequently between Goa and Hampi during tourist season i.e. October to Mid April. Availability outside those months depends on the operator if they see enough demand or not. In our experience, private buses between Goa and Hampi (and vice versa), very seldom run between May to September.
Tickets can be purchased directly in Goa, or purchased in advance online. If you decide to book a trip with India Someday, we will take care of your transport bookings, suitable accommodations and a whole lot of other tips.
Side note: Paulo Travels is usually a reliable bus in terms of punctuality and comfort. They frequently ply between Goa and Mumbai too. VRL and Neeta are another good bus service that you can use as well.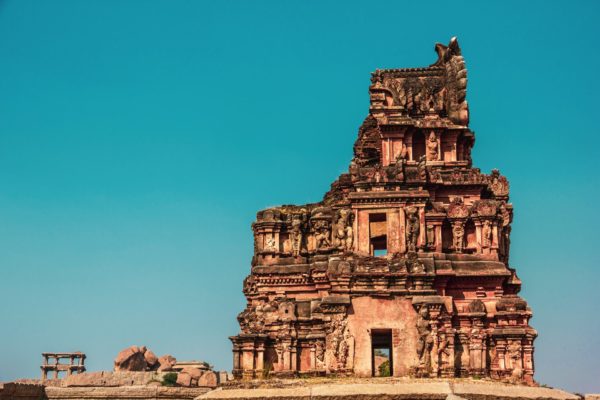 The ancient ruins you can see in Hampi are practically unaffected by change (Photo Credit – Balaji Srinivasan)
Goa to Hampi By train
Getting from Goa to Hampi by train is our preferred option. We recommend you take the Howrah Express (not available Mondays, Wednesdays, and Saturdays). You can board this train at 07:20 IST from Vasco Da Gama Station, in Goa and reach Hospet at 14:00 IST. Hospet is the closest station to Hampi, where you can take a rickshaw for about 20 km to reach Hampi. We suggest the train because it's fast and you reach Hampi in the afternoon which leaves an extra evening to spend there.
Key things to remember about Goa to Hampi by train
Unfortunately there are no daily trains on this route, as mentioned above, the train only runs four days a week.
You must book the train well in advance, bookings open four months in advance and you ideally want to book the train at-least two months in advance.
Unlike private buses, the train runs the same schedule all through the year. The train journey is spectacular during the monsoons (i.e. June to September).
If you are an adventurous traveller, travel by non A/C Sleeper Class (SL) on this journey. WHY? A/C train classes have tinted glasses that mars the view of the green fields. Non A/C travel lets you experience the wind rushing through your hair, which is the best way to do this journey.
The journey is quite beautiful, full of ghats and the mesmerizing Dudhsagar Waterfalls. The Mandovi River takes a leap in all its grace (looks like milk flowing from a mountain), hence named the Dudhsagar Waterfalls (sea of milk).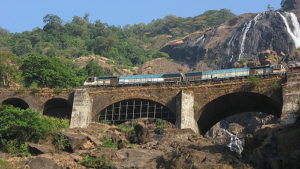 The Howrah Express passing through Dudhsagar Falls (Photo Credit – Benjamin Rualthanzauva)
getting from goa to Hampi By Car (and driver)
How to get from Goa to Hampi also involves a car- you can hire a private car and drive from Goa to Hampi. However, it's a long drive and quite expensive. Expect 7 to 8 hours (sometimes up to 10) on the road. It would also cost you anywhere between INR 9,000 to 12,000 (USD 120-160, EUR 110-150), and this is including fuel costs.
Hampi can also be a day trip – tourists can rent a car, go to Hampi and back. We don't get this request too often and honestly, we strongly recommend against it for two reasons – we think that it is a tortuous amount of driving and Hampi deserves more time for how stunning it is! A sunset or sunrise may well be one of your most memorable India experiences. The entire red granite landscape glistens in the sun's rays.
If an overnight bus journey is not your cup of tea and you have decided to make a trip to Hampi on an impulse (i.e. trains are sold out) then you would have to opt for this option. If you are a group of four travellers, the drive is much more affordable split four ways.
Wondering how to get from Hampi to Kerala, here is one of our other very useful blogs! You can also browse through our travel route ideas for South India. Feel free to get in touch to speak to us about your trip to India.
Hampi's ruins are not only magnificent and have a rich history behind them, but they're also so abundant throughout the town
Getting From Goa to Hampi with Stops en route
We believe the fact that Hampi is not so easy to reach has allowed it to retain its charm. It is worth the travel effort to get there as the landscape and ruins mesmerise one and all.
If you have time you can spend a couple of extra days getting to Hampi from Goa with either one or both of the stops mentioned below. Both stops are closer to Goa, so they only cut the travel time by 2-3 hours.
Spend a couple of nights at Off The Grid (truly off the Grid), a remarkable homestay lovingly created as a minimal eco-impact 'refuge in the forests'. You take the same Goa to Hampi train, get off at station Castle Rock and get to them. You can also continue the same train onwards to Hampi after your stay. Alternatively, you can also drive to them and either drive or take a train onward to Hampi.
Another option is spending a night at the Dandeli Wildlife Sanctuary, the humble Kadumane Homestay being one of our favourite places to stay. A car and driver or being patient with local buses is the best way to break your Goa to Hampi journey with a stop in Dandeli Wildlife Park.
India Someday can help you plan a great trip across India, or a great adventure that takes you across beautiful Goa, stops en route and beautiful Hampi, just get in touch.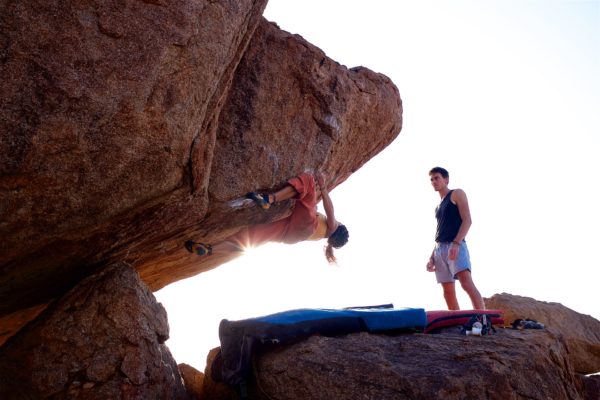 You can also try out rock climbing or bouldering (Photo Credit – Mike Kotsch)
Getting from Hampi to Goa
You can use the same bus and train services from Paulo Travels or Howrah Express from Hampi to Goa. While travelling from Goa to Hampi we prefer that you take the train but when travelling from Hampi to Goa, we highly recommend taking a bus. This is because the trains originate from Kolkata, which is 36 hours away from Hospet, so they're often late and at times and can be very dirty.
If you have reached Hampi and you're wondering where to go next, try Kerala, 'God's Own Country'. Here are travel options between Goa and Kerala.
What are you waiting for? Plan your trip with us now and you won't regret visiting Goa, Hampi or any other idyllic place in India you'd be interested in!
helping you travel your way
Everything you need to know about India is here We have tried writing about everything you may need help with for your trip to India, If you need help in planning a trip to India Get in touch with us to to plan your trip of a life time.