Getting from Mumbai to Kerala
Getting from Mumbai to Kerala is fairly easy and uncomplicated. Most international travellers tend to first land in Mumbai, to then make their way to this tropical paradise. Kerala is the land of lush green valleys and lazy backwaters, brightly painted Kathakali artists and gently draped gold-and-white saris. Aptly described as 'God's own country', Kerala is every traveller's dream. This article will explore some of the different ways of getting from Mumbai to Kerala.
Blessed with endless beautiful forests and beaches and bursting at the seams with gorgeous art, delicious food and healing Ayurveda, Kerala is the place to be. For more information about Kerala, check out our blog.
You can see some of our two week South India routes here OR look at Tom and Amy's trip to Kerala.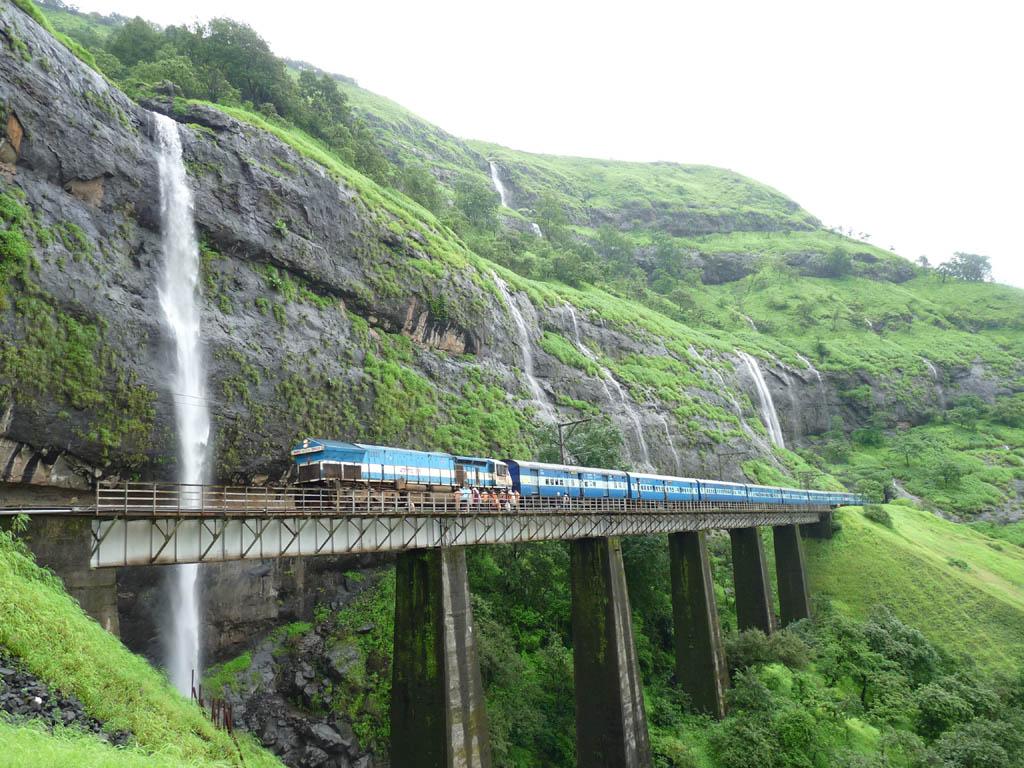 The scenic Konkan Railway route in the monsoon runs from Mumbai to Kerala (passing Goa en route) – Photo Credits
Getting from mumbai to kerala by flight
The de-facto option to get to Kerala from Mumbai is a two-hour flight. There are frequent flights almost every hour and if booked in advance it would cost as little as 30 EUR / 35 USD per head. The adventurous should take the scenic twenty four hour train ride (more on the same later in this blog), but before that let us give you some pointers on the flights.
Kerala has three main airports, located in Kochi, Trivandrum and Calicut. All these airports are well connected with Mumbai, with many direct flights between each of them throughout the day.
Fly from Mumbai to Kochi if you are travelling to Kochi, Munnar, Thekkady, Marari, Alleppey or Kumarakom.
If you are visiting Kovalam or Varkala it is closer to fly into Trivandrum from Mumbai.
Wayanad, Kannur and Kasargod which are at the northernmost end of Kerala are closer to Calicut airport.
Kochi Airport is serviced with the most number of flights from Mumbai. It means more flexibility on flight times and at times fares that are cheaper than for flights to Calicut or Trivandrum.
Tip: If you are looking at visiting North Kerala and flights to Calicut are expensive, you can look at flights to Mangalore. Bekal and Kannur are gorgeous beaches equidistant to Calicut and Mangalore.
UPDATE:- As of 2019, there is a new airport in Kannur, making it the northernmost airport in Kerala. Flights are limited, but the best connection if you are looking at visiting beaches of North Kerala.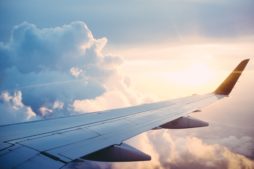 train from Mumbai to Kerala
If the journey is more important than the destination then do not look further for a prettier experience. It will take anywhere between 16 to 24 hours depending on which part of Kerala you visit, but taking a train along the western Indian coast will be a gorgeous and memorable experience. We share a few pointers below –
The Southern India rail network known as the Konkan Railway runs a number of trains between Mumbai and Kerala.
The major railway stations are Calicut, Ernakulam Junction (close to Kochi) and Trivandrum Central. There are a few trains that also halt at Alleppey and Varkala railway stations.
There are about 9 to 10 trains that run between Mumbai and Kerala. The average travel time is 16 to 24 hours, depending on the train and whether you plan to alight in North, Central or South Kerala.
Avoid booking tickets on a train that does not start in Mumbai. These trains are often late and dirty as people have been riding on them for a while. For more information about train travel in Mumbai, check out our blog.
The best trains to take are the ones that start from Mumbai CST, or Lokmaniya Tilak station (Mumbai CST is the easiest to reach).
Avoid the trains to Kerala that you need to board from Kalyan or Vasai Road. These stations are listed as Mumbai stations but are far from the city.
Since it is a long train journey to Kerala, it is nice to take a train to Kerala and then fly back.
The journey is extremely scenic. So if you have the luxury of time, definitely take a train journey to savour and remember the beauty of Kerala.
For more information about train travel in India, have a look at our blog.
Still not convinced about visiting Kerala? Let us give you five reasons!
Train from Mumbai to Kerala (Photo Credit – Antriksh Kumar)
getting from Mumbai to Kerala by Road
The least recommended option is to travel from Mumbai to Kerala by road.
The distance from Mumbai to Kochi is 1377 kms.
There are no direct buses that ply between the two regions.
Driving to Kerala with a rented car would mean a journey of two days with a night halt. Moreover, a car hire would be very expensive and not all car rental agencies would be willing to send a car and driver from Mumbai to Kerala.
We recommend either taking a flight or train when travelling from Mumbai to Kerala as the drive would be tiresome and expensive.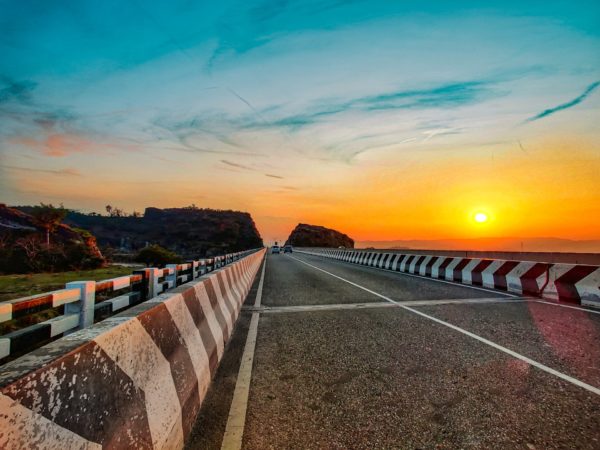 Long Route (Photo Credit – Rishabh Pandoh)
Stops en route
Goa, the most popular beach and party destination comes right between Mumbai and Kerala. You can either take a train or fly to Goa and then travel onwards to Kerala, or explore more travel options.
You can also make the entire way from Mumbai to Kerala your travel route. This way, you can stop at additional interesting places like the temple and ruin landscapes of Hampi, the charming palace town of Mysore or the green region of Wayanad. From there you can easily get to Calicut and head down to Kochi by train. Our guest Rachel did this on her two-week-trip across South India. Check it out!
An alternative route is to fly from Mumbai to Mysore directly. This avoids the long Goa – Hampi – Mysore train journeys to then going to Kerala. This was Daphne's idea for her two-week-trip to Kerala in May.
Alternatively, the coasts of Maharashtra and Karnataka are dotted with idyllic small coastal towns. You can choose to stop at any one of them. Do remember that you will have very basic tourist facilities there.
For some inspiration, check out Tom and Amy's trip to Kerala. Alternatively, for any more information or for help planning your perfect trip to India, feel free to contact us!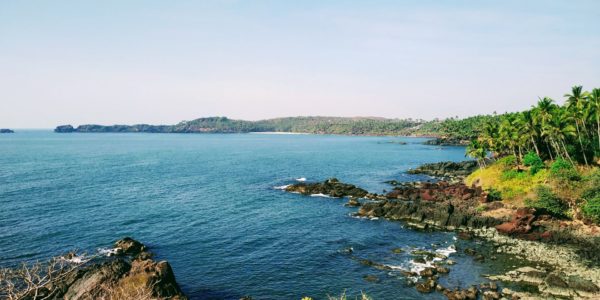 Goa (Photo Credit – Viraj Rajankar)
We would love to help you plan a trip to India that involves getting from Mumbai to Kerala, visiting the gorgeous places en route. Plan Your Trip with us now and we will figure out the ideal travel route together with you.
helping you travel your way
Everything you need to know about India is here We have tried writing about everything you may need help with for your trip to India, If you need help in planning a trip to India Get in touch with us to to plan your trip of a life time.