Travel to North East India
Northeast India is one of the most remote regions in India. It's untouched by the overbearing tourism industry, which makes it an incredible place to visit. It consists of seven states; Assam, Arunachal Pradesh, Manipur, Meghalaya, Mizoram, Nagaland and Tripura. If you planning to travel to North East India expect to find one of the largest and irreplaceable biodiversity hotspots in the world, with more than 60% of the area under forest cover. Although the cultures are often dismissively grouped together, they're incredibly diverse and worth discovering.
If you'd like to plan a trip in one of these states or in any other place in India, let us know and we can help you out.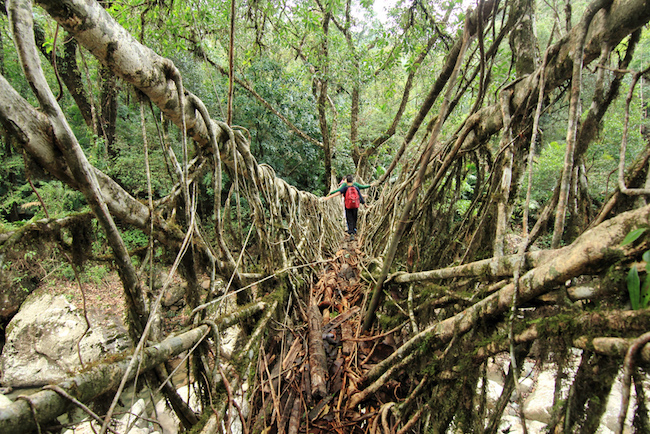 In many paths of these states, you'll find root bridges like this one in Meghalaya, making trekking so much fun
How to get around in North East India?
A remote and hilly area, the infrastructure is not well developed. With the exception of Assam, where they have 4 lane cement highways, roads can be pretty bad. In Arunachal and Nagaland, roads are winding and poorly maintained, with a top speed of 30 km/h. This makes journeys between places long and arduous. Nevertheless, the views are spectacular and will keep you spellbound for the entirety of your trip.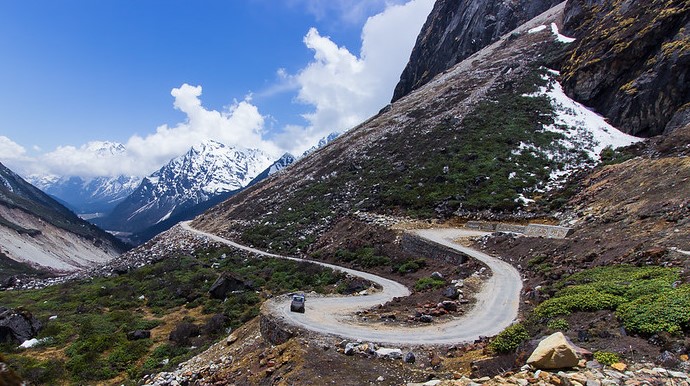 Magnificent view en-route to Zero Point, Sikkim (Photo Credit – Amitra Kar)
How's Accommodation in North East India?
Accommodation is fairly basic in majority of the region. Hotels often do not have geysers or showers so buckets with hot water could be provided. Also, some places won't have western style toilets so prepare yourself to squat. Assam, Sikkim and Gangtok do have some extremely comfortable housing for travellers. A growing interest in visiting these endangered and beautiful areas will only bring newer options for tourists venturing there.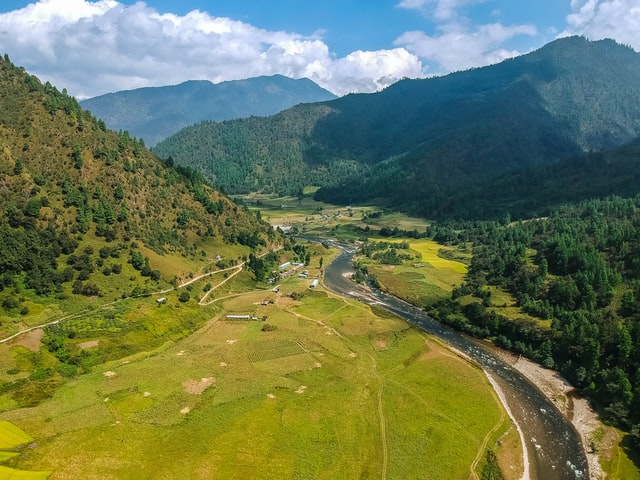 The beautiful green grass and mountain in Sangti Valley at Arunachal Pradesh
Who is it for?
The northeast has a very raw and rugged beauty, bearing a closer affinity to Southeast Asia than to the general perception of India. If you like to travel rough and truly experience the lives of other cultures then it's the place for you. Expect the complete unexpected when voyaging through the region.
Despite the idea and perception that the northeast is incredibly primitive and backwards, they have the most widespread rock music scene in all of India. Look up college festivals, local concerts and competitions to get a chance to experience something terrific. They also host quite a few music festivals that draw crowds and bands in from across the country.
There are very few luxury hotels in the northeast India and those that exist are found in selected places like Kaziranga, Shillong, Jorhat and Dibrugarh. So, if you're a luxury traveller, you might want to look elsewhere in terms of luxurious experiences.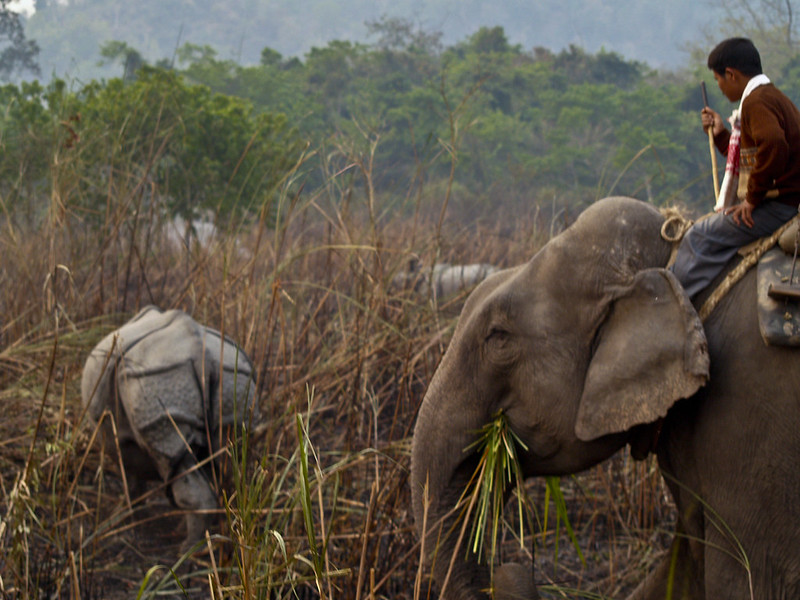 On elephant safari at Kaziranga National Park (Photo Credit – Subharnab Majumdar)
Cost of travel in North East India
Because of its remoteness, the cost of trips in northeast India is nearly 20% higher than any similar trip elsewhere in India. This is due to the transportation cost which is quite high because of the roads steepness and poor condition. We'd say travelling in groups of 4 or more is the most economical way of doing it. Hotels are also more expensive. A big bonus is that the cost of living is low, and there's very little chance you'll meet someone trying to scam you.
Seasons in North east India
November to May is a good time to visit northeast India, but it truly depends the kind of trip and places you'd like to visit. This is because certain months might be more favourable than others. The northeast is considered in the world as one of the places that receives the most rainfall in the world, so prepare for constant rainfall during many months of the year. The good thing about rain is that it gives it the green luscious touch that makes the region stunningly beautiful.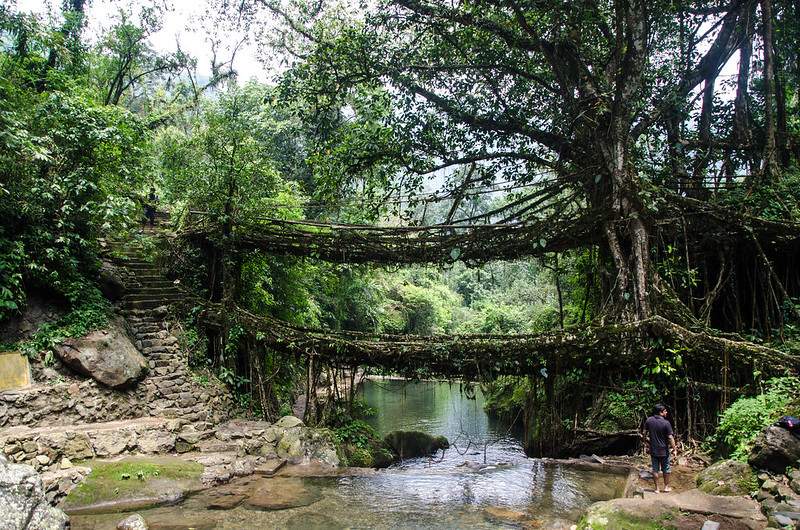 Double Decker Living Root Bridge constructed by weaving the roots of Banyan trees (Photo Credit – Ashwin Kumar)
the delicious food
While sticky rice is the staple diet of almost every tribe in the northeast of India, they compliment it with a dazzling array of meats, pickles, vegetables and beans cooked in various different ways. They love meat, pork being the favourite but also chicken, fish, snail and smaller game also vying for the top candidate. The residents are famous for cooking anything that moves, a topic you probably shouldn't bring up directly with your host or residents there. Nevertheless, it's definitely something to look forward to if you really want to dive into a new culture. Alcohol goes well with all the meat they eat. Rice and millet make the base for delicious local brews.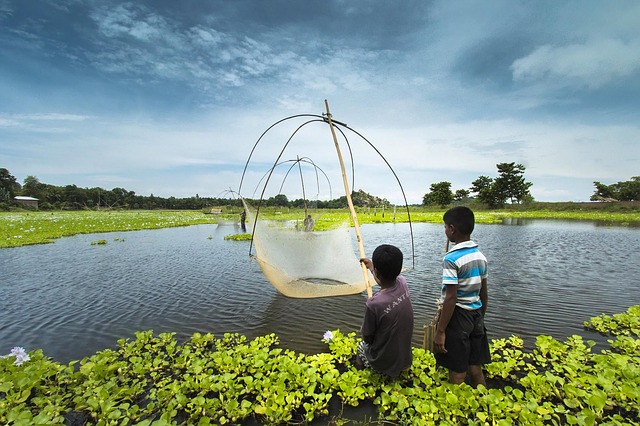 Small kids are fishing
Permits for NorthEast India
Foreigners don't require permits to enter any of the northeastern states besides Arunachal Pradesh. For this particular state you need a PAP (Protected Area Permit), which costs USD 100 for 2 people and is granted for the duration of 30 days. You have to apply for the permit through a tour operator recognised by the Government of Arunachal Pradesh.
In conclusion, we at India Someday recommend that you keep 10 days minimum for a trip to the northeast. 10 days is necessary as there's so much to discover and the remoteness means there is very slow internal travel. Road journeys are long and tiresome, so take a couple more days to visit if you're looking to relax. Most routes through Nagaland and Arunachal Pradesh will require 15 to 20 days. This is to properly experience the varied culture and the beauty northeast India has to offer.
Cool places right? Let us know if you'd like more information or if you'd like to plan a trip with us, and we'd be more than happy to help.
helping you travel your way
Everything you need to know about India is here We have tried writing about everything you may need help with for your trip to India, If you need help in planning a trip to India Get in touch with us to to plan your trip of a life time.