Spiritual Places in North India that you must visit
India is popular for its wide range of religious and spiritual beliefs. Owing to that, the country is home to a diversity of spiritual spots. Far up in the valleys of the North, you will find many places to embrace the calm and imbibe some of the essences of this life.
Here are a few places that should definitely feature on your spiritual journey in India!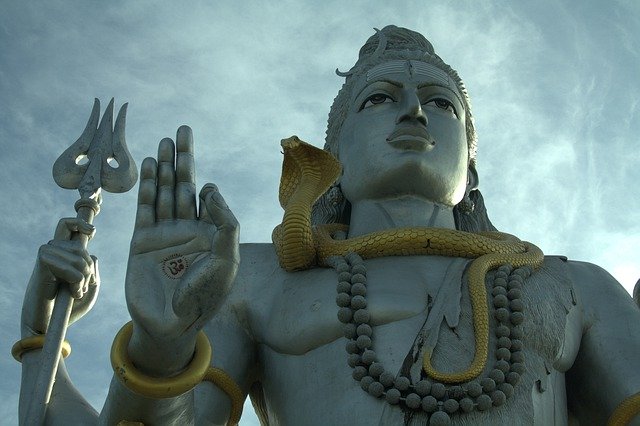 Lord Shiva and his Trishul
Varanasi, Uttar Pradesh
Located on the banks of the holy River Ganges, Varanasi is a centre of religious energy. This ancient city in Uttar Pradesh also goes by names Banaras or Kashi. It is one of the most visited spiritual places in India. Here, the rituals happen at its ghats, the steps leading down to the banks of the holy river. You will also experience culture in the tight, winding bylanes that lead to them.
Don't miss the spectacle of the grand aarti (pooja) of the River Ganges, held every evening at Dashashwamedh Ghat. The Diwali celebrations in Varanasi are also a sight to behold!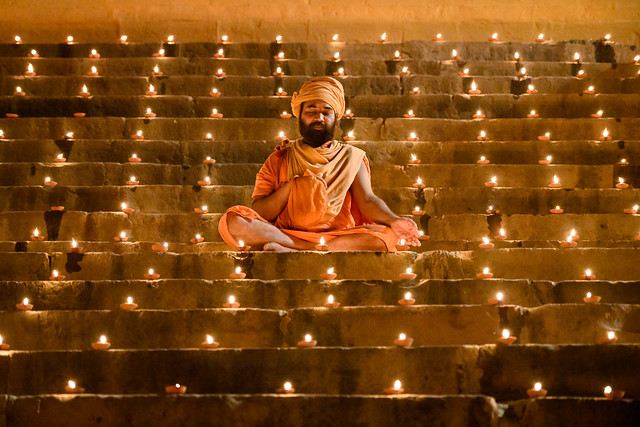 Sadhu offering prayers on the banks of Holy Ganges
Golden Temple, Amritsar, Punjab
If you are in the region, Amritsar's Golden Temple is an absolute must-visit. This, the most famous Sikh Gurudwara, is a whole universe in itself. It is also known as Harmandir Sahib or Darbar Sahib, and was founded by the 5th Guru, and completed in 1604. The temple is popular for its peaceful and calm ambience, owing in part to the beautiful holy tank Amrit Sarovar. Many believe that Amrit Sarovar'se waters have healing powers. The reflection of the gold and marble architecture of the temple in these waters, too, is a sight for sore eyes. While you are here at this spiritual retreat, don't forget to enjoy the very famous langar, or a free meal, served here – you can also volunteer to help prepare this meal, which feeds lakhs of people every day.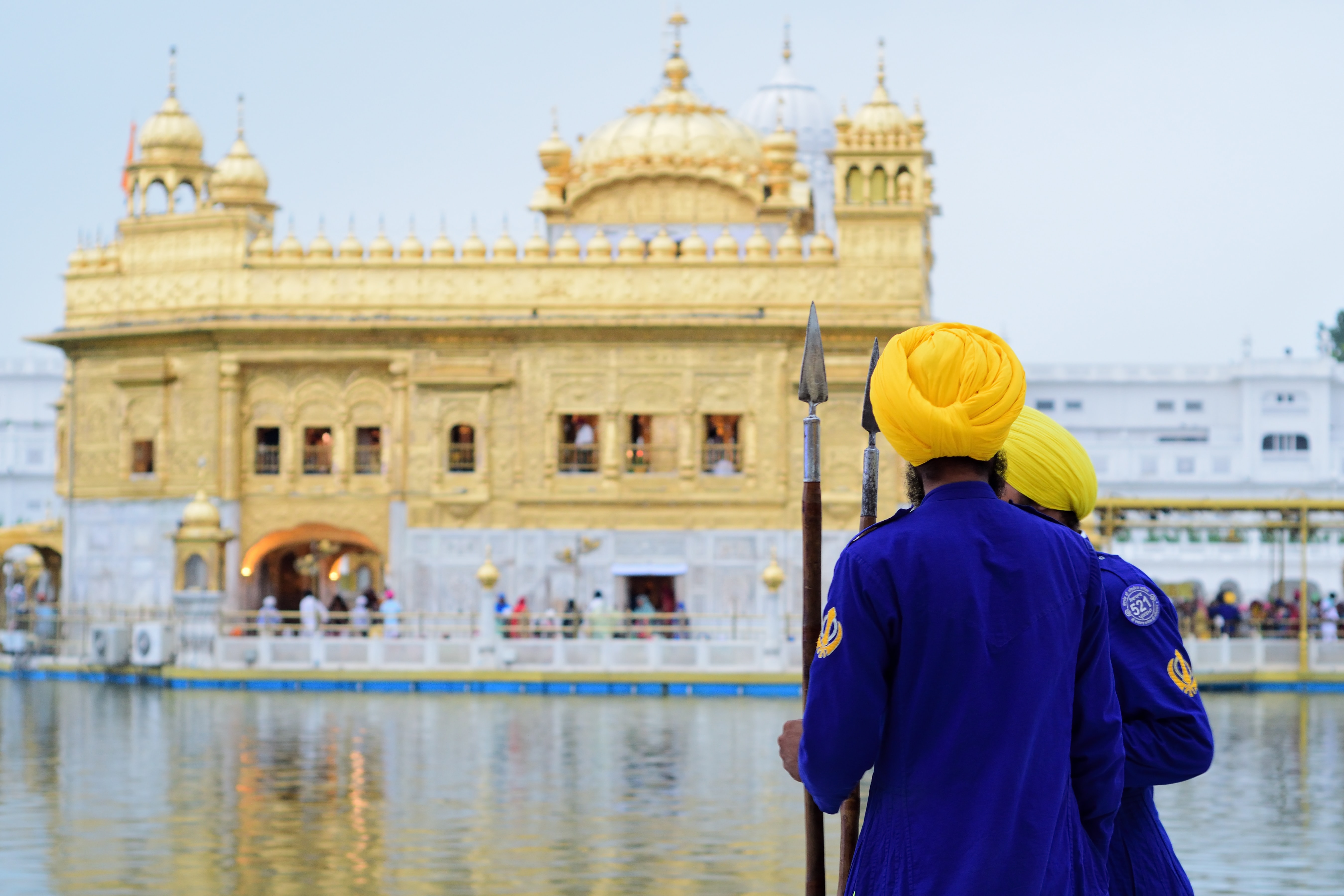 Khalsa are also known as guardians and the disciples of Guru Gobind Singh
Bodh Gaya, Bihar
Bodh Gaya is where Prince Siddhartha Gautama attained enlightenment and became a Buddha. The Mahabodhi Temple here in Gaya is a UNESCO World Heritage site. People and many tourists visit this place to meditate, study and to learn the teachings of Buddha. It is one of the most peaceful, spiritual places in North India. While there isn't much else to see and do in the area, if you're a student of Buddhism, Bodh Gaya is definitely worth a visit.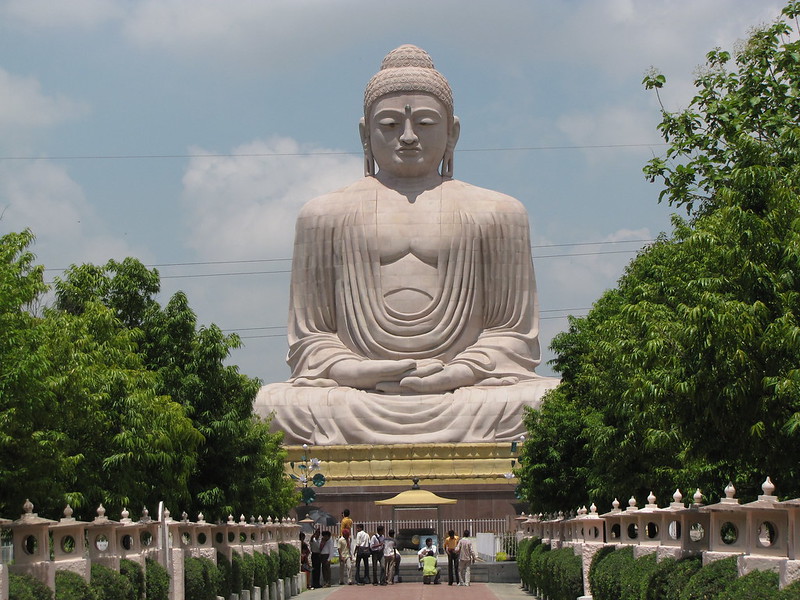 Giant Buddha statue – seated in a meditation pose, or dhyana mudra
Haridwar and Rishikesh, Uttarakhand
Haridwar is one of the most sacred spiritual places in India. It is settled along the banks of the River Ganges at the point where it first flows onto the plains, and, like Varanasi, is one of the Sapta Puris (seven holy places) of Hinduism. It's also one of the four locations at which the Kumbh Mela is held, and if you can handle crowds, that's definitely an event that you should mark on your calendar!
The nearby city of Rishikesh is also a very famous spiritual and holy place in India. Located at the foothills of the Himalayas, it is just the right place to visit for some meditation and yoga. In fact, it is arguably the yoga capital of the world. The name, as inspired by Lord Vishnu is home to thousands of sages and pilgrims seeking peace and blessings. Along with its spiritual side, Rishikesh is also famous for adventure sports. You can enjoy river rafting, treks and also bungee jumping here.
In both of these cities, while you enjoy the sights and sounds, you will sadly need to be aware of the fact that you might encounter touts trying to take advantage of you. Don't let them ruin your experience though – just be firm and don't give in to their demands!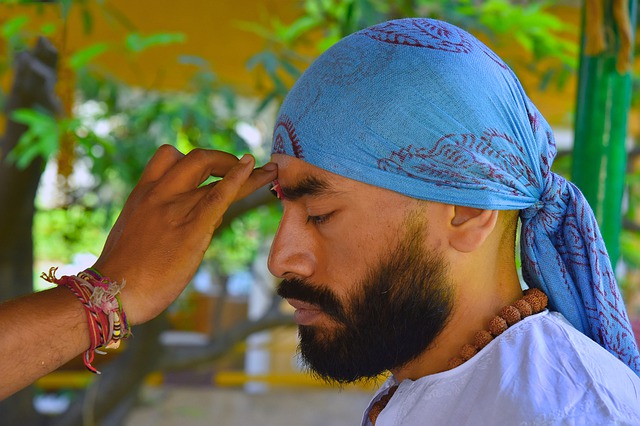 Tilak applied on the forehead, a spiritual custom
Kedarnath Temple, Uttarakhand
Located near the Mandakini River in Kedarnath, the Kedarnath temple is one of the four 'Chota Char Dham', or small four abodes – holy sites – a pilgrimage circuit in Uttarakhand that also comprises Badrinath, Gangotri and Yamunotri. This temple, one of the 12 Jyotirlingas dedicated to Lord Shiva, can only be reached by foot after an adventurous trek (though there are also ponies that you can hire) from Gaurikund. The trek in itself makes the journey worth experiencing, and being a part of the throng of pilgrims at the temple is also special. The glaciers and snowy mountains around the temple add to its beauty. The temple is open from April to November, though, as the weather makes visiting through the rest of the year untenable.
Need help planning your next spiritual journey to India? Get in touch, and we will help you!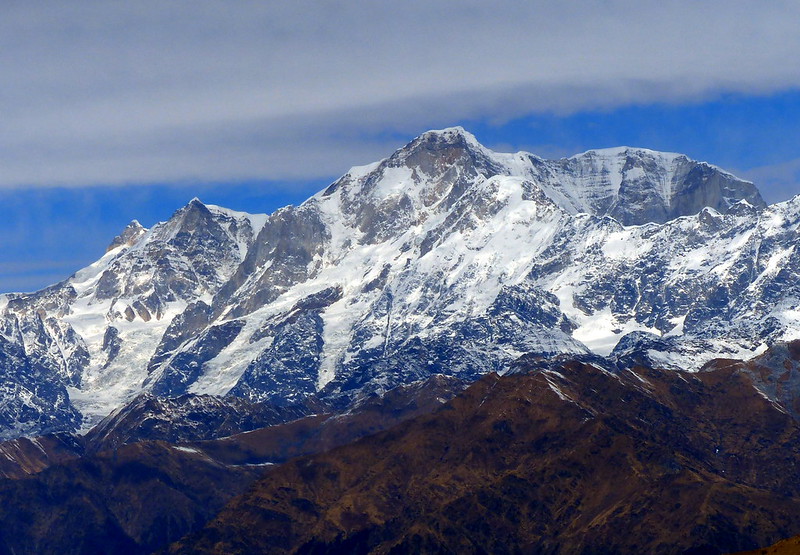 Snow clad mountains of Kedarnath
helping you travel your way
Everything you need to know about India is here We have tried writing about everything you may need help with for your trip to India, If you need help in planning a trip to India Get in touch with us to to plan your trip of a life time.