Our Rishikesh Experience
Created by Harsh Sonawala,
Last Updated on October 30, 2020
Rishikesh in Uttarakhand is a beautiful small city in the mountains. It is located at the foothills of the Himalayas in Northern India. Approximately 100,000 inhabitants live in this city. The streets are very crowded but only a few cars can be seen.
The vehicles are honking all the time, though, which is a bit annoying. It's famous for its yoga and meditation education. The city is full of tourists who look for spiritual satisfaction, pilgrims, and sadhus (holy ascetic Hinduism men).
Here is a list of some of the things we did on our trip to Rishikesh.
A blog from David Schidl.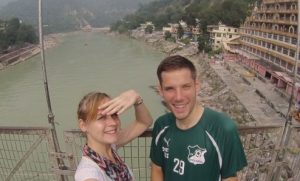 Marlene and myself ready for our Rishikesh adventure
Rafting on the Ganges
Our half-day rafting trip was a great experience. We (6 Indians, Marlene, and me) went at about 10:00 hrs in the car and approximately 20-30 minutes down the street next to the river. After short instructions on how to use the paddle, we started our trip to the rafts.
It was great to row through big waves. We made a short break at a cliff where we had the option to jump into the water (approximately 5 meters). During the boat trip, we were also swimming in the Ganga when there was no strong current.
Another city that has the divine Ganga flowing through the city is Varanasi. Another interesting city that can be covered after Rishikesh.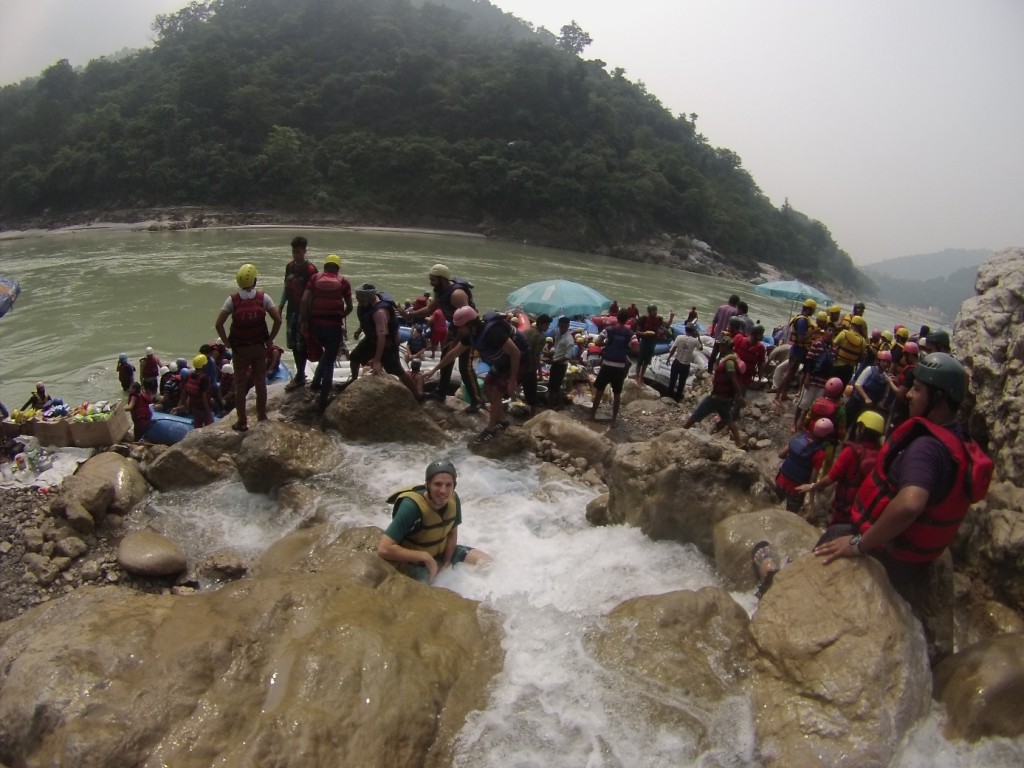 Me taking a dip in a natural pool during our rafting trip
Shopping in Rishikesh
The shopping mile after the Lakshman Jhula Bridge is really nice and you can get a lot of gifts, for example, handcrafts, bags, clothes, cards, and many more presents.
If you are lucky you can take some pictures with monkeys. It is probably the most famous attraction in Rishikesh when you google images of the place, so get your cameras ready.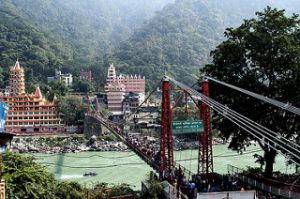 The Lakshman Jhula Bridge (Photo Credit – Anandamoy Chatterji)
Trekking & Waterfalls
Our trekking trip was organized by the hotel. We woke up at 04:15 hrs and it took us and the guide about 1 hour to get to the Kunjaa Puri (height 4050 ft). It is about 15 kilometers away from Rishikesh.
There was a small beautiful temple where you could watch the sunrise. Unfortunately, it was very foggy so the view was not the best. When you have a good view you can also see the Himalayas. After breakfast, we walked down the mountain and saw incredible rice fields and a beautiful waterfall called Neer-Ghar-waterfall.
We stayed there for about half an hour and we enjoyed a swim in the waterfall. If you are brave you can also climb up about 20 meters next to the waterfall and swim there.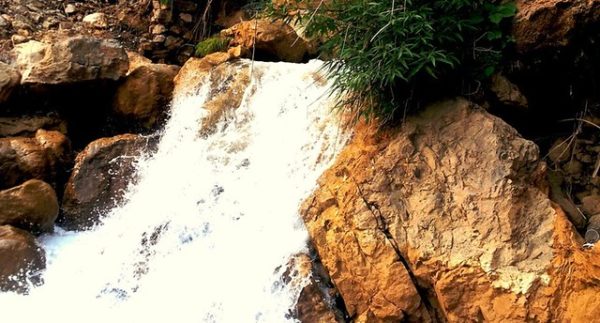 Splashing around in the Neer Ghar waterfall (Photo Credit – Kunal Gaurav)
Our accommodation, Divine Ganga Cottage
The hotel, Divine Ganga Cottage, is surrounded by other houses and rice fields. You have a great view of the Ganga from the terrace. The staff is very friendly and helpful. They offer taxi services, rafting, trekking, spa/massage treatment, ayurvedic doctor consultation, yoga, wildlife safaris, bungee jumping, and of course, laundry.
On the terrace, you can enjoy different dishes and drinks from 07:00 hrs to 22:00 hrs. Marlene had a stress release head and body massage (Mardanam -1 hour) which she enjoyed a lot. Our room was quite nice including a TV, a little desk, a shower, and a western toilet. Wi-Fi is also available.
If you really enjoy staying with the locals, here is a list of the best homestays in North India.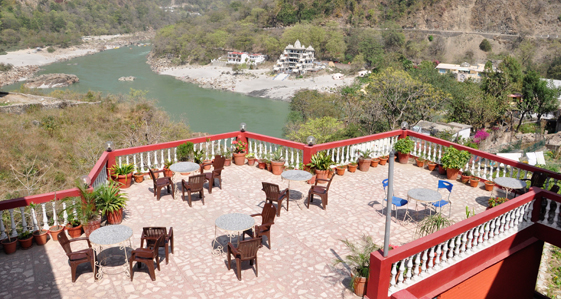 The Rooftop of Divine Ganga Cottage
Places to eat in Rishikesh
Little Buddha Café
On our first day in Rishikesh, Marlene and I went to the Little Buddha Café. This restaurant looks like a treehouse and you find a lot of alternative people in this location. Marlene ordered a pizza and I got a plate of steamed vegetables. Both tasted bland. But the fruit and the mango lassi were delicious and fresh.
Devraj Coffee Corner
This little nice German bakery is next to the Lakshman Jhula Bridge. You have a nice view of the Ganga terrace. The coffee is okay. Our dessert, an apple flambé, was delicious. The breakfast is really good; they offer croissants, muesli, porridge and more.
Bhandari Restaurant
This small restaurant near the Lakshman Jhula is a restaurant with an open kitchen where you can see how they prepare the meals. You get South Indian food at a very cheap price. The meals are okay and a bit spicy.
Pyramid Café
This little restaurant is not very easy to find because it is not located on the main street. There we enjoyed the best food in Rishikesh. The vegetables are from their own organic garden and the drinks and the meals are delicious. They offer Indian, Mexican, Israeli, and Italian food. You can sit on cushions in a pyramid-shaped tent and the staff is really friendly.
Madras Café
It took us 45 minutes to come to this small, nice restaurant. It is near the second bridge called Ram Jhula. The café offers various great creamy lassis and the desserts are delicious. The staff is very friendly.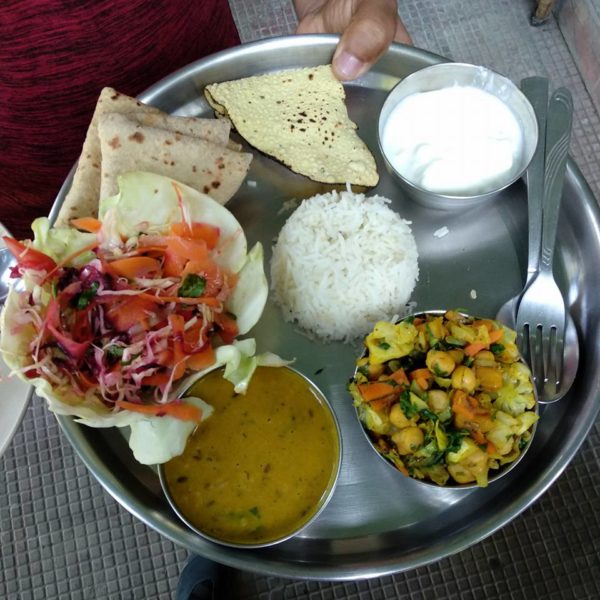 A beautiful selection of veggies and spices to feast upon (Photo Credit – Pyramid Café)
We hope that David Schidl's experience in Rishikesh motivates you to take a trip to this beautiful town. You can know more by reading this blog of the things to do here for wider options. Get in touch with us and let's start planning!