Our Pick on the Most Romantic Hotels in India
If you've got that lovin' feeling and are looking for a holiday to celebrate it, you should definitely consider some of the romantic hotels in India. The country isn't best known for its romantic getaways but you will be surprised at the experiences that you can find here. There is, of course, a wide range of environments from the mountains to sweeping coastlines.
That gains you the benefit of your choice of background (or even mix it up a bit!). But more than that, there's also an incredible variety of gorgeous hotels and romantic resorts in India to choose from. Here are some of our top picks for most romantic hotels in India. Which includes a mix of quiet boutique hotels, opulent palace resorts and everything in between. You'll find options for a honeymoon, active holiday, or even family-friendly options for those of you with a brood.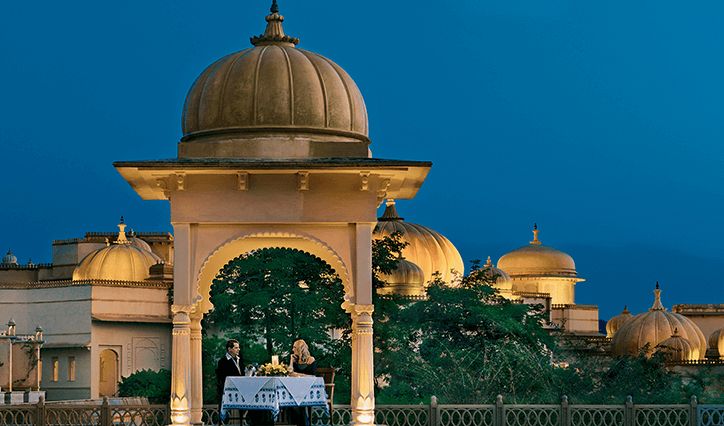 Private dinner under the lakeside dome (Photo Credit – The Oberoi Udaivilas, Udaipur)
For a magical honeymoon: The Taj Falaknuma Palace, Hyderabad

This one's one of the most romantic hotels in India. But, we'll argue that it's also one of the most romantic in the world! The erstwhile palace of the Nizam of Hyderabad, this 'mirror of the sky' lives up to its name and is a spectacular structure. You can explore the beautifully restored antique fixtures and furnishings that fill the elegant spaces.
It's like stepping into a fairytale! A stay here is a magical experience, right from the shower of rose petals that greets you when you arrive. And the fabulous treatment will continue throughout your time. For instance, champagne at sunset, candle-lit dinners for two, and much more is on offer here!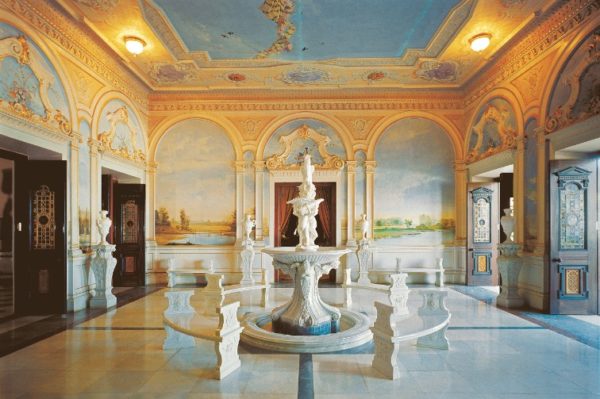 Marvellous views of the palace courtyard and the 400-year-old city of Hyderabad (Photo Credit – Taj Falaknuma Palace, Hyderabad)
For a mountain wonderland: Wildflower Hall, Shimla in the Himalayas
Places that claim to be 'luxury honeymoon hotels' are aplenty, but there few that fit the bill. Likewise, as Wildflower Hall, about 16 kms outside Shimla, especially if you love the mountains! Shimla was the British summer capital, and this region is full of colonial homes. But few are as lovely as this place.
The former home of Lord Kitchener has a fantastic spa, and a stunning infinity pool that overlooks Himalayan peaks. And the rooms are nothing to laugh at, either! You can opt for a few easy excursions in the area if you don't want to stay tucked into bed all day. The staff will be happy to assist you to plan a picnic or trek. But if you feel like leaving, we'll be surprised!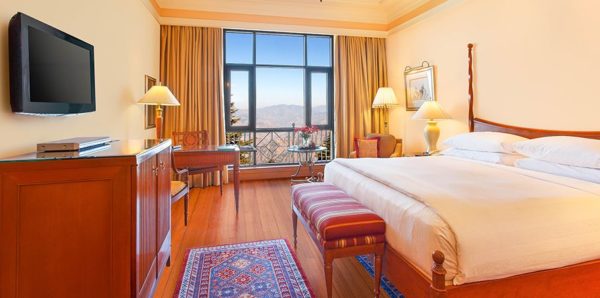 Enjoy mountain or valley views (Photo Credit – Wildflower Hall an Oberoi Resort)
For a tropical island escape: Jalakara, Andaman & Nicobar Islands
If you've got Castaway fantasies, this one should be right up your alley! Jalakara, on Havelock island in the Andamans, is a self-proclaimed hybrid between a boutique hotel and private villa. It's got a handful of rooms and suites, each done up in a rustic-chic vibe, with dark woods and stone.
It's a lovely, intimate space that invites you to disconnect from the rest of the world and just be. Also, Jalakara is a great choice if you're interested in staying a bit active on your holiday. As the scuba diving and snorkelling around Havelock is fantastic!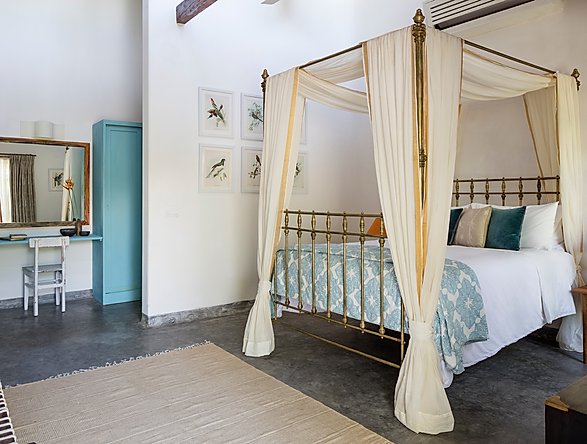 Dreamy boutique hotel in the Andaman Islands (Photo Credit – Jalakara, Andamans)
For a touch of the wild: Samode Safari Lodge, Bandhavgarh
For those of you whose idea of romance includes some time in the jungle, Samode Safari Lodge is a fantastic option. While India has many amazing safari resorts, including Oberoi's Vanyavilas in Ranthambore and the Taj Safari Lodges, we love this one for the intimate experience it offers.
Samode Safari Lodge has 12 luxurious villas that reflect the local architecture and design styles. It also has enormous bathrooms with indoor and outdoor showers. It's complete with a deep tub that's perfect to sink into after a day spent tiger-spotting in Bandhavgarh.
It is this, the attention to detail, and, most of all, the surprise mealtime venues. Yes, you'll be served all your meals at a different locations! That make this one of the most memorable and romantic hotel experiences in India.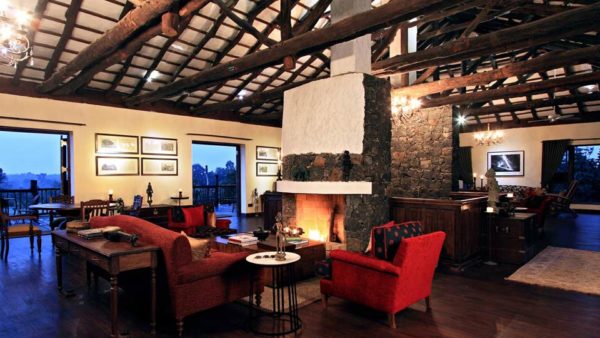 Tastefully decorated and comfortably furnished (Photo Credit – Samode Safari Lodge, Bandhavgarh)
For some family-friendly 'we-time': Kumarakom Lake Resort, Kerala
A traditional, authentic Kerala experience steeped in quiet luxury is what you can expect from the Kumarakom Lake Resort. The villas here are all built from heritage homes from across Kerala. They are set around lush greenery and waterways that wind through the property. And, because of the range of activities on offer here, it's also a good choice if you're travelling with family.
The resort offers craft classes to keep the younger ones occupied and happy. It has a lovely infinity pool to lounge in and an Ayurveda spa. It's housed in the carefully restored 200-year-old home of a family of famous Ayurveda practitioners, to get pampered at. What more could you want!
Bonus!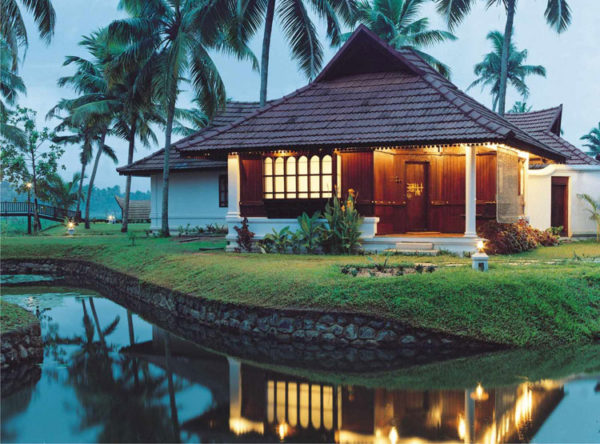 Luxury resort located on the backwaters of Kerala (Photo Credit – Kumarakom Lake Resort)
For the Taj Mahal in all its glory: The Oberoi Amarvilas, Agra
The Taj Mahal is an eternal symbol of love. For a truly special viewing, look no further than the iconic Oberoi Amarvilas. The magical Taj Mahal is located just 600 metres away. That view itself – you can see the Taj Mahal from every room here!
This could make it one of the most romantic hotels in India. In addition, the resort itself is magnificent. It has been designed keeping in mind to reflect the Mughal heritage of Agra.
The Amarvilas has special offers for couples, including special treatments at the spa and an intimate dining experience, complete with a moonlit view of the Taj Mahal. There's no way we could leave it off this list!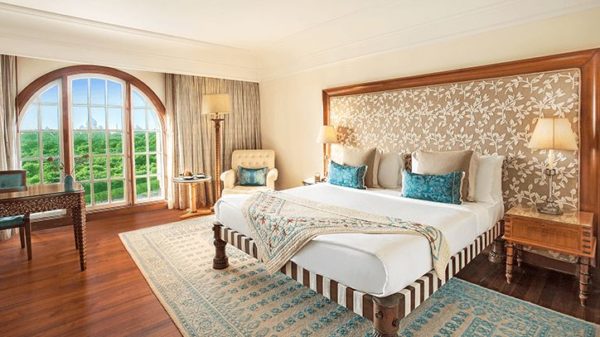 Stunning views of the Taj Mahal (Photo Credit – The Oberoi Amar Vilas, Agra)
If you're looking for a special hotel for your romantic getaway or a personalised trip to India for your honeymoon and don't know where to start planning, get in touch!
helping you travel your way
Everything you need to know about India is here We have tried writing about everything you may need help with for your trip to India, If you need help in planning a trip to India Get in touch with us to to plan your trip of a life time.