Live like a local: Jodhpur
The third in our 'Live like a local' series that tries to give you the insider scoop to what the long term residents love about their cities. Read our Mumbai and Delhi posts also!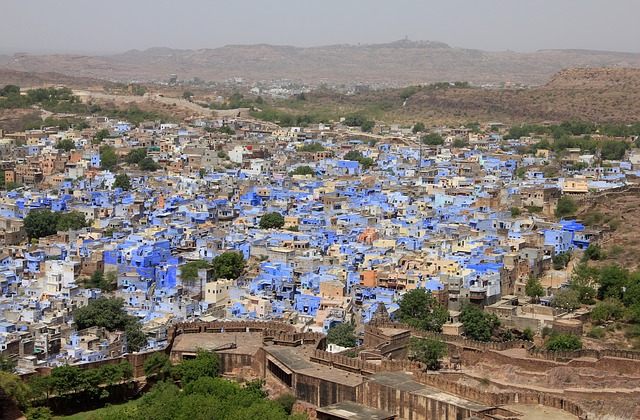 Jodhpur is known as the blue city (Photo Credit – Rhiannon)
Where to stay
Indrashan Homestay is a beautiful red brick building surrounded by thick, lush banana plants, soft lawns and trees that droop gently over the whitewashed terraces that define the domestic life of the cities of North India.
Meet Chandrashekar and Bhavana, who urge you to their dinner table and then into their kitchens to dip your fingers into the wholesomeness of Jodhpuri cuisine. Discuss culture, history, art, society or your feelings over an evening drink by the fire that could turn into a night of scintillating conversation.
The rooms are furnished in dark wood handed down through the generations. Draped in the soft Rajasthani linen that visiting Indians carry away in great bundles to grace their winter beds.
Everything about this homestay spells the summer pilgrimage that diasporic Indians make to regroup in the houses of their grandparents. An annual regrouping of cousins and in-laws from across the country into a modern semblance of the erstwhile joint family. Accordingly, this is a journey that every traveller deserves to make.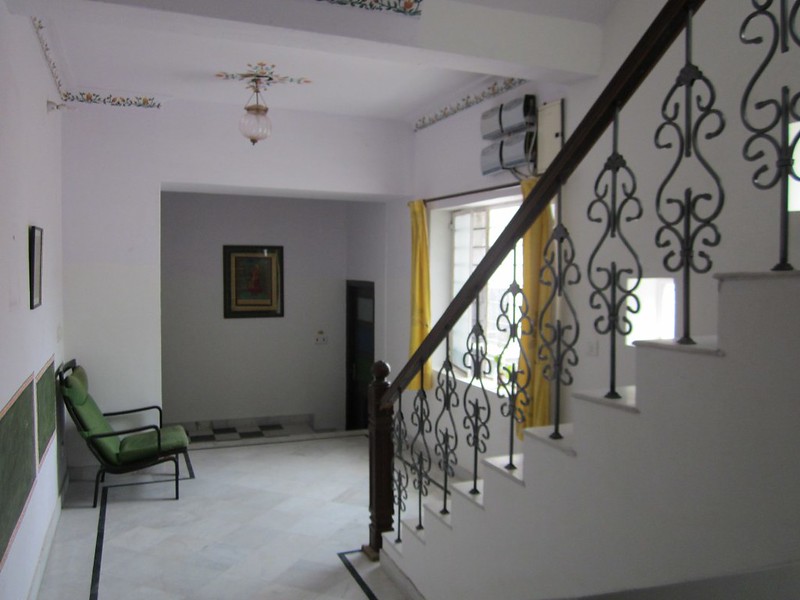 (Photo Credit – Pond Frog)
What to eat
Rajasthani thalis. You might want to skip breakfast before you take a stab at this. Because the Rajasthanis believe in a full and I mean a FULL belly for a full life. Go to Gypsy for the whole hog: five kinds of bread, fried cakes, samosa, sweet daal and spicy vegetable, rice, chutneys and chillies ring the shiny stainless steel plate.
All around you will be college students, office workers, parents hand-feeding their little children as they tuck in heartily, always calling out for more.
Make sure you also grab a Mirchi Bada on the street, a deep-fried chilli patty. Place it between two slices of bread if you're not sure you can handle the spice. It's the city's pride and joy.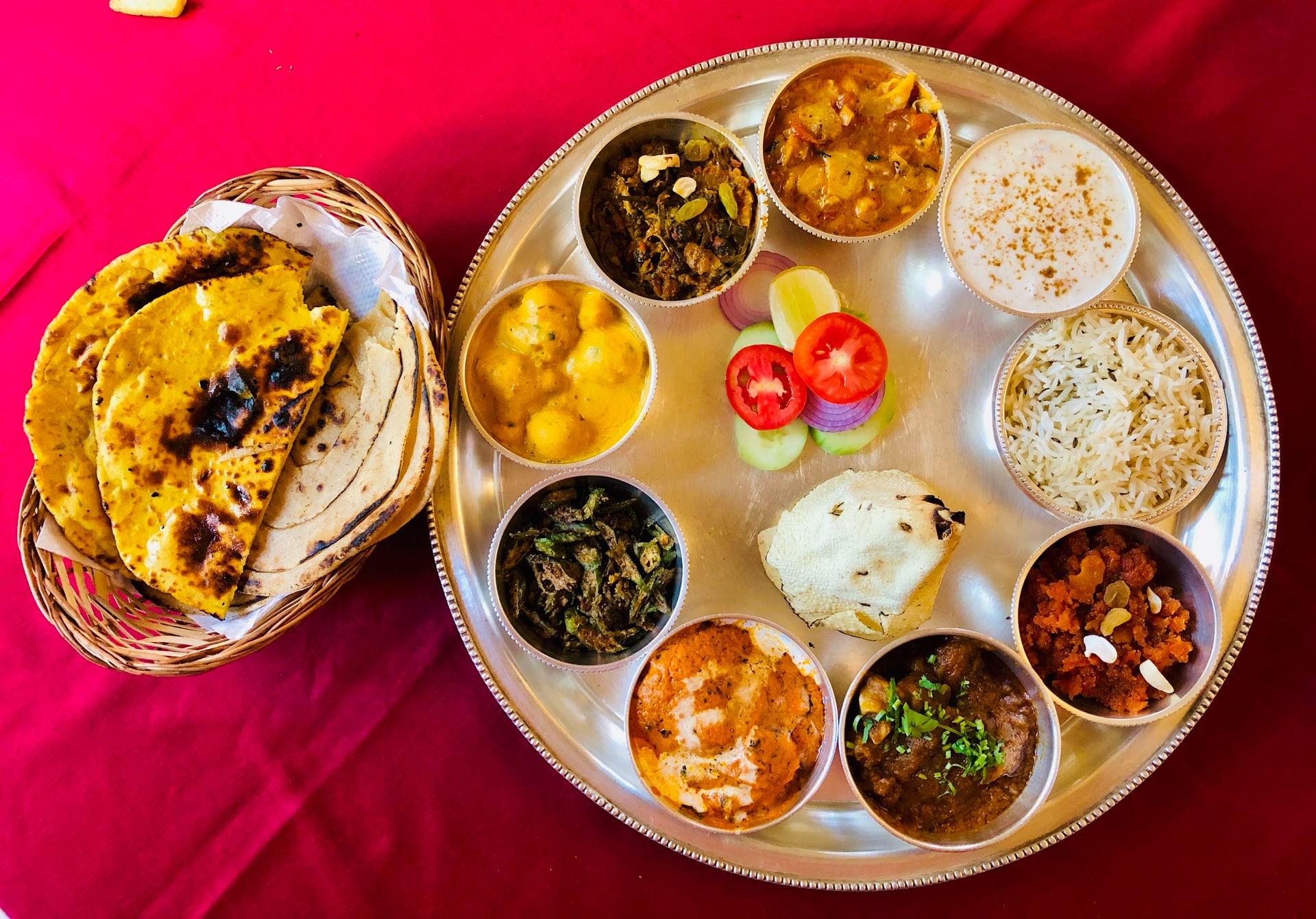 Rajasthani Thali consists of little dishes of curry with a selection of bread and rice
Where to go
Go to Cafe Mehran. I know, it sounds like I'm just sending you back to eat some Rajasthani fast food or look at the monument that every tout pushed you toward. But trust me, a cold beer and good view is just what everybody needs at the end of the day. And this is the most beautiful place to savour it.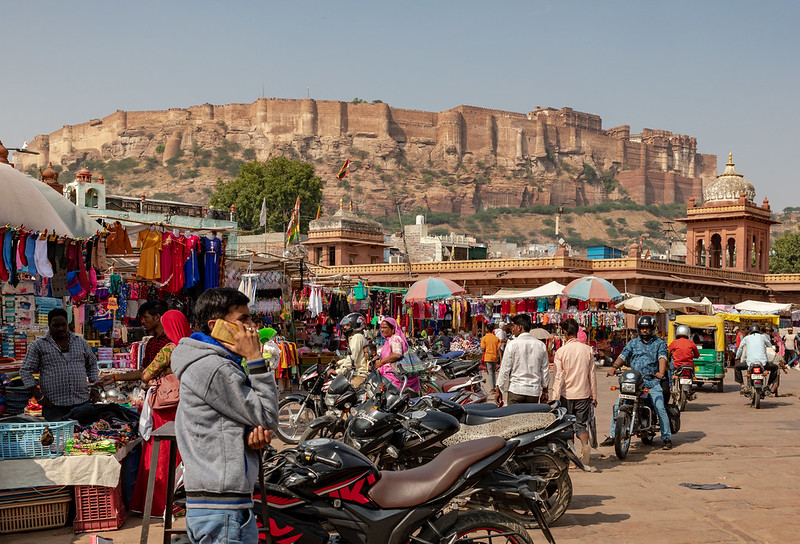 Sardar Market for shopping (Photo Credit – Ninara)
What to do
Sail high above the Blue City on Mehrangarh Fort's own zip lines. You'll be trekking through Rao Jodha Park and watching your murky reflection skim over the surface of the lakes as you shoot through the sky. Granted, there's probably going to be a bunch of tourist hanging around as well. But you'll see your fair share of adrenaline hungry locals as well. Remember to book in advance from inside the Fort.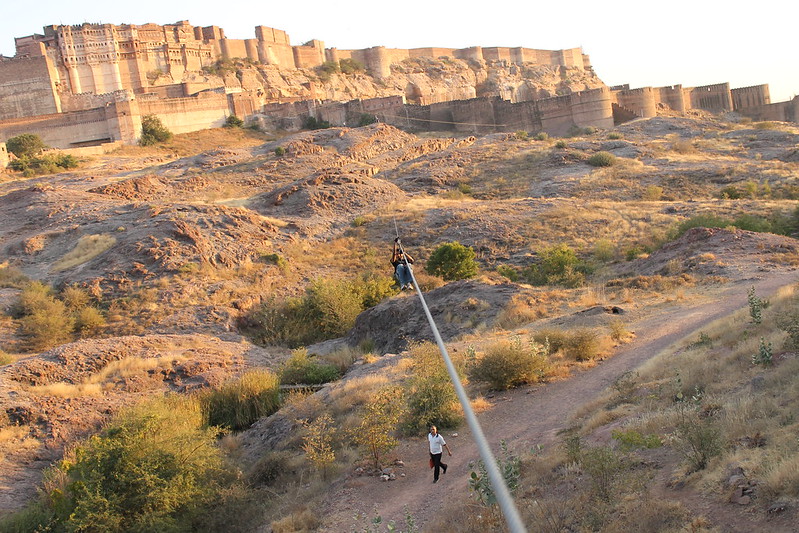 Ziplining by Flying Fox on the Mehrangarh Fort in Jodhpur. Adrenaline rush guaranteed! (Photo Credit – Ashwinbahulkar)
What to say
'Koi dikkat nahin' (Ko-ee dikk-kath nu-hee), which literally means 'no problem'. However, it'll be repeated to you so often across the beautiful state. And, you'll soon pick up the gentle lilt of the people and slip smoothly into their carefree culture.
Bonus Tips:
Jodhpur is famous for being one of the country's ultimate wedding destinations. If you're visiting during wedding season (December-January), look out for the lavish baaraaths or wedding processions. Actually, make that listen for the baaraath. There's no way the deafening dhol beats and shrieking trumpets can go unnoticed.
Be ready to bargain for your souvenirs, it'll only endear you to the shopkeepers.
If you head down to the university areas, you might find tiny hovels that call themselves restaurants. And they will have only two items on their menus – Maggi and Beer.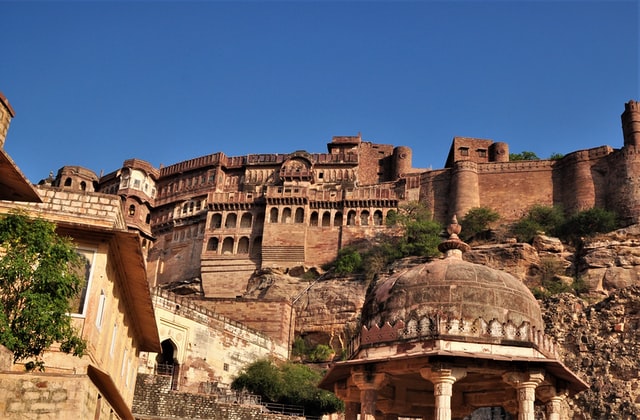 Jodhpur is famous for being one of the country's ultimate wedding destinations (Photo Credit – Nomad)
Contact us for Plan your trip now!
helping you travel your way
Everything you need to know about India is here We have tried writing about everything you may need help with for your trip to India, If you need help in planning a trip to India Get in touch with us to to plan your trip of a life time.