India Someday North India budget group tour detailed plan
We promise you a tour that is the right mix of 'Understanding India, Experiencing India and Exploring India'.
Understanding India – India evokes a million questions! Religion, the cows, arranged marriages, the food, the culture, the famed Indian weddings and more. It usually takes a life-time of understanding it all, but we will try our best to explain in fourteen days.
Experiencing India – We've included activities ranging from slum tours to cooking classes, Bollywood dancing to a rural visit, we're sure this will help you experience India through active participation, rather than just looking at monuments and sights
Exploring India – You will see a lot and do a lot and we will be around, but we DO NOT plan on holding your hand all the way or keeping you under strict schedules. Expect time in each city to explore/do things on your own too.
An overview – Day to day plan for India Someday Group Tour
Do not worry! We do not have a daily 9 am to 9 pm agenda on our trip. But, we do want to give you an overview of your time in India in terms of
Things to see and do in each city
Which activity will be in which city
Amazing spots/monuments that we will stop at while driving in-between cities
Optional activities, that are worth knowing about (you can sign up for them in India)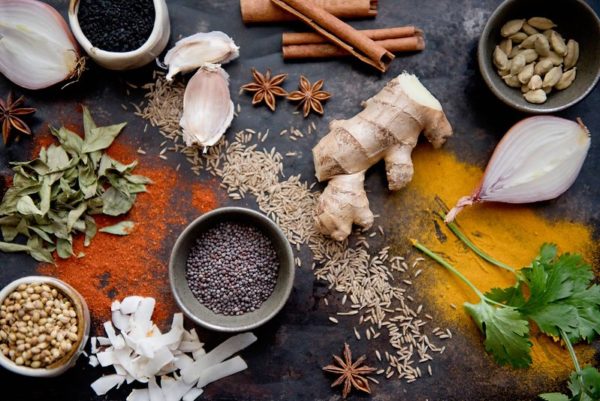 Welcome to India, a land of colours and spices (Photo Credit – Thigala Shri)
Day 1 – Mumbai: Introductions, Easy Sightseeing and Nightlife
What Mumbai (or Bombay as we locals still like to call it) lacks in monuments it makes up for in energy and a distinct city vibe. Bombay usually strikes most travellers as both a crazy and yet a very likeable city.
We will start your morning a little slow with introductions (as some of you may be jet-lagged) and then venture out to explore the city. We will use a mix of public transport (trains, buses and taxis) to explore a bunch of touristy and non-touristy sights. We will be with you throughout this day.
Some of the possible highlights would be the Jain Temple, with lovely sea views, a very cute (free entry) Gandhi museum, a very interesting open-air laundry (Dhobi Ghat) and just in general being plugged into the city riding buses with locals and seeing the craziness on the streets of Mumbai first-hand.
Lest we forget, an introduction to some local Indian food.
While some of you might be tired since it is Saturday night we would love to show some of the city's nightlife! It makes for a very different experience, seeing the affluent and young party side of Mumbai.
Mumbai Stay – Mumbai is an expensive city, Travelers Inn (Reviews), is very centrally located and clean, but a basic hotel. Stay would be in rooms.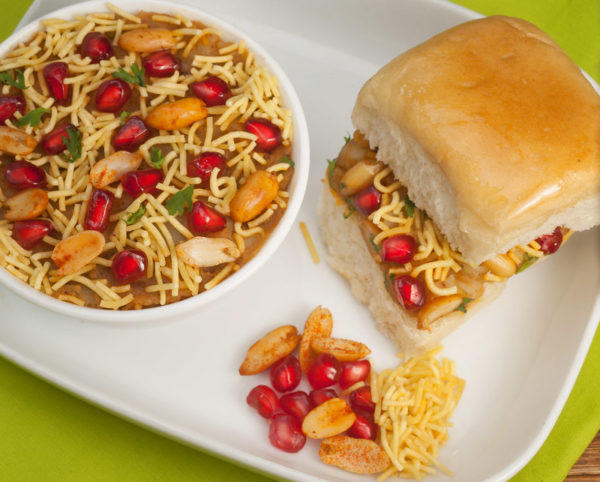 You cannot visit Mumbai without tasting the delicious street food (Photo Credit – Bharat Mirchandani)
Day 2 – Mumbai: Slum Tour, Bollywood Dance
A slum tour in Mumbai is an eye-opening experience. You will see a very densely populated part of Mumbai, but the way they live and how industrious they are would amaze you. Including travel, the slum tour can take anywhere between 4-5 hours. We'd spend the evening trying some Bollywood Dance moves.
You'd still have pockets of time should you wish to shop or explore a little of the city on your own. We are always happy to guide you or come along.
Slum Tour and Bollywood Dance class costs are included in tour costs.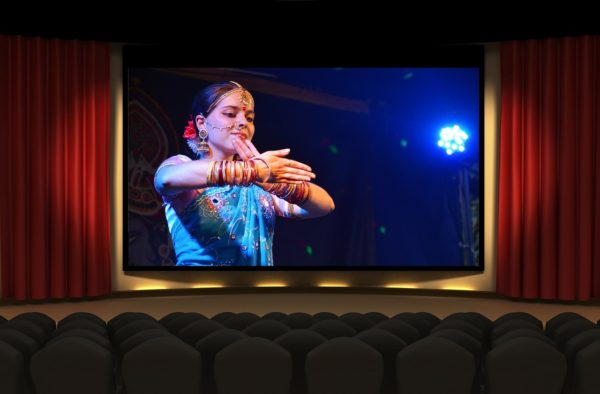 Mumbai is the home to Bollywood, make sure you watch one Bollywood movie during your visit (Photo Credit – Tumisu)
Day 3 – Mumbai: Free exploration time
While we hope to have given you enough of a glimpse into the flavours of Mumbai, there is still a lot to see in the city. There are lovely museums and art galleries to explore which are walking distance from your hotel. You can take an early morning cycling tour, or hop onto a ferry to see the caves of Elephanta.
There are a couple of lovely audio walking tours too. Or just shop/relax and you might find something cool in the city on your own!
Travel to Udaipur – We would be taking an overnight sleeper bus to Udaipur, this is the longest commute between any two cities on our trip. The bus would depart at 06:00 pm in the evening and reach Udaipur at 09:30 am the following morning.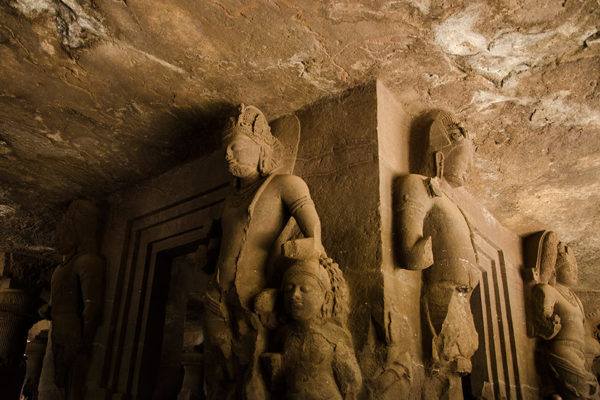 Visit Elephanta Island, just off the coast of Mumbai, to explore some Hindu caves (Photo Credit – Keya Arati)
Day 4 – Udaipur: Exploring the old city and dinner by the lake
Udaipur is a charming medieval city on the banks of Lake Pichola, a beautiful mix of lakes, rolling hills, lovely palaces and endearing locals. Our overnight bus journey would effectively take us back in time as we explore the old parts of Udaipur the next morning.
A lovely palace by the lake, a touristy (but very pretty) boat ride that gives you views of the city.
We will spend most of the first day exploring the popular sites in Udaipur. A bunch of them are clustered together within walking distance and for others we'd use a tuk-tuk. We will end the day with dinner with a beautiful view of the lake.
Udaipur Stay – A very charming homestay (Reviews), a huge house with common areas and a very homely and relaxed vibe. You can also read an India Someday Review of Chandra Niwas, Udaipur.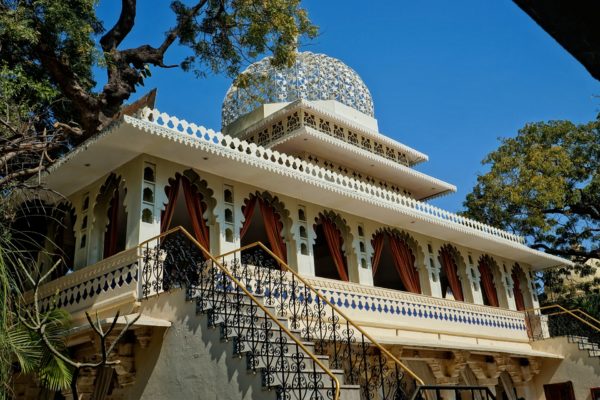 City Palace Udaipur, the largest palace complex of Rajasthan located on the banks of Lake Pichola (Photo Credit – Volker Glätsch)
Day 5 – Udaipur: Rural Visit/Trek
Udaipur is a small town, a short drive in almost any direction and one would be in the midst of the countryside, small villages and rolling hills. We will spend the first half of the day in these villages, either cycling or on a light trek and you'd get glimpses of rural India.
You would have the evening to yourself.
Trek up the Aravalli Mountains just around Udaipur (Photo Credit – Narinder Pal)
Day 6 – Udaipur: Free exploration time and cooking class
You will be cooking Indian lunch today and then we will eat what we have cooked. Apart from that it would be an easy day for some more exploring/relaxing or shopping. If everyone is up for it we know some beautiful heritage hotels that offer some fantastic views in Udaipur and we could go there for a drink.
Cooking class is included in the India Someday Tour.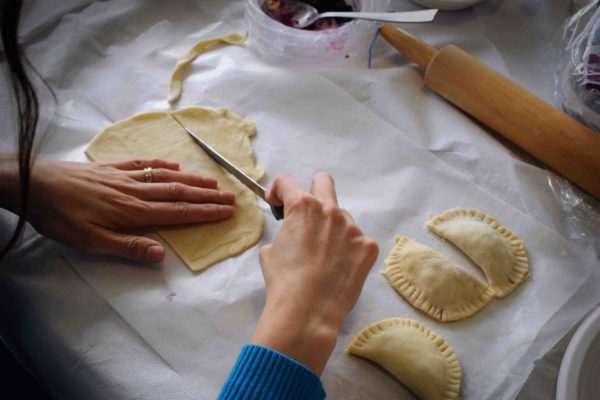 Take a cooking class and learn all about what spices to use in Indian dishes (Photo Credit – Kristina Tripkovic)
Day 7 – Drive from Udaipur to Jodhpur
(with a stopover to visit Ranakpur temples and Kumbhalgarh Fort)
If any Indian monument will come close to (or perhaps exceed) the Taj Mahal in mesmerising a traveller it would be the stunning Mehrangarh Fort in Jodhpur. The crowning citadel of another lovely medieval town with endless narrow alleys and blue houses, where one would love to get lost! But, it would have to wait until we drive there.
Udaipur to Jodhpur is a very pretty drive. Beautiful Indian countryside and a stop to visit the stunning marble temples of Ranakpur. Kumbhalgarh Fort is another optional stop en route to Jodhpur. One has to climb a steep flight of stairs but is rewarded with a beautiful view.
We'd reach Jodhpur towards the evening. Our guest house rooftop offers a magnificent view of the lit-up Mehrangarh Fort. You'd have the evening to still walk around the old town, aimlessly walking in these old towns in itself is so much fun.
Jodhpur Stay – Another homestay, Hem Guest House (Reviews). It is located in the heart of the old town and their terrace offers great views of the fort. India Someday Review of Hem Guest House.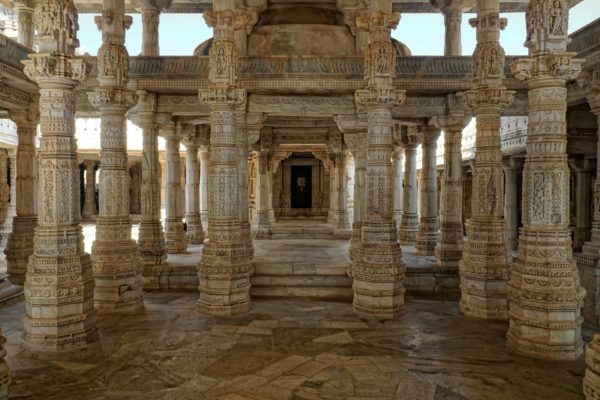 On the way to Jodhpur, you must visit the Ranakpur temples (Photo Credit – Volker Glätsch)
Day 8 – Sightseeing and Ziplining from the fort (optional)
A stunning fort, yet another temple, a lavish palace (converted into a luxury hotel) and a desert rock park are few of the sites we would explore today. Unless you have a phobia of heights, the ziplining experience at the Mehrangarh Fort is an amazing experience. It is optional for those that wish to do it!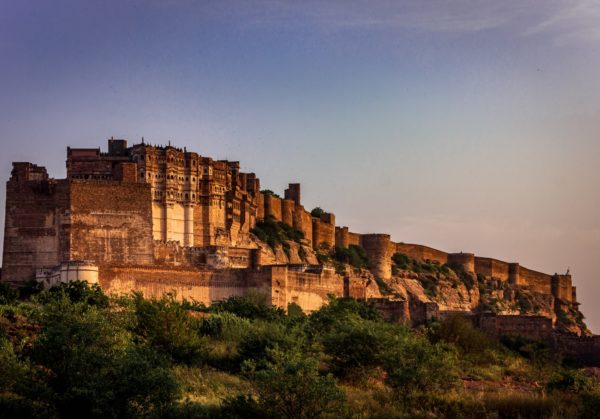 Mehrangarh Fort during the golden hour (Photo Credit – Yash Raut)
Day 9 – Drive to Pushkar
A sacred lake, innumerable temples, a confused religious and yet hippie vibe! Pushkar again is not a town with any stunning monuments, but just a great small town to aimlessly walk around and soak in the atmosphere.
Pushkar Stay – A charming old Haveli (house) converted hotel, Hotel Kanhaia Haveli (Reviews)
Pushkar Camel Fair, popular opportunity to witness an old traditional style Indian festival (Photo Credit – Ashish Sangai)
Day 10 – Drive to Jaipur, Sightseeing
We would explore the Ajmer Dargah on the way to the railway station to take our train from Ajmer to Jaipur.
Jaipur is a lot bigger than the other towns we would be visiting in Rajasthan. We will try to explore Amer fort on our first evening as the views around sunset are splendid and end our day with a Bollywood film.
Jaipur Stay – We'll be staying at very cool Moustache Hostel (Reviews). We'll stay in dorms, unless you have requested for a room.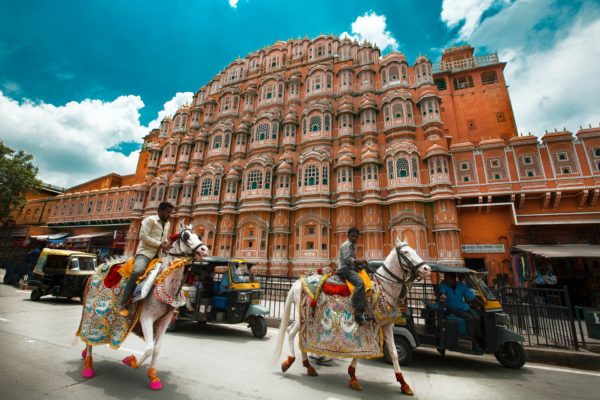 Hawa Mahal the most iconic monument in Jaipur (Photo Credit – Aditya Siva)
Day 11 – Sightseeing, optional shopping or Elefantastic
We'd spend the first half of the day exploring a bunch of monuments within Jaipur city. For those interested, Jaipur has a fantastic elephant farm and experience at Elefantastic.
While the activity is not included in the cost of the tour, for anyone that loves animals and is amazed by elephants this is a great experience. You can spend the second half with elephants or shopping/more exploring.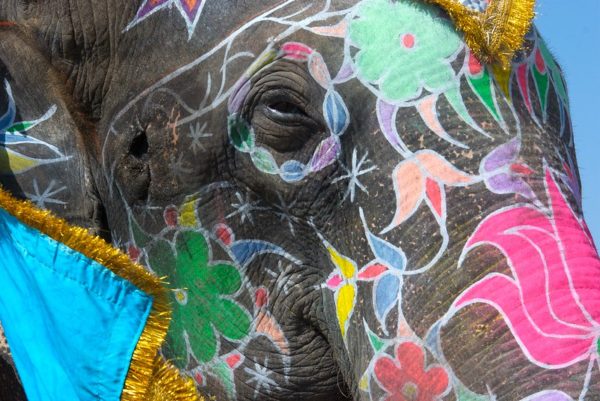 Elephant Farm Experience (Photo Credit – Kevin Jones)
Day 12 – Drive to Agra
Our drive to Agra will have a couple of stops, first to visit the step-wells of Abhaneri and then to visit the fortress city of Fatehpur Sikri. We will see Taj Mahal twice on your trip, the first time from across the river around sunset.
Agra Stay – Would be a small comfortable BnB – Mohini Homestay (Reviews).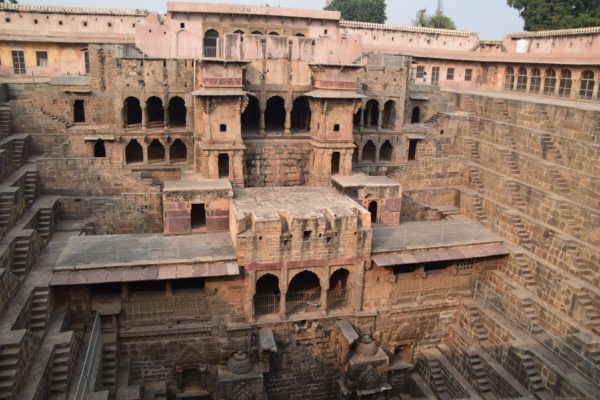 The stepwells of Abhaneri make beautiful holiday photos (Photo Credit – Susan Fleming)
Day 13 – Taj Mahal and drive/train to Delhi
Wake up early in the morning to visit the Taj Mahal at the break of dawn, it is absolutely gorgeous under the soft rays of the morning sun. We'd then look at the Agra Fort, Baby Taj (an equally impressive monument), and if time permits Akbar's Tomb. We would then either take a train/bus or car to Delhi.
Delhi Stay – Our stay in Delhi would be in a hostel too, a very calm and yet central location. Moustache Hostel (Reviews).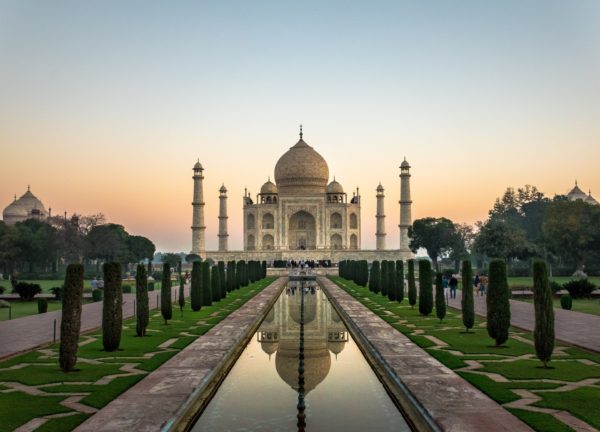 Sunrise at Taj Mahal (Photo Credit – Shan Elahi)
Day 14 – Delhi sightseeing
Delhi or Bombay which is a better city? We already know the answer, but we will let you decide. Unlike Bombay, Delhi has some fantastic monuments! There's an excellent metro to get to all places. Great food, both restaurants and street food. A lot of history and nightlife too!
Here is an insider guide to what monuments you cannot miss on your trip to Delhi.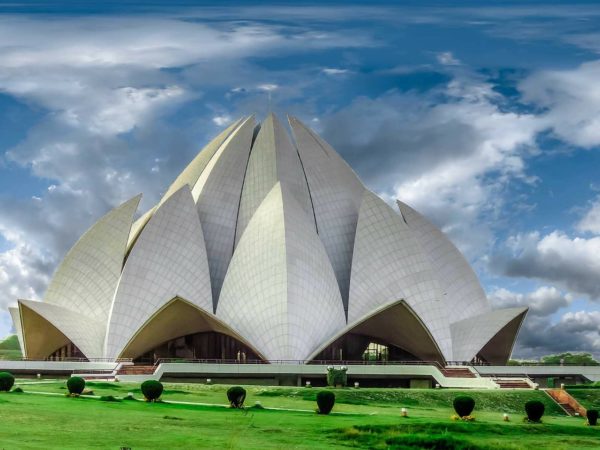 The Bahai Lotus Temple in New Delhi should not be missed (Photo Credit – harmeet9000)
Day 15 – Little more sightseeing and departures
We will have a few hours on the last day for some final sightseeing followed by arranging transfers to the airport/railway station!
If you would like to take this trip or a similar one with any extra stops, then get in touch with us now. We at India Someday will be there for you while booking and during your trip to make sure you have the best holiday possible.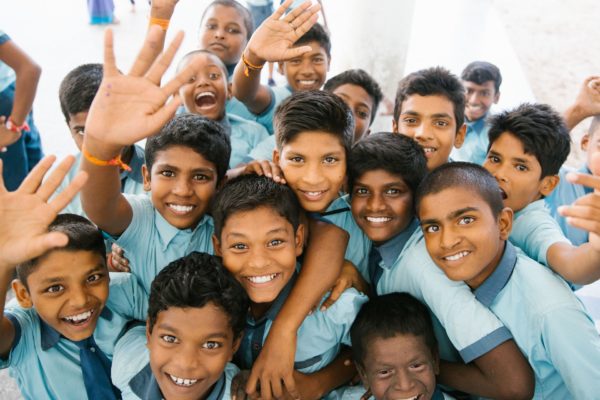 Adorable little schoolboys wave goodbye (Photo Credit – Church of the King)
helping you travel your way
Everything you need to know about India is here We have tried writing about everything you may need help with for your trip to India, If you need help in planning a trip to India Get in touch with us to to plan your trip of a life time.