Feeling Udaipur as your next destination? We can help you with what the most charming things to do in Udaipur during your stay here. The city has lots of historic, beautiful buildings – the Udaipur city palace is a must-see! Plan your trip with us now and find out more!
Udaipur is a charming little city tucked away in the shadow of the Aravalli Mountains, Rajasthan. It's an absolute favourite with our travellers in North India. Shrouded in romance, it's dotted with lakes and palaces aplenty, many of which have been converted into luxury hotels, including the city palace itself.
Grab a beer or a cup of tea at one of the rooftop restaurants at sunset or lose yourself in the mind-boggling network of narrow treasure-filled streets. Explore the winding palace corridors or even set out into the country to ride horses into the hills.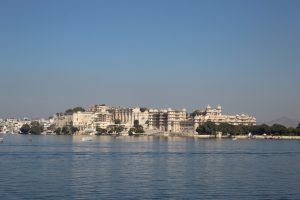 The Udaipur City Palace in all its splendour
Plan your trip
Things to do in Udaipur
– Get intimate with the historical architecture–from the splendid Udaipur City Palace to smaller monuments like Bajore ki Haveli and Jagdish Temple
– Get lost in the alleys of Udaipur Old Town
– Watch the sunset over Udaipur town from the Monsoon Palace
– Relax/read a book from a rooftop café with a cold beer ande have a view over the lake and Udaipur City Palace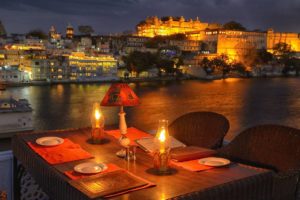 Fine restaurants with a view of the lake
Plan your trip
Activities
– Udaipur is surrounded by miles of country and rugged mountains. That means plenty of options for short hikes, cycling, and horse-riding.
– Catch a cooking class to learn where this delicious, rich food comes from
– Try the Responsible Rural Tour
– Take a sightseeing tour around the Udaipur City Palace
Recommended for:
Backpackers ****
Families **** (since there are so many activities available in the countryside)
Recommended period of stay: 2-3 days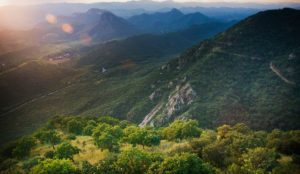 Udaipur is surrounded by the Aravelli Mountains