Udaipur stay in Lake view v/s Non Lake view room
Udaipur is famously known as the 'City of Lakes' and it would seem like a moot point to even have this discussion.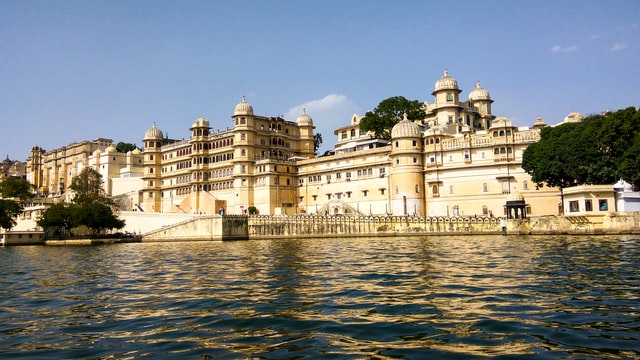 The Majestic City Palace of Udaipur sits on the banks of Lake Pichola
A lovely homestay in Udaipur
On my last visit to Udaipur, I decided to check for myself the hoopla over the 'lake view'. On our first day, we decided to stay in a homestay and chose Chandra Niwas. Chandra Niwas is on the other side of the old city. Samvit who owns and runs Chandra Niwas was there at the gate to greet us. He took us out for chai and samosa, we chatted for hours on end. We also met another traveller who was staying there and ended up spending the whole time in Udaipur together. It definitely didn't feel like we were in a hotel or a stranger's house, it felt like home! We nearly decided to stay there for the other two days because we were so at ease and comfortable at Chandra Niwas.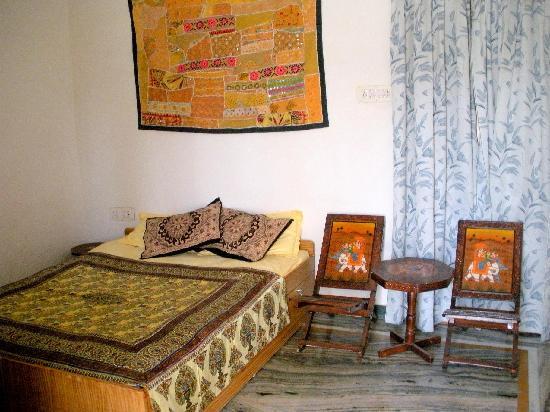 Chandra Niwas exudes a warm homely feeling
The Lake view experience in Udaipur!
The next day we checked into Kankarwa Haveli, where we were upgraded to a Lake-front Suite. We entered our room and I instantly fell in love with it! It all suddenly made sense. Being in Udaipur, right in the middle of all the action and being in a room that overlooks the flowing water glistening like gold under the rays of the sun…absolutely magical Udaipur was our first stop but it usually is the last destination when you start your trip from Delhi and travel across North India. Rajasthan is mostly deserts and forts and monuments but Udaipur at the end is like finding an oasis in the desert.
Not many hotels have rooms which offer a clear unparalleled view of the lake but nearly every hotel in the Lal Ghat area has a roof-top restaurant and having a meal in one is a definite must. Our favourite roof-top restaurants were Jagat Niwas and Zostel; for the view and for the lip-smacking food too.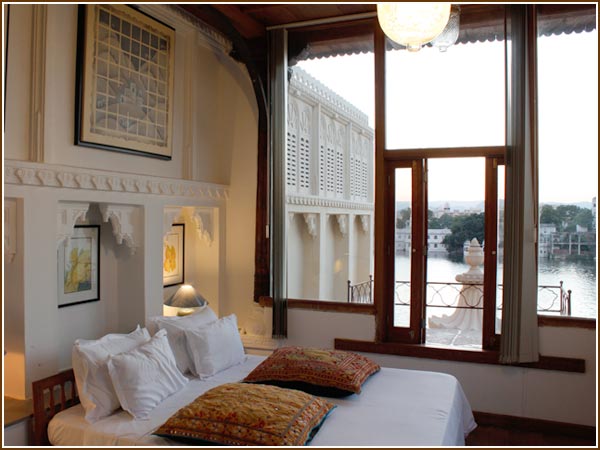 The serene view of Lake Pichola from our suite in Kankarwa Haveli
A boutique hotel in Udaipur away from the city
The next day we went to Fateh Garh. Fateh Garh is located 7 kms away from the city perched on a hilltop commanding views of the city below. The Aravalli mountain ranges go as far as the eye can see. At Fateh Garh, it feels like you are in a completely different zone. Away from the crowd, in complete serenity, it is just you and the amazing view around you. The mountains beckon!
Coming back to the point of discussion, having a room with a lake-view would be the highlight of your stay. If you are on a romantic holiday then without a doubt choose a hotel with the lake view. Travelling alone; go for a homestay and if you are the type who likes staying away from the crowd, then a place like Fateh Garh is for you. Spend more than two nights in Udaipur and you can split your stay. They are no pros and cons to either, it is just about choosing between different experiences.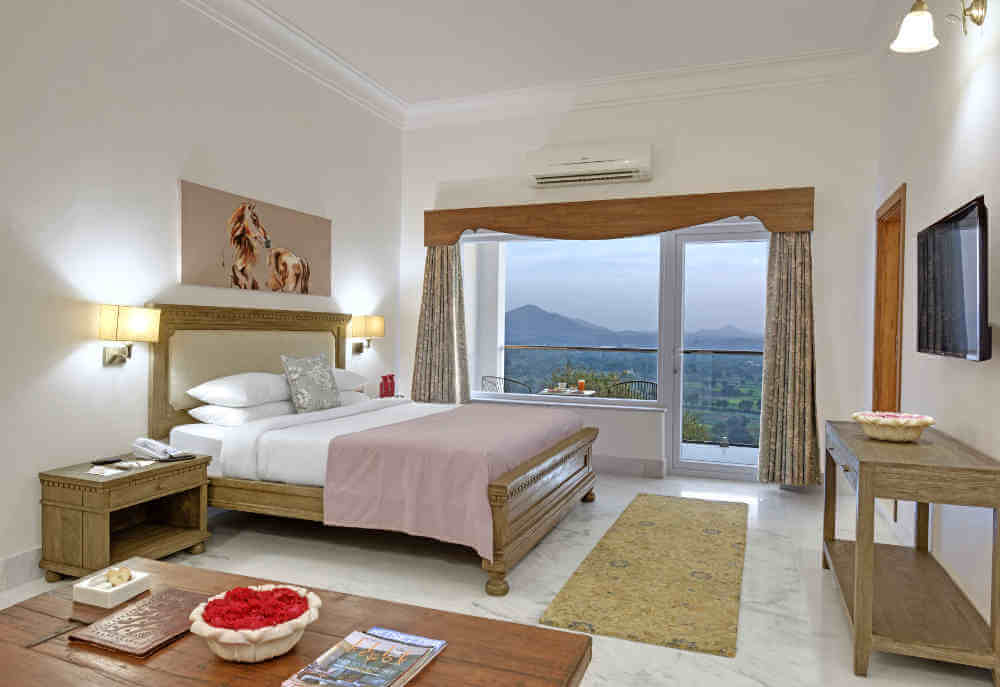 We plan trips across all budgets. So just get in touch with us if you are interested in a tour similar to the one described in this blog.
helping you travel your way
Everything you need to know about India is here We have tried writing about everything you may need help with for your trip to India, If you need help in planning a trip to India Get in touch with us to to plan your trip of a life time.