Places to go jogging, when in Mumbai!
For the last few months you have worked hard, you have been sweating it out at the gym. The realisation that you need to get fit could have come from anything – a pair of jeans that just won't fit, or somebody reminding you how much you have put on, or the fact that even a 500 meter run knocks the daylights out of you. That is all changing. You have made it a point to work out and get fitter day the day. Then you come on vacation to India where the gyms are unfamiliar and the food is irresistible. But you want to stay fit, months probably years of following a fitness regime just aren't worth throwing away over a couple of weeks' fun. Desperate for ideas on places to go jogging in Mumbai?
We have some good news for you! As we believe and keep saying, India is a country with something for everybody and it's got something for our fitness freaks too. There are various places across the country you could go for a jog, a refreshing run next to the thunderous sea or on a track surrounded by hills, you would be truly amazed at how varied your jogging options are.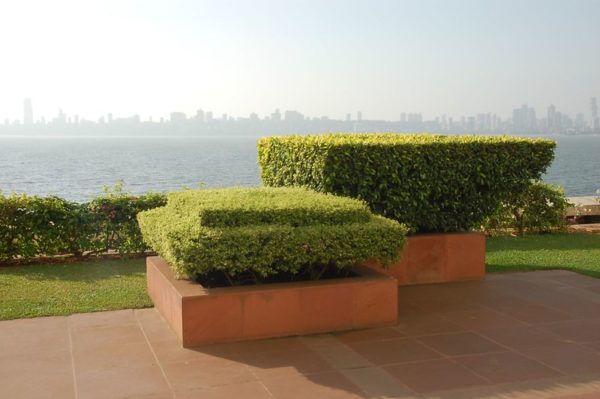 India has something for everybody and it's got something for our fitness freaks too (Photo Credit – Dylan Walters)
Where to jog in Mumbai
In our first part of 'Where to jog when in India?' we focus on the maximum city of Mumbai.
As a tourist, it is likely for you to be amazed at the chaos that the city puts up with every day. Mumbai, with a staggering 12,655,220 people, is the 09th most populated city in the world.
Made up of just seven small islands, it doesn't take a rocket scientist to know that one of the biggest problems is the space crunch. With a growing population of 10 million+ people and land not equipped to house so many, living in Mumbai isn't for everybody (especially not for people who like their own space.)
But perhaps Mumbai has always been on your list. You have probably watched a few Bollywood movies and want to check the city out for yourself. At the same time, you hope that the fitness routine you have been religiously practising does not go to waste. You cannot miss the jogs you so depend on for your daily routine.
We decided to jot down a list of our favourite places to go for a run/jog in Mumbai to help you keep fit on your vacation.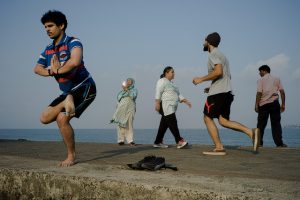 There are still options to stay fit during your holiday (Photo Credit: Nilesh Mazumdar)
1) Marine Drive
Our favourite place to go on a jog, a place where you could jog at any time of the day (though not during the cruciferous afternoons obviously.) It is a long stretch next to the sea. This place is ideal for an early morning or evening jog.
Go for a morning run if you need exercise to start your day. You'll be surprised to see just how many people in this mad-paced city make time to stay fit. Beware though, the sea isn't always the most pleasant of smells and when you're breathing hard you're going to be inhaling lungfuls of less than savoury scent.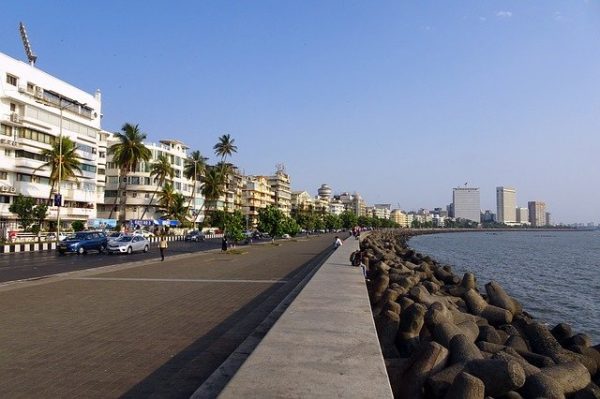 With the sea at your side and the sound of the waves, you can understand why Marine Drive is one of our favourite jogging destinations in the city (Photo Credit – Bishnu Sarangi)
2) Priyadarshini Park
Priyadarshini Park in Malabar Hill is another place well equipped to deal with requirements of various levels of athletes. Built on reclaimed land, a jog on the PDP track is as smooth as it gets.
A beautiful green place tailored to suit everybody, from beginners forcing themselves out of bed to dedicated joggers who like to run every morning before work.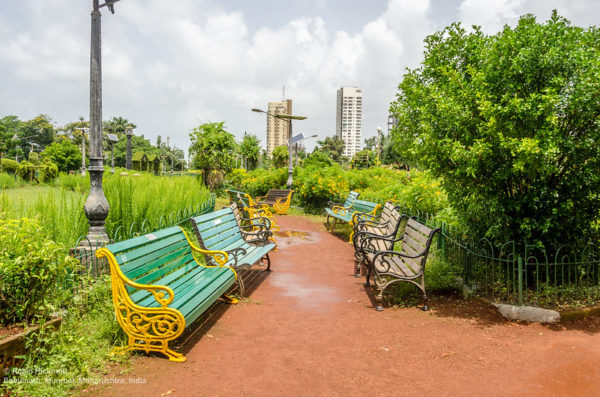 Well equipped to deal with requirements of various levels of athletes (Photo Credit – Robin Hickmott)
3.) Joggers Park Juhu/Bandra
For the people living in or visiting suburban Mumbai, Joggers Park in Juhu is a very popular spot amongst runners. It's created specifically so people in the suburbs would have a place to go for their morning or evening runs.
Joggers Park is definitely a sweet place for serious runners. At the same time, it makes room for senior citizens taking their evening constitutional. There is another Joggers Park in Bandra which is also beautifully maintained and you can find a lot of people exercising there too.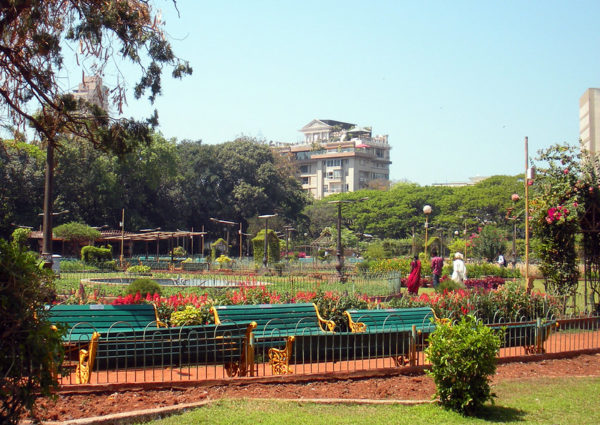 Beautifully maintained and ideal for joggers (Photo Credit – JWoodsSRI)
4) Hiranandani, Powai
Want to jog away from the hustle and bustle of the city? If you're searching for somewhere more rural then head to Hiranandani.
Powai is surrounded by hills and in the centre is a beautiful still lake, a very peaceful location and not as chaotic as the rest of Mumbai. If you don't want to go running on the streets or prefer quick jogs, it'll work well for you.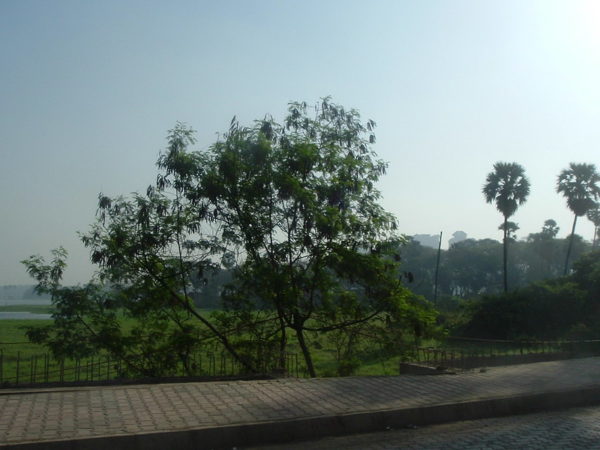 A peaceful location and not as chaotic as the rest of Mumbai (Photo Credit – Waterloo Hildreds)
5) Worli Seaface
One for the early birds! Plus, another place in Mumbai if you like running by the sea, though not as lavish as the Marine drive. There's a reason why this place is not as high on our list as it could be and that is because it's only any good if you are a morning person.
However, it is not the best location if you like to go for a run after work because the traffic can be disruptive and the hawkers a pain. We would suggest starting your run at least at 0600 hrs the latest if you are coming to Worli Seaface.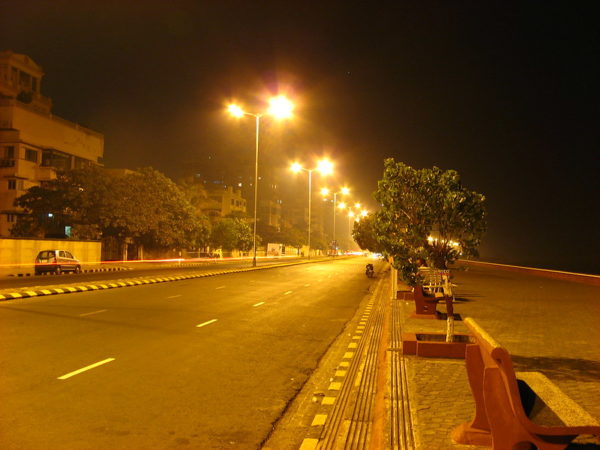 A location for those early risers who like a run before the day starts (Photo Credit – Simon Alexander Jacob)
6) Mahalaxmi Race Course
Open to the public from 16:00-20:00 hrs, the 2km stretch is covered in mud and is a better surface to run on than any other place on this list (everything else is either concrete, asphalt or granite). So it is considered a much better surface for your legs.
If you are travelling to India and want advice on what to do in each city, as well as some insider tips on how to enjoy cities such as Mumbai like a local, then get in touch with us at India Someday and we will help plan your trip.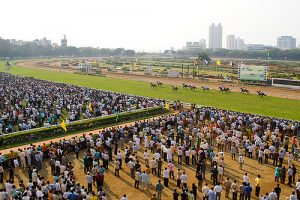 Not just a place for horse racing but also a great ground for jogging (Photo Credit – Anupama Kinagi)
helping you travel your way
Everything you need to know about India is here We have tried writing about everything you may need help with for your trip to India, If you need help in planning a trip to India Get in touch with us to to plan your trip of a life time.