The best places to go scuba diving in India
About 50 million years ago, India, an island that had separated from the Pangea supercontinent, collided into the Eurasian plate. But the subcontinent is still surrounded by water on three sides. Bound to the east by the Bay of Bengal, to the west by the Arabian Sea, and to the south by the Indian Ocean, India has a massive coastline extending almost 8,000km (5,000 miles). And this presents some wonderful opportunities for scuba diving tours in India. Additionally, most of the best places to go scuba diving in India are relatively quite cheap. These are our top picks:
The Andaman Islands
Scuba Diving in Havelock, Andaman. Credit: Arun Katiyar
When talking about scuba diving in India, Andaman is the first name that comes to mind. And quite rightly so. With visibility of up to 45 meters, turquoise blue waters, beautiful coral reefs, and, of course, stunning aquatic life makes the Andaman archipelago one of the best places to go scuba diving in India. There are different dive sites to choose from, like Havelock, Neil, and Cinque islands to name a few.
Lakshadweep
While Andaman is off the south-east coast of India, Lakshadweep is towards the south-west. And like the Andamans, it is one of the best spots for scuba diving in India. It being another archipelago, Lakshadweep has many similarities to the Andamans, with great underwater visibility being just one of them. Bangaram, Kadmat and Agatti islands are the more popular dive sites here.
Goa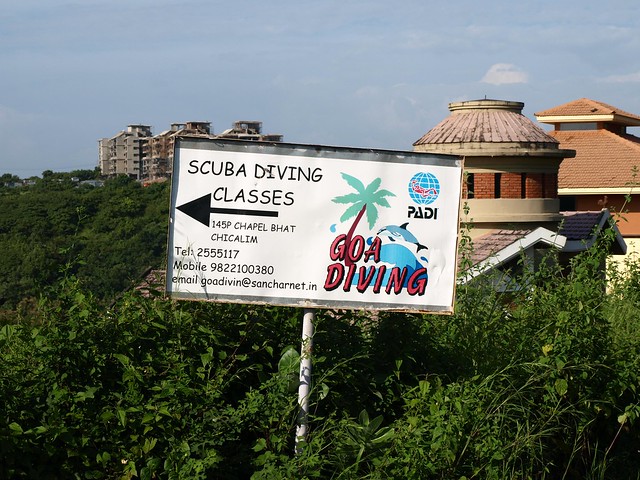 Scuba Diving in Goa. Credit: Frederick Noronha
Although very popular with the tourists for a number of reasons, when talking about scuba diving in India, Goa often gets left out. Which is a shame, because there are some wonderful dive sites here. Just off the coast of Mormugoa, which is quite close to the Goa airport, and hence very accessible, is Grand Island. Also referred to as Ilha Grande by locals, it has few of the best spots for scuba diving in India. Suzy's Wreck and Davy Jones Locker, a couple of shipwrecks nearby, are ideal for slightly more experienced divers, while Uma Gumma reef is a great place for beginners.
Netrani Island, Karnataka
Also known as Pigeon island, this uninhabited island off the coast of Karnataka boasts of a beautiful coral reef with its attendant species of spectacular fish. The visibility here also rivals that at Andaman and Lakshadweep, making Netrani Island a guaranteed fixture for scuba diving tours in India.
Pondicherry
This former French colony is another destination that is already popular with the tourists, without adding scuba diving to its many attractions. Apart from the marine life, the range of diving options here firmly places it among best places to go scuba diving in India. Coral Shark Reef, for example, has a depth varying from 5 meters to 23 meters, which caters to divers of all expertise, while The Hole is 30 meters deep, making it perfect for advanced divers. There are also plenty of other options here, including the Aravind Wall, 4 Corners, and an artificial reef constructed by a diving school here, making Pondicherry scuba diving India's best upcoming destination.
helping you travel your way
Everything you need to know about India is here We have tried writing about everything you may need help with for your trip to India, If you need help in planning a trip to India Get in touch with us to to plan your trip of a life time.