Adventure Travel Vacations in India
Although India isn't really known to be an adventure tourism destination, like New Zealand, yet one finds plenty of destinations for adventure lovers in India to get their fix. It still some amazing visuals to offer. From snow-clad peaks to arid deserts, and rain forests to mighty oceans, India has many diverse landscapes. Each, with their own brand of excitement.
Here are some ideas for adventure travellers in India and why we think India's a great adventure travel destination!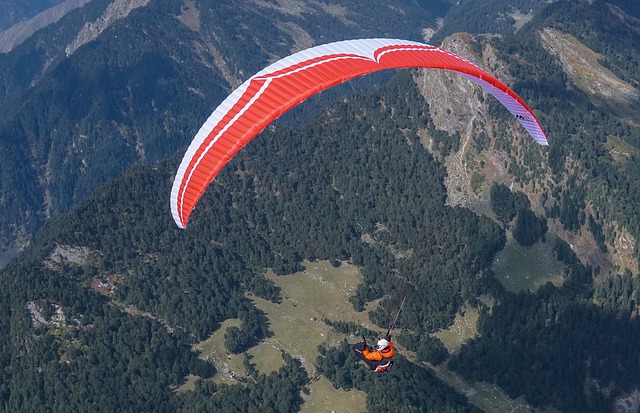 Para-glider in Solang, India
Because of the Himalayas!
The Himalayas are among the popular Indian adventure travel destinations, that offer adventure travel options, ranging from easy treks for first-timers to serious expeditions. Among the most exhilarating adventure travel vacations in India is the Chadar Trek in Ladakh. 'Chadar', actually means sheet, and that's what the Zanskar River turns into in winter. A sheet of ice.
The entire duration of the trek, which is upward of 10 days, is spent on this sheet of ice. Along with the temperatures plummeting to -50° C. Nearby, in the Spiti Valley, is the Kanamo Peak, which, at 19,600 feet ticks all the excitement boxes. In the Northeastern part of the country lies Mt. Kanchenjunga, the third-highest peak in the world.
Although the Sikkim Government has of late banned climbing the mountain from the Indian side. It can be viewed in all its glory on the Yuksom Goechala Trek in Sikkim. This trek is one of the most spectacular in the country, with pristine rivers and rhododendron forests.
But what sets adventure travel vacations in India apart from anywhere else in the world is heli-skiing. The Himalayas have some of the best ski slopes in the world. Though some of the best ones can be accessed only by helicopter, the rush of excitement makes it well worth the effort.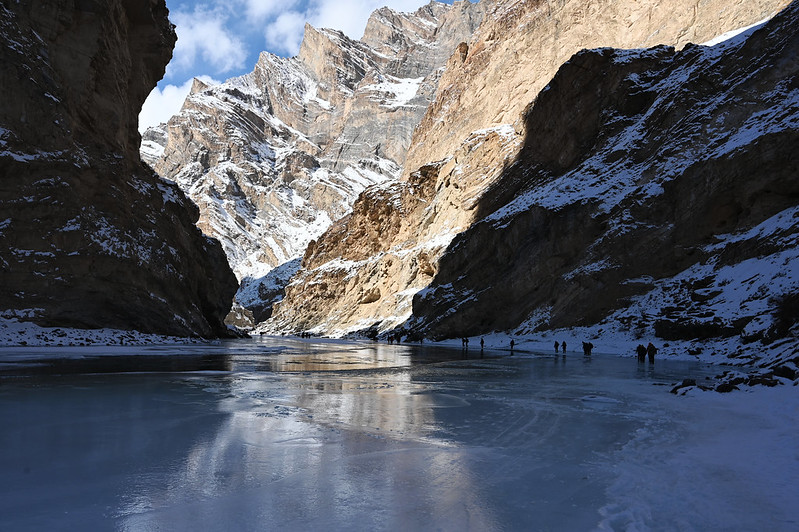 Chadar Trek (Photo Credit – Alosh_Bennett)
Because you can get adventurous even while exploring ancient traditions!
Kalaripayattu, commonly known as Kalari for short, is a martial art that can be traced back to 3,000 years. It is arguably the oldest martial art in the world. Performed using swords, daggers, spears, and maces. Kalari requires high levels of concentration and hand-eye coordination.
This martial art is witnessing a dramatic resurgence and can be learnt at various locations around India. The Kalari Academy of Performing Arts in Bangalore offers certificate and short-term courses as well as a residential program. So, if you're looking for adventure activities in India, Kalaripayattu should feature on your agenda. Even if you don't want to learn it, you should definitely try and catch a performance in Kochi!
Because of the coastlines
With more than 7,500 kms of coastline, there is no dearth of water-based adventure activities in India. You can try your hand at surfing, snorkelling, jet-skiing, windsurfing, kitesurfing, scuba diving… the list goes on! Havelock in the Andaman and Nicobar Islands, is a hotspot for scuba enthusiasts, while Covelong Point, Mahabalipuram, and Vizag are great places to surf.
Let us know if you're looking for a water-based holiday; we'll help you find one best suited for you! For some more information on skiing in India, check out this blog.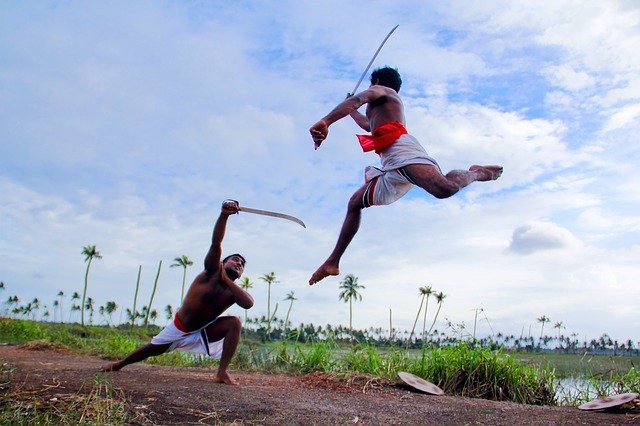 Kalaripayattu – An Indian martial art (Photo Credit – Ginu, Unsplash)
Because we've got the facilities
After all, no matter how beautiful a place might be, obviously, no-one wants to throw themselves off a cliff or go diving unless they know they're safe! But what a lot of people aren't aware of is the amount of adventure tour packages in India, where adventure activities are more and more adopting and meeting International standards, making adventure sports in India safer than it's been before!
Among the many adventure activities in India, ziplining is fast gaining popularity. FlyingFox operates ziplines in 4 locations currently, including one at Rishikesh, which takes you careening 200 feet above the mighty Ganges. Rishikesh also gives you the opportunity to go white water rafting, or kayaking on the Ganges – read more about this here!
And this is just a starting point: there are a number of other activities that can make adventure travel vacations in India truly memorable! Hot air ballooning has started picking up, there are some great spots for paragliding, and the North-eastern state of Arunachal Pradesh has a vast network of caves to explore.
Click here to read more about adventure activities in South India
No matter what sort of adrenaline rush you're looking for, we can help you plan it! So get in touch!
helping you travel your way
Everything you need to know about India is here We have tried writing about everything you may need help with for your trip to India, If you need help in planning a trip to India Get in touch with us to to plan your trip of a life time.